Monday:
It was my Dad's 71st birthday! Woot woot.
Breakfast
So duh. We had to go to Denny's before work to claim my Dad's free grand slam. But more importantly, WHO AM I? I've gone my whole life thinking bacon (especially nitrite-filled bacon) was the most vile food on the planet until now???? I still don't love it, but I was craving it that morning. WHAT? I did the pick 4 build your own grand slam and obviously had fruit, BACON, eggs, and my daily (unpictured) caffeine drip.
Can I just say this was a 1000% better Denny's experience than the day before? Yes, I went to Denny's two days in a row. NOBODY SAID I WASN'T CLASSY! Anyway, we went to a different location the day before (the North Central location in Plano, Texas. Remember that locals and travelers passing through, and NEVER go there. G-damn assholes. SRSLY). We were seated almost instantly, but our food didn't come for FIFTY MINUTES. YES, PEOPLE, I HAVE TO TYPE LIKE THIS. I AM YELLING. 5-0 MINUTES. The waitress quit checking on us after about a half hour. We spoke to the manager and he basically yelled at US and called us liars. I mean, I can't even. And we really got nothing (but a verbal beating from him) to show for it either. YOUR MANAGER IS AN ASSHOLE, DENNY'S. DO SOMETHING. Your other Plano location's manager, and some of the wait staff, however, are absolute gems.
Okay, I think I can calm down down.
Sooooo, I wasn't that hungry for lunch and was saving up my appetite for the birthday boy's dinner.
Instead of a real lunch, I had a pb&j (brown) rice cake.
Paper towel plate and everything! I didn't know there was a step down from my recent styrofoam lunches, but alas I surprise myself!
Yeah, that big birthday dinner? Didn't happen. My dogchild wasn't feeling well (she has heart disease. I don't want to talk about it, later), so we didn't want to leave her alone. My Dad suggested we wait for her to feel better and we just got Whataburger as a consolation prize. But it was actually good!
I just had a basic cheeseburger + I stole like 1 or 2 onion rings and a small handful of fries. Yep, I was totally that "oh, no fried sides for me, thanks!" Wannabe health person who just steals everybody elses. Then it doesn't count, 'cause you didn't order it!!
Dessert was clearly birthday cake. Luckily we had picked up a big ole chocolate mess from Costco (!!! our first costco experience!) the afternoon before. It was a chemical shitstorm, but it sure tasted pretty good. That icing! Oh yeah.
How do you make a cake worse? Add processed cookies! Yes, please. My brother and I wanted to sample the new Oreo flavors, so what better excuse, amirite?
Kind of a puny serving, but don't worry, you'll be seeing more of this cake. Like, every single day following this one. True story.
Oh, I'm sorry, was this supposed to be a healthy living blog? WHOOPS.
Tuesday:
We took my dog to her heart specialist in the morning and didn't get the best news. It wasn't the worst news and potentially may not be (significantly) worse than she was already, but her condition has declined. Please pray that her new medication keeps her stable for a long long long time. She's my entire heart and soul. I'm convinced that she has an enlarged heart because my heart jumped in there to sit next to hers, because she's EVERYTHING.
I was too nervous to eat before the appointment and too distraught after. I stayed home from work to feel sorry for myself and snuggle the love of my life. Eventually I made myself eat something after my stomach started to rumble mid-afternoon.
Brunch
Leftover Denny's skillet ingredients from the
horrible
experience topped with a fried egg & cawfs
As a snack I heated up some frozen spinach artichoke dip from Trader Joe's with a few beanville bean-based tortilla chips aka the best tortilla chips known to man
Dinner
My familia came to mi casa to watch American Idol and I made a rando dinner. I made a little chicken breast, tossed in a couple (costco) pre-made vegetarian dolmas, and a (costco) salmon-en-croute thing-a-ma-bob with a little spinach dip to combat any dryness. It wasn't the best dinner of life, but it was pretty good.
Wednesday:
Breakfast
Nothing sounded that good, so simple cholula-enhanced eggs & ezekiel raisin toast with coconut spread always get the job done
Lunch
I was sad about my pup again, so I didn't really feel like eating, but I made myself eventually. I had leftover taco stuff from V-Day on low-carb tortillas. Kind of looks pretty. Oh, avocado, you're everything.
Snacky Snack
I talked to boss-man (aka Dad) and he agreed if I work from home part of the day I can go home early every Wednesday to have one day to spend extra time with Bella. My stomach felt off from being so sad, so I stopped for fro-yo on the way home. I know dairy hurts some people's bellies, but it always seems to soothe mine. Plus, it's frozen yogurt. I mean, no explanation necessary. This was a mix of cookies & cream (!!!!!!!!!!!), plain (aka tart) topped with strawbs and coconut. FAVE. I was super impressed with myself for not filling the container (above the) top....but it still weighed 9 oz. Oh. That seems like a lot.
Dinner
The fam bam came over again for idol and my mom brought groceries! She decided to cook from my house and made us her famous cheese zucchini (my dad's fave of all time) and beef strogonoff. So good! I like my mom cooking more. I'm the cook of the family, but it's really nice to come home to dinner. Maybe I should get me a wife. Just kidding. House husband? Hmm....no. Ah well, mom will do!!!!!
Dessert
Oh hai cake. Seriously, did they really have to store the cake at my house? I don't even usually like chocolate cake, but I can't keep my paws off. At least I've only been having it once a day. I call that willpower personally.
Thursday:
Breakfast
Getting a little boring in the mornings, but always tastes great!
Snack
I was hungry a little early, but not hungry enough for lunch so I had a snack first. Although I don't remember ever finishing this. Hmm I think I took it home and finished it later in the day? Sure, let's go with that.
Lunch
I was really hungry when I heated this up, but by the time it was ready to eat I was too sad about my doggie again and couldn't really eat. I love her SO much, you guys. She has to stay healthy.
This was leftover chicken topped with hot & sweet mustard, a spinach pancake (not as good as zucchini, fyi), and leftover cheesy zucchini. It took me hours of taking like a bite at a time, but eventually I ate it all.
Dinner
I made mac n cheese for the base of dinner (it was Goldfish brand, yes the cracker--pizza mac n cheese flavor. It tasted like feet. I mean..it was bad). Good thing I found these leftovers hiding out, even if it was a little overcooked. Anything was better than that monstrosity they tried to pass off as the blue box of heaven! I bought it for my brother, but I knew I wanted to try it. I was 100% sure it would either be delicious or atrocious. I was right. That drink is unsweetened iced tea mixed with 100% cranberry juice not from concentrate (aka the really sour stuff). I later found out my dad made that tea about a month ago and it was just chillin' (literally...) in the fridge. UGH. Not my finest dining experience. At all.
Dessert
cake AND ice cream? I must think I'm fancy!!
Friday:
Breakfast
You can tell what most of this picture consist of, but that egg dish is a mix of egg whites + a fried egg along with mushrooms, goat cheese, and leftover chicken. Sauteed spinach would have put it over the top, but as is it still did NOT disappoint.
We were taking my Dad out for his birthday for real this time, so I didn't eat lunch for some reason? I had a handful of macadamias & something else to tide me over. A few chips or something? I forget.
Dinner
Maker's Mark old-fashioned. For some reason, Red Lobster makes a really delightful AND reasonably priced old fashioned. WIN. Just call me grandpa.
I tried to be a cheap date and ordered the pick 4 for $15.99 special. I had blueberry vinaigrette on the salad, took off the tortilla strips on the spicy soup, and ate about half the broccoli and half the fish. I took 3 bites of the cheesecake and decided it was soooo not worth it. Blech. I also took 1 bite of my dad's birthday sundae and gave him the rest of the cheesecake. It sure made me crave a good slice of cheesecake factory cheese though. Crap! Next time, key lime pie. Red lobster knows old fashioneds and key lime pie. And according to most people, cheddar bay biscuits, but I think those are just ok (for the record I had one that escaped the camera).
OMG no birthday cake?
Weird.
Saturday:
Breakfast
older than I'd like to admit high fiber tortilla I found in my pantry filled with fried egg, half an avo, 1 slice turkey bacon, and land o' lakes white american cheese (aka heaven from a cow). Yum.
I brought my leftover Red Lobster for lunch, but I really wasn't feeling it. I finished the fish, but left the broccoli & salad.
My mom got Pei Wei for lunch and asked if I wanted any. It sounded WAY too sodium-filled for me that day, so I declined.....but then agreed to a couple crab wontons
Which further put me in a Chinese food mood, so I mixed the rest of the wonton sauce with a little gyoza sauce and made TJ's potstickers....
It's baaaaaaaaack! And before dinner. So healthy!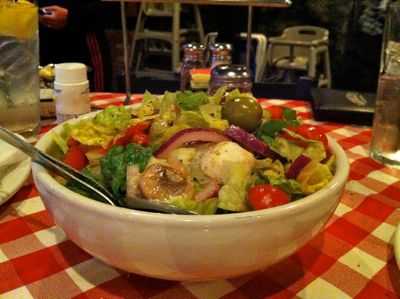 Grimaldi's Pizza always sends an e-mail to the birthday boy or girl for a free large pizza. We can't turn that down, so my brother, Dad, and I shared a large pizza (meatball, ricotta, and onion--I had 2 slices), my dad and I shared a large house salad (I had about 750 bowls), and I had a glass of house wine ($4!). The pizza took awhile and was a little burnt, but it's still New York pizza, so it's fab.
Umm, so even with the cake I still had...
I kind of regretted this decision before, during, and after, but it's small, so no big deal. Right? 1 rice krispy treat oreo, 1 cookie dough oreo, and unsweetened vanilla almond milk. You know I dunked those babies!
Homemade misto! So good.
Recently I found boxes of pancake mix in one of my cabinets from late 2012. I used the pumpkin one from Trader Joe's today. It still tasted freaking amazing, so hopefully it's not too old :-x. Topped with whipped cream 'cause I DO WHAT I WANT! + coconut spread + maple syrup. Yeah, I went there. And 1 lonely fried egg.
2 zucchini pancakes + leftover strogonoff. Such a lovely photo, doesn't it just make you want to have this lunch too?!
Er, yeah it's basically 10 pm and I haven't had dinner yet. I think I'll get right on that. I'm thinking Turkey bacon BLT on sourdough. Yeahhhh.
No slices of cake, but I did transfer the leftovers into tupperware containers and had my share of licks, bites, and tastes. I was elbow deep in cake, I'm surprised there was still any left to put away! But alas, I got it to fit in FIVE containers. Oh shit son, we still have cake for days. This is becoming a disaster!
Sooo, about that food...
Ooh and I hope 90 Day Fiance recorded. TLC, you suck me in every time. Looks like it's gonna be a late night.
See ya!
xo,
Amanda