Sunday:
More birthday coupon using! This time we went to Mimi's Cafe. We used to go there all the time, but I don't think we've been in probably 4-5 months!
I had the turkey sausage with 2 eggs over medium, fruit instead of potatoes, and half a honey bran muffin. Plus black coffee and water. It was pretty standard breakfast fare. Their fruit always sucks though. They charge you a buck for 3 measly pieces of the worst choice fruit. Oh well. At least it tasted good this time, most of the time it tastes like nothing. I had 2 cups of coffee and stopped. No stomachache. Yeah!
It was one of those meals though where you're comfortably full, but only have a few bites left on the plate. Not enough to take home, but enough where you don't want to leave it. Annoying. I went ahead and finished it off this time, but I did take my muffin half home, so I probably should have at least taken some sausage too. Next time.
Me taking a picture from the side while my dad took their picture from the front. I'm weird. But they sure are cuuuute.
We ate a little after noon, so I didn't need another midday meal, but I was hungry before dinner. I had a few lentil chips dipped in greek yogurt-based spinach dip. It was tasty, but all I could taste was oniony spinach all night after that, even when I brushed my teeth. Hate that!
My mom finally convinced me to see Amour with her after begging ever since it came out. But first, we went to Taco Diner. We usually love that restaurant, but it has gone downhill and gotten awful. I hoped the Yelp reviews weren't true, but alas...
I got pork tacos pastor and they were dry and salty. My Mom said her chicken was dry too and her beans tasted a week old. They also used to have CRAZY strong drinks. My my mom is a huge lightweight, but she said her margarita tasted more like lemonade and she could easily down 3 or 4 and still be fine (she had 1 for the record lol). I tasted it and agreed. Lemonade all the way.
I'm not a margarita girl (not a fan of sweet & sour or overly sugary margarita mix), but decided to make my own "skinny girl" and order a tequila on the rocks with extra lime. I went for Patron this time, my tequila-o-choice. It was $12. That's usually what I pay for a (pretty big sized) patron margarita, but for just what looked like a shot of patron seemed rather pricey to me. *shrug* & they only gave me 2 lime slivers that had almost no juice. I also added 2 or so drops of liquid stevia, but essentially I drank a shot on ice. At least I don't mind straight up tequila like most people do and enjoyed it. No salt and lime chasers for me.
Come to think of it, whenever I order a vodka soda and ask for extra lime, I always get 2 puny slivers that way too. What's a girl got to do to get a decent amount of green citrus around these parts?
Annnnyway, the movie was ok. I didn't not enjoy it, but it was pretty slow and lacked character development (like I hear all of the director's movies do). The acting was
superb
. Additionally, the
idea
of the story was wonderful, but I believe the execution could have been better had the story been more in-depth in certain ways (including more background information instead of vaugely alluding to the past only to create more unanswered questions, learning more about the characters as people, not skipping large gaps of time between scenes with little information filling the audience in between, and so on). Maybe I'm just a dumb movie go-er who likes the story handed to her. I don't mind artsy or having to think about the movie to "get it" later on, but I like more concrete information to be able to piece everything together and not have to imagine what went on myself--never to really know the creator's intent. It's one thing to wonder how things might change in the future. That I can understand leaving open-ended, but to purposefully leave out information throughout the entire film that remains unanswered for eternity is peevy!
Monday:
Before the gym I picked at some of my muffin leftovers from yesterday
35 min elliptical, a few min treadmill cool down (3?), stretching
For breakfast I had 1 brown rice tortilla, 2 slices of turkey bacon, maybe 1/5 of an avocado, organic greens, and dijon. It was ok, but got cold fast and the tortilla crumbled.
Too bad that was my main sustenance for the day and was barely over 200 calories.
I got stood up for lunch last minute, so I hadn't brought anything to eat. I didn't want fast food and was really lacking options otherwise. I KNEW I should have brought food with me just in case. UGH. I got a near-migraine level headache, brain fog, I could barely formulate sentences, etc. I know people who called the office thought I was an idiot who couldn't speak clearly/correctly by their tone of voice. I don't know what my problem was. It's not like I was starving for days.
I finally was able to scrounge up an organic apple, some peanut butter I hid during the JJ Virgin days, and a few squares of dark chocolate. It helped the comatose-like state (hyperbole?), but it was still not the most nourishing way to enhance my brain's productivity. I wanted veggies and protein
so
badly.
By the end of the day I was less hunger-ragey, but could not WAIT to eat some curry chicken and salad and crawl into bed with my pup to watch ABC Family shows.
Heaven
.
The curry chicken was a little different than I expected. I thought it was more of a tenderloin, but really they were just tenders. A little dry too. On the plus side, they cooked in MINUTES. I thought it would take 30-40 min before I could eat, so that was a relief. Of course, I ate them right up along with a side of 90210, Bunheads, and Switched at Birth.
I was desperately craving protein chocolate almond bark, but I kept convincing myself I'd get up and make it "after this show," "at the next commercial!" and so on. Instead, I reached into my night stand (damn Christmas stash!!!) and ate the other half of last night's kit kat and 1/2 of a reeses pb cup before I had a lil panic mode re: how much sugar I probably ate and put a stop to that. I did a few jumping jacks (haha-I'm soo sure that helped *eye roll*), I watched an episode or two of Vanderpump Rules (horrible show, but I'm kinda hooked), and called it a night.
Tuesday:
I somehow slept in through all of my workout alarms. RUDE! I haven't done that since I first moved into my house! (P.S. Can you believe that was almost 6 months ago????) But I woke up for my "get up extra early-or-workout at home-or-you can hit snooze a few times--your choice" alarm. I got up and attempted to do a Julianne Hough dance DVD, but then I remembered how uncoordinated I am and just did a few kettle bell swings, ran in circles around my house (not lying, I do that), and jumped on my mini trampoline. Yep. After those shenanigans, I took my dog on a 10-ish/15-ish min walk. Usually I just let her roam around the backyard, so she was extra grateful. A little in disbelief when I said "walk, Bella?" She kinda looked at me with a cocked head, like "huh? Mom? really?!" I think I'll give myself half a workout sticker today, not sure I deserve the full one lol, but at least I got up and moving!
For breakyfast obvi everything sounded terrible. I am not digging this phase. I kind of wanted cold oats with greek yogurt again, but that sounded too carby. I knew I needed something protein-based that wouldn't weigh me down. I made 1 egg + split a banana in half and stuffed it with almond butter & raisins. Tasty. Washed down with black coffee (ugh "washed down with" sounds so gross, sorry!) Still carbs, but fruit carbs? :-P
When I was finishing up my breakfast I noticed it was 48 after and I was still gross and unshowered. I was supposed to leave for work 12 minutes later. Uh, oops. I must be the fastest getter-ready-er in the world, because I was ready to walk out the door by 2 after. CRAY. I forwent washing my hair though. It's pretty gross. Oh well. OF COURSE, my ride (aka Dad aka boss--we carpool every morning and he's late EVERY morning) was over wayyy over half an hour late. I could have washed my hair and probably dried and straightened it too AND finished the Rachael Ray show. Come on! Or I could have done a better workout. Whatevs. At least I packed lunch for today. :-P
While waiting around, I finished my coffee and ate a small pear. Fruit power!
I felt like the biggest idiot when I got to the office this morning and remembered I had a couple packets of protein powder and some almond milk in the storage room. Not to mention that Smoothie King is (more or less) across the street. It wouldn't have been the protein and veggie combo my body was
screaming
for, and the smoothie would have been high in sugar from the fruit, but both options would have been better than being zoned out all day! Ay ay ay.
For lunch I LOADED up a tupperware with salad and curry chicken. I couldn't eat all the veg.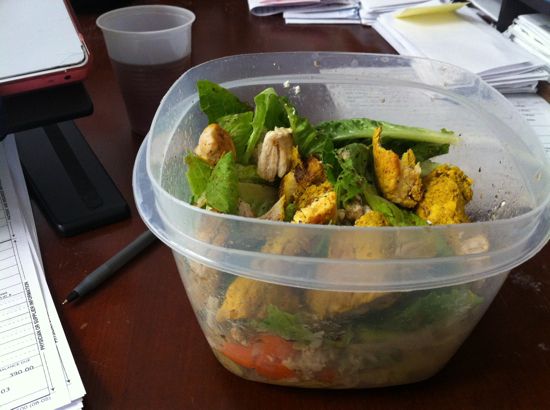 I also had sweet chili flavored pistachios for a snack. LOVE. Even though they give me coughing fits.
I was going to make stuffed peppers for dinner, but sloppy joes (made with lean ground turkey) sounded easier and equally delicious. They were. (Open faced on brown rice toast with salad and red vino).
For dessert I had protein almond bark, but I added a little berry action and granola. Didn't taste as good, imo. Shouldn't mess with perfection!
Wednesday:
Workout: I don't really remember! Mostly elliptical maybe a little treadmill and a little stretching.
At the gym I got something in the eye. First it just irritated me, but then I couldn't see any longer out of my left eye! Scary. But it seemed more like something was stuck on my contact. Glasses to the rescue.
Do I look smarter? I felt sooo ugly all day.
For breakfast I had a chai tea latte, egg white omelet with apple chicken sausage/mushroom/kale topped with goat milk cream cheese & mashed avo + banana half stuffed with almond butter & raisins (new food phase).
For lunch I had a chicken wrap with organic mixed greens and dijon
Snacked on a pear. I heart pears!
It was a late night. Also snacked on trail mix. And regreted it. Felt a little sickly after, but not sure why? I couldn't pin point it.
I wasn't terribly starving for dinner, but my mom made it! (Well I threw together the salad). I tried to keep my portion small-ish
Thursday:
Workout: 26 min elliptical, 14 min treadmill, quick stretch
Breakfast was a "coconut pancake" (egg whites, coconut flour, lemon stevia topped with berries), but it basically tasted like a super thin, sweet omelet. + the new banana favesie.
My dad brought me the new "25 cent" (they charged him 87 cents for 2? I don't get it?) coffee, 1 hot (black) and 1 caramel iced. Yuck. Seattles Best coffee distributors are the worst. First Subway and now the King. They COAT the bottom in coffee grounds. Not cool! My taste buds are still off.
Your eyes do not lie. That is not liquid left in the cup, only solid coffee grounds. Not okay, BK. Even the iced version had grounds! Come on.
I was already super hungry by 11. Story of my life, even though I ate breakfast around 9/9:30. I abstained from eating though and then didn't have time (or the desire really) to eat again until 4 pm! Weird how I was DYING on Monday with no food to be found, but okay waiting today.
I brought a few options for lunch, but ended up going with a small salad topped with the last of the lemon-garlic chicken
I had an unpictured pear for a snack
For dinner I had Mi Cocina. I started with my first Mambo Limousine. Aka a frozen margarita topped with both sangria and chambord.
To eat, I went with "Gina's" special of 3 chalupas: one with queso, one with guac (plus I had extra guac on the side--oh yeah), and bean
Mostly I ordered it just to be cheap, but it was actually pretty good!
That's about it, friends. It's been a sensitive few days around these parts, so hoping for good vibes and better days ahead!
xo,
Amanda