Happy New Year. I didn't purposefully start this plan because of the new year, I just wanted the holidays to be over. Mmm cookies. I also had a final lunch meal (in & out double double animal style....jelly?) and final dinner meal (a few bites of steak, a lobster tail, a mound of crab legs, champagne, and so on). Not to mention copious amounts of chocolate the few days prior. But once the clock struck midnight...no mas. I'm still kind of mad I didn't get my frozen yogurt fix, even if it is a little cold.
I'm supposed to keep a food journal throughout this process to be able to look back and remember how I felt during different parts of the program. I figure a blog is just as good, if not better.
Day off=Leisurely morning. Ate about an hour and a half after waking up, around 11?
Half a shake before working out. Vanilla sunwarrior, chia seeds, coconut/almond milk

, blueberries, and frozen mix of berries



Felt comfortable. Not hungry. Didn't have any food cravings. I got this.

Went to the gym and did 4

5ish

minutes of cardio (elliptical, treadmill, & 5 min on the stair stepper) + light stretching.

A little hungry after, felt ready for second half of shake. Same ingredients

, I think.

Got delayed runnings errands and did not eat for awhile, maybe another hour or a little longer? Finished shake and had a black coffee with a little peppermint stevia alongside around 2? 2:30?
Felt OK, but started longing for solid food.

Had another shake about 2 hours after that? 4:30? Getting a little late there, especially for "lunch." Chocolate sunwarrior, raw sa

lted

almond butter, almond/coconut milk,

blueberries, and blackberries.

Felt a little hungry, but manageble. Again, still really wanting food. Kept thinking about dinner.

Had dinner around 8? Romaine leaves with red pepper hummus spread on them and a mix of ground turkey, kale, and black eyed peas with spices, eaten lettuce-wrap style. SO glad to eat. Had to dump my first batch of kale and restart dinner

, as the spice I tried to use said may contain soy or milk. Ugh! Must pay closer attention from now on.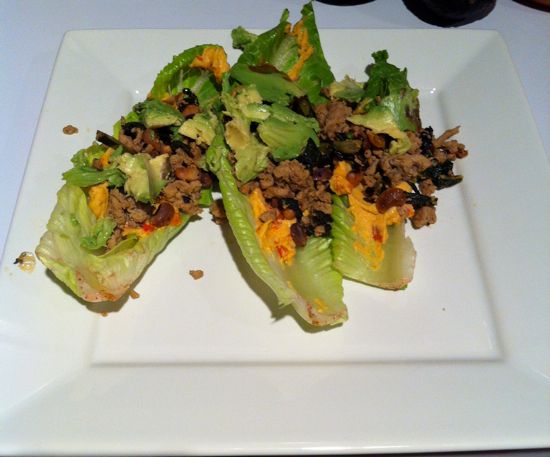 You're not supposed to eat within 2-3 hours of going to bed. I made some homemade almond butter around midnight? Had a small taste. Quality control, y'know. Half a tablespoon at most? Hopefully no plastic included. I kind of wasn't paying close enough attention and broke the tamper. If you're going to jack up your kind of brand new Vitamix, I guess breaking the $12 piece was the best thing to break. Reordered a new one. Watched bad tv. Took a bath. Read. More bad tv. Ended up staying up til 2, so I could have had a real snack even at midnight. Darn!
Day Two:

Half shake before working out. Around 8 am?
Vanilla sunwarrior, hemp seeds, coconut milk, blackberries, raspberries.

Not int
o the shakes. Don't really like shakes/smoothies without banana for sweetness/thickening

purposes

, but slurped really quickly through a straw made it alright. Too many seeds!

16 minute elliptical

,

15 minute treadmill.

Drank other half of shake, but very slowly. Need to pick up the pace on the second half of brea

kfast

. Didn't even finish this one until after noon! Maybe 12:30.

And t

his time I added the rest of an avocado I had on hand (1/4?

)

plus a bit of dark chocolate cocoa powder (unsweetened, of

course) to the ingredients from earlier

. It had a smooth, pudding-like consistently. Slight bitter taste, but not bad. Still would rather have a proper meal. Also drank a c

offee with coconut milk & vanilla stevia. Wondering if I should give up coffee for a bit (the plan waivers, but ultimately says it's OK) in favor of green tea, but not ready to give yet ANOTHER thing up. One cup a day should be alright with tea otherwise.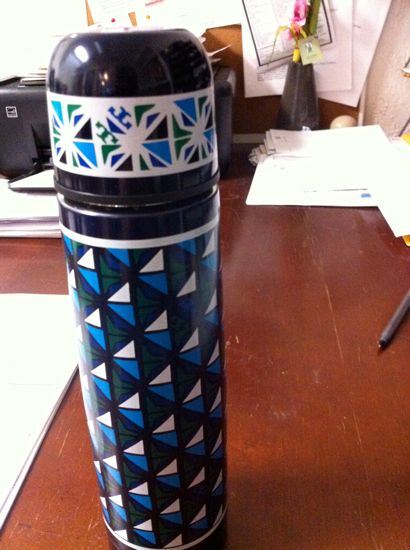 Tory Burch thermos my brother got me for Christmas
Got a headache that lingered awhile starting maybe 1:30 pm? Hungry and tired of shakes already, but still trucking. Supposed to "eat" every 4

-6 hours and drink lots of water (but not when eating), but so far that isn't working. Is it week two yet?



Around 2 pm I made (and spilled. and remade) half of a lunch shake (didn't have the other half to make due to said spilllage). Chocolate sunwarrior, ground flax seeds, almond milk, and raspberries. Will need to supplement with an additional snack today to make up for lost calories/nutrients, especially since I work until after 7 tonight. Hallelujah more real food. Holding off as long as possible, though.
Mediumly (new word?) foggy headed and very very tired. Only slept maybe 5 hours, though. Wasn't tired until 2 am, as previously mentioned. Lately I go from wide awake to DEAD tired with little in between.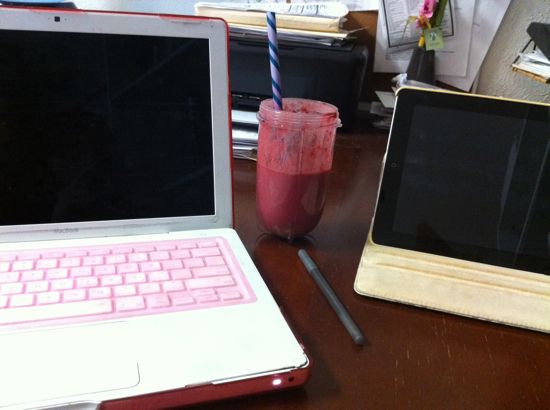 Finished lunch half-shake around 2:45

. Still starving. Still headachy. If no relief by 3 pm,
decided I'd bring in the advil troops. This program better help me become less inflammed, dammit. It's feeling a little like a torture treatment!

Foooooooooooooooood.
Caved at 2:51 and took 3 ibuprofen. Work your magic, drugs.
Made a small snack a little after 4: cherry flavored black tea with a little vanilla stevia & 2 small lettuce hummus wrap leftovers from last night. I shoved them down asap, because I was in the middle of working, but man did they hit the spot. I could have had 4 more. OK, maybe two more.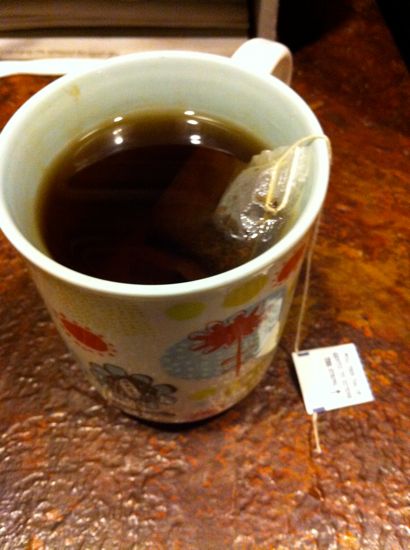 About 6:15 I made the same leftover snack. Now I'm second guessing the way I've interpreted the plan. Well, I've quite literally interpreted one of the charts, but then in the actual chapters it comes across much different and MUCH less restrictive. In the literal plan she says for the first week you have a shake for breakfast, a shake for lunch, dinner, and an optional snack. Yet, in the chapters she says to build up to 10 servings of veggies a day. There's no way to do that with one meal and a snack! Argh contradiction city!

You're also really not encouraged to snack or eat more than every 4-6 hours, oops. Maybe I should add a few servings of just veggies to the side of the shakes for staying power...I felt a little blah in my throat (?) after the second round snack and a lil stomach achey. Whoops. And dinner won't be toooo far behind. My tongue started to hurt too and I had symptoms from candida. Weird. No more snacks for me, though maybe more substantial shakes with sides of veggies from now on....
For dinner I had made crock pot beef stew. I forgot the carrots, so it was essentially grass fed stew meat, a little red onion, and sweet potato with spices. It was kinda bland, but I wasn't that hungry anyway. Didn't stop me from having another half bowl. What?
I either forgot to take pics or purposely spared you from bad pics. I don't know if that makes me a bad blogger or if I should say you're welcome.
This is kind of boring, but oh well.