Quick one.
Went to look at houses with a realtor today. The house I've been trying to get a showing of for over a week, maybe two, turned out to be a bust. I got to see it, but it went under contract before I was able to put my offer in. I missed it by 24 hours at the most, maybe even just one or two hours. Ugh. The second place we looked at was gorgeous, but I hated the neighborhood. Guess I may be staying put for awhile. Guess you never know what can go on the market at any given time, though. *fingers crossed*. I don't want to buy something just to buy something and settle, but it would be a shame to miss out on the interest rates going on now.
After looking at the houses, I went out to breakfast. I got my usual at this place: egg white omelet with spinach and cream cheese and a side of potatoes. Nom nom nom. Not the healthiest in the world, but not too bad. Plus black (stevia) coffee.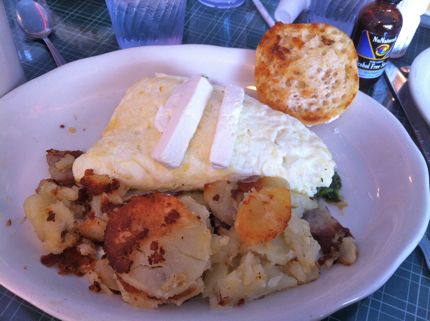 I ate about a third. Then a few hours later I ate another third or so + the english muffin half (gave the other half away).
I had an organic apple for snack. I was bad about taking pics today, but everyone can picture an apple, yes? This one was green-ish (not granny smith, a sweet one).
For dinner I made up a delicious salad.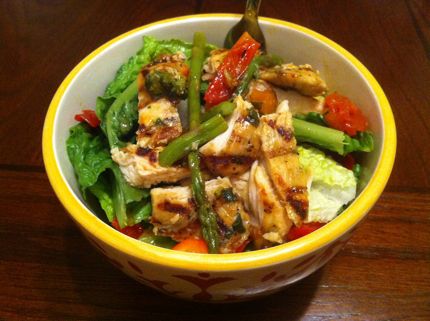 organic romaine, red bell pepper, green bell pepper, cherry tomatoes, & leftover apricot chicken from olive garden last night. I tried out a new sun-dried tomato vinaigrette dressing on top that was so good.
I had a chocolate-peanut flour protein cake for dessert.
xo,
Amanda