The perfect trifecta. Mimosa, Water, and Coffee. Mhmm.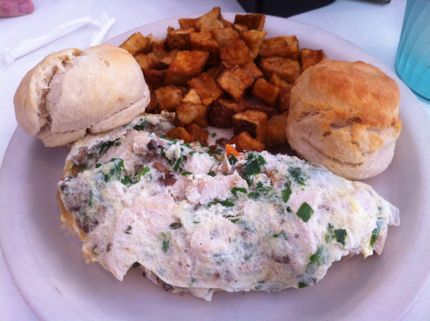 egg white omelet with chicken, spinach, mushroom, and cream cheese split in half. Plus about 3/4 of a biscuit with a little honey or agave (couldn't tell) plus about 1/4 of the potatoes
We ate breakfast again at Lucky's, the same place I went for the first time a couple weeks ago for a business meeting. For Father's Day I got my dad matinee tickets to see Jersey Boys at the opera house in uptown, so we made day out of it. Because we couldn't take home leftovers we split our breakfast, except we forgot the meal comes with 2 biscuits and he also got a bagel. Oops. The biscuits weren't too good today anyway.
I felt so dehydrated when we got to the venue, but I didn't want to have to pee 10,000 times at the opera house nor pay like $5 for bottled water and I couldn't find a water fountain. When I realized the restrooms were all clear, I stuck my head under the faucet and went to town. If they have cameras in there they probably thought what a cheap ass, haha. I guess the real problem would be why would they have cameras in a public restroom, but...I digress. Of course, as soon as I came out of the bathrooms my Dad pointed to the water fountains on the wall. Oops. Round two it was!
My Dad loved Jersey Boys and was really glad I took him. We both agreed it seemed extremely long (it was 2.5 hours including intermission, so it
was
fairly long. But the first half, to me, felt like the entire 2.5 hrs!), but it was enjoyable the entire duration. My Dad is from New York around that time, so it especially brought up nostalgia in him.
Right before it started, they made a joke that if you planned to eat any hard candies or open any throat lozenges you might want to do that now (so it wouldn't be noisy when you fumbled to open the candies). I was like ooh good idea and gave my dad and myself a worther's original. I tried to get my Dad to give me his trash to put in my purse, but he said he was fine. BUT HE KEPT CRINKLING THE CANDY THE ENTIRE FIRST ACT OFF AND ON. It was quiet, so maybe only I noticed, but I wanted to punch him when it happened LOL. I made sure at intermission that beyotch was outta there (the wrapper, not my dad ;)).
That evening, I looked at more houses again. I thought they were all
just
out of my price range (except one, which I wasn't very excited about anyway), so I thought I was wasting everybody's time, but it turned out not to be a complete bust after all! The first house I want to put an offer in so badly, but it's about $13,000 over my assumed maximum budget. WHYYYYYYY???????? The kitchen counters suck and the kitchen itself is small, but otherwise I want to give the house a big hug. The wood floors downstairs were unbelievable.
The second (affordable) house turned out to be a duplex. It's currently tenant occupied and you can tell they take no pride in the home since it's not theirs. It was okay and the side courtyard was amazing, but otherwise I wasn't overly impressed. It's not available until January 2013 anyway, which would be okay with me, but my relator said could prove some issues with getting a loan. No biggie.
The third house was not my taste at all as is,
but
I could really see the potential there with a few (cheap) cosmetic changes. It's about $5,000 more than I think I should ideally spend at the top (but I'm just now working with a lender, so I may be wrong with the low interest rates out now), but it seems do-able and a great buy. The realtor said people are buying things
likethat
right now and you have to really jump on a house, but this one has been on the market 80 days (she's claiming houses are generally going in 20-40 days or less now in this area), so maybe I have a thinking period. I guess I won't be devastated if I lose it, but it's a great deal for the area.
I was supposed to look at a 4th one, but they wouldn't do a Sunday showing. No biggie it was way out of my price anyway, I was just curious about it (no pics online, but the description sounded great and it was in the neighborhood I wanted). It turned out the homeowners association fees with that one were $90 a month! That's equivalent to spending $20,000 more on a house. Sheesh! No viewing for me, thanks.
Dinner was made in a rush at nearly 9 pm and I hadn't eaten or drank since breakfast (or the sink incident...)
lean ground turkey tacos with organic romaine as the shell! Love it.
I'm still trying not to carb-up at night, but since I didn't eat much during the day I figured why not? Vitamuffin top are always quick, easy, and tasty. It is pretty tough to leave off the slathering of peanut butter, but it still does the trick naked.
xo,
Amanda