I'm getting closer and closer to the gym on a week day morning. This time when I got out of bed to shut off the alarm, I at least seriously
contemplated
staying in an upright position. Instead, I set my treadmill-at-home appropriate alarm time, actually got up then, and did a 35 minute workout. So, the end result is comparable: I win.
Breakfast was exactly what I planned the night before:
honey wheat Alt bagel with a fried egg & new-to-me salsa cream cheese. Usually I buy Philly veggie cream cheese, but decided to try the Great Value store brand. While the salsa variety was the most comparable, it was not an exact match. I still like the veggie better, but this was good, too. It had quite the kick to it from the jalapeno.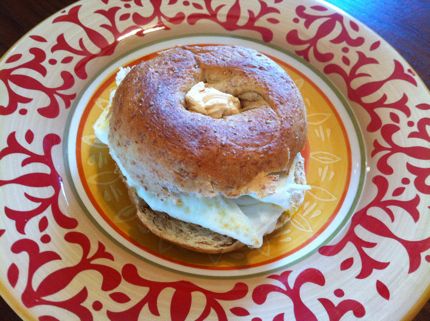 I also made an iced vanilla coffee with coconut milk & chocolate flavored stevia.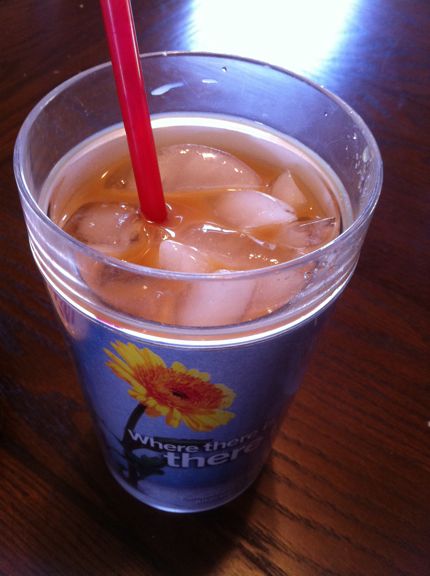 I'm trying out the multiple small meal thing to see how that works for now since my appetite is all over the place. I'm hoping small, but consistent is the way to keep my energy levels up while staving off hunger. It didn't go exactly according to plan, but close enough.
What also didn't go according to plan? I wore a cute-ish outfit and then almost nobody showed up at the office. I should have just worn workout clothes. Or a big sweatshirt and pj pants if I had my way. It was 90 degrees outside and miserable, but inside I was shivering all day. I had to go find a big blanket to curl up with. I guess that's better than last year around this time when it was so hot we had to cancel patients and groups because we couldn't get the a/c to comfortably regulate.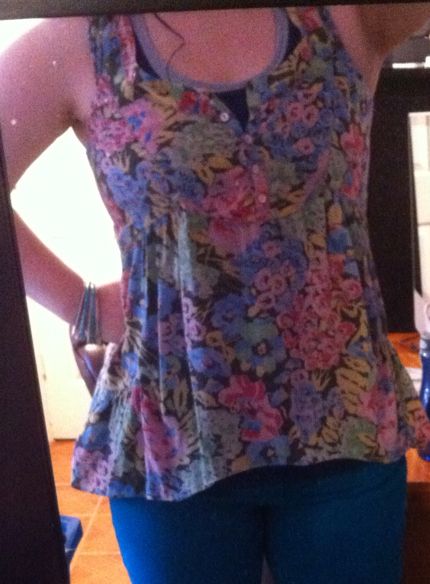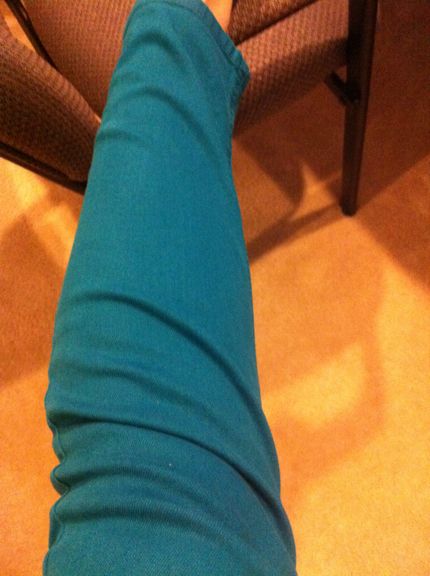 I got those pants at Tar-Jay yesterday. The real color isn't showing up on camera, but they're a dark teal. My brother said it's the ugliest color he's ever seen. Rude. I also wore nude patent, open-toed stilettos. I haven't worn heels to work in forEVER (except wedges, but even then I've cut way back. Heels are my drug). I used to wear them daily for over 12 years. I kinda missed 'em.
What do you think about sleeveless in the work place? I know it annoys the "boss man,", but I say be realistic! This is Texas heat, people. As long as it's not a tank top or cami, I think it's fine, right? Like a sleeveless blouse? To be fair, he never mentioned he didn't like it until I outright asked, YEARS later. My mistake (for asking-ha). He also doesn't mention anything when I wear Lululemon cropped workout leggings instead of pants. You can rest assured I will not be asking for permission on that one! Best (sort of) "pants" ever.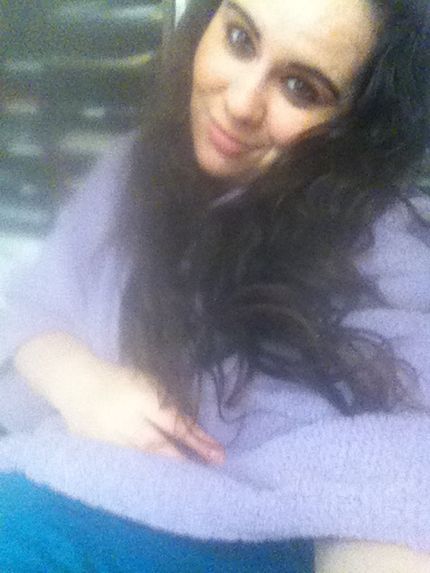 Ridiculous. Covered in a blanket when it's 5 million degrees out. Who does that? Never mind the fact that I argued above for sleeveless. We're not in July yet. Might as well show up in a bikini then. But no one wants to see that. TRUST ME.
Back to why you're mainly here: food. For lunch part 1 I ate a toasted english muffin with half of a small avocado & sliced compari tomato (one small tomato per half muffin).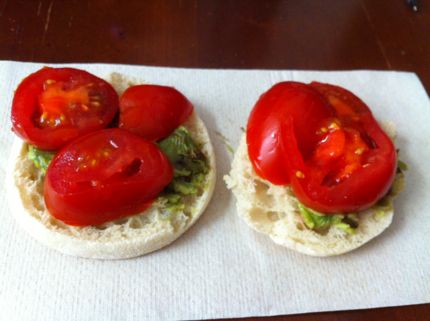 I shouldn't have pre-sliced the avocado last night. There's no way around it, avocado just isn't nearly as amazing as it is
immediately
after you slice it. Practically the second it hits fresh air it's already tainted. You'd think I'd learn my lesson after the sub-par guacamole wrap last week. *shakes head* A pinch of sea salt & pepper would have gone a long way as well.
On the plus side, this surprisingly held me over for a long time. But when I started to lose energy near the end of the day I decided on an (unplanned) cup of coffee & to heat up a leftover grilled sweet potato with maple almond butter.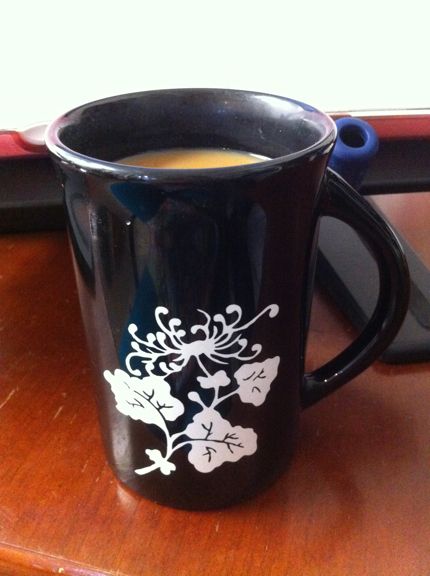 Made an office bank deposit on the way home, which always means one thing: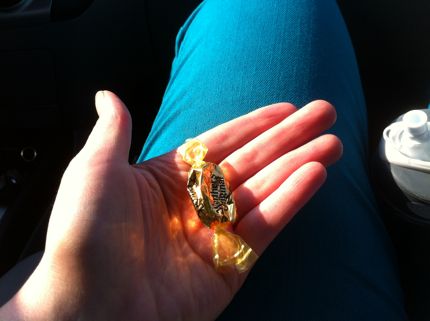 Worthers. Score! I always get two: eat 1, save 1, so I'm creating quite the little sugar stock pile in my bag. You never know when it might come in handy.
Maybe it was because I ate my sweet potato so late, but I didn't snack my way through cooking dinner! I tested out the meal components a bit (for quality control purposes...
suuure
), but I didn't dip my hand in 10,000 chip/nut/cracker/etc. bags and end up stuffed (in a gross feeling way) before I even turned off the stove.
For dinner I made green bell peppers stuffed with taco-seasoned chicken, whole grain rice, and a small piece of monterrey jack, topped with (unplanned) dollops of greek yogurt, salsa, and a little avocado. Plus 2 kinds of hot sauce, of course. Yum.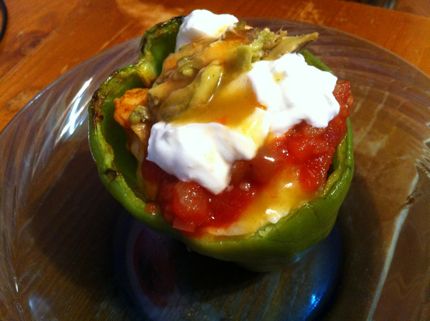 For dessert, I finally tried the Kozy Shack flan I bought on impulse last week topped with Ghirardelli dark & white chocolate chips. The flan tastes good, but is a little watery?? I think it's the caramel part. It should be gooey, but it's more like brown sugar water.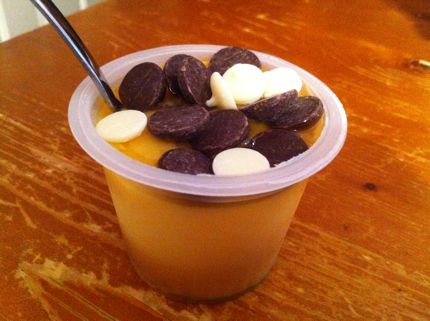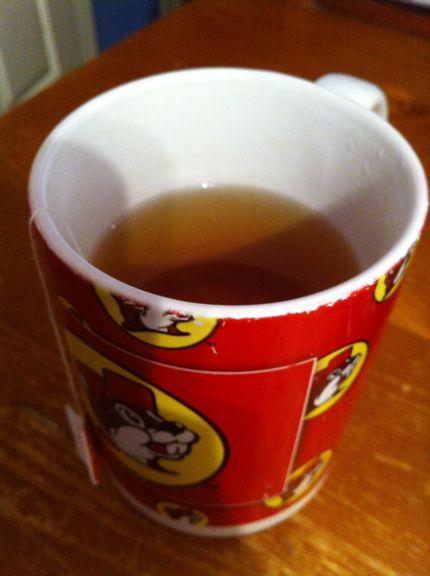 I also had a mug of Stash mango passion fruit tea. It's also a little watery for my tastes.
Time to finish watching Kris Jenner be a bitch to everyone and catch up on teen moms being, well..., teen moms. Very important stuff.
xo,
Amanda