Oops I wrote this back in January, but wanted to add a few cell pics to it & then never ended up finishing it.
On October 1, 2011 two of my great friends got married and I was blessed to be in their wedding as a bridesmaid.
I normally am quite the picture whore, but this time I knew EVERYONE would be taking pics, so I actually took almost none. HUGE SHOCKER. I even left my cell phone in the bridal suite while they got married at a nearby park and didn't go back for it until the middle of the reception. It was rough! ;). Kinda silly too since our dresses had POCKETS (!), but alas.
Therefore, I credit 99% of these photos to the professionals, Aragon Photography of Atlanta, as well as a pic or two from facebook (I think Dana's sister's, Kelly if I'm not mistaken) that may have slipped in the mix.
Nathan and I. I had never met him before, but him and his wife were both really sweet. His poor leg was hurt and he had to use a cane most of the day, but was able to troop through and walk down the aisle like a champ! :-P
Dana and her Dad. Here we go!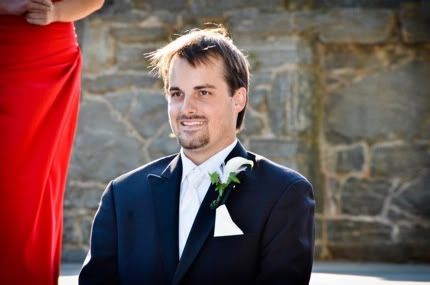 Seeing his bride walking down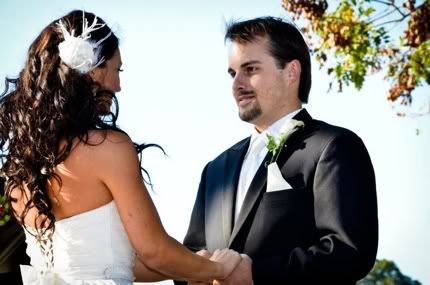 Awww.
Married!
Everyone together
Girls
Color pop!! LOVE. She added the rhinestone herself and it made the shoe. She's so pretty.
In the limo directly after the ceremony.
Reception.
Quick story. They called all of us in the wedding party one by one into the reception after all of the guests were seated, but Nathan and I were accidentally left out, so the whole line kept getting messed up, and I think Dan and Dana actually were announced before us, haha. If I'm not mistaken I
think
Nathan's wife was the one who announced or at least gave the list? And she said she got nervous and forgot to say her husband's name, of all people LOL. It was really cute/funny. We just had to scoot on by the bride and groom to get around the dance floor so they could begin their first dance! :)
TA DA.
Amazing amazing couple and friends.
Annnd now that I look at all of the cell phone pics none are really worthy of sharing
at all
, but since I made you wait this long, I'll add them here at the bottom just because. These are mostly random ones of my Mom and I over the course of the weekend. She'd actually never met Dan OR Dana previously, but they asked her to please come as my guest since they'd heard so much about her and really wanted her there (SO nice), so of course she obliged!
Delirious in the airport at like 5 or 6 am. Aren't we beauties? :-x Well, my Mom always is :).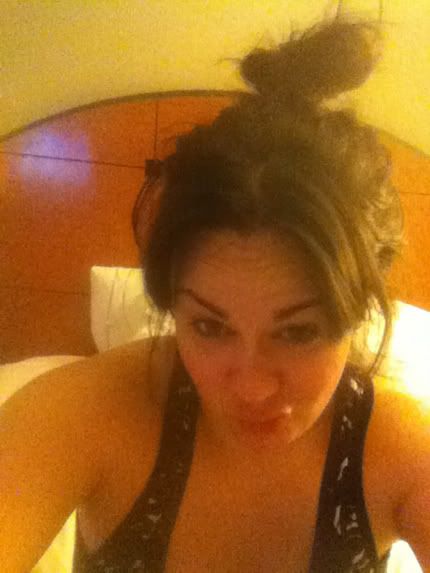 Once again delirious, prob at 2 am that nite? Well, technically the next morning. I couldn't sleep! Not sure why taking creepster pics of myself was necessary, but it passed the time....sorta.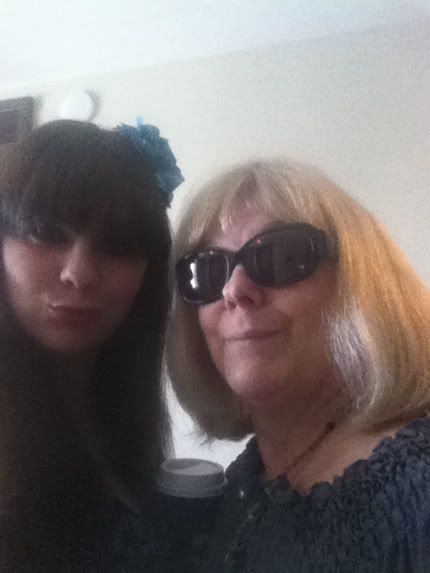 Another oh-so-lovely duck face by yours truly. Right before we walked across the street from our hotel to the mall (convenience at its finest!) to eat lunch. Sushi, yum! Well, for me. Mom's not down with that. Crazy. She had a burger, I think. Ha...how many places have sushi and burgers? It was a steakhouse/sushi hybrid kinda place, though maybe not the best idea since now that I'm remembering I did get sick after.....
Leaving for the rehearsal and rehearsal dinner! It was at a great Irish restaurant. We got to meet her family (first time for me too, since they live in California) and bond. It was really nice and the food was great!
Outfit. With gold strappy wedge sandals. I don't think I look like myself in any of these. Weird.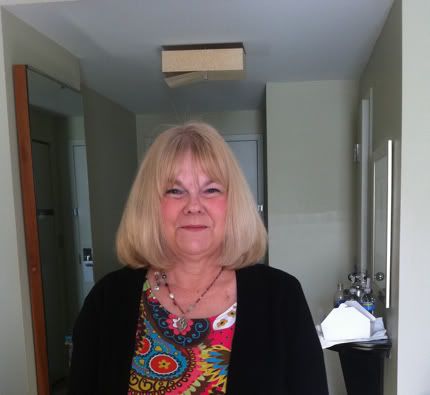 Excited
Wedding day! During the rehearsal all the girls talked about hair options. I had a couple ideas in mind (some up, some down), but that nite only myself and another girl decided on updos, while the rest were going to go down. In the end, only I ended up with mine down!
I had my dress tailored (why did bridal stores always insist you go up a million sizes??? I wasn't even getting it tailored there, so it's not like they got extra money!) and it was STILL too big. The ironic part is the boob part was the part that was too big, yet the only reason I went up TWO to THREE sizes was to accommodate for my chest!
And it was extra WEIRD because the day before I tried it on to be sure and it fit almost perfect, then I woke up the next morning and it was HUGE. I could barely keep the top up. Not great when it's strapless!!!! So I figured keeping my hair down would help hide that...I told the hair stylist I was gonna put my hair in front of my shoudlers, so it'd help cover me up a bit. She ended up not listening to me at all and didn't do it like the picture I showed, plus it was super tight in the back and looked mullet-y pulled forward (but great in the back, as you can see above). She also did my bangs (that were way too long as you can sorta see in the rehearsal dinner outfit pic) in front straight across instead of side swept (also like in the pic). But I don't think I had any wardrobe malfunctions, so oh well. At least my makeup was perfect! I didn't even tell the makeup artist what I wanted, but she ended up doing it exactly how I was envisioning!She did all of us girls in similar, complementary colors, but that were best suited to our features. Very cool.
This was taken post-wedding in our dark hotel, so you can't tell at all. But it was a navy-ish smoky eye (my go-to for fancy events usually) and the rest pretty natural...except, you know, false lashes! They look way more exaggerated here tho. They looked pretty and natural in person.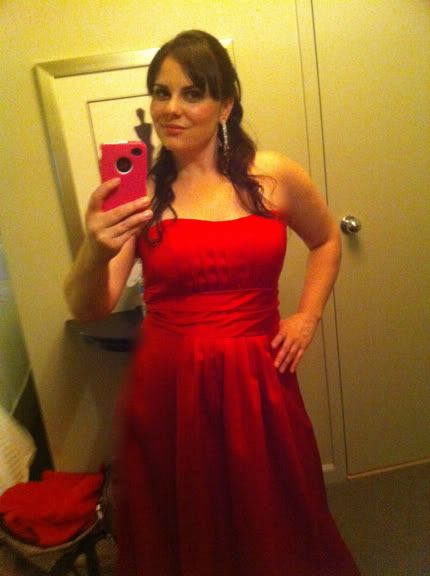 About to leave for the wedding venue!! I had fixed my hair
a lil
better there, the bangs at least, but the wind ended up attacking it anyway haha.
Purdy mama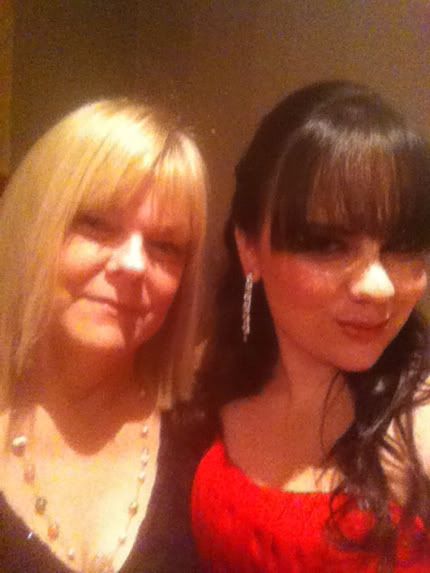 Leaving!
& we were invited to the small brunch the next morning for close friends and fam. Luckily we could make it (had to take our luggage with us LOL).
Healthy, huh? Nutella and banana (I think? nutella for sure) french toast. :-D
Phew, that was prob TMI, but my blog is mostly just for memories anyway, so it's all good.
xo,
Amanda