I think I just ran my first mile.
No, really.
Let me back up.
I've run
many
a mile(s), just never consecutively
(I don't think--though there was one time a month or so ago I think I may have in the middle of a workout and not realized it).
I already worked out today with weights, but I got a wave of extreme fatigue and instead of taking a nap or lazily fighting it, I decided to pump myself up with a quick run. Once I got started, a few seconds in, I thought, what better day to try than the last of 2011?
Not only that, but it was a 12 minute mile exactly (Unplanned. In fact, I was aiming for 15, sad as that sounds! We all start somewhere...). I have cardiovascular endurance, but not speed. It's partially a mental thing, partially lung, it seems. Because although my calves were tight, as they
often
are, my legs felt OK: good even (until I slowed down!). But today I proved I can push through the pain, be it physical or mental.
I know MANY people
walk
at 4mph, but that used to be my "running" (err, I guess jogging...) speed. But now I'm inching my way up to 5 and 6 mph, a place I never thought I could be, even though neither are particularly remarkable for many.
But as they say on Pintrest...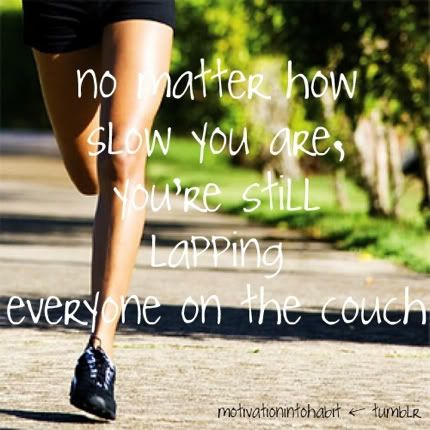 I don't normally do resolutions, but I've had a goal in mind for a few months--and maybe, just maybe, by 2012 it'll be achieved.
BIG Hint: 3.1.
xo,
Amanda