Do any of you buy the Entertainment Passbook every year?
If you don't know what it is, it's a HUGE book full of coupons for restaurants of all types, from fast food to steak and seafood dinners. Of course, the more casual places outweigh the fancy, but still.
No, they're not sponsoring me, so enough about that-haha ;).
The point of bringing that up? The coupons randomly expire November 1 of each year. For
years
my Dad and I have been saying we were going to use the Lawry's Prime Rib one for their Sunday brunch, and never did. We always assumed it was a buffet, but upon further investigation, it's not. And although most of the menu isn't even breakfasty, we decided to FINALLY go, the last weekend our coupon was good!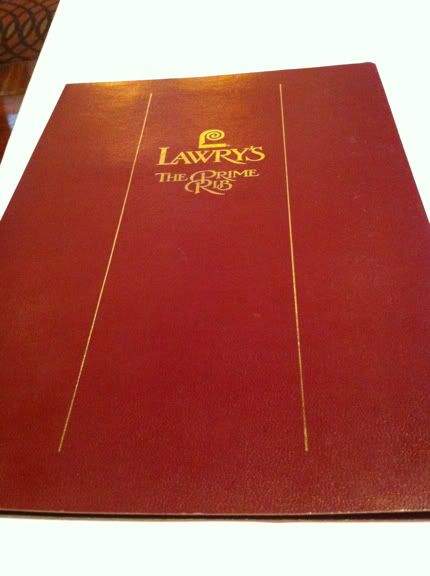 In true Amanda style, I had already been over the online menu, ohh, 10,000 times. At first I really wanted the chicken crepes. If there are crepes on a menu, I'm usually going to order them. It's just a fact. HOWEVER, I noticed they had something called a toad in a hole. It said it included filet mignon medallions and veggies inside of a yorkshire pudding topped with a cabernet wine sauce. Like I said last post, I'm eating WAY too much red meat lately, BUT I've
always
wanted to try yorkshire pudding and have never seen it offered before! I guess I could have asked for some on the side? But no. I ordered the Toad in the Hole. More on that in a minute.
When we first arrived there was no one at the hostess stand and none of the wait staff stopped to acknowledge us either. Even after a good 5-10 min. My Dad wanted to call the restaurant and tell someone we were there, right in front of them (the phone was behind the seating station), but I begged him not to, lol. Eventually he motioned a bus boy over, who told us to wait a moment. Meanwhile, the hostess came out of the bathroom, sort of apologizing for the wait and took us to our table.
Amazingly, every meal also comes with a basket of bread (sourdough & blueberry muffins) complete with flavored butter, a glass of champagne or a mimosa, and your choice of: fruit with mint and creme freche, their famous spinning salad, or a bowl of mushroom bisque. All for a really reasonable price! (Unless you get the prime rib, then it's their normal price, depending on size,...but you still get the first course and champagne, so not too shabby).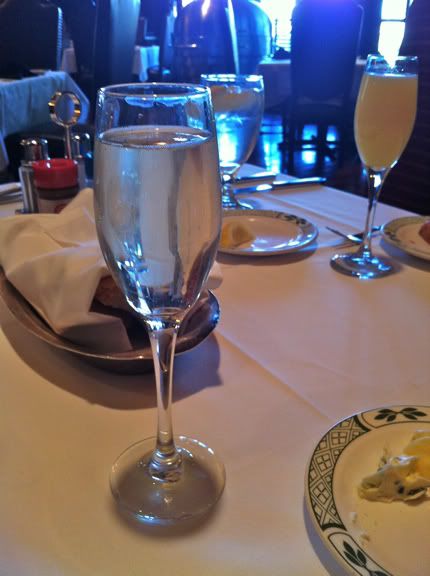 Mmm, champagne. Why waste half the glass filling it with orange juice? ;)
My Dad picked the salad, so I picked the bisque, assuming we'd share. I guess we both liked our own too much, as we barely saved a bite for each other. Oops. Though, funnily enough, I think we'd both consider getting the other's choice next time. I really liked my soup, however it was all blended smooth. I had assumed it would be a creamy base filled with chunky mushrooms.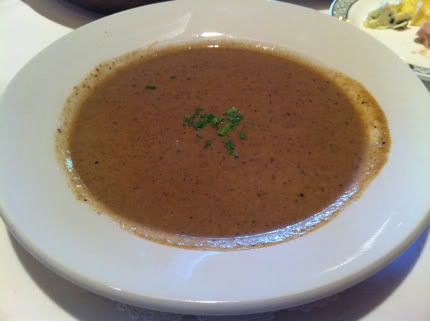 Usually I pass up the bread basket, not just for health reasons, but because I don't really like most bread. But I do like sourdough and even though I don't particularly care for butter, I've always liked trying flavored butters. So, they won me there.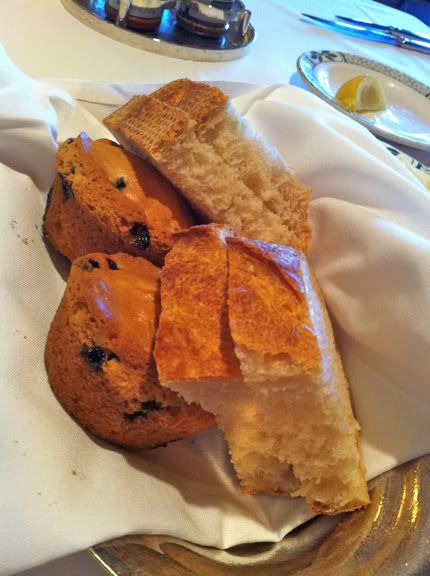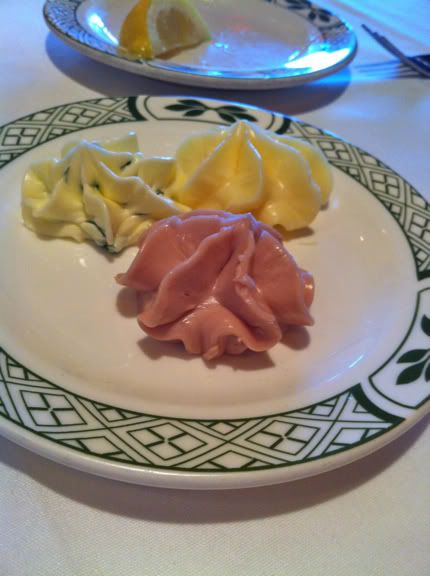 I'm pretty sure they were regular butter (didn't try to confirm), blueberry, & chive
My plate: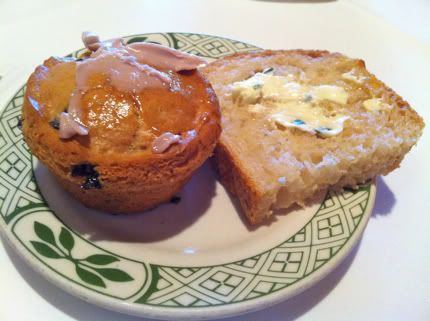 Pretty good, but I'm not sure I'd eat them again if I go back. The muffin was pretty bland and the sourdough flavor wasn't very strong. But the sourdough was probably my favorite, as the texture was quite nice.
My Dad ate (almost) the rest of the bread *shakes head*
I had also ordered coffee, but assumed the waitress forgot (she didn't write out orders down, which always makes me a little nervous!)
I was going to just forget about it, but then she ended up bringing it out right before the meal came.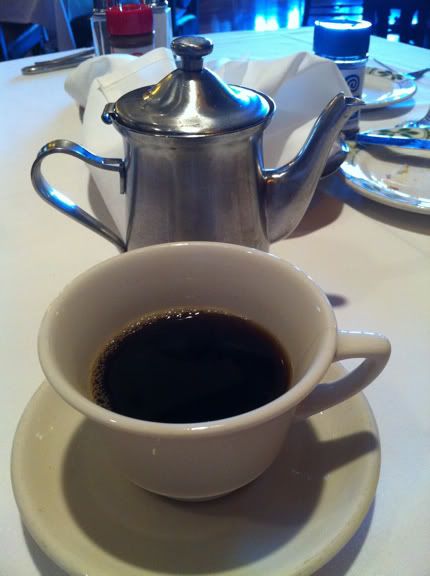 Love the little pot!
I thought maybe she'd take it off the bill since she forgot it for most of the meal, but no such luck. $3.50! That seems pretty pricey, right? But it was delicious. Very strong, which I love. I drank it completely black and drained the whole pot (not that it was very big).
I also realized shortly after ordering, that I never specified how I wanted my steak cooked (rare!), nor did the waitress ask. I thought that was a little weird, but didn't really care, so long as it didn't come well done.
You can see where this is going. It came well done. LOL. But it was still pretty good, so no worries. It came out looking much different than I anticipated. I had no idea it would be covered with fried onions, for one. Not that I expect a steak "dinner" to be healthy by any means, but this seemed much more decadent than I was anticipating. I pushed most of the onions aside and dug in.
It tasted more like a semi-gourmet beef stew more than anything, also not what I expected. It was good, but between the bread and soup, I took approximately 3 bites and called it good. Don't worry, the rest came home with me. The yorkshire pudding wasn't as exciting as I hoped, but it was good, too. Just tasted like a puff pastry? The roasted potatoes were also pretty great and I was excited to include them in my breakfast the following morning.
I had read online that the Dallas location wasn't as swanky as some of the others and that the service wasn't great, but I found both accounts to be untrue. Not that I've been to the other locations, but still. Our waitress was very friendly and though she didn't check on us excessively, there wasn't any real need. As far as the restaurant goes, my Dad and I were both a little surprised at the small size of the dining room, but my Dad felt it gave it more of an exclusive feeling.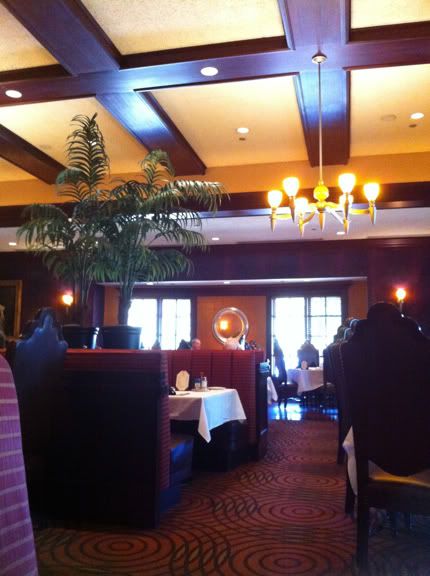 I really liked the plant for some reason, lol.
Overall, we were both pleased (my Dad got the crab cake benedict, which oddly came with no english muffin, the crab served as the "bread," and thought it was pretty good, though not great). For a normal brunch out it's on the pricey side (his meal was $19, mine was $17, and then the coffee), but for what you get it's still a great deal. We would go back and pay full price for a special occasion or celebration OR go just for fun with another discount. Since it is so rich, it's probably plenty to only go when we have a coupon (this year we bought 2 books after a misunderstanding with the vendors), but it's a nice option to have when you feel like being indulgent.
We ran a lot of errands after eating, so we didn't have time to make it to the gym, but clearly I needed to burn some of this off!
I procrastinated and procrastinated, but ultimately ran on the treadmill for half an hour, I think? Well, my usual walk & run, that is.
My initial hesitance: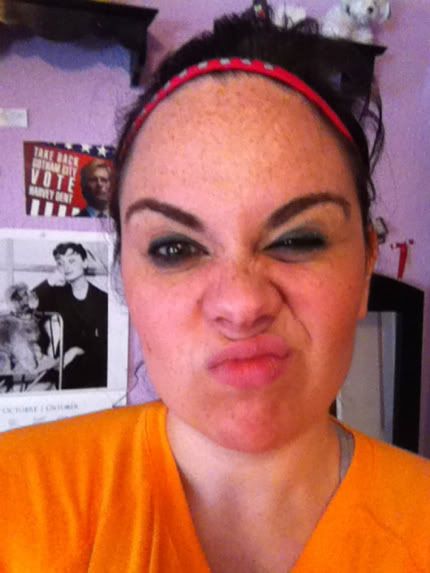 Followed by almost-acceptance that this was going to happen: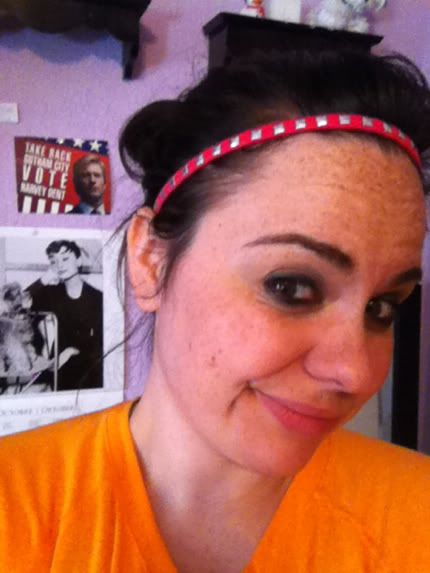 And finally, sweet, sweet, sweaty victory: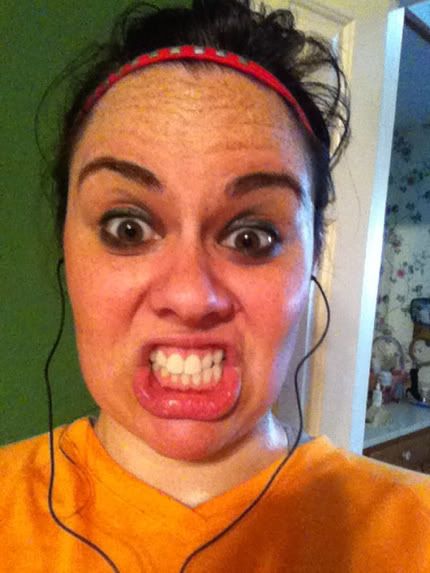 Hotness.
I don't remember what I had for dinner, leftovers most likely, but for dessert I tore into a candy bar I forgot I had.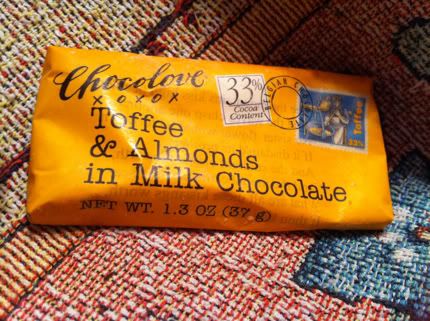 I ordered it along with an iHerb order awhile back and it came a little melted, but tasted oh-so good. If only it had been dark chocolate, but really, when it comes to toffee and chocolate, you can do little wrong!
And last but not least, give me some encouragement or discouragement: re: K cups. Worth getting a Keurig for? Yes? No? Help! I've been wanting one forEVER, but can't make myself take the plunge. I've been thinking about asking for one for Christmas or using a gift card for one now, but I can't decide! I found this at Walmart...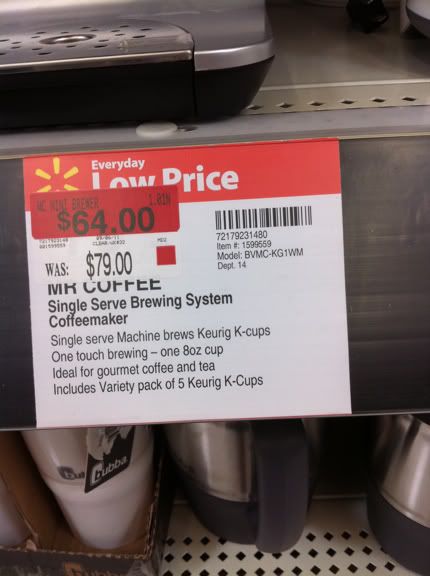 But it was sold out. Ugh. $64 I could get down with. I have found it for $79 elsewhere, but now seeing it for $64 I'm determined to get that price lol. I'm a little sad it doesn't make the iced variety, but for that price, no big thang. Maybe I'll take a 20% off coupon to bed bath and beyond and see what happens?
I've read mixed reviews. Many people LOVE their machines and k-cups, while others say the coffee is crap. Help a sista out.
xo,
Amanda