Where have I been?
Why, being a glutton, of course.
Naturally, when you should eat extra good for a certain purpose (i.e. mine = doctor's appt = scale), instead you eat extra bad, am I right? Oops.
Last week?
Twisted Root Burger
.
A Dallas institution I have yet to partake in. Until now.
1/2 lb standard sized cheeseburger with guac. I ate 3/4 of it. Next time, I share. Lived up to the hype, but 1/4 lb would be much more reasonable. I forgot to say wheat bun when I ordered. I was not disappointed. That bun was
amazing
.
I also tried a couple of their fried green beans. Also did not disappoint.
The Egg & I
OK, this one is actually kind of healthy (it's on their health menu, after all), it just doesn't look it. But it happens to be my favorite menu item anyway. The Mediterranean Frittata (chicken, mozzerella, sundried tomato...). No butter on the english muffin. & Fruit. Plus coffee. French Vanilla, this time. I miss the seasonal chocolate macadamia. Come back soon!
I took my Mom to see
Motherhood the Musical
.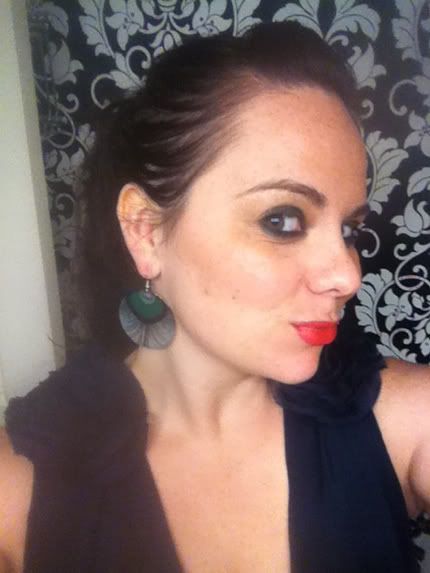 The venue often serves up a buffet style dinner before various shows, ours included.
I was going to stop there (for the entree, DUH dessert was coming next), but I was still a wee bit hungry, so I had seconds on the salad.
I was pumped all day for the dessert bar. I wanted to eat like 10 pieces of cake.
Instead, I took two, both chocolate. Normally I don't like chocolate cake, but I was craving it! Or a chocolate dessert of some kind.
Meh. Disappointment x 2. I ate maybe half of the bottom one, but really should have left all of it and stuck to my (decaf) coffee. They also didn't have the bread pudding they always have. No fair! The only saving grace? See that white part at the end of the far right? It was a sugar cookie. A really good sugar cookie. I wanted to grab the rest, but thought that would be a little tacky to destroy all of their cake just for the cookie edge ;).
One buffet in a weekend not enough you say?
I gotcha covered.
I had a travelzoo voucher for brunch that was going to expire in late October for the new restaurant,
Q De Cheval
, in the Intercontinental Hotel.
Don't mind if I do!
We arrived approx. 20 minutes late due to a.) an unforeseen circumstance I can no longer remember & b.) rain. The host was a little rude to us, saying they normally won't hold a reservation past 15 minutes, but he'd see what they could do. Understandable, but I could have done without the attitude. And we wouldn't have minded waiting a little. Instead, we were seated less than 1 minute later. I'm guessing we were the only party of 2 and they had an open 2-top table. His attitude changed as he sat us, and we got to eat, so no harm done. Sorry we were late and it offended you, bud! :-P
Now, let's eat!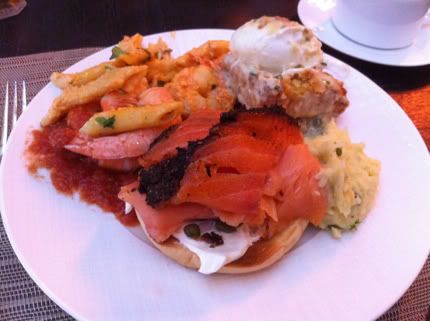 I pretty much destroyed this plate. Happily. Shrimp pasta, jalapeno mashed potatoes, lox bagel with a million capers, shrimp cocktail, grits with poached egg. Big smile.
Served alongside bottomless mimosas, champagne, & bloody mary's. And coffee, natch.
I stuck with 2 mimosas to start.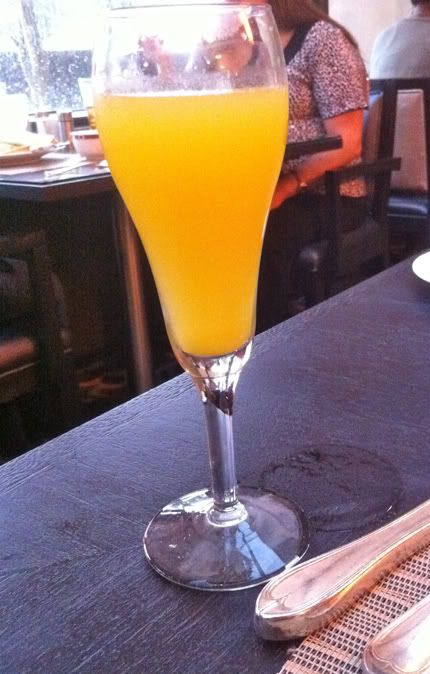 They don't play. You know how most bottomless mimosa buffets water down the mix? Not this. It was more champagne than anything. And considering they used Ketel One for the bloody mary's, I'm pretty sure this was some decent champagne at that. I approve. (Though I do adore the taste of cheap champers, not gonna lie, so I'm cool either way).
+ water & our own pot of some pretty delicious coffee.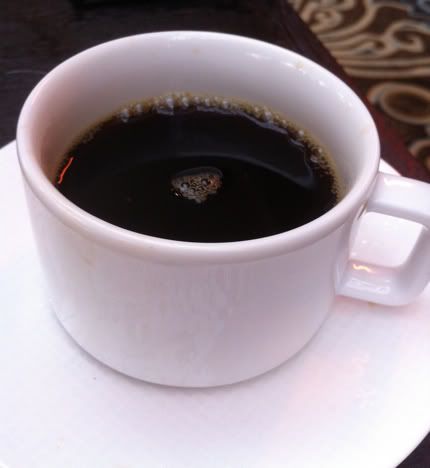 Not only did the waiters bring your beverages, but you could also go up to a table and serve yourself the booze. Bottomless, indeed. I barely finished the 2 during the entree portion of the meal, but my 21/22 year old self would have been quuuuuuite impressed with the set up. They, however, may have rethought it once I left. Kidding. Sort of.
Plate 2?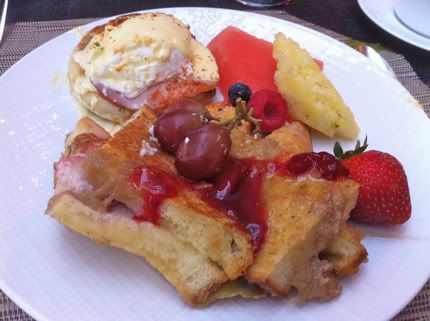 Barely got touched. It was still v. good, but not quite as good as plate 1 (luckily!). Not worth making myself ill over. Caramelized banana french toast, a little fruit, eggs benedict.
Took a 10 or so minute break and then let the dessert eating begin!
The entire meal I was eying the chocolate mousse. When it's good, it's gooood. However, I kept noticing mostly-full glasses go by on the waiters plates of empty dishes. I worried people kept grabbing it, but not liking it.
Still, I grabbed the last glass. Phew. Just in time. I had to find out for myself! I'm never one to turn down mousse, come on now.
As I perused the other desserts, they brought out a new concoction in the same martini style glasses. We didn't know what it was, but my Dad grabbed one for us to try, while I went to town on the chocolate fountain.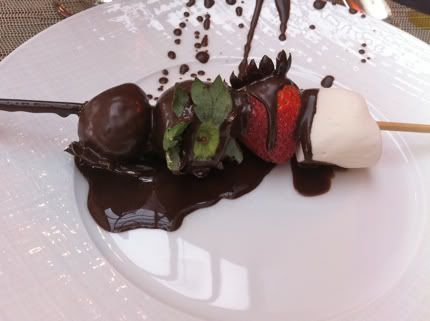 Of course the marshmallow was what I most wanted to get covered in chocolate and it was the only thing that wouldn't play fair!
But when I got back to the table and I remembered the chocolate hardens I didn't really want it anymore. I always think I love chocolate fountains until I sit back down. Oops.
OK, back to the mousse(s). So, the chocolate mousse wasn't as good as many I've had in the past, but it wasn't bad at all. The reason people kept sending most of theirs away? It's pretty huge. We soon discovered a little mousse goes a long way. Those crunchy little chocolates on top didn't last, though. De-lish.
The other glass? Tirimisu! My Dad ended up only liking the top portion, while I was going to town on the bottom. Could have used more of the bottom if you asked me. Again, good, but not amazing, and a little went a long way.
So, for the second time in 2 days I was a little let down by the dessert buffet. Nothing blew me away. But that's probably a good thing. A few bites and I was good. Oh, and I also downed half a glass of plain champagne with the chocolate.
All in all, I wouldn't pay the regular price for the buffet ($30/person), though it was overall worth it, but if I got the chance at another voucher I'd buy it for sure (ours ended up being a total of $45 for 2, including tax & tip). Even then it was pretty pricey for breakfast, but
well
worth it for what we got. The only thing I would have changed? I wish they would have had their famous duck quesadillas I read about online, but maybe that's just an evening thing? But what we got was a nice change of pace!
To top it off, on Monday I went to the regular Indian Buffet. It didn't photograph pretty, so we'll omit that evidence. Buffet, buffet, buffet. My poor body! But hip-happy taste buds. Oh yeah.
xo,
Amanda