I'm the kind of person that skims directions and then tosses them aside. I want to know everything about everything, but who has the time? Never mind that it usually takes 10x as long to figure it out yourself.
Obviously I've run in my life, I've just never tried to be a runner (I still say that loosely for now...). I kind of didn't read the part of Couch to 5k that tells you rest every other day. At least the first week is a lot of walking, but 3 days in a row makes for one tight-calved Amanda. Going down stairs is not the picnic it was pre-Saturday.
Let's be honest, some weeks I'll rest, no problem, but others I'll work out 5 or 6 days in a row. I know rest days are very important and I take MORE than my fair share, but I just can't get down with only half an hour of light cardio 3 days a week and then calling it quits. No bueno. But from now on, running of any kind will be on alternate days only.
But mannnnnn, even crap-running makes you HUNGRY. I feel like I ate non-stop Saturday-Monday. Today I did take off and luckily the beast was quelled for now, but geeeez. Maybe that's why they built in the rest days :-P.
Today?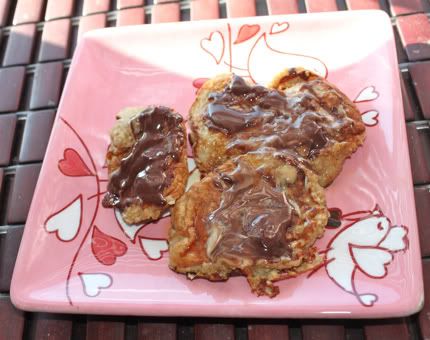 I need protein pancakes every day of my life. Usually I roll with oat, egg white, and protein powder varieties, but lately have take a queue from
Julie
and cottage cheese-d them up. I've made both her pumpkin & banana varieties and both get two very enthusiastic thumbs up.
Toppings today included a little maranatha pb, a little maranatha chocolate almond butter, & a drizzle of maple syrup. Yes, please.
I debated whether or not to include coffee, as I've cut wayy back, but pancakes, especially ones covered in nut butter, scream for nice, hot coffee. Chocolate flavored (I forget the exact name) Godiva coffee, it was. With a large splash of unsweetened vanilla almond milk + vanilla stevia. Mmm Mmmm.
While I waited for the french press to do its thang, I put the almond milk & stevia in the mug....and then forgot about it & shook the cup out for some reason (to see if there was excess water in the cup from being washed, I guess?) Good thing it was over the sink, because liquids went a-flying. Ooops.
Got to work late like we do every single day and got
some
things done. Of course, also as always, we had too much drama, too many things to get done, and not enough time.
I managed to cram a little food down my face late in the afternoon, 2:40 or so. Good thing protein pancakes are long-lasting goodness.
What was it I ate, you ask? Sorry, it was too ugly to share evidence, but here's a wordy description: Last nite I prepared a wrap using a brown rice tortilla, a torn up piece of land o lakes white american cheese, red pepper hummus, and organic spinach. I brought a Quorn veggie cheeseburger alongside to heat up & add inside at work, but our work microwave is a little too potent and killed it. No big deal, it was good enough without it. Those brown rice tortillas are my fave taste-wise, but I don't think I'll be toting them around anymore. Portable they are
not
. I opened up my wrap, doused it in mustard, and as I tried to assemble it all back, it crumbled all over the place. Rude.
Tuesdays are an early day, (though not as early today *cough drama*), so I just went home and caught up on TV & snuggle time with the pups. Nothing better! I don't want to wait until January for the Lying Game to come back. ABC Family, I love youuuu!
Every single day I say I'm going to make salmon. So far, it's still in the freezer. Today included. I knew I wanted peas, but wasn't sure what else. The fridge proved useless, but a peak in the freezer made up my mind: goat cheese and cranberry stuffed Quorn "chicken." If I couldn't have the burger for lunch, the faux chicken patty would more than do. I was gonna make a salad too, but got lazy. Maybe later. Add in a ginger ale Zevia once I couldn't find my coconut sparkling water and I was set.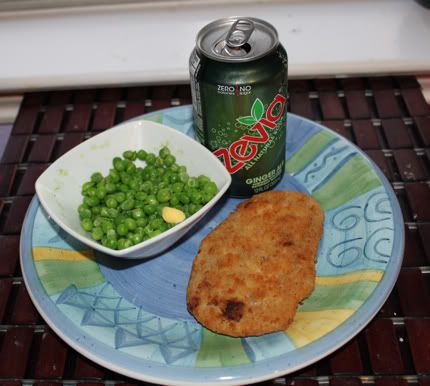 That's a lil pat of Irish butter in the peas, just FYI.
And yes, it too was deeeeelish.
For dessert I'm currently considering a chocolate vitatop warmed up & crumbled into some frozen yogurt, maybe with a little nut butter, but who knows for sure!
Can't wait for Ringer tonite! Anyone else watching? That & Revenge are probably my two new fave shows this season. What about yours?
xo,
Amanda