Today was a whirlwind of plan changing.
Last weekend was supposed to be busy and errand-packed (aren't they all?), but my impromptu stomach flu put a damper on any of that. Forward to making up for it this weekend. Yesterday, I was invited to lunch for today, and rescheduled my entire weekend around that, only to be told, one hour before the scheduled meet up-time, that it would no longer be happening as planned. The new plan was to go 2 hours later (which who knows if that would continue to change, you know?). My time is valuable too, thankyouverymuch. In the past I would live my life around other people's schedules and silently suffer, but not anymore.
Instead, I shook off the annoyance and disappointment, and proceeded to move along with my day. My Dad agreed to accompany me to use a Living Social voucher to try out a new, healthy breakfast & lunch restaurant,
Vitality House
. The reviews online are
mostly
good. I think that's a fair assessment of my experience. The idea of the place is right up my alley. Here, I'll let them speak for themselves:
At
Vitality House
we offer delicious, flavorful, unique dishes that are nutritionally beneficial. Our mission is to make your journey for a healthy lifestyle a simple path to follow. With the collaboration of our first class Chefs and our in-house Nutritionist, the menus we present are designed to meet the highest nutritional standards. All of our dishes are pre-portioned and nutritionally analyzed so that the biggest decision to be made is which tasty creation you will choose to enjoy!
And I would say they succeeded overall, but they're not quiiiite there. The ambiance is bright and cheery, the service was a little slow, but very pleasant, and the menu options were good. However, as I expected may happen, I think I liked the idea of the place more than the execution. They're still new (I believe they opened in May or June) and their official Grand Opening isn't even until next week, so I have hope they're still working out the kinks.
The place is small, but it was busy. All but two or three tables were full. Additionally, Dallas fitness guru, Larry North, was also in attendance this morning. This marks the third time this year my Dad and I have run into him and his fiancee at breakfast. Nearly every time we eat in the Richardson area. My Dad and him briefly worked together in the past, about 20 years ago, give or take. For some reason, my Dad thinks this is reason enough Larry should remember him. *shakes head* I had to BEG and plead for my Dad not to say hi this time, lol. Thankfully, he obliged. I really didn't think he'd be able to help himself. Phew.
/tangent over.
I ordered coffee, water, a modified version of Chris' Favorite Frittata (normally comes with eggs, spinach, sun-dried tomato, mushroom, & asiago cheese: I substituted egg whites only & goat cheese), plus a side of sweet potato hash.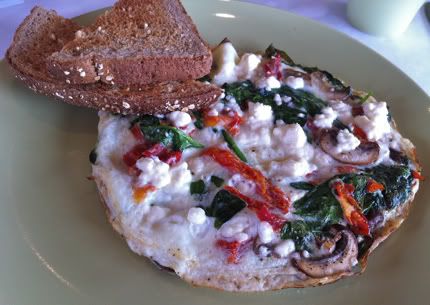 I liked the fritatta and it was cooked well, but it was a little bland. If I had made it at home, I think making friends with the (salt free!) greek seasoning would have shaken things up quite nicely. That, or a nice dose of hot sauce.
I forgot to take a picture of the sweet potato hash. Not sure what exactly made it a hash. It was pretty much just diced sweet potato. I'm
very
picky when it comes to breakfast potatoes of any kind. 9 out of 10 times they're too hard/undercooked for my tastes. How anyone could like undercooked potatoes is beyond me, yet it seems to be the norm.
Weird
. Anyway, these were no exception, though they were JUST underdone, almost there. So I still ate them and liked them. They were seasoned perfectly. I swear I could almost taste marshmallows, though clearly there were none.
It took an awfully long time for our food to come out. And oddly, after awhile, the waitress came out and said they were out of goat cheese and would I be OK substituting feta? To be honest, I live for goat cheese and it was what I was most excited about, but feta is pretty good too, so I said that was fine. If they're out, they're out. what can you do? But, my Dad and I were both a little confused why it took about 20 minutes (just guessing) before they noticed they were out of the goat cheese? We both figured we'd have had our meals already, let alone have them come to a realization about an ingredient I had subbed from the start! My coffee mug also stayed empty for a good part of the meal, but it was watery anyway, so I didn't feel like I was missing much. (FYI: the feta was really flavorful and tasty, so there's that).
The meal also came with toast (which I left for my Dad to take home). As we were packing up the leftovers late in the meal, I realized my food was also supposed to come with fruit, something I never received. Had I remembered upon delivery, I would have asked, but it felt a little silly asking for it to-go. Especially since we had just paid and were nearly ready to head out. But for $10.95 for the meal, maybe I should have.
Size-wise, for being portion-controlled and relatively low-cal, the amount of food was more than adequate. In fact, as soon as we were seated, we were brought a plate with 4 mini-muffins (carrot, zucchini, & nut). We both ended up taking half of our meals home and left feeling comfortably full.
My Dad ordered the build-your-own omelet (their standard omelet is made with 1 egg + 3 egg whites, pretty cool). It was a little on the pricier side of the menu, at $9.99. It came with toast (he subbed an english muffin--which ended up being whole wheat), but no other sides. The cool thing about the build-your-own omelet is, for one price, you can theoretically order ANY available ingredients you want. He got 3 or 4 vegetables, bison sausage, chicken, and mozzarella. He was disappointed they didn't offer swiss cheese, but liked the variety otherwise.
He thought both the english muffin and the eggs in the omelet were a little dry. I took a bite of his omelet. Although the ingredients were not what I would choose, being unbiased as can be, I could see where he thought it was dry, but I still thought it was pretty good. The problem is, he's an omelet-connoisseur, you see, and he compares any and all omelets to our local breakfast joint, Little Gus Cafe. Little Gus omelets can do no wrong. They are huge, delightful, and only cost $8.99 with bread & the best breakfast potatoes of all time. Basically, they are the Chuck Norris of omelets, so really why bother anywhere else? I try to tell him this anywhere we go. Branch out; do not get an omelet, you WILL be disappointed. And he always is.
He said his overall experience was moderate and though I'm struggling to come up with reasons to bump my opinion up beyond moderate, I'd have to agree.
If it wasn't a health-food restaurant, I'd be hard-pressed to find real reason to go back, but since it fits along with a lot of my ideals for eating, I'm going to give them at least one more try. Ideally, I'd like to also give them another try for breakfast and a try for lunch. It wasn't bad, I just wasn't blown away. And unfortunately, I don't see them turning unhealthy eaters into converts. They just didn't use strong enough flavors to prove that healthy food is just as tasty, if not tastier, than processed, chemical and fat-filled frankenfoods. For example, a sprig or two of fresh basil chopped into my frittata may have given it that freshness and potency that would have put it over the top. Just the little things that really add up.
Also, a lot of the menu is very reasonable ($6.95 or so for breakfast? Sign me up!), but for us it turned out to be more than we expected. I paid $12 for the voucher, which allowed us $25 in food. With tax and tip, our bill came to about $36, I think. That's $12 I paid for the voucher + an additional $11, totaling $23 out-of-pocket (thanks, Dad!). My Dad and I go out to breakfast almost every Saturday and Sunday, and unless we go to our (read: my) more expensive favorites, our bill almost always comes to about $25 with tip. So really, we didn't end up saving much of anything using the coupon.
OK, I think I went a little overboard with my review. You get it. :)
I wish more healthy restaurants existed, so I could make the rounds. Plus, a little healthy competition (pun not intended, but if it works...) might make everyone amp up their game and change the public's perception of healthy food. One (fine) day......
OK, time to go finish watching my girl Jillian on the Doctors. Not sure how she scored the gig, being that she's not a Doctor, but I'll take it, if it means I get to see her every day!
xo,
Amanda