Another weekend ends *tear*
This was a pretty low-key weekend, even more so than usual.
For some reason I stayed up last nite until 3 am watching tv (surprise, surprise, me and tv lol). I made a good dent in my DVR, but it didn't do my sleep schedule any favors! I woke up just after 11:30 am. Oops.
Instead of breakfast, it was more like brunch/lunch. With a last minute change in plans,we ended up going to one of my faves,
Breadwinners Cafe
. I got my favorite breakfast, the monterrey enchiladas with egg whites topped with queso & salsa with a side of black beans. It usually comes with potatoes, but I subbed fruit. They gave me a whole plate of fruit. Awesome. Otherwise, it was a little lackluster, unfortunately. One thing I've noticed that really bothers me is the menu says the enchiladas come with sour cream, but they never do! Even though I don't really need it (but do love it!!), it bugs me that it says one thing and they plate it another way! I asked the waiter the first time and he said he'd bring it to me, but it doesn't typically come with it. Then why does the menu say it does??? /end dumb rant lol. And this time, the enchiladas came lukewarm, almost cold, and the beans were WAY too salty. Fail. But we got to eat on the patio, our fave, and it was nice out, so it was still worth it. Plus the coffee is great and the little cakey breads they bring out are always a nice start. I bet the meal will prob be much tastier as leftovers when I can heat it up. Don't worry BW, I still love you.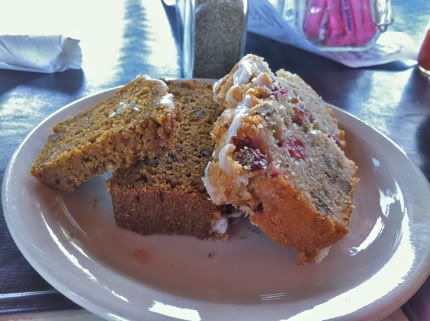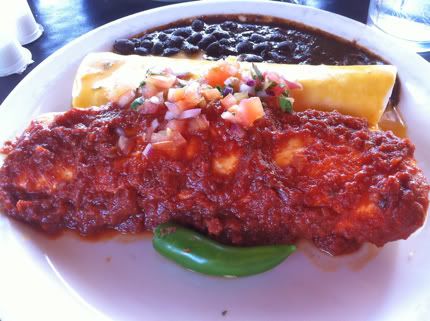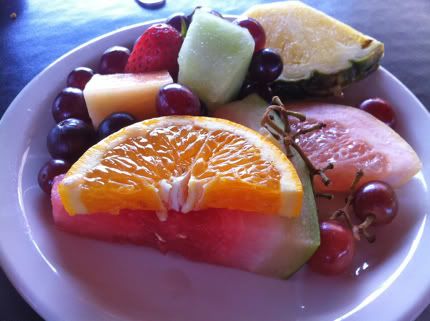 There were two people next to us who were quite outspoken. I wouldn't say they were especially loud, but in an entire patio of people, I heard every single word of their conversation lol. And the girl even asked my dad and I what we were putting in our coffee (liquid stevia!!). At least they were friendly and their conversations made me (silently) laugh :-P.
After we ate, we went to Whole Foods so I could use up some coupons that were close to expiring. I forgot to bring my $20 off living social coupon I got, but oh well. Guess that just means we'll be back soon--darn ;).
I kept meaning to workout today, but never did. Ho-Hum.
Ate Maggiano's leftovers again with a
fiber one bar
. Watched copious amounts of tv. Got lots of licks from the pets. Drank a delicious mango Kombucha. Super exciting stuff :)

xo,
Amanda