Today was pretty boring, but why not jump right back in to a daily recap?
My Dad's back was hurting him this morning, so we had to skip yoga :(. Well, I could have gone, but I'm needy with new things and hate doing things alone lol. Usually Saturday is weights day, but I decided to work out at home & did a quick 25 minute treadmill workout.
I was pretty darn hungry after & pumped for what we had planned: crepes! Tried out a new-to-me (not sure when it actually opened, it may be new in general) lil joint,
Cafe Flair
in Frisco. It was pretty good, but not as exciting as I hoped, as a crepe fanatic. My Dad let me pick the 2 flavors for us to split. Banana Nutella is non-negotiable. That's ALWAYS a must. It was good, but needed WAY more filling. We also split the spinach/egg/mushroom/swiss one (aka The Favorite). Neither of us could taste the eggs at all. Kinda weird. In fact, I'm not convinced they didn't forget them. *shrug* And again, the amount of filling left something to be desired, but it was still a tasty meal. I do love me a crepe. You know how they say bad pizza is still good? I DEFINITELY don't agree with that, however, in my eyes, a bad crepe is still a crepe aka still tasty stuff. Not saying these were bad tho!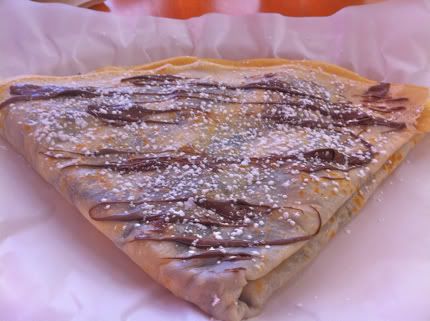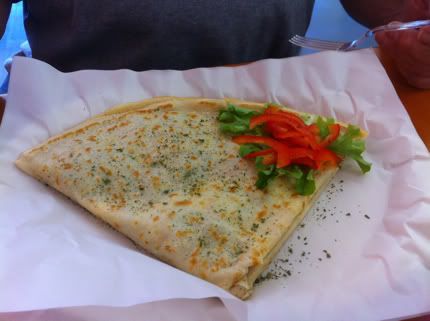 They also sell smoothies and bubble tea. I went with coffee to round out my breakfast, but will definitely be back for taro bubble tea fo' sho'. Not sure if crepes and bubble tea go together, but individually? Me gusta MUCHO.
As far as the crepes go, I'd definitely go again if I was in the area and needed a snack or wanted dessert, but for a full meal I'd probably pass. I prefer the crepes in the food court of Northpark mall, but these will do in a pinch.
My Dad said the amount of food was surprisingly really filling for him, but he didn't get the whole full meal experience you get when dining out, since this was an order at the counter casual place. I think we spent somewhere around $18 or $19 bucks after tax & tip, so it's not that cheap when all is said and done (can be kind of deceiving since individually things are cheap, but it all adds up). Plus no leftovers. My Dad was also disappointed coffee refills are 90 cents, but neither of us finished our large coffees anyway, so it's not a big deal.
It took me a little more time to process whether I was full after or not, but when the brain signals finished their chat with the stomach signals, eventually I decided I was quite content and stayed that way for maybe 4-5 hours. Not bad, not bad.
Then, we went to Tom Thumb (our branch of Safeway). I had a coupon for $1 off Seattle's Best coffee (which was already on sale-score). I need more coffee like I need a hole in my head (stupid saying, whatever), but I've been curious about their whole 1-2-3-4-5 level line, so why not? I had no idea which number to pick, but went with 4. I like full-bodied tastes and always think coffee tastes too watery, so that seemed like a good place to start.
Wellllll, it didn't end there. Silly me also picked up 2 more bags....the seasonal Godiva blends: pumpkin spice (I mean, duh, it's
pumpkin
) & caramel pecan bark. Hey, they were on sale too, the caramel one was limited edition, and I was going to eventually buy both anyway. I can't help myself! Now I have at least 7 bags of coffee at home and 1 at the office. Awesome.
I also had to run into Petsmart to restock Bella's heartworm pill & prescription vitamin supply and Walmart for a couple of things.
Boring
. Now I just
need
to remember to remind my Dad next Sunday to take Buster to get his heartworm pills since we forgot to get them this month and I'll be out of town. We got the dogs tested at different places and it's kind of inconvenient, especially Buster's since we did his at this Vaccination Station place that does it for a discount, but only shows up at certain locations once a month. But they're worth it. OK, you didn't need to know all that lol.
Came back to the house for a little bit and probably just watched tv. I don't even know.
I was supposed to go to the Greek Festival tonite, which is always fun, but it was hot as balls out and I didn't feel like sweating more than I already was (nice image, eh?) Kind of disappointed, but I'll live.
Instead, I went downstairs around 5 and made myself a cup of the pumpkin spice coffee. Eh, it's more spice, less pumpkin. Not my fave, but oh well. I was planning on making a snack to accompany it, but my whole fam was starving, so we just went out for an early dinner. Well, around 6, but close enough.
I had a $10 off coupon Maggiano's e-mailed me that was expiring at the end of the month, so we put that to good use.
We all had water & all ordered off the classic pasta menu (where you get 1 pasta dish for there & one to take home). The waiter prob hated us and thought we were cheapos. Oh well, it was still over $60 for 4 of us. Food is so expensive.
For my meal I forget what it was called, but it was farfalle pasta, broccolini, & sundried tomatoes in a lemony sauce? I thought it would be an olive-oil sauce, but it was kinda watery? Not the best, but pretty good. I think I got less food than everyone (no, but really), because I ate so much of mine and all of theirs still looked full. :-x. I also had a side salad.
The pictures were way too dark, so just use your imagination.
And while you're doing that, also imagine my dessert, since that was too blurry. Don't expect good pics in a moving car. Oops. My sugar-fest was what I eat almost every day lately: frozen yogurt! YUM. Half cookies & cream half plain tart topped with strawberries, blueberries, a sprinkle of chocolate sprinkles (lol), and a sprinkle of heath....oh and 3 mini pb cups.
When we got home, my dad accidentally dropped part of my second to-go dish on the kitchen floor when he was putting it away (eggplant parm with pasta pomodoro). In his true nature, he threw a lil fit haha (he gets really serious about food...yikes), but he picked it back up and put it away anyway. GROSS!! I'll prob just let him have it. My brother and him seem to think it's still perfectly fine, but I'm not sure that's hygienic in my book! He wanted eggplant parm anyway, but didn't order it because he thought I'd yell at him for being unhealthy-HAHA. Umm...he ordered baked ziti with sausage for there & meat lasagna to-go....prettttty sure those aren't exactly good for you either.....Doh!
Not gonna lie, I may have picked at some of the leftovers as a late nite snack. That's what eating early does to ya!
Well, back to tv-time, as always. Fall tv is KILLING me. I've been recording approx. 9-10 hours of tv a day most days and I don't think I'm ever going to catch up. Not sure what I'm gonna do...I already decided to delete & cut out Top Chef Desserts, but I'm not sure if anything else can be cut. TV is just so amazing. GOSH.
xo,
Amanda