Monday
-overnite blueberry banana yoats
-strawberry iced coffee with vanilla soy milk & vanilla stevia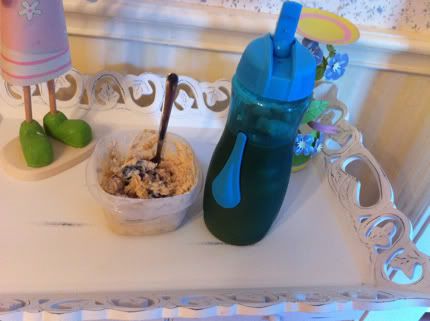 Ate in the car on the way to work. Got a stomachache. Wahh. Didn't even finish 'em.
Worked and then got the good news that lunch would be...
-indian buffet!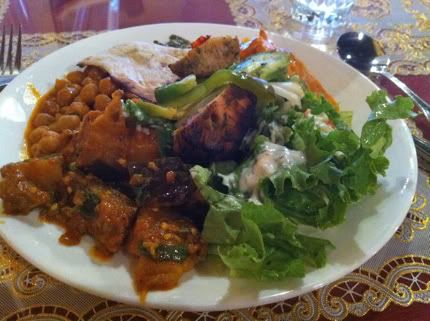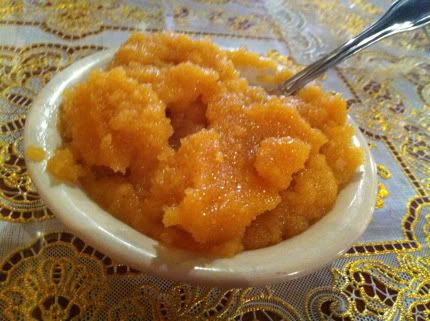 Yay finally. I always miss it when we don't go!
We left work early (4ish), because my Mom has pneumonia :(. I felt bad for not taking the whole day off. She was stuck all alone at the er doctor center all day, since our primary care dr was on vacation :(.
I was SO hot when I got home, like every day lately, so after I talked to Mom, I made a cold snack.
-chocolate/peanut flour/banana protein shake/smoothie
My Dad & brother went to see the Planet of the Apes prequel & my Mom wasn't hungry, so I didn't bother whipping up a gourmet dinner :-P.
-leftover pei wei (meh. threw away almost all of the rice & extra sauce)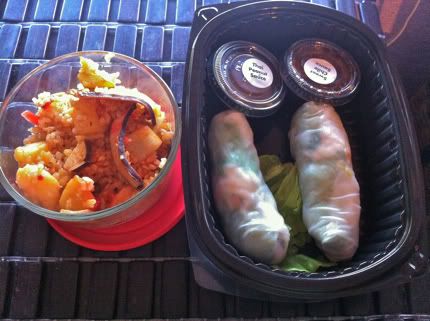 The one bad thing about food-filled items that you want to dip, like the rice paper chicken salad rolls, are once you take the first bite, if you want to dip again and be a double dipper-face, the filling all spills out. Life is tough.
-leftover Kombucha
Decided to finally finish up the meh Chai Spice one.
I knew I shouldn't have eaten a late nite snack, but I was hungry and I hate sleeping when hungry OR full.
-reduced fat ruffles & gluten free crackers with red pepper hummus, red pepper edamame dip, & tzikiki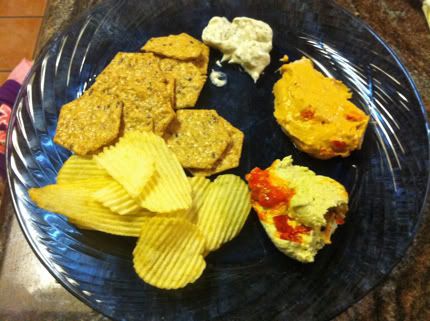 Edamame dip < hummus, but it was still good. Glad I bought it to try. They also had a lentil dip that sounds amaze, but it had weird fillings and spices, so hopefully they'll make more varieties.
Haven't done one of these in awhile.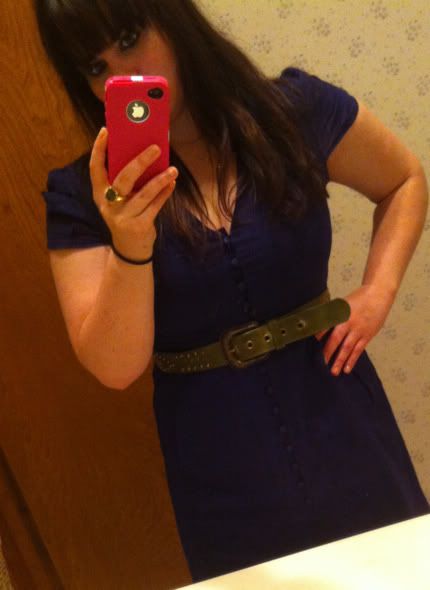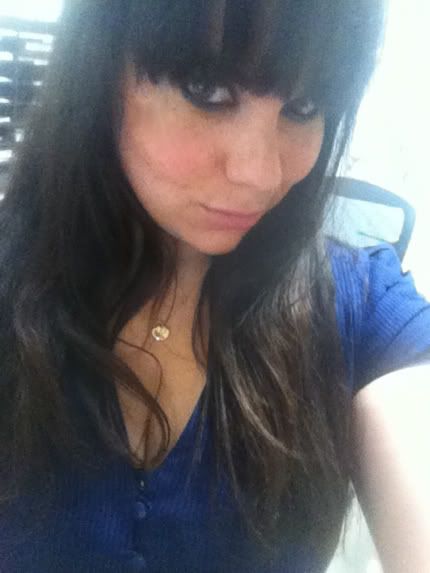 Yay for bad lighting and bathroom shots!
I got that dress from Anthropologie awhile ago, but never wore it. If fits
perfectly,
but next time I need to remember to wear a same color tank underneath. The chest buttons kept ever so slightly gapping, despite not being too small AND also having reinforcement snaps. Makes no sense. It was on sale, so perhaps a slight design flaw?
Sure
, we'll go with that. Plus, it was a little lower than I originally thought. I don't know if I should apologize or collect tips from our patients for the free show they may or may not have received.
Tuesday
Today I
almost
got up to workout, but wa..wa..wa....I didn't. It's the thought that counts? *shifty eyes*
-leftover spinach/cream cheese/egg white omelet
-potatoes with ketchup
-iced strawberry coffee with vanilla soy milk & vanilla stevia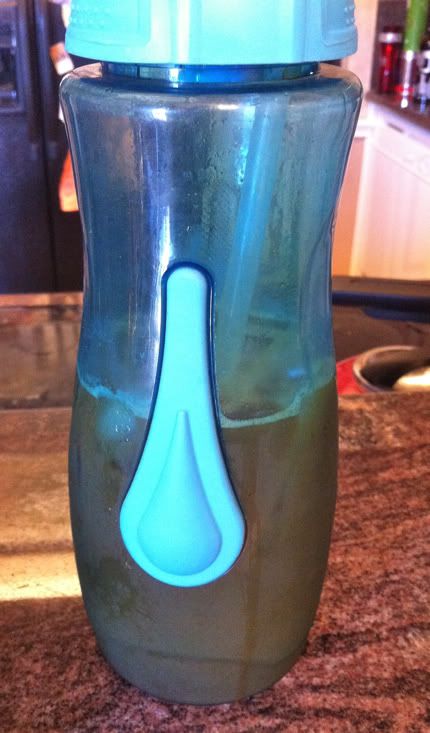 I'm always claustrophobic at my work station because it's a huge dumping ground for everybody's crap. It's where paper and boxes go to die before they make it to the storage room or trash can/recycling bin, basically. NO MORE. I wore another cute dress, which I probably got all dusty, but it was well worth it to dive in and go to town on clutter. It's still a work in progress, but check this out. Are you sitting? Just warning you, it's preeeeetty impressive, not gonna lie.
Before: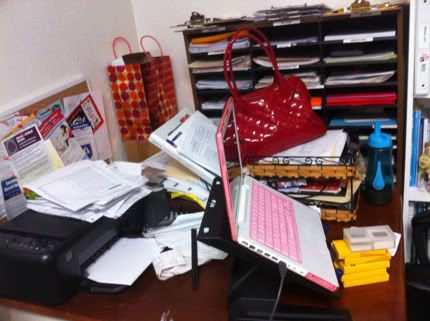 To be fair, it's usually not THAT bad, but it just goes to show that it happens.
During: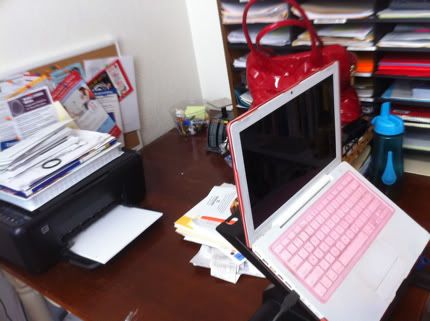 After: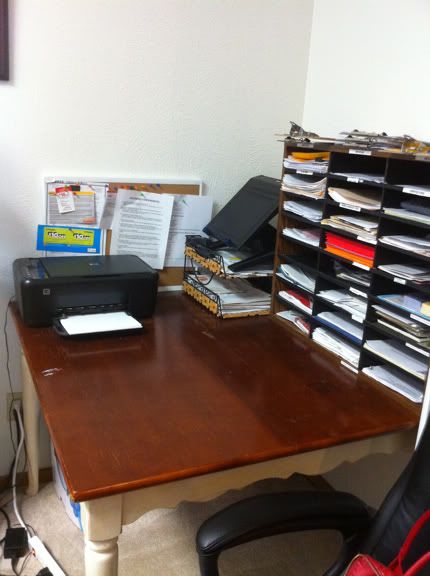 There is nothing like order, folks. Sweet, sweet order. I just want to bathe in it.
Wait, what?
Awkward.
My co-worker rearranged her office this week as well and got rid of one of our wooden cabinets and left it in the storage room, so I snagged it.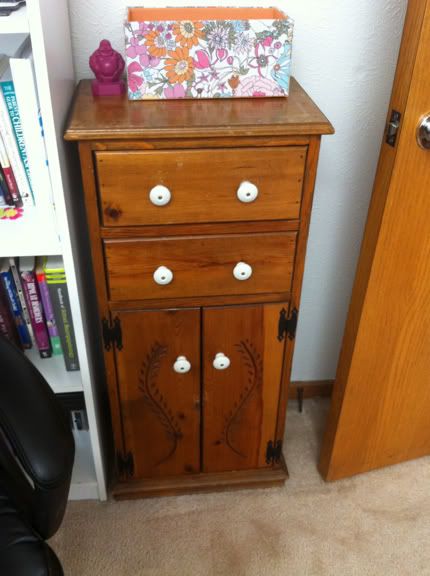 Now my work Buddha has a nice spot to chill :).
Lunch was simple, but always a winner in my book.
-turkey sandwich on brown rice toast with organic mixed greens, white american cheese, & mustard
-blackberry hibiscus Mamma Chia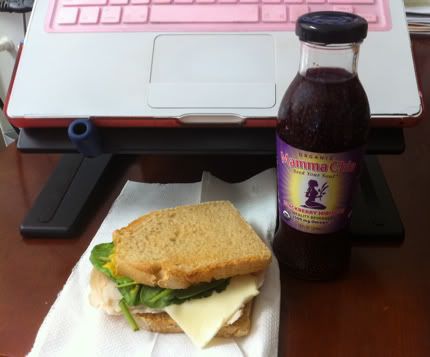 Perfect!
Shortly after lunch, a package arrived. A-HA. We've been waiting on a shipment of toner for the printer that came with a free Kindle! The toner is still a no-show, (luckily we have enough in reserve to last awhile), but the Kindle magically appeared.
Frustration free? Noooot quite. I've had a few fights with that box over the last two days. I don't know if that makes me dumb
or
whoever felt the need to include that stamp.
While cooking dinner snack:
-half of an apple cinnamon Kind bar
First time trying this flavah. Not as appley or as cinnamony as one would expect considering the name, but not bad. I've met very few Kind bars I didn't like. Actually just one. But since they have 284494 flavors I'd call that a win.
-tilapia with greek seasoning & a lemon/butter/white wine/kalamata olive sauce & sprinkled with a lil herby goat cheese
-orzo with the same sauce as the fish
-roasted broccoli dipped in tzikiki
-salad
-ginger root beer Zevia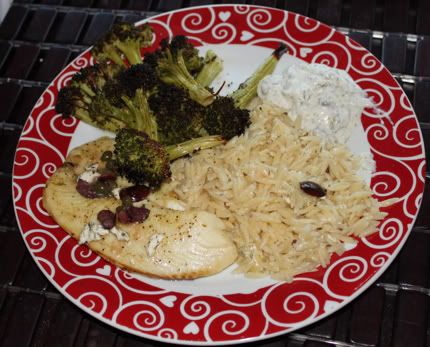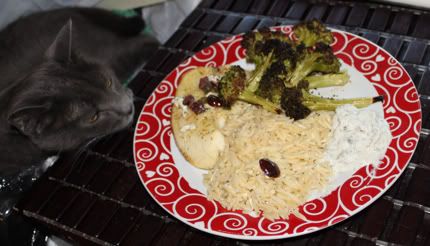 LOL, longing for some fishie faces!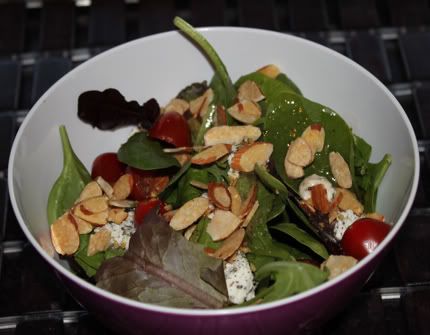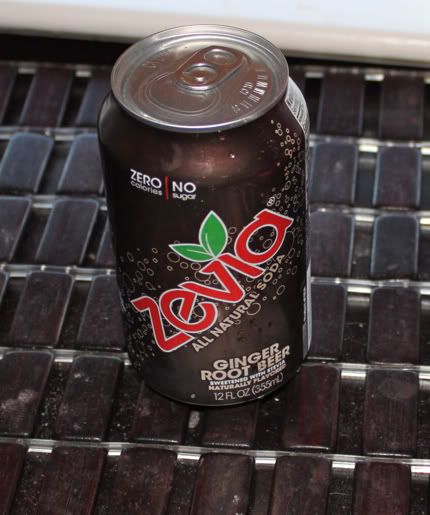 I got my tv on, which stimulate the old appetite again. Silly thing.
-graham cracker squares topped with an organic chocolate-hazelnut spread
-organic braeburn apple slices drizzled with the spread
-candy cane lane peppermint-vanilla decaf green tea with vanilla stevia