Posting out of order again. This time, more recent. I'll back track to the trip soon.
But now...I'm back to focusing on eater better and less. I've barely worked out this month at ALL and even when I was working out a lot I still felt blah. This has been a SLOW week, yet when I'm home I have
notime
! So I'll keep it (mostly) short and food-oriented just for now.
Monday
-1 slice of sourdough bread cut in half with egg whites, a lil raw red pepper dip, a lil white american cheese, dijon
-cherries & strawberries
-iced coffee via x 2 (1 packet, but it's technically 2 servings...ridic, who would make half a packet?!)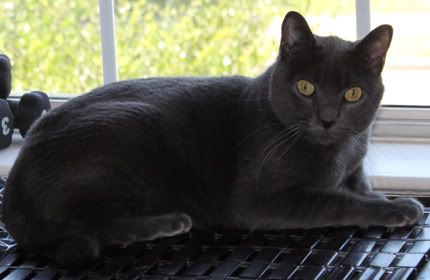 Oh wait, I didn't eat him. He just stole my picture taking window spot :).
Heeeeere we go: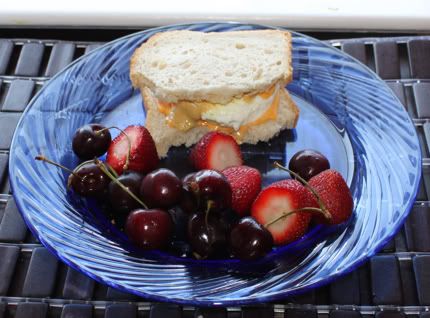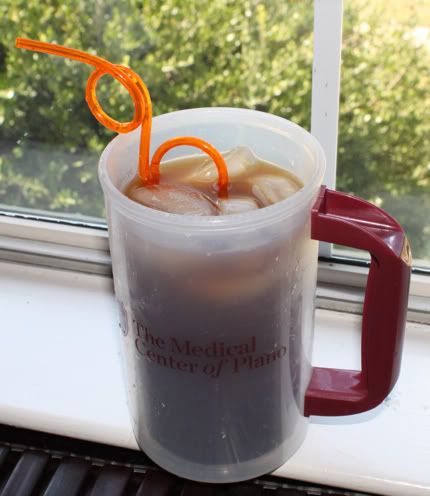 That coffee pic is actually from Saturday, but I won't tell if you don't. ;). I wish the iced via's came unsweetened. It's wayyy too sugary. I don't know how I drank it nonstop last Summer. I wish I could control the sweetness and use stevia instead, but I'll drink up what I have (which is quite a bit).
-hot coffee x 2 with a lil hazelnut coconut milk creamer + a tiny bit of vanilla stevia in one of the cups
-Jimmy John's tuna with extra dijon, cucumbers, tomato, lettuce, & sprouts on wheat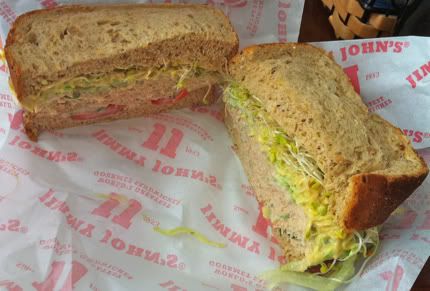 -half a chocolate cherry Kind bar
-Mama Chia lemonade (a drink made out of soaked chia seeds)
-2 chicken roll ups (chicken tenders I lightly pounded out and stuffed with a garlic & herb goat cheese and rolled up and baked with greek seasoning)
-spinach & lemon cous cous
-salad salad (organic greens, cherry tomatoes, green pepper, green onion, organic carrots, garlic & herb goat cheese crumbles, balsamic vinegairette)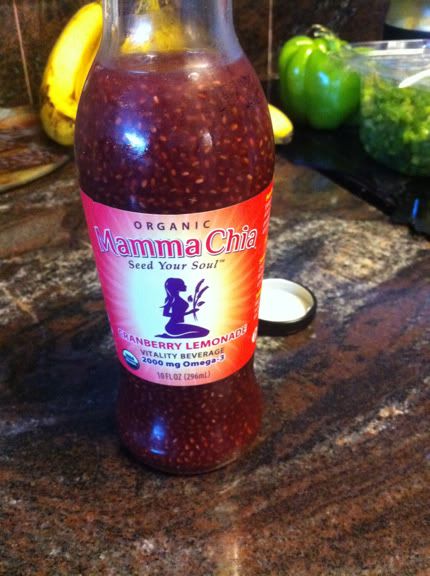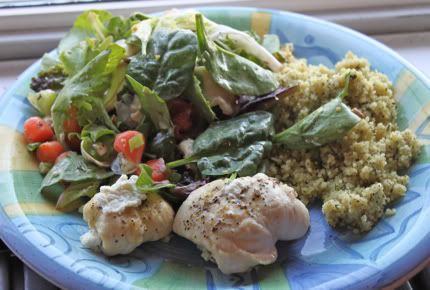 SUCH a good dinner. & I had that chia drink forEVER and was kinda scared of it, but me gusta mucho. Good thing, because I bought another one on sale in a diff flavor.
-dessert sampler plate with different bundt cake flavors & sliced peach
-ginger peach hot tea with a lil vanilla stevia
Pretty boring, straightforward day. Work, tv, the usual. My brother's friend also came over for awhile and hung out a little. Otherwise, I don't think I did anything noteworthy.
Tuesday
-parfait (plain oatmeal made with mashed banana layered with a few bits of captn crunch and berries, honey greek yogurt, more oatmeal, more yogurt, & topped with fiber one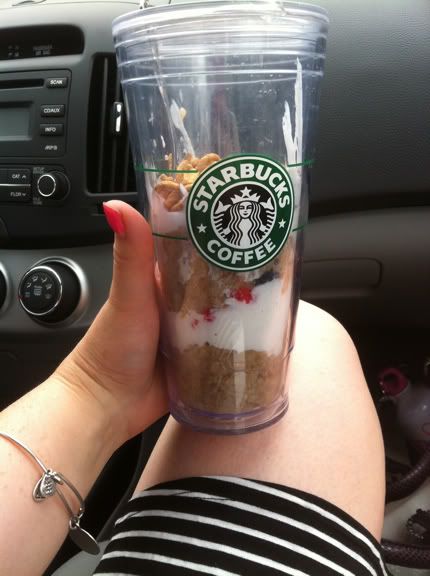 I was so excited for this breakfast, but I had to rush to make it, so it was just OK. Melting the banana into the oatmeal was awesome tho! Usually I put it in after, but it madem it even more banana-y to cook it with the oats. Mmmm. And I prob coulda done without the yellow dye of the captn crunch, but it was the first box I grabbed. Not that I couldn't have put it right back, heh.
-coffee with hazelnut coconut milk creamer & vanilla stevia
Only 1.5 cups today. Impressive :-P.
-slice of brown rice toast with raw red pepper macadamia dip
-cherries
-lemon spinach cous cous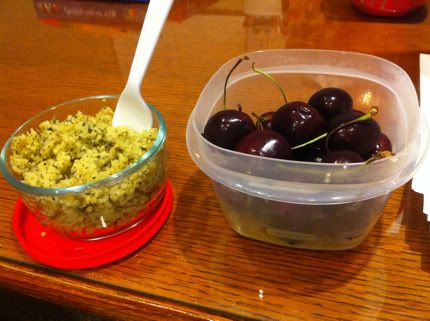 After work I went over to hang out with my cousin and Kendyll and brought dinner!
-Pei Wei caramel chicken & shrimp (steamed not fried) with brown rice
-1 chicken lettuce wrap
-1 crab wonton
-mandarin iced tea with 2 orange slices and a lil vanilla stevia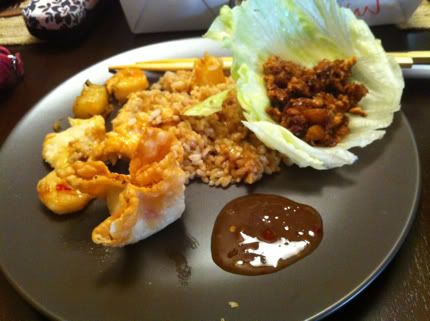 It was really good, but I forgot to use my 20% off coupon grr & I also forgot to say steamed/stock velvet, but luckily they hadn't made it yet when I went to pick it up (I ordered it online), so that part was an easy fix. It kinda hurt my stomach a little, but not too bad and it was really tasty. I bet if it had accidentally been fried it would have really done a number on my stomach.
Ended up staying about 3 hours at my cousin's. =-o. Longer than I expected, but it was fun as usual.
& No matter how tired she is, this lil lady is always full of energy and loves to spin! (and spin and spin...)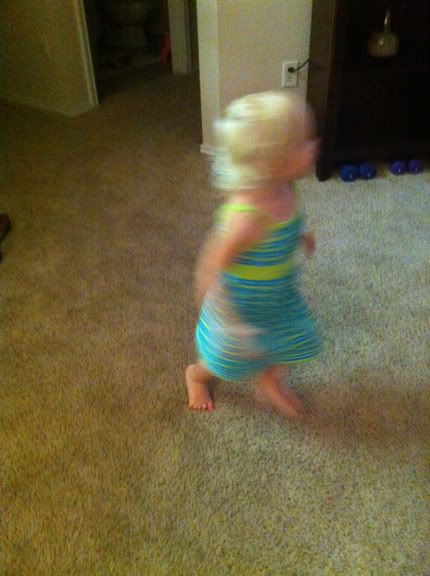 Her fave song is Britney Spears Up & Down...and that song was played 3-4 times+ and helped get LOTS of spin action in :).
-frozen yogurt with fruit & a few lil mini chocolates and chocolate sprinkles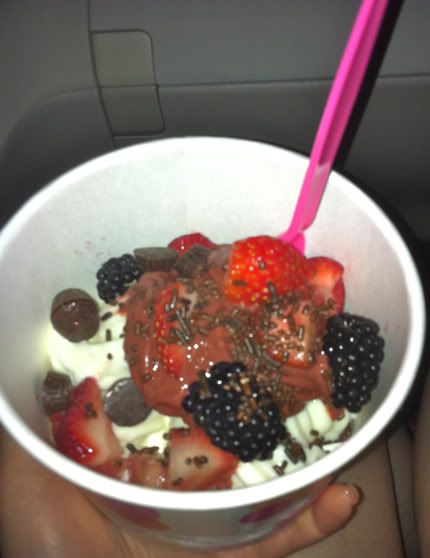 -Kombucha
-pumpkin spice tea with vanilla stevia
I just realized I think the tea has caffeine. My bad.
Speaking of which....
I REALLY need to work on going to bed earlier, so I can wake up and workout :-\. Oops.
Wish me luck. (And ignore the fact that it's already almost 1 am now. CRAP).
xo,
Amanda