The bad thing about my sleep nite one in Oklahoma? My air bed deflated and I kept tossing and turning...on the hardwood floor. Yep, it deflated all.the.way. and I was basically just sleeping on a plastic sheet on the floor, oops. Not a big deal, but something I hoped not to have to repeat! I should have just moved to the love seat, but I was too lazy!
So...
Day two started out in the dining area of Sam's apartment complex. I couldn't find anything Amanda-friendly there besides an apple and some watery coffee, but my Dad wanted to try out some of the free grubbin'. The building overlooked a pool and a lake, so we stayed for the view and chatted for awhile.
Then, Sam gave us a tour of the nearby gym. It was pretty nice! Had a lot of options, even its own boxing room. We never ended up using it, but probably should have!
Nice view outside there, too.
My Mom was too enthralled by the Casey Anthony case to get out just yet.
Once we met up with her back at Sam's, he and I shared a breakfast of our own: a savory cupcake! SaraSara offers a bacon and egg "cupcake" (really more of a corn muffin) complete with chive cream cheese frosting. Despite my hatred of bacon, this was really good! I wasn't sure what to expect per se, but I wasn't disappointed. *licks fingers*
For lunch, Sam recommended a local Mexican place, Iguana's. My mom, never one to turn down good Mexican was excited all weekend. Anything that gets her out of the house during a major public trial is a big deal ;).
To start, Sam ordered us nachos. Instead of normal chips they came on these bigger cripsy tortilla thangs.
See, I'm still letting my jalapeno love go strong. And these were just fresh jalapenos. Not the usual vinegary nacho kind.
The nachos had an interesting, tasty, sweet black bean dip as a base.
And of course we had pleeeeenty of chips & salsa.
I had read mixed reviews of said salsa online, but I kind of had a love affair with it. Don't tell.
I didn't have much of an appetite (I forgot what it felt like to be hungry during the entire duration of our trip), but I ordered like a feaster anyway! 4 mini crunchy tacos (2 chicken, 2 fish)
And if all that wasn't enough, I just HAD to try this corn coconut soup I read about online. The ingredients seemed more thai to me. But it was GREAT!
I normally don't like margaritas, but they had a $4 special of the day, the frozen margarita with a sangria swirl, so I thought I'd give it a go.
It was OK, but my Dad ordered a tequila sunrise that I liked way better, so we traded. What a guy! Well...he liked his taste better, but my texture/frozenness better and suggested the trade in the first place, so it all worked out.
I thought I'd suck that back in seconds flat, but it actually lasted the entire meal!
Then, we walked next door (OK, maybe 2 doors down) to none other than SaraSara cupcakes, where else?
Come inside?
Don't mind if I do!
The inside was kinda small, but cute!
But we had more important places to be, which will get its own post, but this should help explain:
Oklahoma City Bombing memorial :(. It was very tranquil and respectful.
On the way back to Sam's we saw so much lightning and thunder. And a few fireworks, yay. But I kept missing those, of course, ugh. I think I saw 2? I love fireworks. Noisy drive.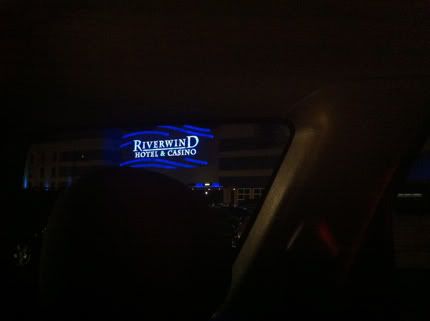 All lit up!
The rest of the nite Sam and I watched celebrity editions of Singing Bee on CMT. I think that's about it for dia 2.
xo,
Amanda