Monday marked our last day out of town.
We woke up with a MAYJAH breakfast dilemma...
Top of our list was Jimmy's Egg, but Sam found another place he thought sounded good too. We almost went there, until I saw bad reviews about rats. Yikes. At the last second I put a twist in the sitch & found a Guatemalan restaurant, kind of a divey hole in the wall place, but with rave breakfast reviews. I was super pumped. But when we found it it was closed. Noooo. I had mentally planned my order like 20 times by this point. WHAT...a disappointment.
Jimmy's Egg it was.
It was pretty Denny's like. Sigh.
My Dad & I decided to split a 5-egg (white), 10-ingredient omelet (green chiles, tomatoes, green onion, black olives, green peppers, potatoes, mushrooms, avocado, spinach, and cream cheese)
+ split a side of cinnamon raisin toast & grits
Sam asked for cheese added to his grits and my Dad and I thought they looked great, so we asked for a side too.
They were extremely bland with or without the cheese (and pepper)
We also got sweet potato pancakes to share. I think we made our way through about half.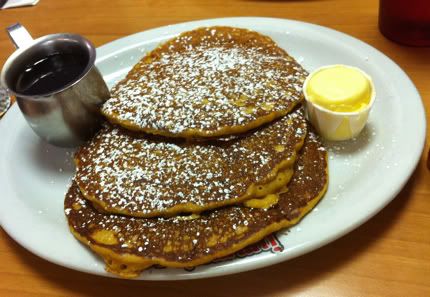 & as always, coffee
But the coffee was weak as $%&*, so Sam took me to Starbucks immediately after....
I got an iced americano with a splash of soy there...and proceeded to accidentally ruin it by dumping way too much liquid vanilla stevia in there. I still drank it, but it was basically bad coffee:take two.
Then, we got my Mom a sandwich & returned some clothes I bought at Target that didn't fit right.
At some point I also ate this. I think partially the nite before? Who knows. It's one of those single serving ones.
It was pretty good.
We were planning on staying 'til 4, but there wasn't much left to do, we knew nobody would be hungry again by then, etc., so we decided to just head back to Texas.
After the requisite goodbye pictures to document our time together, that is.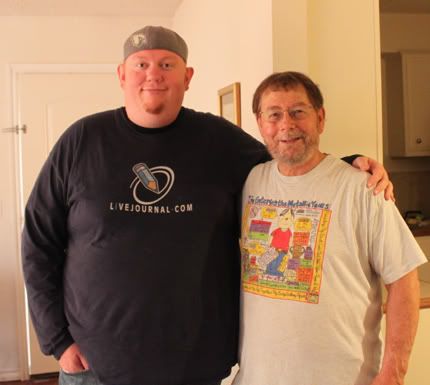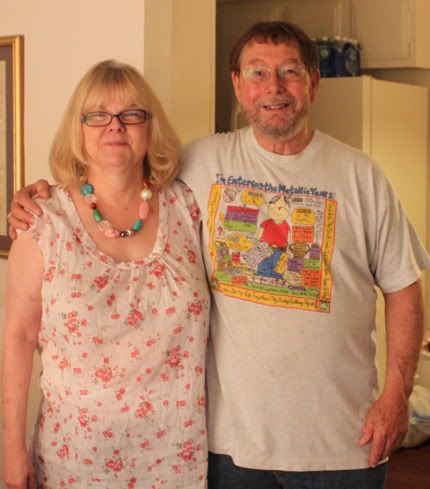 At our first road stop I loaded up on necessary road trip supplies: candy & beef jerky.
I also got sour mamba's. I ALWAYS trick myself into thinking I LOVE mamba's and they're hard to find, so I always buy them. Then I always remember, eh..they're just OK. I'll prob give my brother the orange & lemon ones, but I'll finish up the raspberry...eventually. It takes me FOREVER to get through candy.
We also stopped at Cracker Barrel to stock up on candy for my brother & whatever randomness we could find to buy.
Remember how we didn't stop at my fave restaurant in Denton (college-town) on Saturday with the promise we'd stop Monday? Yeah, well, the bastards were closed!!!!! Not cool.
At least it meant getting home faster to dress up & love up these rascals!!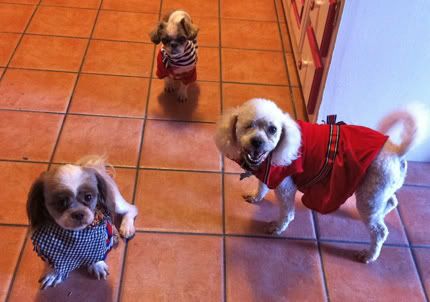 You understand.
It was wayyyy too hot outside for my long dress, so I changed into another dress that reminded me of fireworks. I'm cheesy that way.
& ran up to buy supplies to bbq!
What would the 4th be without that? If I couldn't have Hannah's (the aforementioned restaurant), then I wasn't missing out on this!
Cheeseburger, veggie hot dog, bbq beans