May 24:
HAPPY BIRTHDAY, BELLA!
It's my little girl's 8th b-day. WOW.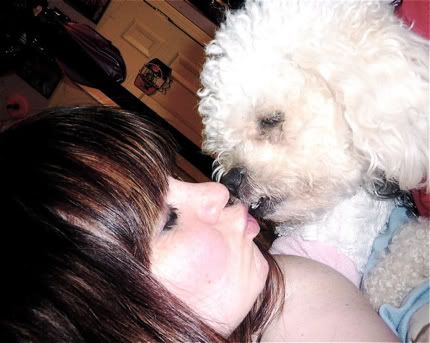 We can't help it, we're just two fools in love :-P.

Workout:
-27 min cross ramp
-stretching
-slice of brown rice toast with tomato & basil laughing cow wedge, sauteed spinach, 1 fried egg
-blackberries & blueberries with a lil blueberry almond milk yogurt
-starbucks via with a splash of milk (forget if it was vanilla coconut or unsweetened almond)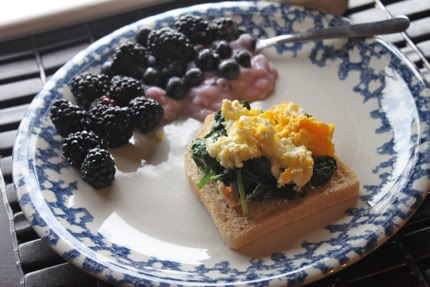 MMM. I liked this combo a lot.
I brought an Amy's meal to eat, but we ran out of ink and needed it asap. Lucky for me, Which Wich is right next door to Office Max (and lucky for us all, Office Max is basically within walking distance to our office, even tho we always choose to drive lol). Obvi amazing sandwich>>>>>frozen meal, as good as Amy's are!
-which wich small sub (wheat bread, hummus, avocado, tomato, peppers, pepperocinis, black olives, dijon mustard, lettuce, vinegar, black pepper, red pepper flakes, caramalized onions, mushrooms, & cucumbers)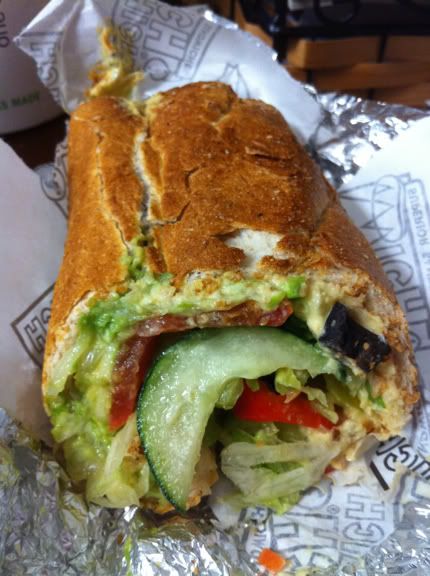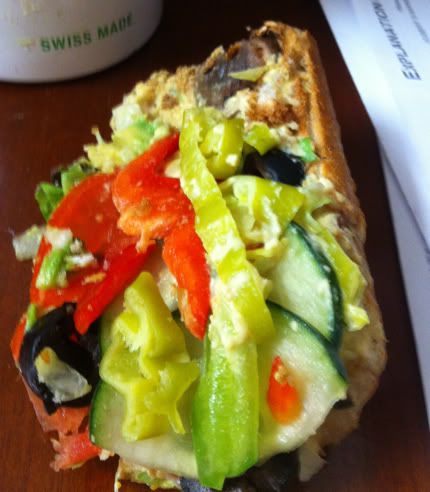 So, SO good. I could eat Which Wich for lunch every day pretty much.
-handful of tortilla chips (oops, unncessary!)
-big bowl of fruit salad (blueberries, blackberries, organic raspberries, organic pineapple, organic strawberries, organic cherries)
-pho!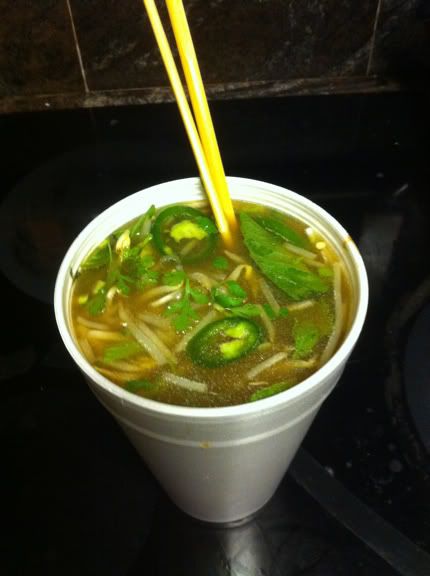 Perfect
rainy day dinner.
-ginger ale zevia for dessert
Deeeeeeelish day.
May 25


Workout:
arms & legs
-side salad (organic mixed greens, organic strawberries, & goat cheese crumbles drizzled with local honey & organic olive oil)
-blackberries/raspberries/blueberries
-organic pineapple
-Dunkin D's iced black coffee that I added milk to (I forget if it was unsweetened almond or vanilla coconut) + stevia at home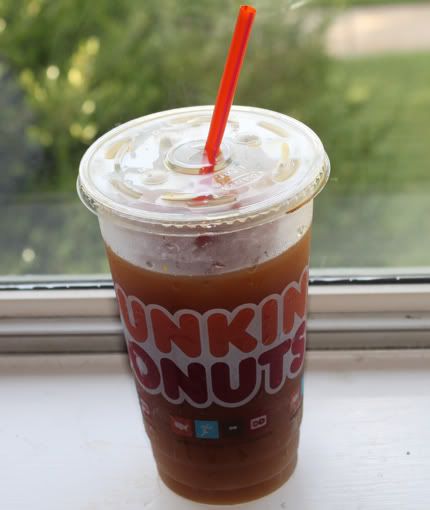 The fruit & salad supposed to be my lunch, but I forgot I had a business lunch until riiiight after I made it the nite before, so I saved it for breaky instead.
Of course, our business meeting ran late, OVER an hour in fact (SO rude, we pay this guy a LOT of money to consult and he's always on the phone, late, etc. but he's a necessary evil ugh). We ordered in Jimmy John's & decided to just meet in the office group room. My Dad and I ate our food about an hour before the guy even showed up. I had...
-turkey sandwich on wheat bread with lettuce, tomato, sprouts, & dijon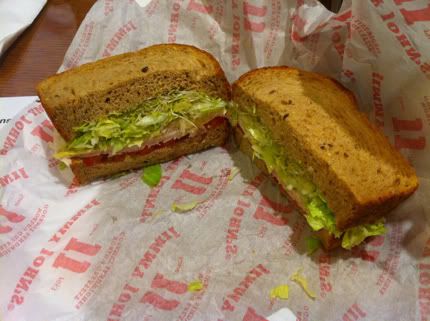 My Mom wanted to do a girls dinner, but she was starving around 4:45 pm and I was still full from my 1 pm sandwich. I was beginning to feel sick tho, so I agreed to go with her for Mexican and I'd get soup.
-corn tortilla with salsa + obvi chips with salsa
-multi-flavored frozen margarita (thought it may help freeze my throat ache and numb my shoulder pain away...and it kinda did)
-bowl of tortilla soup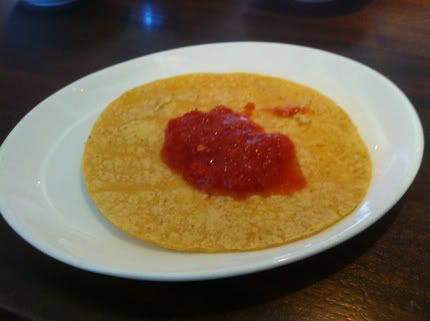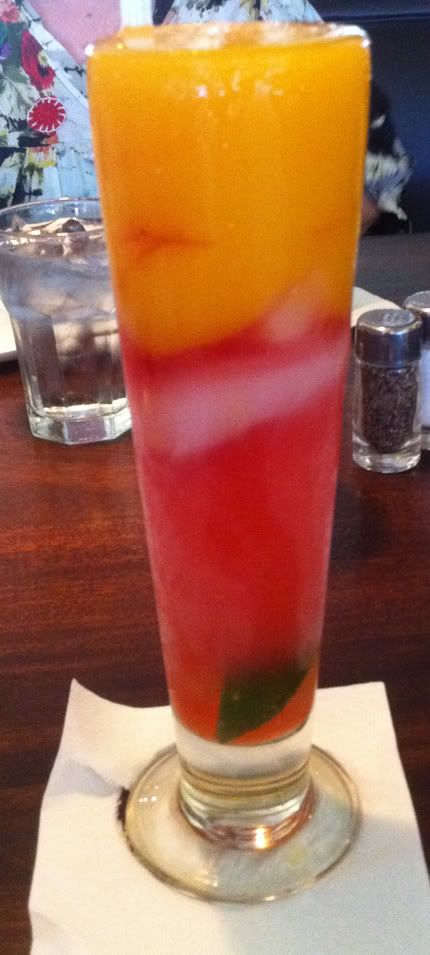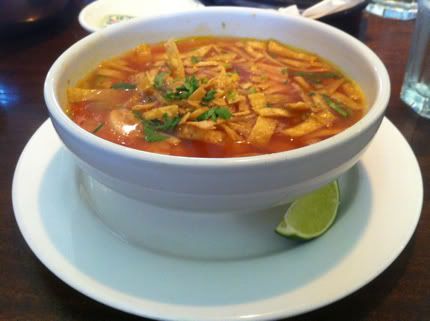 Yummy.
I thought I'd be hungry later, but I really wasn't.
Right after early-dinner I had a venti zen green tea...trying all hot & cold self-medication methods to soothe my ailments!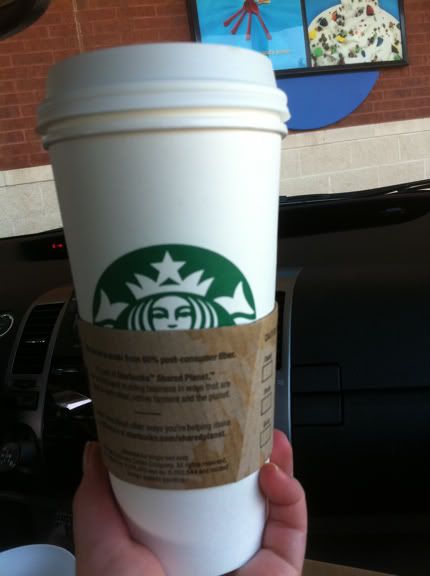 Why yes I am at the sonic drive thru. Not for me!! Starbucks all the way.
I also had a few frozen grapes, but they didn't taste very good. Bummer.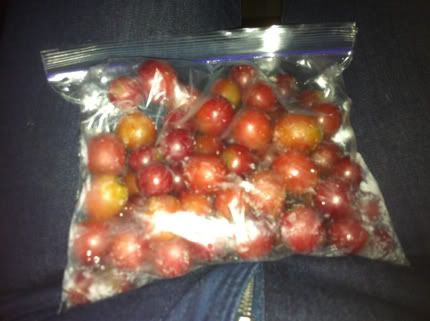 Bonus Pics from undocumented Monday yum-ness:


LONG overdue Indian Food Monday! It didn't disappoint. Though I do wish they'd serve their cabbage again. I've only seen it once and it was delightful. What a tease!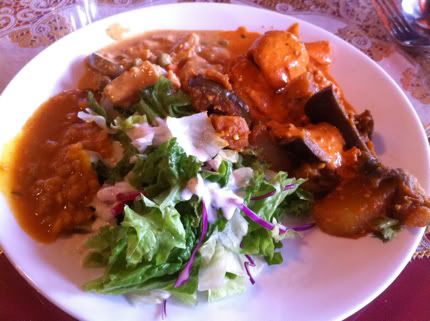 big plate
--mostly veg, a few bites of chicken tikka masala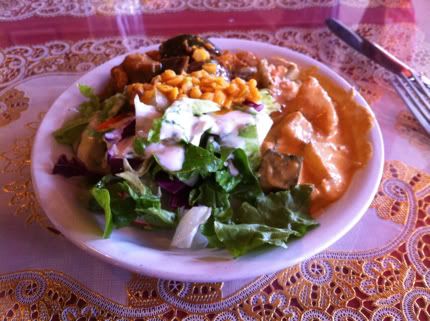 small plate-all veg
HEAVEN. AKA
Sulji Halva.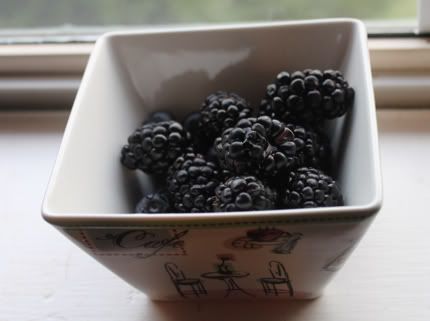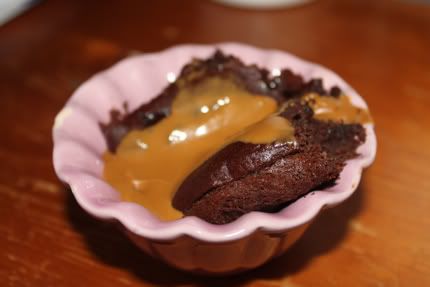 chocolate vitamuffin top with biscoff