May 31
Slept in and had to hurry. Breakfast was slurped down on the way.
-strawberry/banana/vanilla protein powder smoothie
-english breakfast tea with vanilla coconut milk & stevia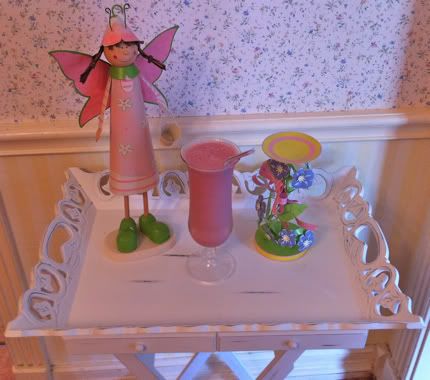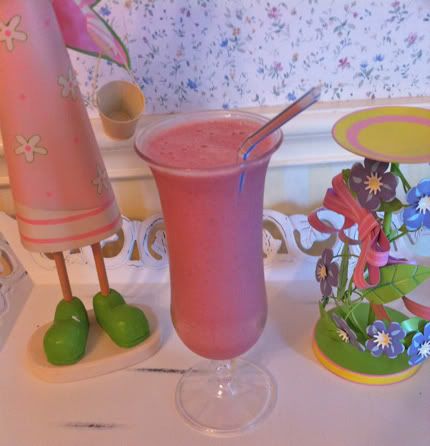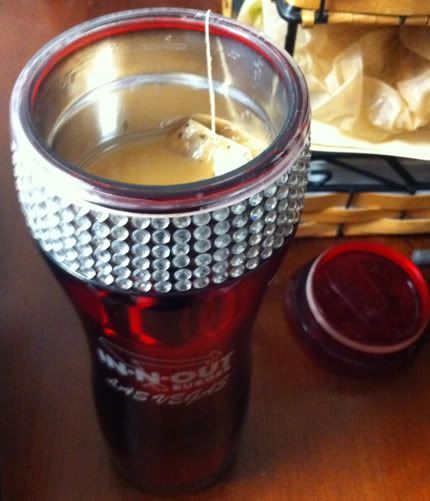 Went to acupuncture & prob made a dumb decision. Instead of having my body pain worked on I had her work on my sinuses, since I've felt so crappy for a week. I soon realized it would probably be smarter to save the $110 for my physical pain & just use sinus meds & a neti pot for significantly cheaper. Couldashouldawoulda.
Went back to work (my acupuncturist is like 2 offices over, very convenient, eh?) & had snacks for lunch.
-half of a think thin crunch bar
-organic baby carrots & gluten free crackers dipped in hail merry's raw red pepper macadamia dip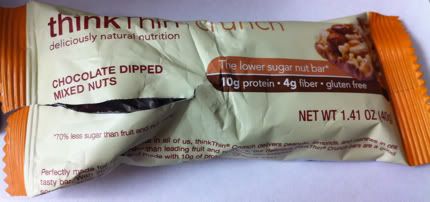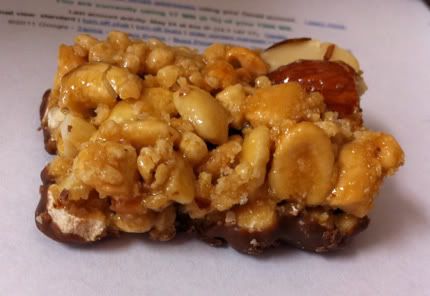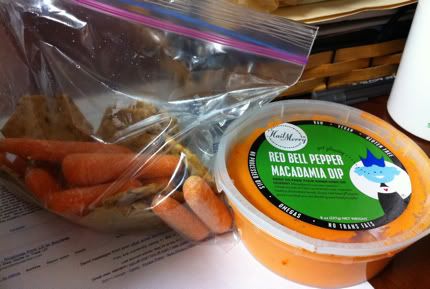 Plus, shortly before leaving the office I sampled the banana bread my Dad got for donating to some organization that came by.
& some vanilla rooibos tea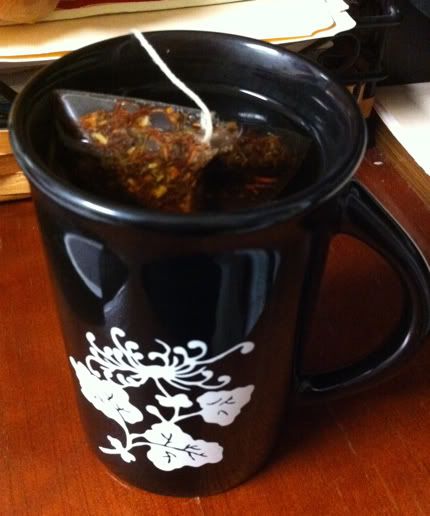 I went to the chiropractor at 5:30 and was about 10 minutes late. Damn rush hour and red lights.
Then came home & dinnered it up.
-Quorn cranberry and goat cheese "chicken" patty (still can't taste any cranberry flavor, but still lovelovelove)
-leftover potato salad (uh. all of it. so good!)
-the last of the Annie's mac (how did I make it last 3 servings?!)
-leftover roasted zucchini & cheese
-berry sparkling water mixed with pom juice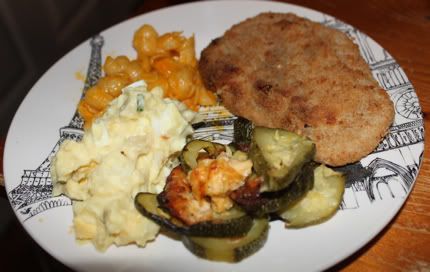 A lil later on I had a bite of gingerbread toffee chocolate, a few chocolate covered sunflower seeds, & 2 delightful peaches.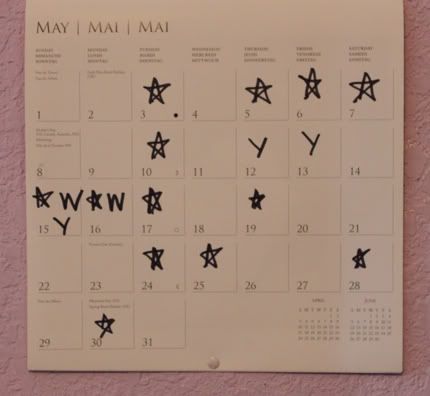 (*= Gym, W=walked the dogs for awhile, Y=yoga)
Yeah, the dogs are pretty deprived, but we have a big backyard.....:-x
There, now we REALLY have May out of the way. :-x
June 1
-blueberry protein pancakes topped with a lil pb, maple syrup, a million raspberries, a few vegan chocolate chips, & a few white chocolate chunks
-organic throat coat tea with local honey & lemon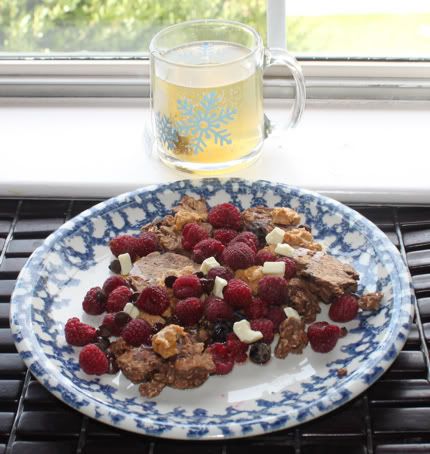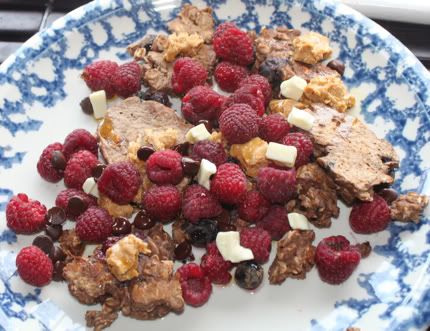 Always good, but the raspberries & chocolates made it!
Worked from home for 2 hours before my laptop died. The charger is being lame and will only work on outlets close to the floor, so I took a work break. (fyi, while working I had pumpkin spice tea with vanilla coconut milk & stevia + an ataulfo mango)
More sustenance was needed in the form of breakfast part 2.
AKA, you know, lunch.
-leftover egg white omelet with spinach & cream cheese
-leftover breakfast potatoes with ketchup
-blackberries
-toasted english muffin with vegan butter & organic strawberry jam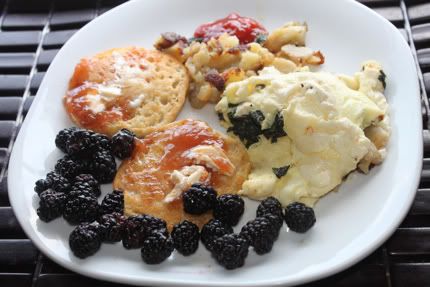 Yummy, yummy.
Worked some more & after an hour and a half, all the work I did on my macbook suddenly disappeared. WTF? No programs closed, I saved obsessively, etc. but suddenly my 10 pages of work were back to 6. You have got to be kidding me. Stressss. I redid it, but what a waste of time and money. :-\
-salmon with a blackberry-red wine sauce
-leftover zucchini and cheese
-black beans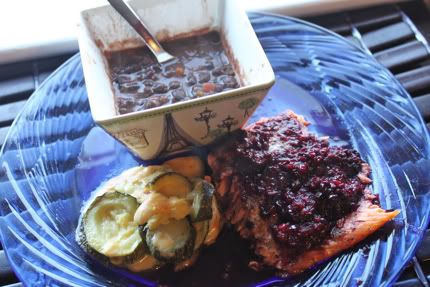 -a few dark chocolate covered pistachios
June 2
-fried egg topped with dijon
-leftover salmon topped with dijon
-blackberry heaven
-coffee with vanilla coconut milk & stevia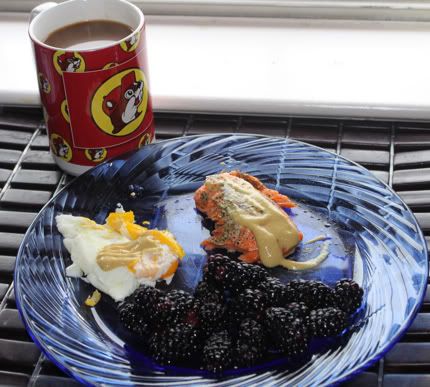 Between being sick and this breakfast (which was tasty at the time) I had the worst taste in my mouth all day that nothing could take away. YUCK.
-pickle from Jimmy John's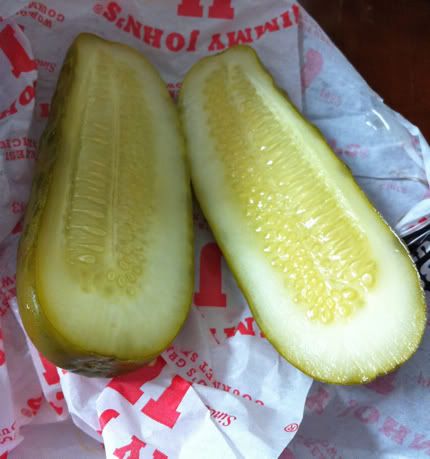 random I know, but I was getting desperate for different things to get rid of that taste!!
My co-worker asked if I was pregnant (jokingly....I think. haha, b/c of the pickle....) WHATEVER!!
For a late lunch/early dinner my Mom and I went to Seasons 52 for some bonding time! As soon as we walked in these classless, drunk people at the bar (at 3 pm, and they were shitfaced) were talking about getting laid, among other things. I wasn't too upset when they left shortly after...!
-part of the chipotle shrimp flatbread with pineapple, feta, etc. (yum)
-part of the chicken chile relleno (tbh I mostly picked this because it said it was made with goat cheese, which I didn't taste at all, and wasn't in a meat mood, but this was GOOD)
-organic sunshine martini (I think basically oj mixed with organic vodka....I've had this twice before and loved it, but now that I'm not really into boozing I realized I shouldn't have ordered it and it was just alright)
-half of the shot glass sized lemon pound cake thang (always a treat!)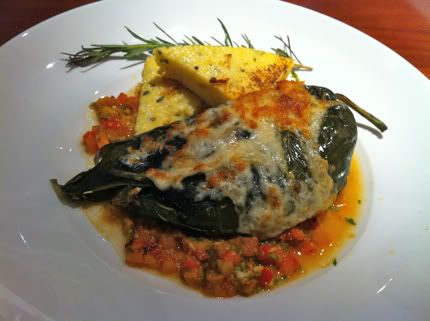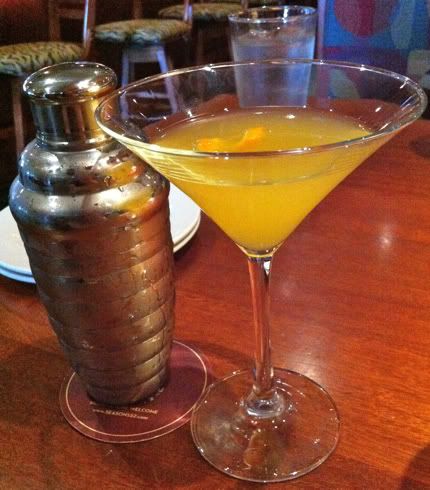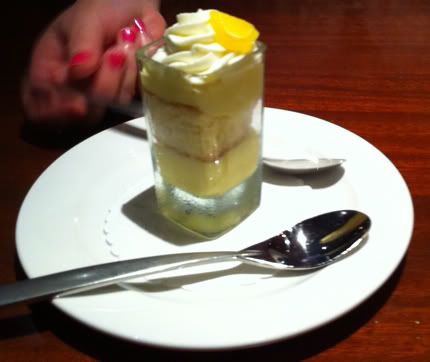 I think I always like the idea of Seasons 52 better than the execution, but it's still always good. And I still always want to go back. Idk if that makes sense, lol.
For real dinner time I had my leftovers from linner. :-P.
Too bad I didn't have another dessert shot to finish it off!
June 3
-dunkin donuts watery coffee with vanilla coconut milk from home & stevia from home
-2 small sweet potato waffles with organic blackberry jam & a hot & spicy veggie sausage in between
-blackberries & cherries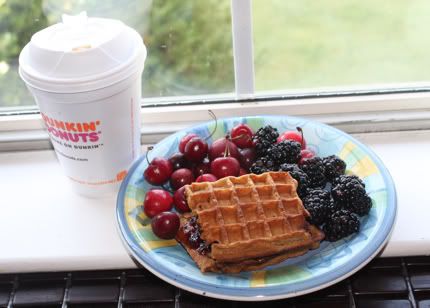 I ordered an iced coffee, but the guy must have not put the lid on correctly, b/c my Dad's hand went right thru the lid, spilling the drink all over the car. The cashier heard me say I couldn't drink it (we had just left the gym and my Dad hadn't washed his hands. No thanks, I'm already sick...) & watched me pour it out, but didn't offer to refill it. Kind of rude, imo, since coffee costs like 3 cents to make....ugh. What a waste. My Dad gave me his hot coffee, but it was watery. Grrrreat. The main reason we went was b/c it was free donut day if you bought a drink, but I don't even like donuts, so I gave mine to my brother. What a bust!
I was starving for lunch at 11-ish, but held off. Then when I normally eat (1-2ish), I wasn't hungry at all. Weird. By 3 I was hungry again, but I knew we were going to dinner at 5, so I was just gonna have a protein smoothie from starbucks or something from smoothie king, but starbucks was out of bananas, so I just gave up and waited.
Got my nails done. Annoyingly bright :). But I kinda wish it was even more annoying! I'm weird. I just don't like to have the same boring nails as everybody else.
Then, picked my bro up from work and the fam went to Isabella's for dinner (also with my cousin and Kendyll!)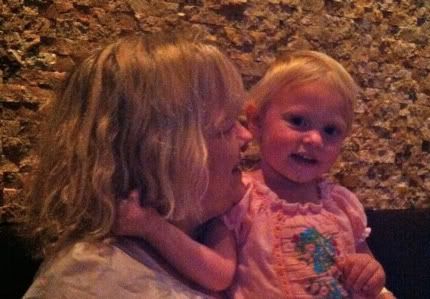 -bread with olive oil, vinegar, & black pepper
-house salad (good taste, weird texture???)
-papperdelle pasta with an aurora sauce and shrimp (GOOD)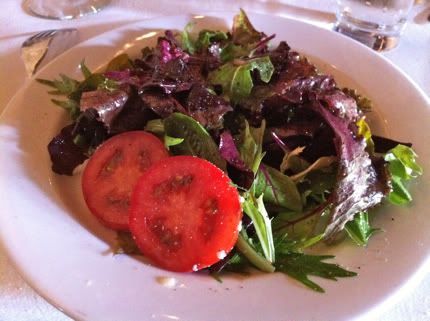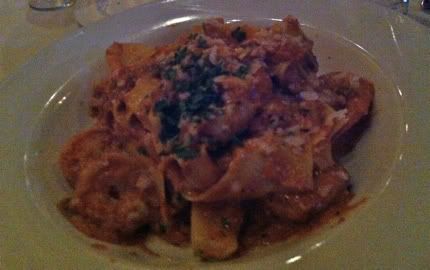 I also got tirimasu to-go for my mom and I to share at home later. I had 2 or 3 bites at home. It was SMALL for $7.50, but really good. And I am quite the tiramisu critic/connissour I'll have you know :-P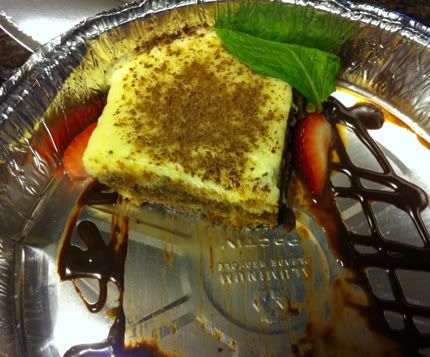 My parents on the way out...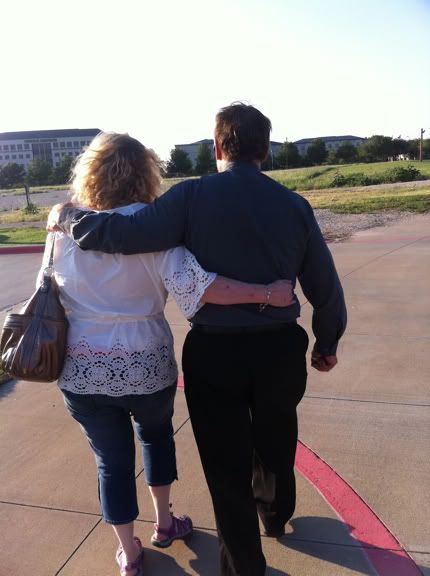 Married 30 years!! (As of June 1.....and 6th. Long story short, they got married June 1 in the hospital so my Mom could get surgery on my Dad's insurance & recover in time for their real, planned wedding on June 6...which luckily she did make).
June 4
-a lil less than half of a crab cake egg white omelet
-a few bites of breakfast potatoes
-about 1/4 of a honey bran muffin
-about half of a lemon poppy seed pancake
-1 fried egg over medium
-coffee with vanilla stevia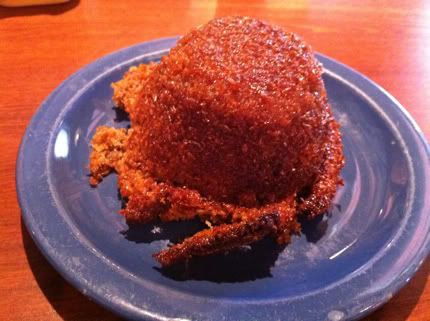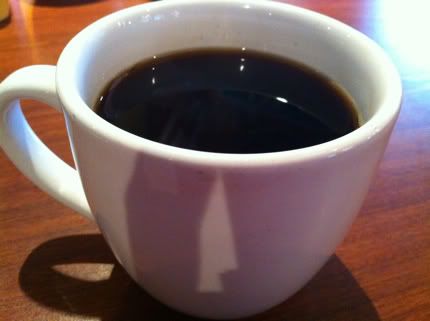 I forgot to take a pic after we split up the food.
Yeesh, I had a lot of leftovers, but no wonder my stomach hurt badly after! Too much! Usually at breakfast I eat more than my Dad, but this time he ate all of his half (we shared 2 diff entrees, hence all the variety) and I saved almost half of mine. I don't see how he didn't feel horrible after! To be fair, he didn't eat again (sans samples) 'til after 9 pm, but still. I felt so sick with my half!
Breakfast also came with juice, but after 2 sips I just couldn't. I used to love their FRESH tasting grapefruit juice, but they must have changed brands because this sugar water was AWFUL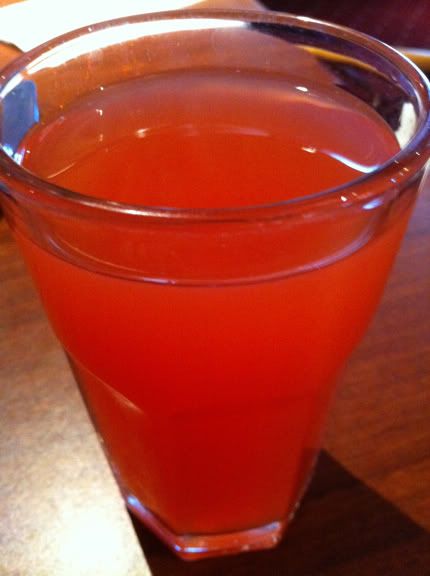 It used to be kinda cloudy looking, like real juice. Now it just looks like hawaiian punch. Yuck.
-a few sam's samples
-a lil chips & salsa
-half of a leftover cranberry Kombucha
-the leftover shrimp pasta from yesterday
-organic arugula & spinach topped with light balsamic & ranch flavored almonds
-leftover tiramisu
-raspberries topped with melted white chocolate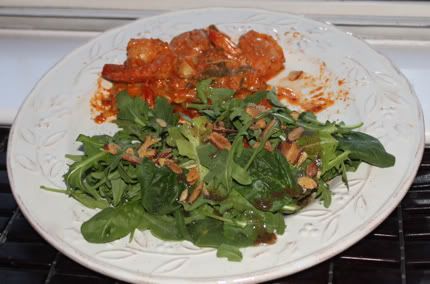 I ran errands all day and ended up burning over 2200 cals even without making it to the gym before they closed. Not bad. I was wiiiiiiiiped out. First time I brought the body bugg back out in awhile & I'd say I gave it a fair run for its moneyz. :-P.
June 5
-lox bagel on sesame seed bagel (UGH, I'd been looking forward to trying the sourdough bagels. They were out. Then she wouldn't give me a good grains even tho they had at least a handful b/c she said they were promised to people who ordered before us....grrrrrrrrr)
-half a cup of coffee with vanilla, cinnamon, & vanilla stevia
-a few sips of an iced coffee with the above accoutrements from the hot coffs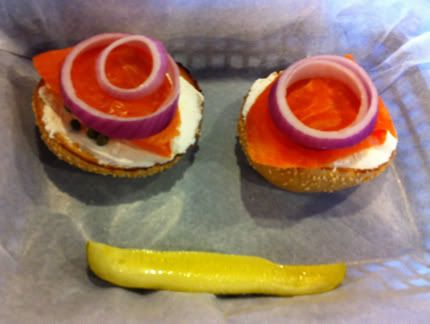 smiley face! LOL kinda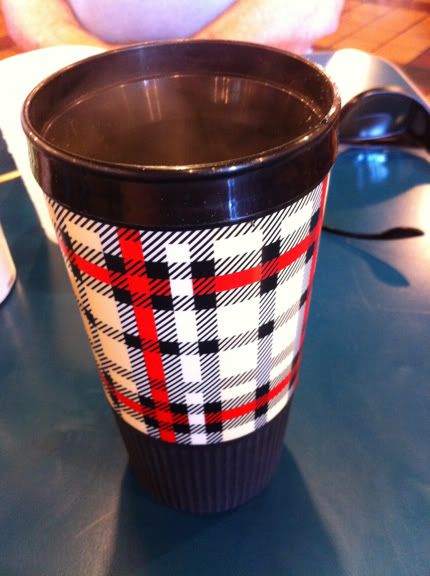 My stomach hurt so so badly after. :( I thought my frequent stomach problems were behind me. Sheesh.
I didn't eat dinner 'til after 10 pm..and I can't believe I chanced it eating such rich foods, but alas..
-lobster bisque
-creamed corn with snap peas
-salad (organic arugula & spinach, goat cheese crumbles, raw vanilla maple almonds, avocado, altufo mango, and a lil organic balsamic)
-pom juice mixed with berry sparkling water
My parents celebrated their anniversary dinner at one of our fave fancy restaurants, III Forks. They brought me home my fave lobster bisque + creamed corn, so how could I not eat it!
They also brought half their dessert home & I tried it...
a mandarin orange & vanilla cake with raspberries....something like that. It was pretty good. I had a few bites more than I prob should have, shh.
Luckily, it sat in my stomach ok. Big relief!!
xo,
Amanda