June 9
Kendyll day!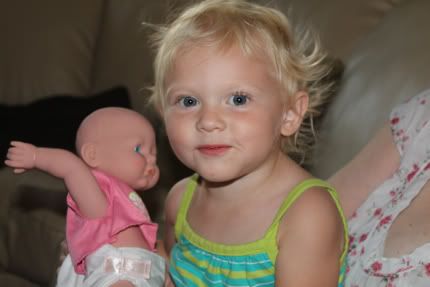 We weren't supposed to watch her this week, but due to unforeseen circumstances we lucked out :)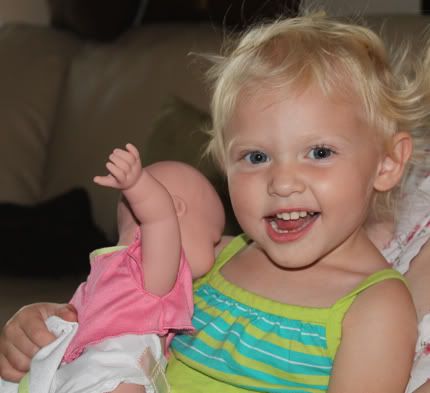 I've been sucking at working out, but I REALLY needed my sleep to help kick this cold/allergy thang. Yep, it's STILL going strong :(
-chocolate protein pancakes with blueberries topped with pb, raspberries, & a few vegan chocolate chips (and a maple drizzle, natch)
-english breakfast tea with vanilla coconut milk & english toffee stevia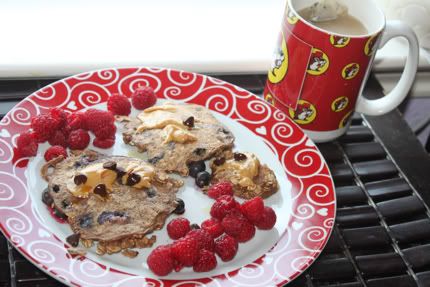 We didn't have time to make or pick up lunch, so we got KK and then treked out to Target & Chick-Fil-A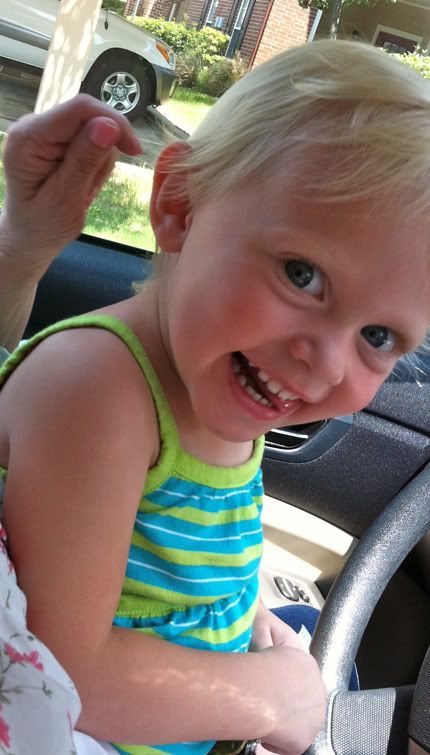 But first, coloring with Nana and purse digging is always a MUST
LOL @ Reesie creepin' & smiling in the background.
First stop was the bank. Lollipops=mandatory.
Lookie who learned how to ham it up when you say "Cheese"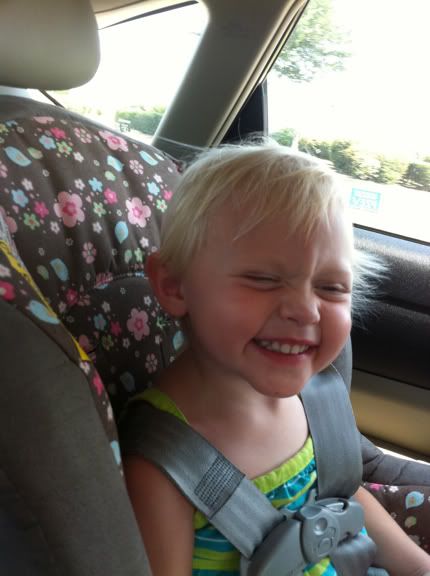 Adorable? I think so!
& of course the crazy lady had to pick up a few new babies along the way.
Think she likes 'em?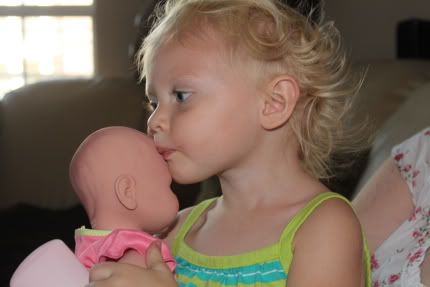 -chicken nuggets with polynesian sauce & chick-fil-a sauce
-a few french fries
-medium fruit cup
-diet lemonade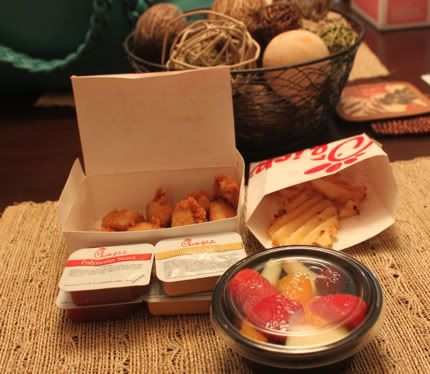 STUFFED!
Kendyll was a champ & ate tons of chicken....prob 6 full nuggets. In addition to the hot dog & mac & cheese she'd had shortly before that. Big girl! LOL.
No wonder she always has so much energy, even when she's tired!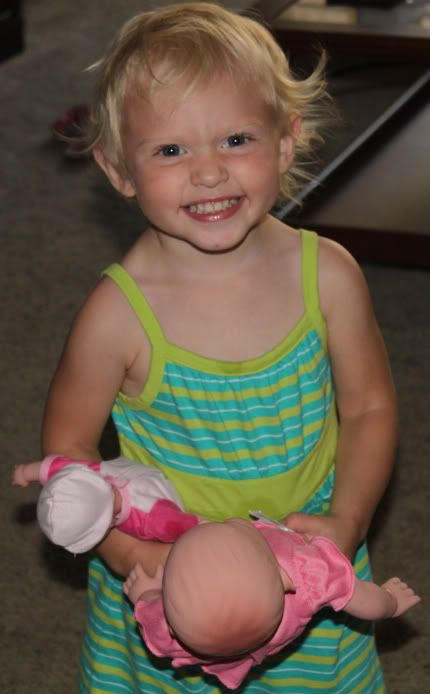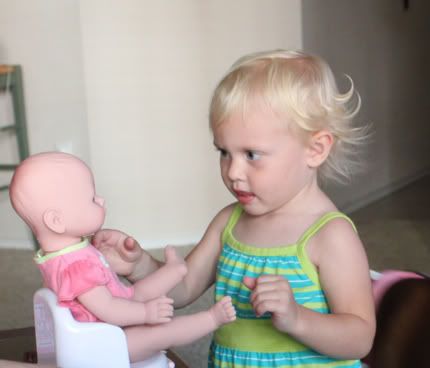 Guess baby wasn't potty trained quiiiiite yet....
She's so smart!
And loves dancing! Especially with the nanas.
For dinner I wasn't very hungry, but my eggplant needed to be cooked....
-roasted eggplant topped with mushroom marinara, a tiny bit of shredded cheese, & goat cheese crumbles
Sorry, iPhone ultra-flash.
It was OK. Pretty good.
For dessert....
-chocolate shake (vanilla coconut milk, cocoa powder, about 1/3 of a frozen banana...all that was left boo, organic spinach leaves, umm...a pinch of xylitol, a few ice cubes, & a pinch of both guar gum + xanthan gum) topped with crumbled Annie's bunnies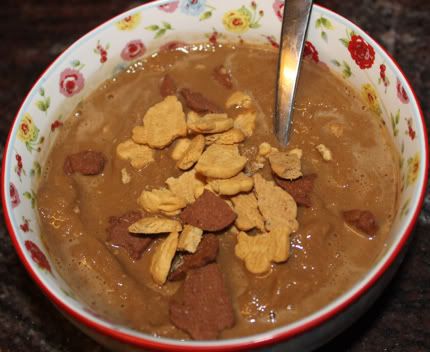 A little bland, but it did the job.
June 10
No time for breakfast, unfortunately.
Went to the office for an hour & a half, but then had to quickly run a couple errands & pick up lunch, then pick up Kendyll from her grandma's!
I got the cuuutest feather flats today. Last pair! Will have to show you soon, you'll die.
& I slurped down a venti soy cappuccino on the way to grandma Debbie's. Not sure why I thought a hot beverage was smart in nearly 100 degree weather, but ya know. But hey, my Mom got soup, so we're both weirdos.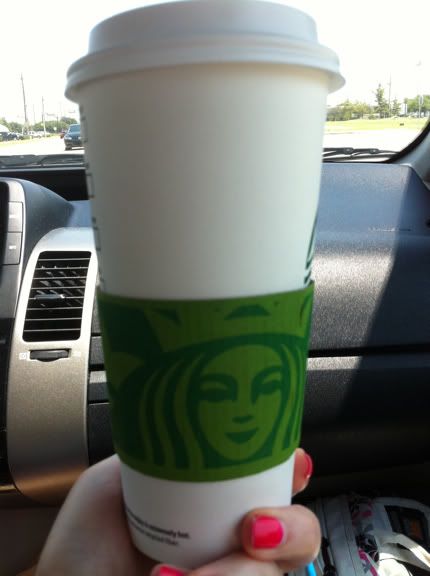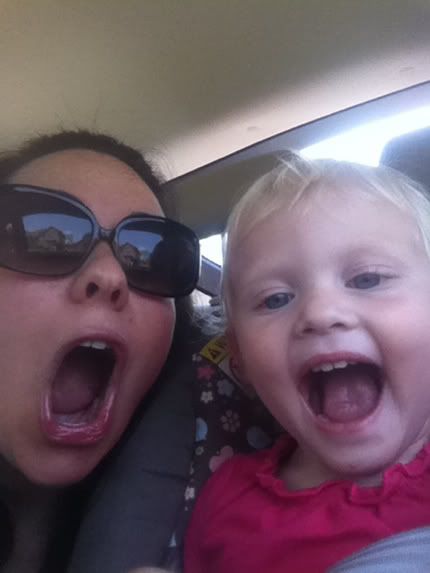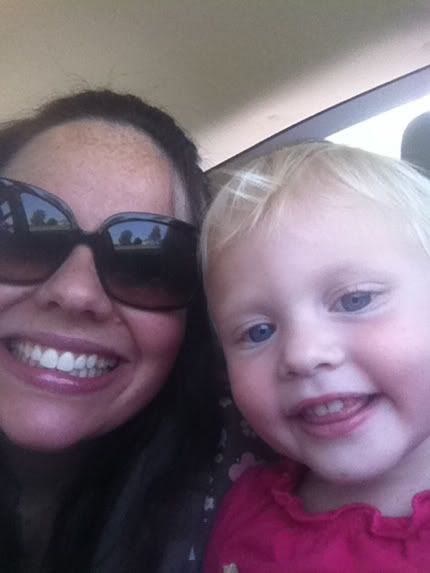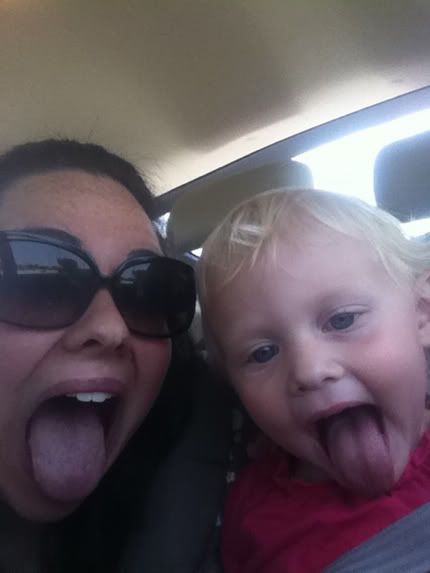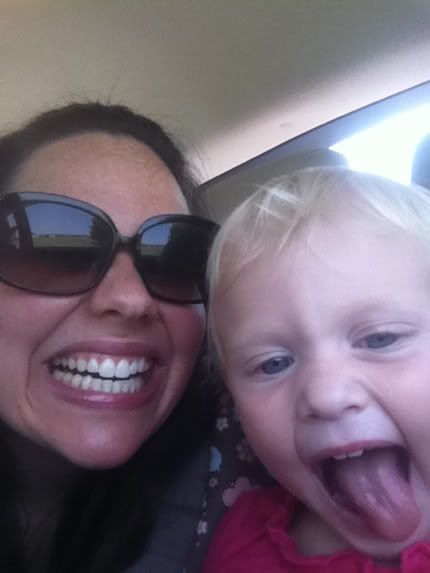 Yeah, we think we're pretty cool! :)
I was dreaming about the salad I had for lunch since last nite and tho I only ate half (so far), it did not disappoint.
-mixed greens, spinach, sundried tomatoes, marinated mushrooms, raw mushrooms, roasted red peppers, kalamata olives, artichoke hearts, hearts of palm, tofu, & vinaigrette
-about 1/3 of a gingerberry Kombucha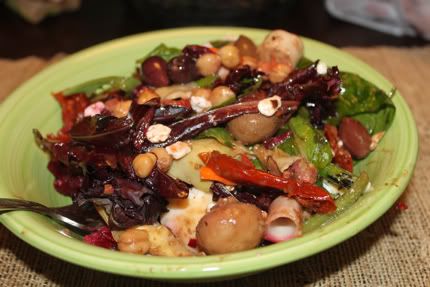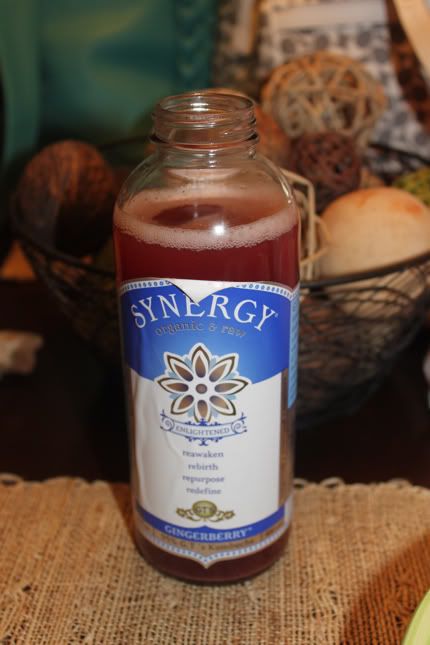 Yum Yum.
I did not get to sit down practically at all today. Even when Kendyll was napping, her dog Reesie had me take her outside at least 6 times, 2 of which she didn't even really need to go to the bathroom. Little trickster. I don't think she's ever done that before, sheesh.
We both swear we heard her yelling "Nana! Nana!" When we thought she woke up from her nap, but when we went in there she was still laying down & seemed groggy, so Nana scooped her up & they rested together on the couch.
'Til she decided to roll around some more
& spin & pose with other Nana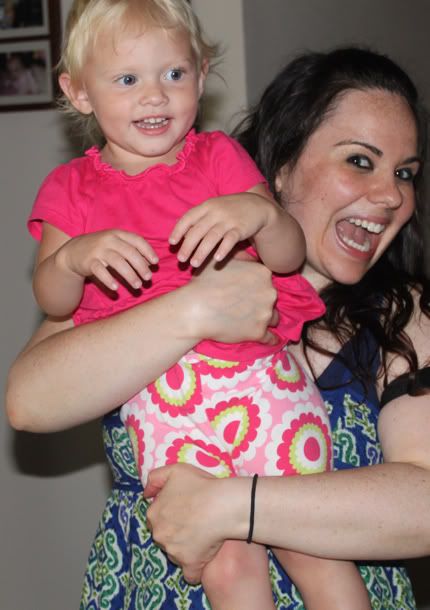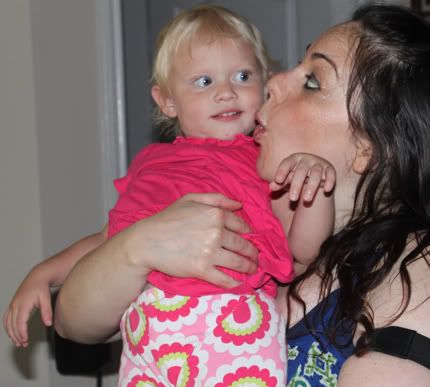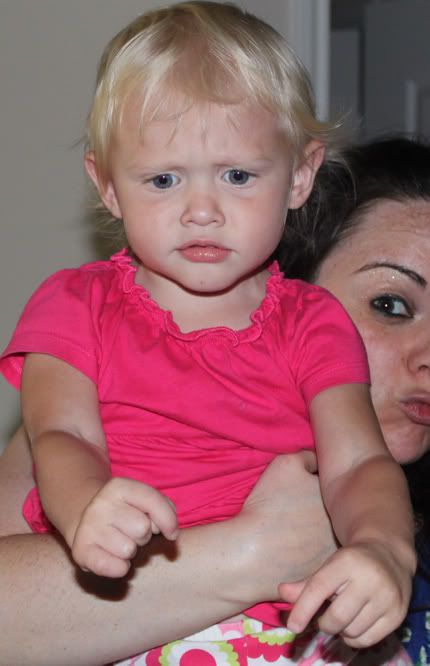 LOLOL, too much spinning perhaps?
But not for long, b/c as soon as her feet hit the ground she did a run & leap into Nana's arms!
Which was unexpected, but definitely not unwanted!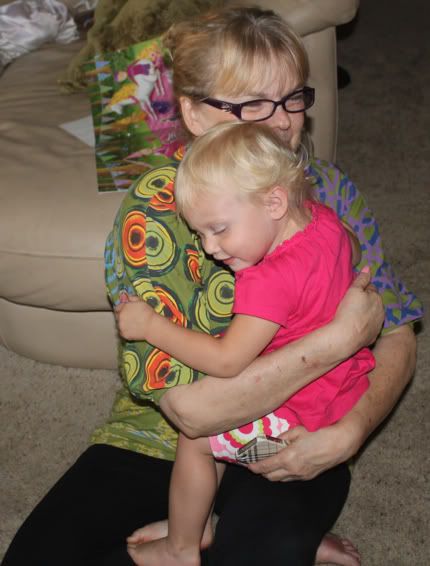 & she decided to help with the Reesie walking this time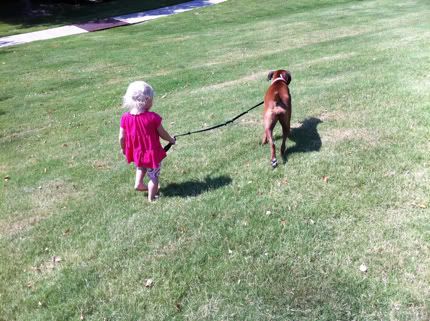 I can't believe she's big enough to walk her dog!! Time flies.
It's so hot out, she had to come in & cool off with her fave thing...crushed ice!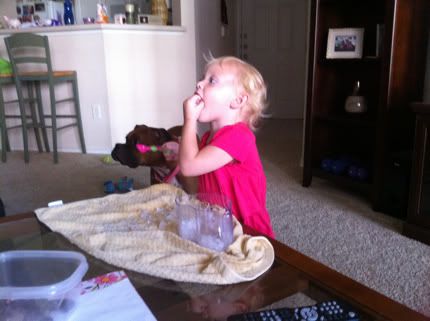 & showing Re-Re some lovin'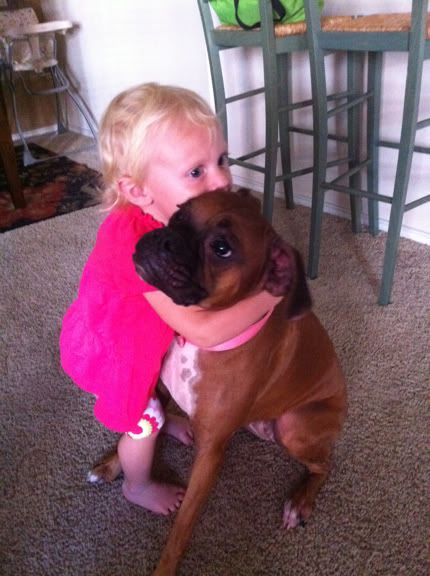 After my cousin got home we met my Dad at Kenny's Burger Joint for dinner, 'cause we had a groupon. It also did not disappoint. Really good. They had veggie burgers, but since it was our first time I decided to try out the real thing:
-cheeseburger with lettuce, tomato, onion, & mustard on a ciabatta bun (forgot to sub wheat, but this was good)
-2 HUGE onion rings with ketchup
Kendyll had a hard time at the restaurant. I think she was overly tired and a little hungry. But once the food came out (and when my Dad came...he was a lil late), she sat right down and smiled away. Her french fries dipped in ranch didn't stand a chance :).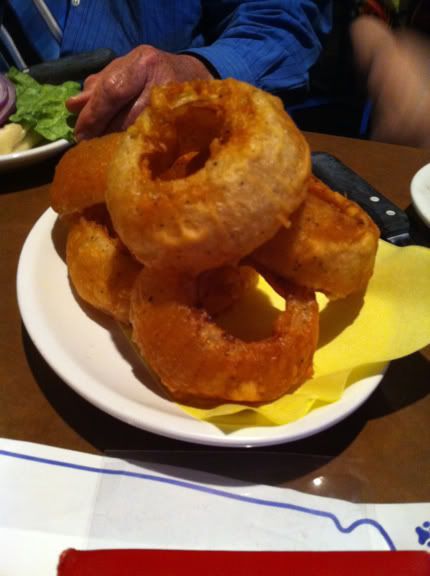 Can't believe I forgot pics of the burgers. DOH!!
Another thing that helped keep Kendyll entertained? Looking at ourselves in the iPhone!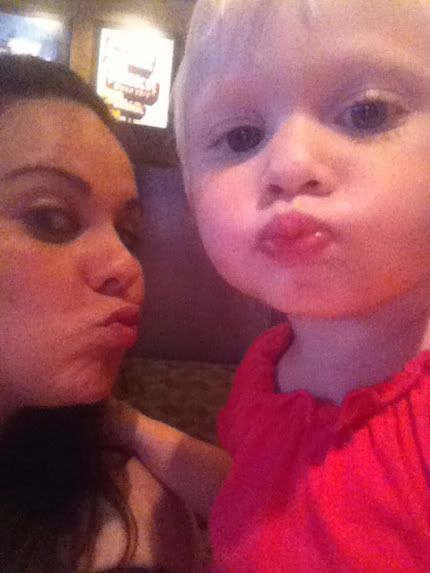 LOL.
She's such a lil love. In the middle of dinner she jumped in my lap and started kissing my face. Who wouldn't love that???
-a couple handfuls of caramel/cheddar popcorn
-breathe deep tea with local honey
Like I said above, dinner was really good, but I can't get that burger taste out of my mouth. Ugh, not this again!
xo,
Amanda