Friday:


egg white & cheddar on english muffin with spinach, green peppers, banana peppers, & mustard
Lunch was an Amy's mac & cheese kids meal, eaten past lunchtime.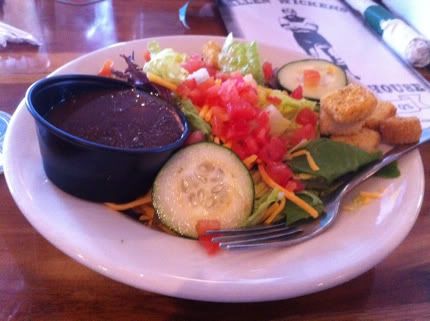 Dinner was pretty darn good. Tried a new Pub, Allen Wickers Pub. It was pricier than I thought. Individually each item seemed reasonable if not cheap, but added together for a family of four it was over $70, I think. We had a $25 gift card, but that's still not cheap. Oh well. The balsamic salad dressing was particularly tasty. The vegetarian sliders could have been even better if the mozzarella was slightly warmed, but they were still good. Although probably more calories than if it was just one larger bun (but I only ate half anyway). And I found out too late in the meal that they were extra delightful when dipped in my leftover balsamic from the salad. YUM.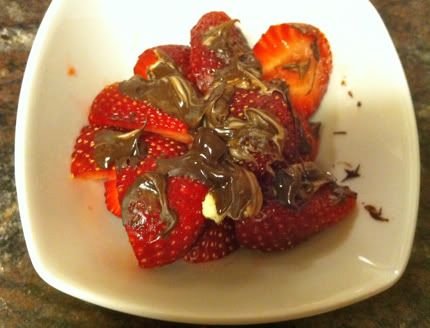 Organic strawberries drizzled with melted chocolate chips (vegan + white choc)
Saturday: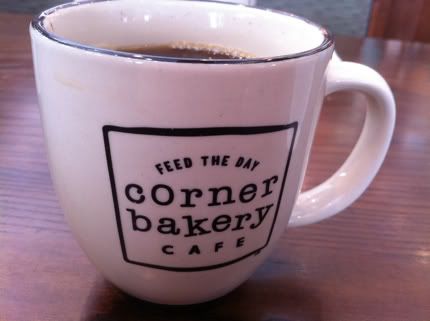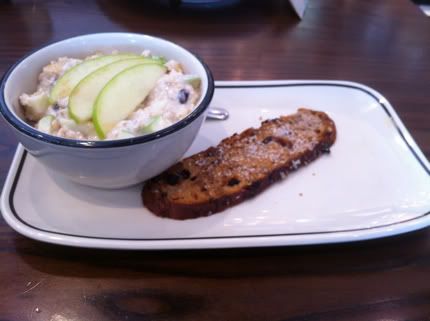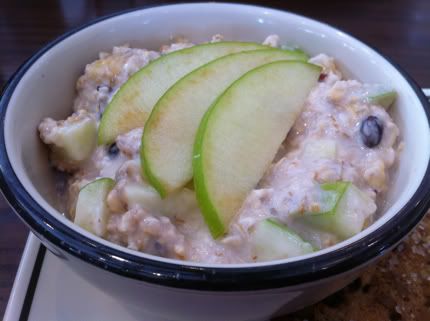 Hazelnut vanilla coffee with vanilla stevia. Chilled swiss oatmeal (or something like that). I mostly ordered the oatmeal for the sweet crisp bread on the side. So delicious. I wasn't expecting much out of the cold oats, to be honest, but I LOVED it. Like really loved. I want it again. ASAP. Like overnite oats, but better. Yum. Surprisingly filling too.
Ran errands afterward which involved picking up new outfits for the pup-a-lups.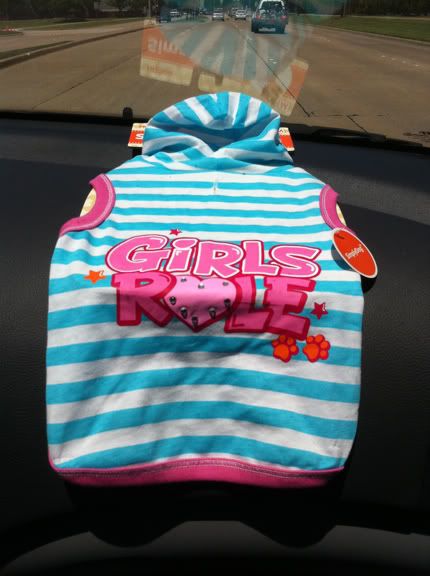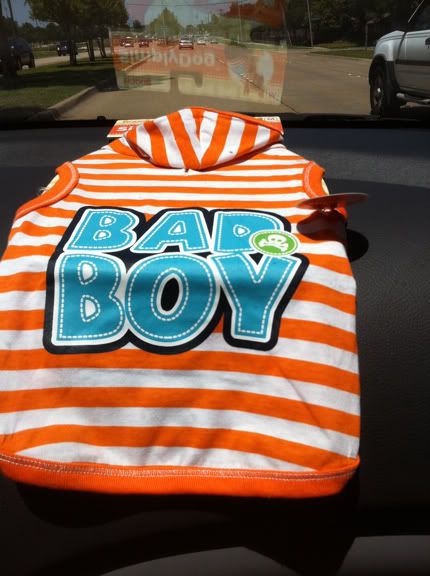 They loved them. No, really. Bella kept sniffing her shirt and hugging and licking me. And then lifted her arms for me to put it on her, which I happily did. Buster wasn't quite as enthused, but he still showed his Buster gratitude ;).
emo gangsta.
Breakfast was late due to a chiropractor appt that was at a slightly inconvenient time, so for lunch I just had more of a mini-ish meal.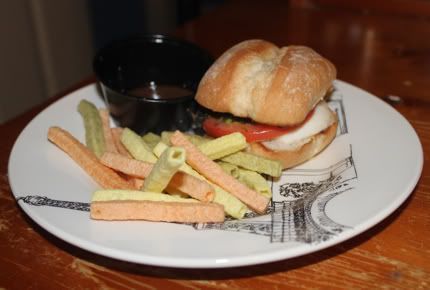 + another half of a (cold) slider I devoured straight from the take out container.
This time I melted the mozzarella just slightly. Good stuff. Though I do have to say it was good cold too. I thought the hot would blow away the cold, but both were about equal in different ways. I did dip every bite in the balsamic this time, which was amaze.
Dinner, however, was not a happy story.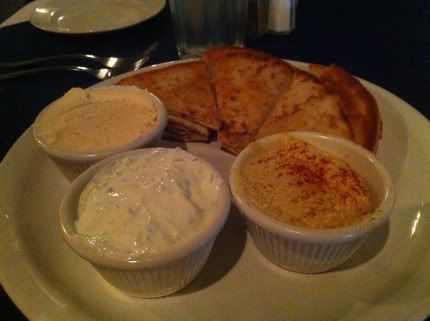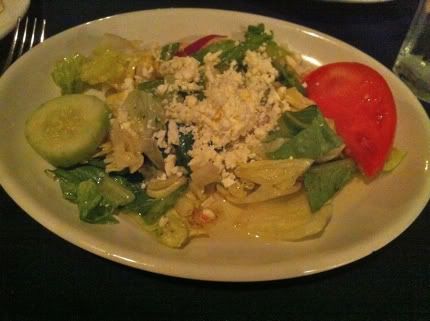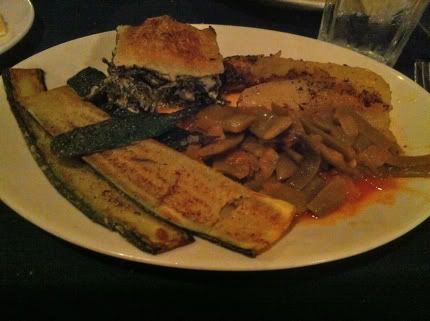 A little less than a week ago I bought a restaurant.com gift card for Greek Isles, a restaurant that's been around forever but I've never been to. My Mom & I are HUGE Greek food lovers, so we thought it was worth a shot. Well, we + my Dad got up to the door & saw "We no longer accept restaurant.com coupons" in their window. Er, what? My Dad asked to speak to the manager and he said he gets nothing out of it and can't get them to take him off their site despite multiple phone calls, but he won't take them anymore. Seems like bad business to me, but I'm not in charge, so whatever. I realize it's a shitty position for him to be in, but you'd think he'd still want to keep his customers happy until the problem is fixed *shrug*. He eventually offered to buy us an appetizer, so we stayed (we would have anyway, but you know).
To start they brought out bread (which I passed on, save for a bite) + olives sitting in olive oil. Nice touch. I do love me an olive, especially greek ones.
We had the trio of dips: hummus, tzikiki, & some pink dip I'm not sure what exactly it was. Normally I prefer veggies as dippers, but I was forced to have the pita or nothing and their pita was actually amazing. The dips were OK. At first when I saw the small bowls of dip I wasn't too impressed. I thought we'd finish it in 3 bites. But we actually ate almost TWO plates of pita and still had lots of dip leftover. Huh.
I ordered the vegetable plate (more on that next), which comes with soup or salad. I chose the salad. It was not very good. Didn't taste fresh enough?
My entree included zucchini, spanikopita, potatoes, & green beans (+ my mom's green beans). I mean, it was OK. Good even. But nothing to write home about. I'd definitely order it again if we went there again, but we likely won't, so no big loss.
My parents entrees were both pretty gross (pastitso & moussaka). Kind of bland and just not as good as all the other Greek places we frequent. Kostas FTW.
Also, at first they brought my Mom seafood soup. She ordered Avgolemono (lemon chicken and rice). The water guys kept our glasses full almost to the point of being annoying (but it was still appreciated), but otherwise the service was unnecessarily slow. I think our entire dinner took 2 hours. For just a lil neighborhood joint.
I was tempted to order the baklava ice cream, but we were over it, so instead we decided to go to a local ice cream place, Henry's Homemade ice cream. I got the toffee single scoop in a waffle cone. It was crazy good. Overall I wasn't terribly impressed with how the shop was run (the scooper guy was nice and liked my necklace lol, but so so slow), they didn't have many options, etc. But what I picked was great so that's what counts!
Sunday:

I kept procrastinating getting up all morning. Went to the gym
and planned on treadmilling it up, which I did, but my left ankle was killing me so after torturing myself for a good 26 minutes I jumped on the elliptical for another 10. Then stretched.
Had plans to check out a brunch buffet I just found out existed & is super cheap at a restaurant we already love. But stuff happened and I ended up feeling more like lunch anyway. Me? Not want breakfast? Weird.
Went to La Madeleine.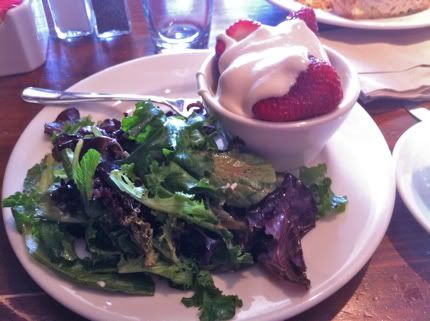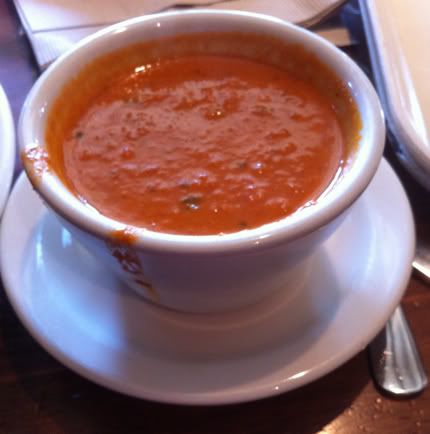 Pick three! I thought I wanted a sandwich, but was sold when I saw the pick three. I had the field greens salad with balsamic, reduced-fat tomato basil soup, & strawberries romonoff. Plus a few small pieces of bread to dip into the soup.
I thought I'd still be a lil hungry after, but it was perfect. I also had mango iced tea. Their coffee is better.
Pre-workout & a couple hours Post La Madeline I also picked at my Greek food leftovers. But they weren't pretty enough to showcase. As you probably agree from above.
Took the pups on a walk (well, each got their own walk, they're too hard to walk together). Talk about endorphins, when we got back they were smiling their lil faces off. Poor Buster's allergies had his eyes almost swollen shut, but he was still sooooo happy. I need to make more of an effort to take them out more, especially since it's that small window in North Texas where it's not too hot or too cold. But, of course, that's subject to change at any given moment during any given day.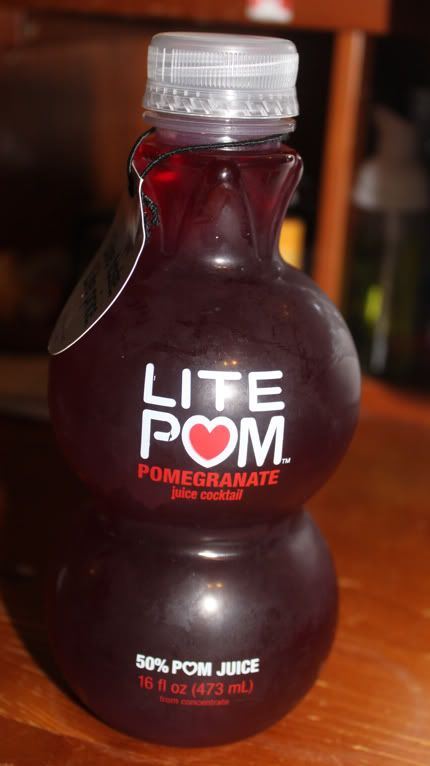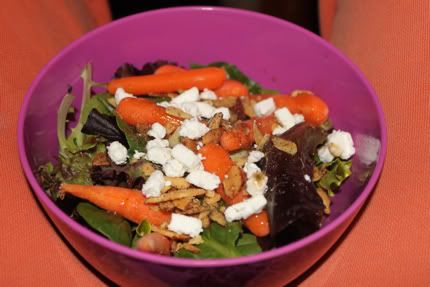 Random dinner, but tasty. They were out of my beloved curry tofu egg rolls, so I took a chance on the chipotle tofu variety. Very similar, still good, but I do prefer the curry. I tried.
I was feeling a little tight, muscle-wise, despite stretching & walking earlier, so I did some youtube-yoga. I'm really digging the lady from Yogatic. Good stuff.
I'm up way too late already, like EVERY Sunday, so...peace!
xo,
Amanda