Sam came again for another weekend adventure.
But first I had to work. With flair.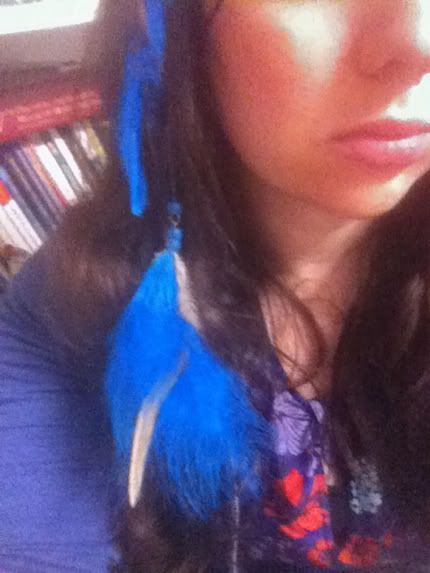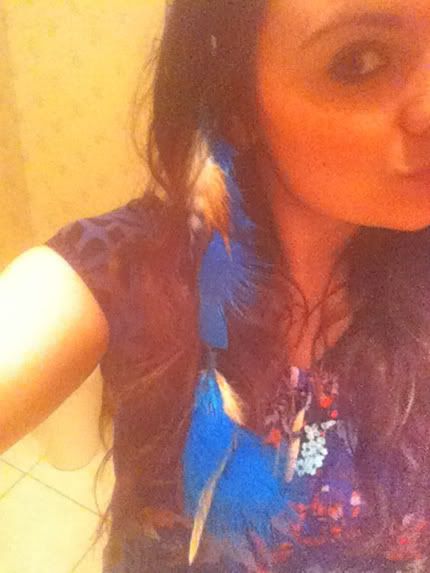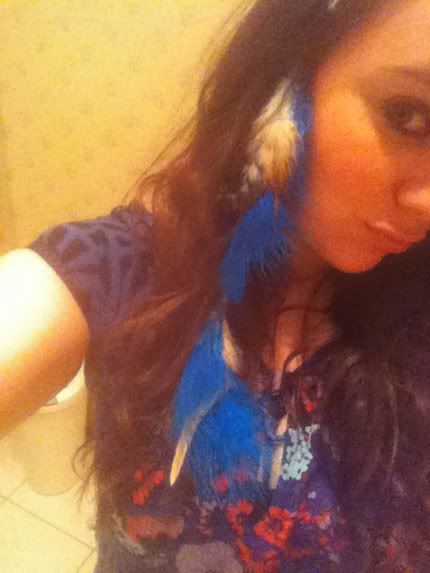 My co-worker friend and I are into the feather thang now. She made hers, I bought mine off eBay. Lazy, yes. But it's cute. I would have bought more except the seller sent me the wrong color and when I asked her (him? I forget) about it, she/he basically said they sell different shades of blue and they're sorry I'm not satisfied. Uh. Ok. But I didn't order blue. I ordered turquoise. I ordered their order #3. They sent me #7. Not exactly me being colorblind. But whatever.
I also came prepared for the weather...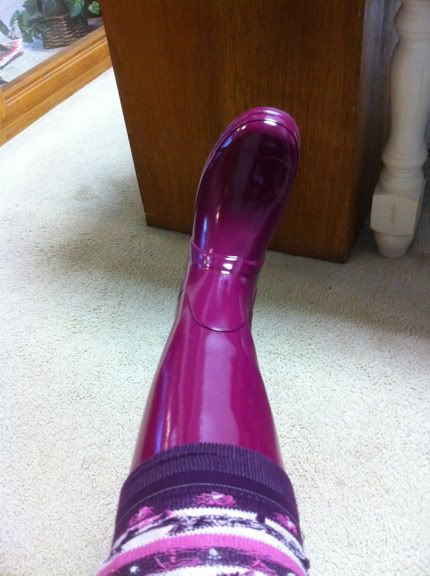 Yay Hunter boots to the rescue. They fit so much better this time with my regular knee high socks instead of the fleece Hunter socks.
Sam made record driving time. He got here a little before 7. That's some skillful driving.
I suggested Pei Wei for dinner, knowing it's Sam's fave and I had been in the mood all week. Not very creative, but ya know. Naturally, he agreed. He had wanted to suggested it himself, but thought we would kill him since he always wants to eat there, lol. No sir! Pei Wei FTW.
Well. Kinda.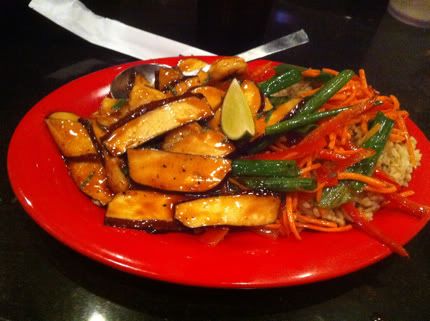 The crab wontons & brown rice were delightful, but this was my first time trying the Thai Dynamite sauce and I was NOT a fan. I got it with tofu & steamed shrimp, my 2 fave proteins there, but the sauce just ruined it. Boo. Now I know.
At Kohl's that nite I bought the babycakes mini cupcake maker. I made a batch of strawberry cupcakes with cream cheese frosting & banana chocolate chip cupcakes with cream cheese frosting. The banana were better than the strawberry, but both were too heavy and dense. I may have to take that machine back. What a let down! I bought some boxed cake mix to try out in it just to make sure it wasn't me. We'll see.
The next day I had an 11 chiro appt, so kind of awkward timing for breakfast.
We ended up eating after my appointment, but had to keep it light because our movie-lunch at the Studio Movie Grill was just around the corner a couple hours later.
We had Einstein's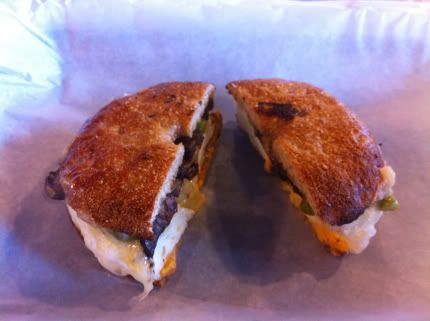 I strayed from my usual lox-ness and went for my other fave option, the honey wheat bagel thin sandwich with egg whites, mushrooms, asparagus, swiss, & some sort of tomato spread. I will never understand how this is more filling for me than a full sized bagel. But alas...
For lunch I had a salad with grilled chicken, artichoke hearts, onions, feta, tomato, and balsamic. It was OK. Too chickeny. I should have gone for my original choice, the black bean burger and fruit. But I made a last minute change. Oh well. I also shared some of Sam's cheese fries & 2 of his cookies (1 white choc macadamia during the movie & a choc chip on our way out).
Not really sure why I ate the cookies since we went to Sprinkles right after. But oh well. They were tasty.
Oh. And the movie? We saw Bridesmaids.
Hilarious
. It's as good as everyone says.
Now back to the goods. Cupcake wise I had their special, the salted caramel. I'm not a salt fan, but this was DAMN good. And it almost wasn't meant to be, but they brought out a fresh batch right as we approached the counter after waiting in a line wrapped around the store. It was cupcake fate. Put the babycake maker to shame.
We stopped by Walmart to find a Red Box, so we could rent Due Date. Sam has been raving about it every trip, so we finally decided to watch it together. It was pretty funny! I liked Hangover better (Sam prefers DD), but I'm glad I finally saw it and did laugh quite a bit.
AND, I must brag about Sam's toy crane skills at Walmart. He ALWAYS wins at the crane game. It's crazy. This time, of the 2 times he played (well, 3, but the first 2 I'm talking about....) he won both times. In a row. Mad skills.
Buster REALLY appreciated his wins...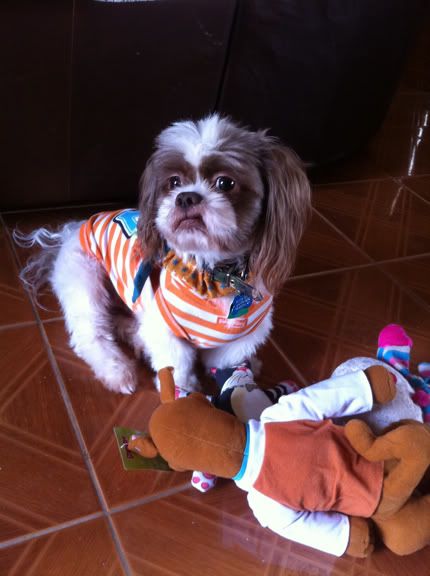 & they call it puppy loooove. (The Scooby was one of the wins. another was a frog).
We were going to go to Dave & Busters for dinner & games before going out for the nite, but we all needed a nap instead. Lame, yes. But necessary. My co-worker friend was singing with her new band that evening at a local bar, so we made our way there to check 'em out. We figured we'd grab dinner there, have a couple of drinks, and be out in 2 hours or so (they were scheduled to play from 10 pm-2 am, but we didn't plan on staying). Well, we got there just after 10, but the Mav's game was on, so they postponed the band until the end of the game....close to 11. While waiting we ordered....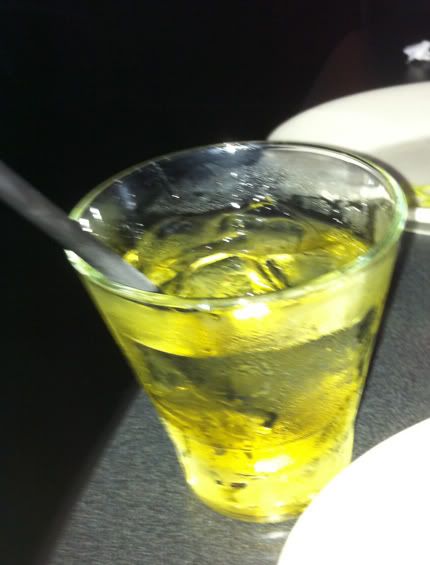 Chivas on the rocks.
I wasn't very hungry oddly, so my Dad & I shared an entree...
Chicken fajitas. I had about 2. I really liked them, my Dad thought they were mediocre at best. Weirdo.
We ended up staying watching the band until nearly 2 am when they ended. *yawn* During that time I had one more scotch + one miller lite.
They played mostly hard rock & heavy metal, a FAR cry from what my friend usually sings (pop/light rock/country). I actually liked it, but I like most types of music. She was miserable though, which sucked for her. And it was way too loud. But I enjoyed myself. Even if the band did break up the next day. (It was their first gig playing together, too). Oh well, it was prob for the best, especially for her sake. And she still has her own solo gigs, so it's all good. I really want Sam to hear her sing the stuff she usually does, he'd really be into that, I think. Though she did throw some Ke$ha, Lady Gaga, & Kelly Clarkson our way. & They also played all of my fave Rockband songs. Woo. MY friends Dad made me dance with him once, kind of funny. But when he asked again I said I was done for the nite. Hey, It was big of me to do it once. Trust me. I kind of hate dancing. I have no rhythm.
I have trouble going to bed after a nite out (unless I'm drunk, then I pass out in seconds, but I rarely drink that much), so I ended up watching TV for hours. I was probably up 'til past 4. To the old Amanda that would be a normal nite, but for working Amanda that's pretty late. Rockstar.
Woke up Sunday morning with plans to go visit my cousin at Cheesecake Factory.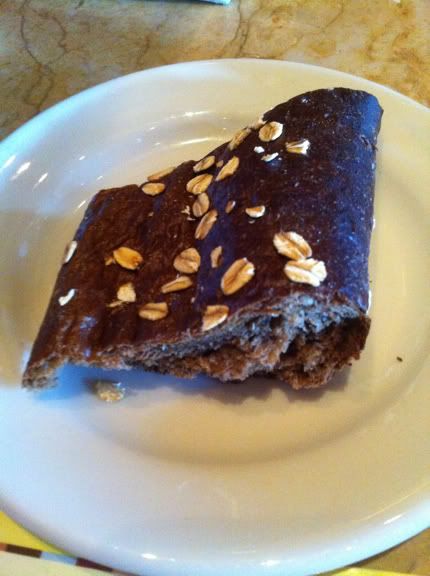 Had to start with a little of the brown bread. I used to be able to eat loaf after loaf of this stuff, but this time I stopped after this amount. Self control whaaaat.
To drink I had an unpictured tropical iced tea. The best.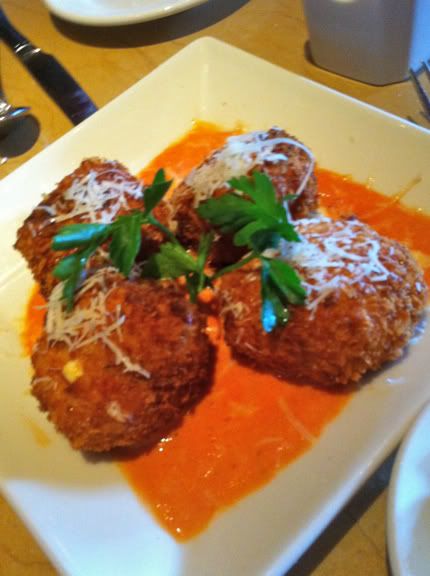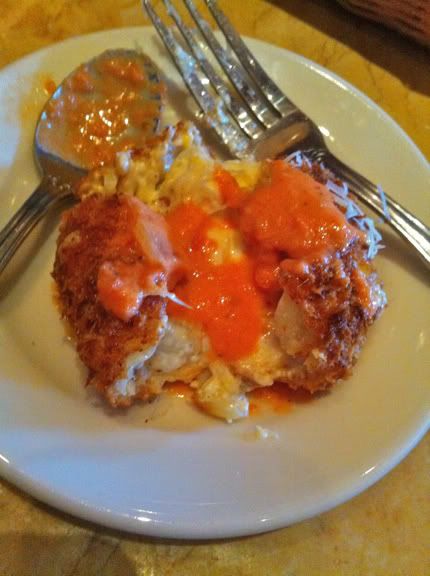 Sam ordered us fried mac & cheese to share. I had one and a half. It probably clogged my arteries, but it was even better than I remembered. Smaller (but that was probably a good thing), but better.
My entree sucked. Big mistake.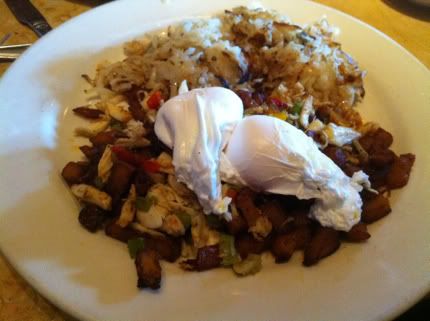 Crab hash. And yes, those disgusting, shriveled white things in the center are in fact poached eggs. WTF? Thank god I asked for the hollandaise on the side because you should have seen the texture. Awful. The whole thing was a greasy mess. No bueno. With a menu of practically every food on the planet I should have loved my choice. Gotta be more careful next time. Also, why would they serve hash browns with a hash full of potatoes? *scratches head* Whatev.
Sam was planning to stay late into the afternoon, but during brunch we heard BAD storms were coming, and even tornadoes, so he left straight from CCF. :(
As always when he comes, it was a very fun, eventful weekend! Even though we do pretty much the same thing every time, give or take a few things, it's always a good time.
xo,
Amanda