Normally I wait until the end of my day to post, but I just had to share my delightful breakfast with you guys. Surely, you've seen it before a la
Chocolate Covered Katie
? Boatmeal!Banana boatmeal to be specific, but I assume you gathered that from my title, yes?
Nommy nom nom nom.
If you're a thick oatmeal lover, this is right up your alley, though I do have to say what sold it for me is my latest addiction with anything cooked banana.
I'll let you click on the above link to get the recipe so it's all credited to Katie, but just fyi, based on the choices she gave I made mine with 1 tsbp white chocolate pb, applesauce, extra cinnamon, 1 packet of stevia, a drizzle of maple syrup, & I did put the tiniest sprinkle of brown sugar on top.
It doesn't photograph beautifully, but it does sit in the belly quite nicely!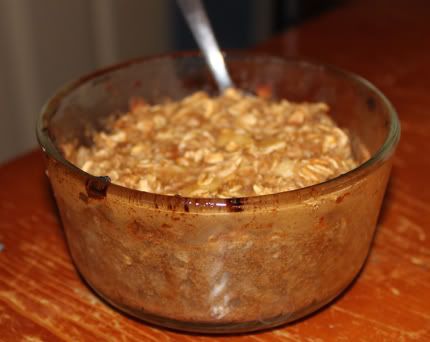 What did
YOU
have for breakfast?
xo,
Amanda