Written while blogger was down. Because it's only natural for a site to go to read-only mode when you want to catch up :).
To be fair, I've been randomly blogging lately with no semblance of time if you haven't noticed. So why not back track? Here's some photo-age & story time from the end of April.
If you recall, I said my friend Sam came for another weekend visit. He came the nite of the Royal Wedding, for further reference. So moving along from there...
Since he's been coming to stay with us more lately I've told him we HAD to take him to one of my favorite breakfast places, Breadwinner's Cafe. FINALLY, we had that chance.
I had REALLY set the bar high, so was hoping I didn't set him up for disappointment, but kinda knew that wasn't possible. Aaaand, I was correct. He LOVED it. Said it's his fave Dallas breakfast site. Score. (But we both agree Dream Cafe's cheese grits are basically impossible to beat).


egg white enchiladas! yum!

In the afternoon we picked up my brother & headed to Sprinkles for cupcake madness. We also gathered up the courage to say the facebook special phrases of the day and ended up with 3 free cupcakes. Not too shabby!

Then, we headed to Northpark Center (a mall) to stock up on Lush. That was where I helped my brother pick out items for Mother's Day. Stupid me didn't bring my Tiffany ring (to exchange for a different size) OR my 15% off Anthropologie b-day coupon and it was the last day I could use it. So that was a HUGE bust. And my shoes cut the BLEEP out of my feet (where they are still cut today, nearly 2 weeks later). But it was still a worthwhile trip.

We all agreed not to eat anything until dinner where my family + Sam decided to feast like kings at Fogo De Chao. And feast we did. YUMMY. The salad bar, caiparinha's, & sides were better at Braza Dancante, but me,

not

the big meat lover, LOVED the steaks. So so good.


fire pit @ the front!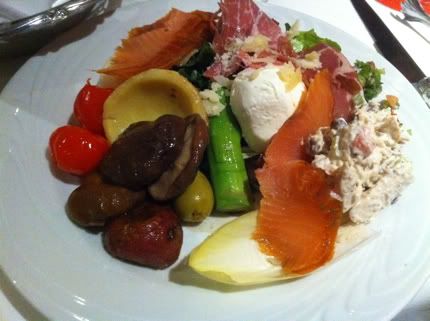 salad bar. Semi lackluster, but the chicken salad was actually very good.
Got too into my feasting to remember to take any further pics, unfortunately.
& I don't have any pictures from what came next, but it was not my typical Saturday nite. Though I'm thinking maybe it should be ;).

We met Sam's co-worker friend & his husband. They were staying at the Ritz. You know, not too shabby or anything! They immediately took us to the outdoor bar & ordered us cocktails (champagne for me). Then, Sam & friend went to move the car to a more ideal parking spot & husband and I went to a special floor where we had our pick of desserts & booze. They had special access and we were given two bottles of champagne to take back to the room. I'm sorry, suite. We all met up in said suite, had another drink, & called downstairs for the house car. The Bentley. Which drove us all around Uptown. Sam and I were sickly full and remained that way all nite, but the other guys were starving. We started off at Trece, a tex-mex place they'd drunkenly enjoyed the nite prior. Well, after we got inside we were told it was closed for a private party. We asked for suggestions & were pointed to another mexican place that I'm now blocking the name of. When we got there I'm pretty sure I was the only girl there, surrounded by all of the Dallas gay men population. No complaints. :-P. There we all had 2 kettle one & sodas with a splash of cran. The Bentley had a short wait, so we cabbed it back to the room where Sam & I said our goodbye's shortly after. T'was a very fun, unexpected nite! Definitely worthy of my glitter heels that I took out on the town :).

Technically this last part is from May 1, but I won't tell if you won't ;) ;).

Sam's favorite place to eat of all time is Pei Wei, so we agreed to have lunch there the next day. By the time we sat down we were STARVING. We immediately dug in to the 12 crab wontons we ordered (and to be honest, we really held back by only ordering 12). I flipped flopped forEVER re: what to order, but ended up with my first choice, shrimp pad thai. Yum. I also had about 2 sodas. I know, I know. But the touch screen soda machine there has so many choices. It's so fun! And I love a good soda after a nite of drinking. I had a vanilla coke (excellent), about half of a lime coke (eh), & another half vanilla coke. I also copied the little girl next to me & ate a plate of orange slices from the beverage bar for dessert.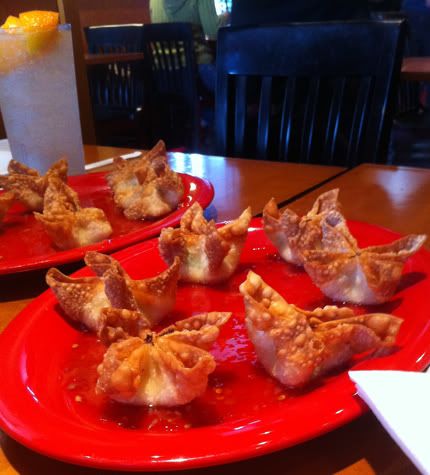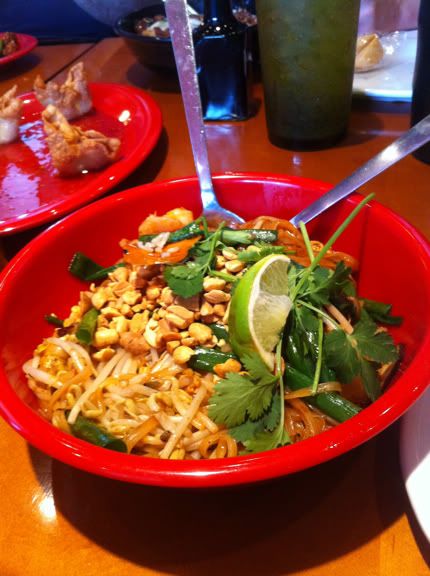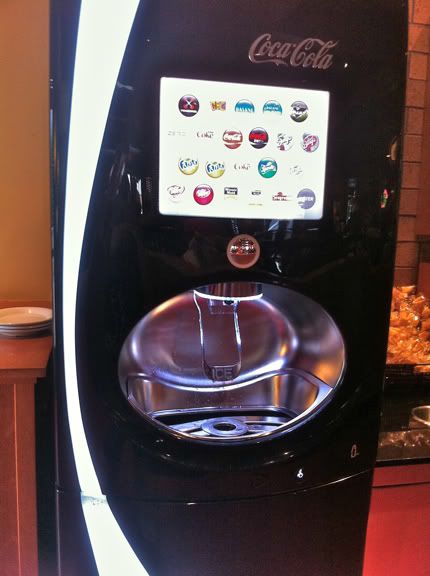 Sam had to head back almost immediately after we got back to mi casa & I have no idea what I did after that, so I shall bid you adieu!

But not before I show you my horrific workout calender.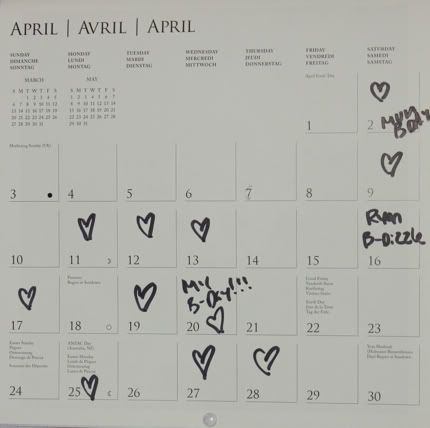 Let's hope May gets me moving a little bit more! (and eating healthier ;) nah, I always eat pretty well, just had a fun, off weekend :-P)

xo,
Amanda