April 15
-2 wildberry buckwheat waffles with a little cream cheese in the middle + maple syrup. I think I had a hot & spicy veggie sausage in there too?
-venti hazelnut soy latte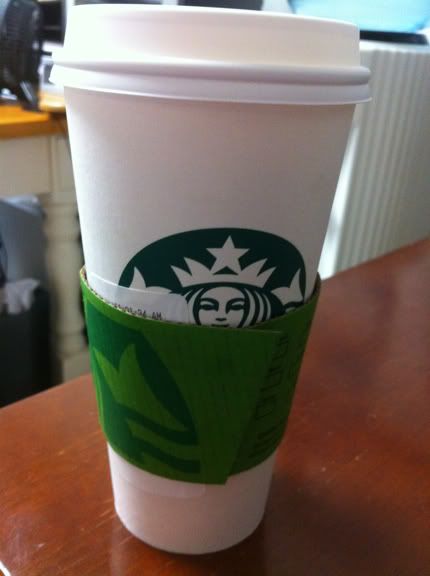 FINALLY used one of my free Starbucks coupons. This would have been $5.25 otherwise. Robbery!
-gnocchi frozen meal
-about 1/3 of a green tropical Kombucha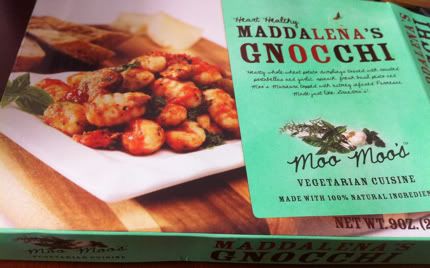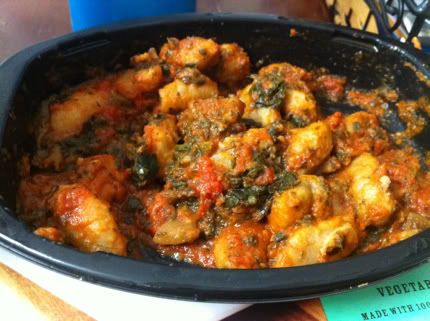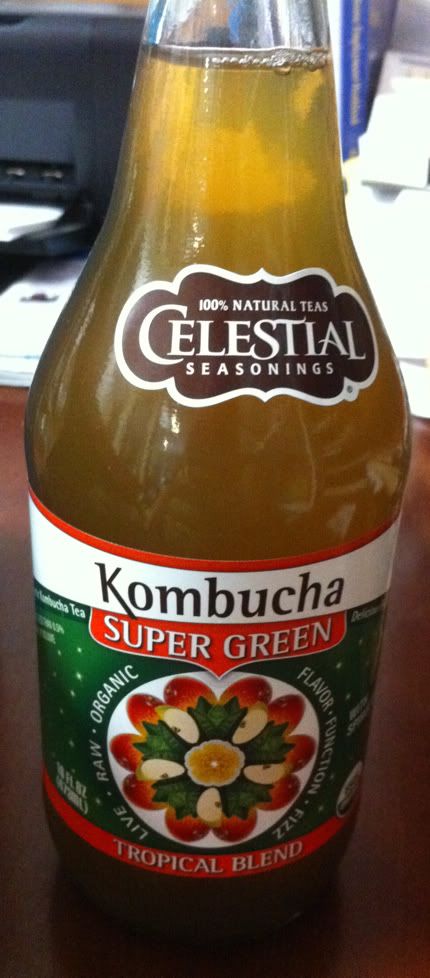 I've been nervous to try this Kombucha, I think because of the green-ness, but it was good! If anything maybe slightly too sweet. Glad I finally braved it.
On the other hand, I'd really been looking forward to that gnocchi and my friend said it smelled really good. Yeah, it did. But it tasted like pure tomato paste. Lame.
For dinner my Dad, brother, and I went to use my brother's free birthday pizza gift from Grimaldi's. Even though we got there just after 6 pm it was PACKED. We had to wait over 30 min for a table. I quickly popped in next door to White House Black Market & tried on a few sale items. I bought one super ruffly dress for less than half price. Still $, but a good deal nonetheless (I paid $75, it was originally $160ish). The two full-priced dresses I originally went in to look at weren't as nice in person as I expected. Hey, I'll take sale prices over full retail!
-half of a small house salad (greens, tomatoes, green olive, mushroom, roasted red pepper, fresh cracked black pepper, vinaigrette)
-2.5 slices of Grimaldi's pizza (tomato sauce, fresh hormone-free mozzerella, mushrooms, ricotta, kalamata olives)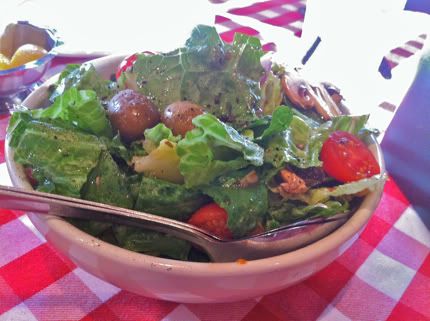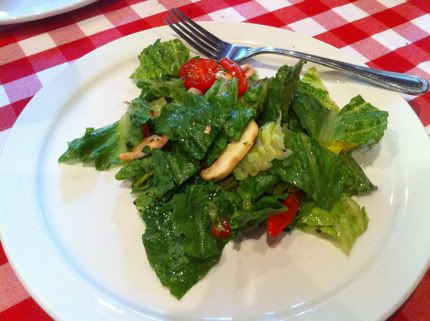 Deeeelish. Actually not quite as good as last time, but still excellent pizza.
-tiny Baskin Robbins chocolate chip cookie dough in a sugar cone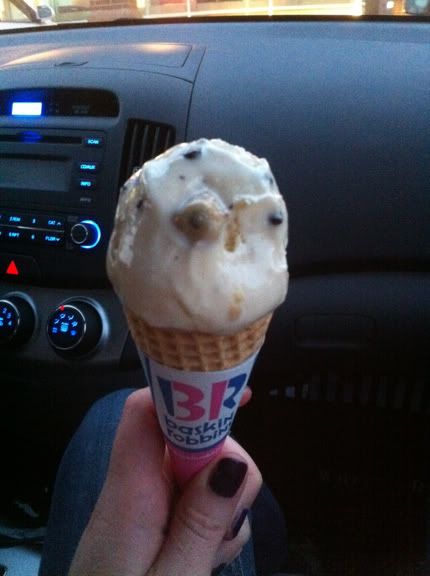 Free birthday cone. It was like...3 bites. But hey, free is free. :-P
-huckleberry tea with a little stevia
=========================
April 16
HAPPY Birthday to my brother!!!
-veggie eggs benedict with hollaindaise on the side
-a few bites of potatoes
-chocolate macadamia coffee with vanilla stevia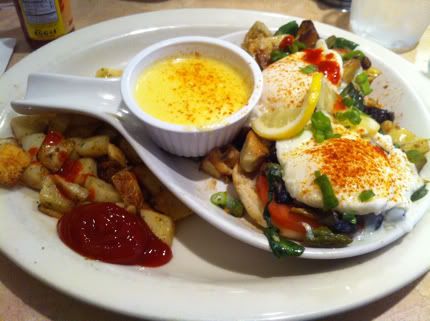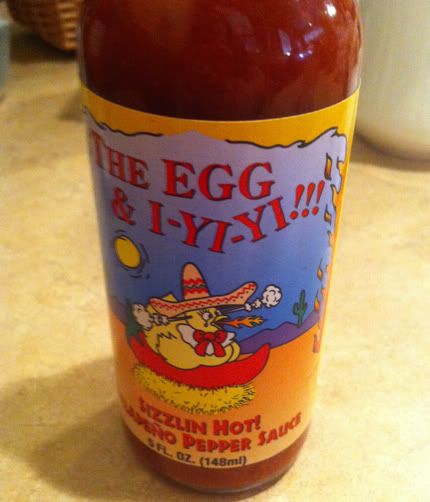 YEAH! The Egg & I (yi!yi! lol), the place we ate breakie, always has regular or hazelnut coffee, but also a coffee of the week. I've only eaten there twice, but last time they had chocolate macadamia and I raved about it. Nice surprise!
Also, I later found out on Whole Foods' facebook that today was national Eggs Benedict day. Who knew? Their eggs benny actually was only mediocre (tho the hollandaise was amazing), but oh well. I still think their frittata's are the best.
Got dressed up for the b-day festivities: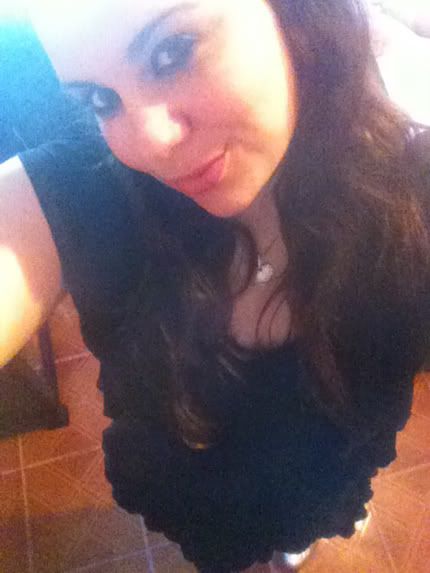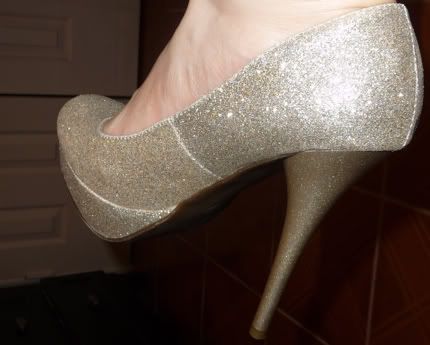 For dinner we went to a new Brazilian steakhouse, Braza Dancante. It was all of my family's first time eating at a churrascaria.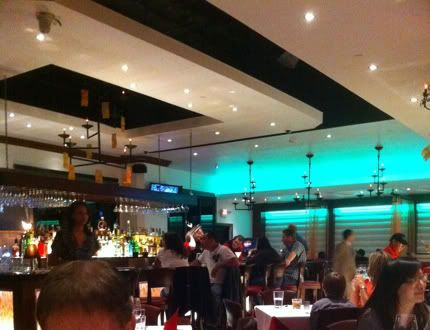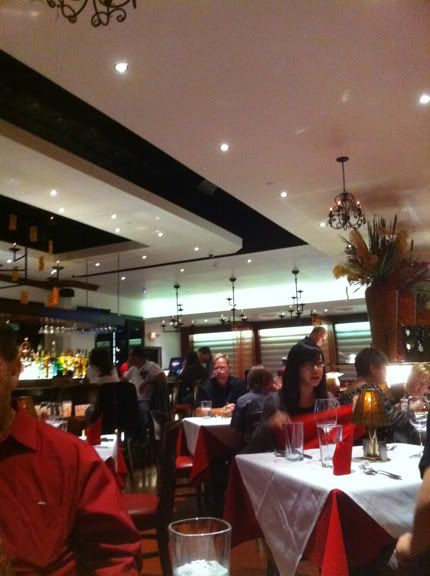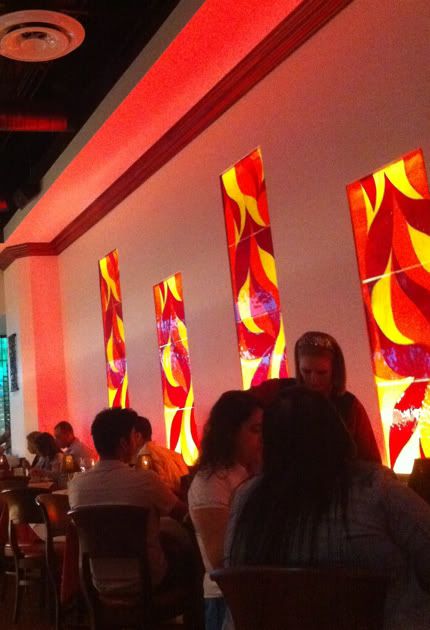 -2 capirinha's
-1 brazilian cheese roll
-salad bar (regular salad stuff with lemon herb vinaigrette, a quinoa salad, cous cous, smoked salmon, 1 piece of proscuitto, a few bites of brazilian cheese, etc, a few bites of beef strogonoff, a few bites of a creamy spicy shrimp....)
-bites of various steak & lamb
-grilled pineapple
-a few bites of mashed potatoes
-cinnamon sugar cooked bananas
-1 bite of my brother's brazilian cheesecake (basically regular cheesecake with caramel and pecans or something like that)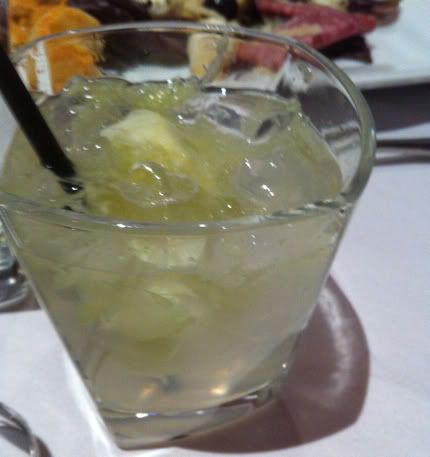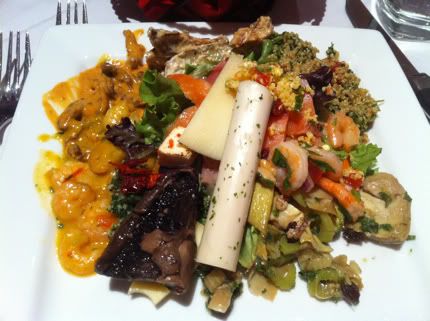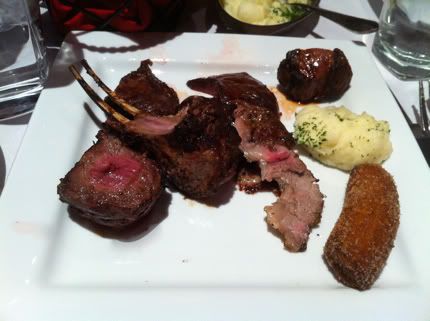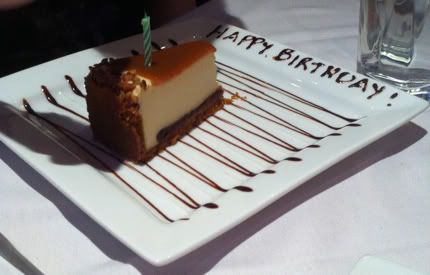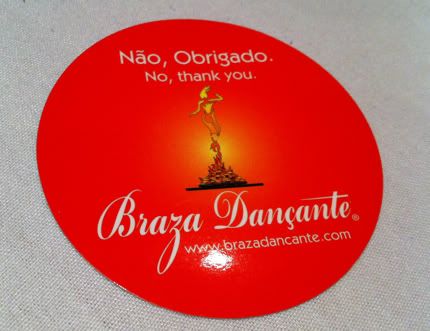 Although it was my idea to dine here, I didn't care for the meat too much. It wasn't bad, but I'm very very very picky. Some was a little too salty (tho to be kinda fair they did tell other tables if their meat was too salty they'd bring out a new, fixed batch but they never told us + I didn't care enough to request it anyway), some was a little too fatty (but I hate ANY fat on meat, so...), etc. But my brother loved it (even tho they never brought out his requested steak sauce) and it was for his b-day, so phew! & imo the rest was fabulous. The salad bar was very good. The cinnamon sugar bananas were amazing. The grilled pineapple was great (altho I did have to request it be brought out as it never seemed to come around while we dined). The drinks were fab. All in all a great birthday dinner for my brother.
My brother had a birthday surprise as well. After he drank his root beer the server asked if he wanted another. Doesn't sound like a big thing, but at 99% of places they just refill it or bring you a new one regardless and that's a huge pet peeve of my brother's. He doesn't generally drink more than one, maybe two, and finds it wasteful and an overload of unnecessary sugar. He was delighted when they asked (and he declined).
For ANOTHER dessert we had...cake!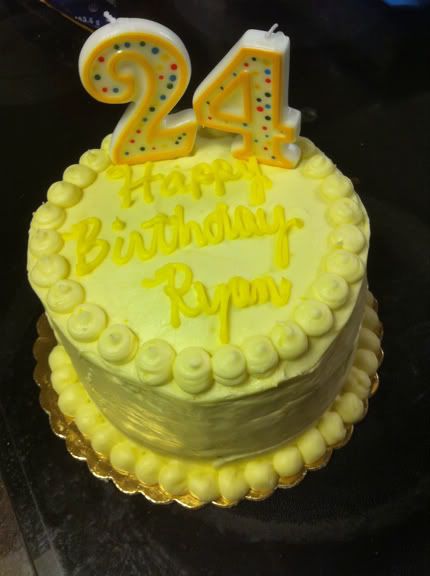 -lemon birthday cake with lemon cream cheese frosting
Right after I realized how huge that was & cut it in half
We got the cake at Magnolia Bakery (not to be confused with the famous NYC Magnolia). The taste was good, but my Dad and I found it a little too heavy/dense, texture-wise. But again, my brother LOVED it, so it all worked out great.
xo,
Amanda