March 29
-lemon chobani with half of a crumbled blueberry cashew Kind bar
-grande soy cocoa cappuccino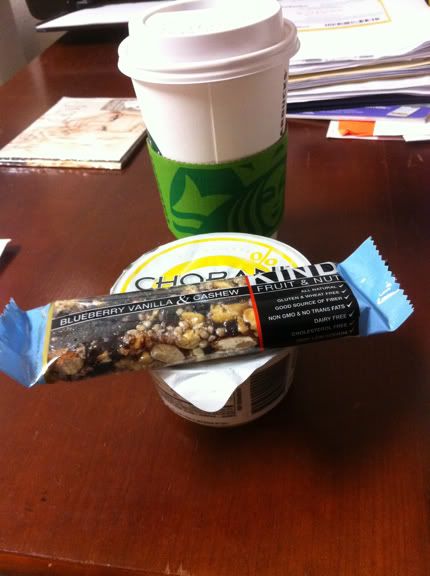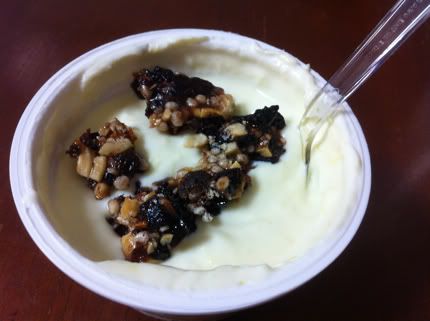 BRITNEY SPEARS CD RELEASE DAY! OOH YEAH.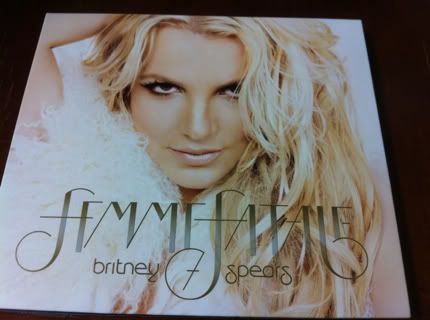 It's Britney, bitch!
I got a stomachache, so I didn't eat lunch.
-1 Jason's Deli pumpkin cheddar cracker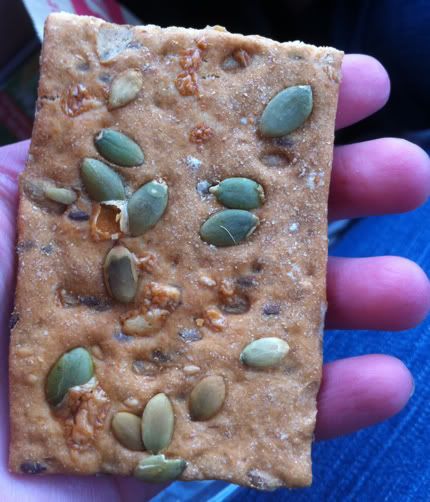 Went to the chiro and tried not to throw up. I didn't feel HORRIBLE, but just uncomfortable and nauseous. Blah.
Decided to cancel dinner reservations and postpone 'til tomorrow.
When I got home I was hungry and had a weird craving for someone who's stomach hurt....
-2 small bowls of leftover tuna casserole with crushed baked kettle chips on top
I started with a small bowl to see how it would sit in my stomach, but it seemed fine so I went for round two. Still OK. Phew.
-Chocolate Covered Katie's cake batter milkshake with chocolate sprinkles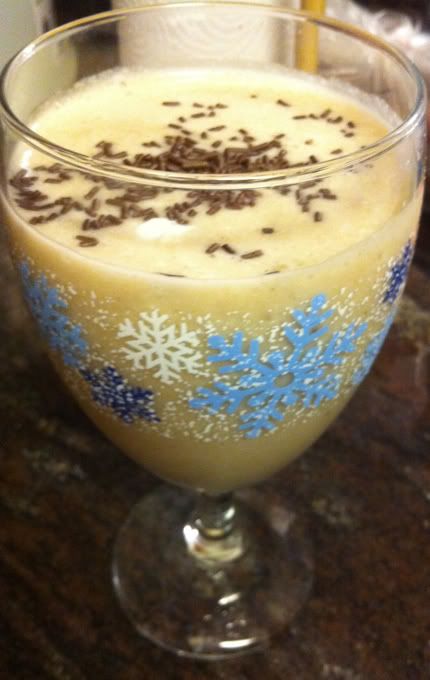 I wouldn't blend in any sprinkles next time, wasn't a fan of that texture, but otherwise the taste was good! I liked them on top, tho!
==============
March 30
-a few dried apple rings
Workout:
-half heavy day abs & shoulders
(30 crunches x 4, lat shoulder weights combo 7.5 lbs..soo hard..prob had poor form, shoulder shrugs @ 90 lbs, leg ups flat on floor 18 times for 3 sets)
Nothing sounded good for breakfast, so I just threw a random combo together that ended up being DELICIOUS.
-slice of brown rice toast with cream cheese & a hot and spicy veggie sausage
-Starbucks Tribute blend via with hazelnut coconut creamer with eng toffee stevia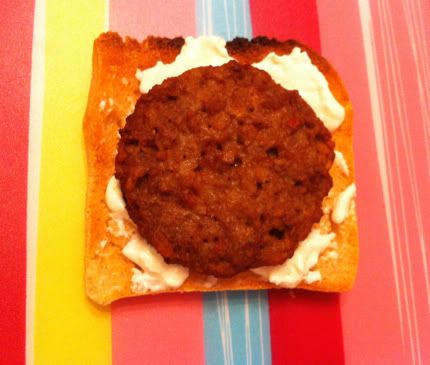 Coffee was good too! & I
lurve
my new mug.
-Amy's frozen kids meal (mac n cheese, broccoli, & 2 apple "pie" bites)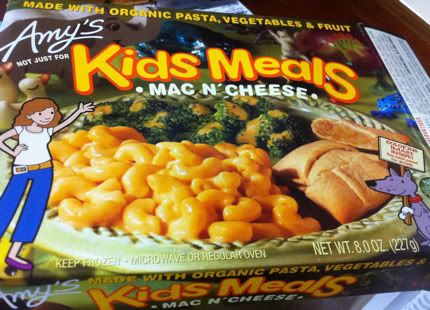 Good! I loaded up on Amy's meals at Target last week, so expect to see them a lot :). Don't worry, they're all different. And purdy healthy for being a meal in a box...
After work & massage it was....girls nite!!
Shoes of the day/nite: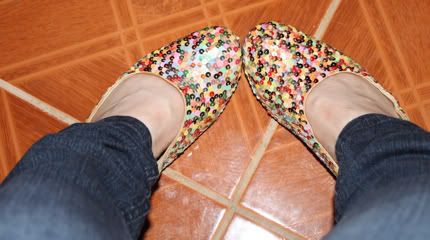 Love shinies! :) Bet you can't tell :-P
EARLY dinner:
-strawberry basil martini
-artichoke stuffed artichokes with a simple arugula salad
-about 3/4 of a goat cheese and artichoke flatbread
-bowl of white bean soup with pesto with a small slice of wheat bread
-half of a shot glass lemon pound cake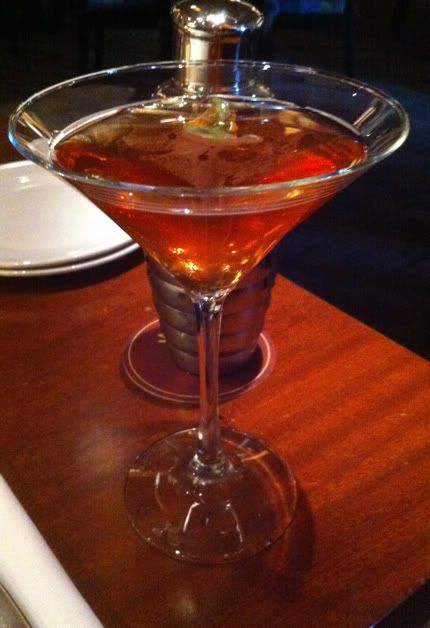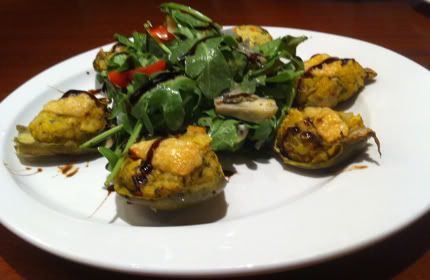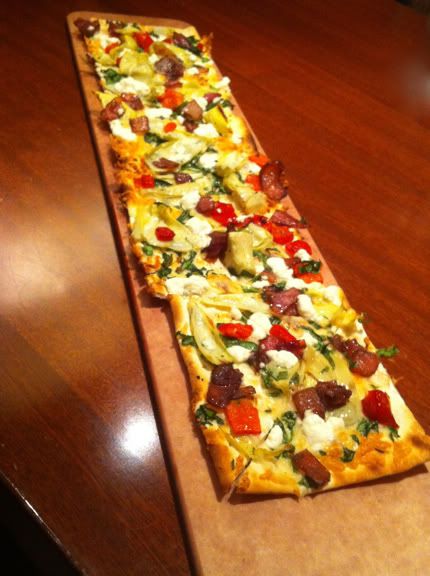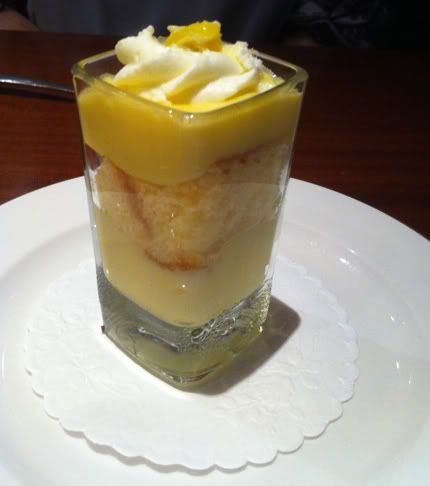 The sunshine martini is better, but strawberry was still good-ish. Love me some Seasons 52!! I swear our waiter had to have been at least 7 feet tall. I literally had to crain my neck to look at him. I tried to decide between that flatbread (which was on their seasonal, weekly menu, but I know I had it before a couple months ago...) & their chipotle shrimp flatbread. This one was AWESOME, don't get me wrong, but I later heard the waiter telling the table behind us that his fave is the chipotle shrimp. DAMN! I knew I should have asked him! I never ask waiters for rec's b/c I know my tastes well, but for some reason I had an inkling to ask him, but didn't. Weird. Oh well. Next time...
-the rest of the flatbread (who are we kidding? It was pretty much as soon as we walked in the door...)
==============================
March 31
-a few dried apple rings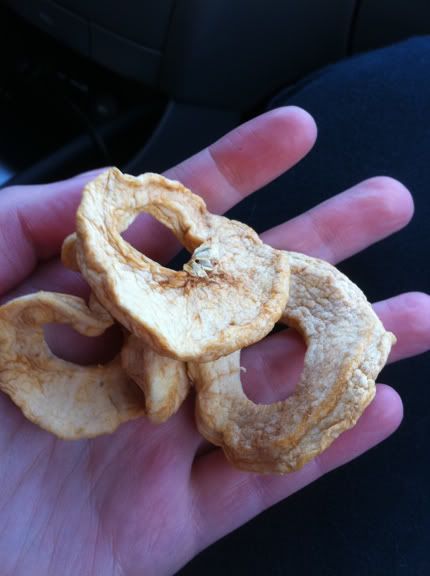 Workout:
-25 min elliptical
Clearly, with our short workouts, we were even worse than usual re: time management this week! But some is better than none :).
My Mom woke up with her lungs and possibly heart killing her, so I went with her to the doctor. Ate breakfast on the way..
-slice of brown rice toast with cream cheese & a hot and spicy veggie sausage
-about 3/4 of a mug of Einstein vanilla hazelnut coffee with cinnamon & eng toffee stevia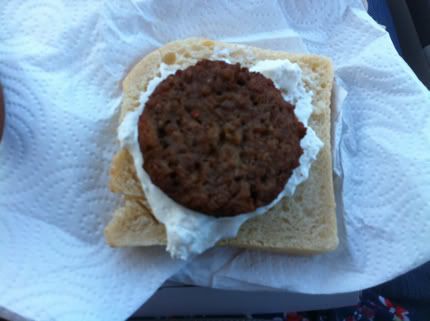 If you buy Einstein's reusable mugs for only $2.50 you get refills from then on out every time you come in for only $1.07, almost a dollar savings from when you order and take their throw away to-go cups. Not bad. Not sure if they'll honor that if you bring your own cup? But hey, theirs are cute and cheap, so who cares either way?
Luckily my Mom was OK. She was told she could get a cat scan tomorrow (soonest availability) if she wanted, but it was most likely related to stress (though she does have a lung disease, so it's kind of iffy). She internalizes other people's problems and pain and had a lot of burdens she was carrying around and it was just too much. :(. Plus, we're adding a second business to our practice and we're in that kinda scary transition phase where we're crossing our t's and dotting our i's, but the "big bucks" haven't come in yet to warrant the addition. We can pay the bills, but that's about it until the next check comes in. It should be smooth asap, but my mom is a worrier, so it's not helping the matter.
Because of her lungs, she also canceled her b-day party that she's been talking about since November? December? :( :(. Everyone was really disappointed! But, keeping her healthy is most important. We may postpone it to later this month? But we'll see. Whatever she wants!
Ordered us Jason's Deli delivery for lunchies:
-half of a veggie wrap dipped in salsa
-2 bites of steamed veggies with salsa
-half a serving of blue corn tortilla chips with roasted red pepper hummus
-side of pasta salad made with italian dressing
-organic apple juice box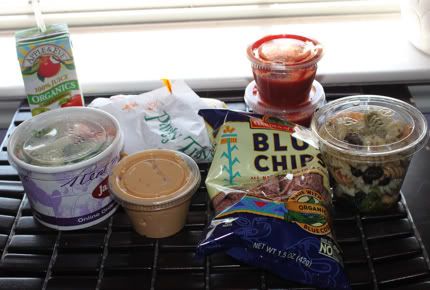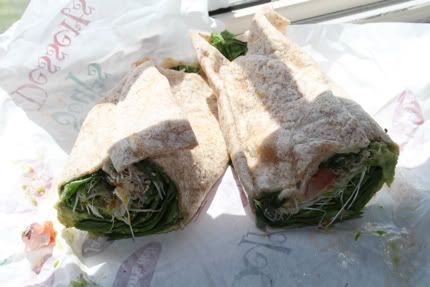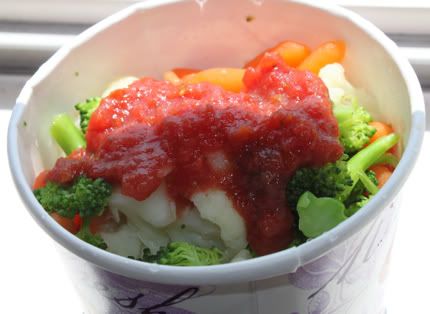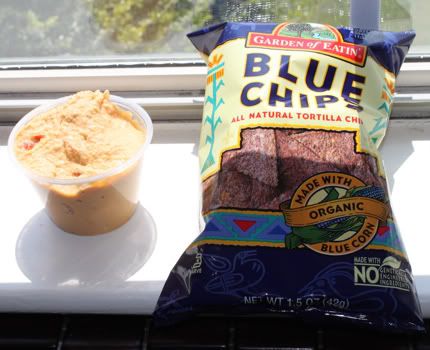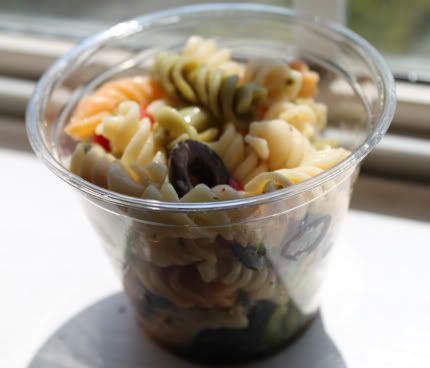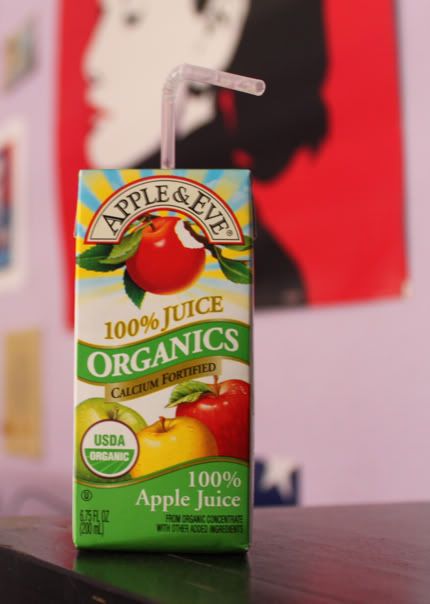 I know, a little ridic. But the order had to be $25 minimum pre delivery charge, tax, etc. and everything we ordered was pretty cheap, so I just kept adding sides lol. I got my brother a kids meal (yes, he's 23. So?) & stole his juice box, LOL. I'll never grow tired of juice boxes! They're just so cute & tasty.
-the other half of the wrap with salsa
-orange flavored sparkling water
-the last few baked kettle chips
-ginger ale zevia
-my mom's beef stew (only ate 2 bites of the beef, loaded up on the potatoes..more gentle on my stomach anyway)
I'm really a big fan of the ginger ale & ginger root beer zevias now. Must get more!
Still sort of nursing a funny stomach (despite eating a spicy, filling lunch & feeling mostly OK). It's still been bothering me every time I eat, more or less, since Tuesday. I'm beginning to wonder if I could have somehow developed lactose intolerance? I don't know if that's even possible, but it seems like I've been eating more dairy since I've felt bad. But maybe it's just a coincidence *shrug* But don't they always say you crave the things you're intolerant to? And damn if I REALLY want a grilled cheese right now! But I won't give in. For now.
I'm also still tired all. the. time. I nap or want to almost every day. That is NOT like me. Weird.
Exercise completed in March:
============
April 1
Mom felt mostly better, so canceled her cat scan.
-wildberry buckwheat waffle with apple butter
-strawberry-banana smoothie
-tribute via coffee with hazelnut coconut creamer with stevia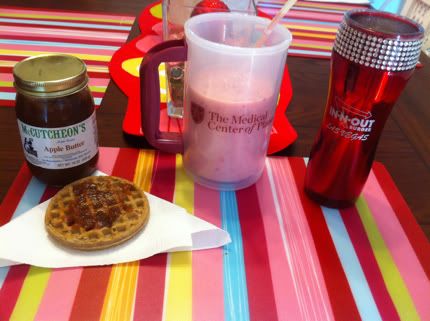 I was hungry for lunch, but AGAIN my stomach was kinda meh, plus I was BUSY and didn't really have time, so I didn't eat.
My Mom asked me to go to a late lunch with her at 4ish, but I had to run birthday errands for her, so reluctantly had to pass. And didn't get a chance to eat again until dinner. Which was late. Yep, I was soo that annoying person who kept saying "I'm hungry," every 5 seconds.
Went a little overboard buying Mom more presents and multiple cards, but she's worth it. Also picked up her cake, bought candles, etc.
For dinner I made her one of her faves that I make, semi-homemade pizzas. I made each of us our own pizza.
-half a veggie pizza (well with one small chopped turkey meatball + artichoke hearts, banana peppers, spinach, garlic gold nuggets, fresh mozzerella, goat cheese, oregano, basil)
-part of a side salad (organic mixed greens, cabbage, organic carrots, garlic gold nuggets, light ranch, black pepper, green tobasco, ranch almond slivers)
-small slice of strawberry bday cake with cream cheese frosting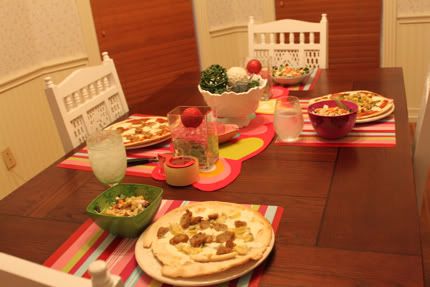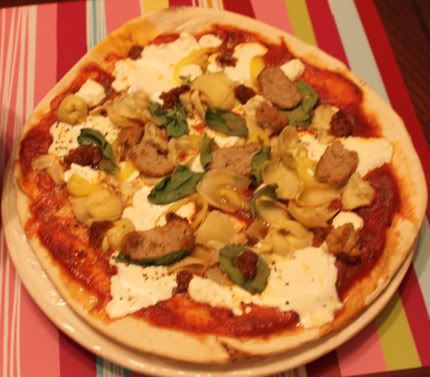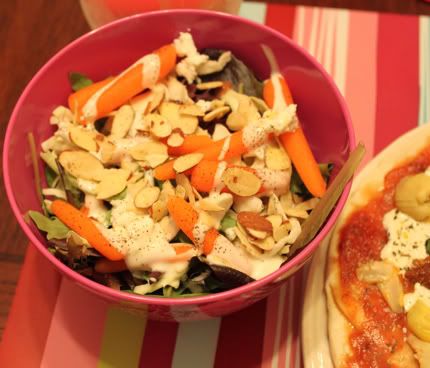 I was just SURE I'd be able to eat the whole thing because I was beyond starving by this point, but a little before halfway in I was STUFFED. It was soo good though. The cake too. It was really heavy for it size, yet surprisingly tasted light and perfect. Buttercream bakery is where it's at! Usually I'm an icing all the way girl and could take or leave cake, but their cake is PHENOM. The icing is good, but not to-die-for, but the cake. Ohh, the cake. Made with strawberry smiles. (note: I tried the cake from the fridge the next day and once the icing was cold it was pretty amazing as well).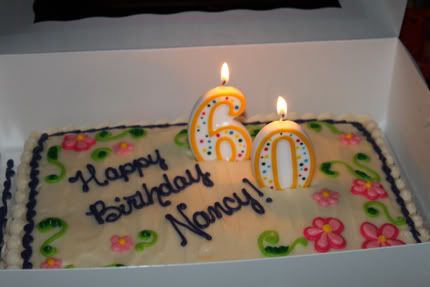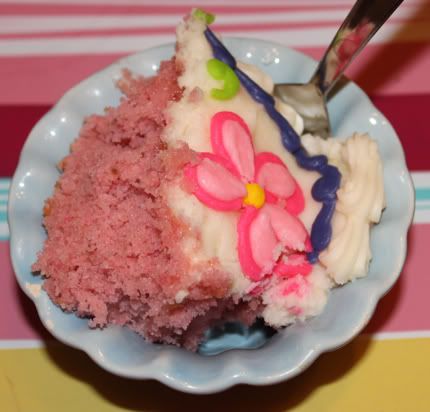 After dinner we did (most of the) presents & cards. She loved it all. Yay!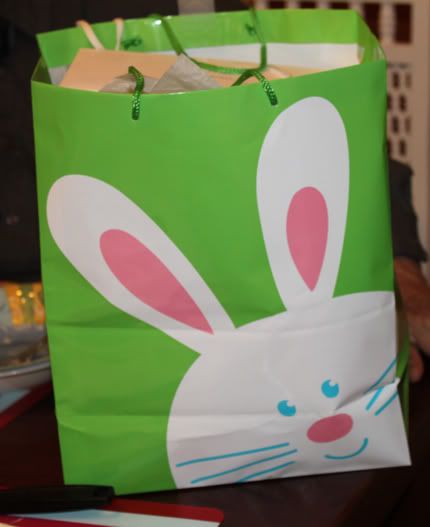 My brother brought out the balloon that, surprisingly, still had helium leftover from my Dad's b-day a month and a half ago LOL. The pets, especially Henry, were pretty thrilled.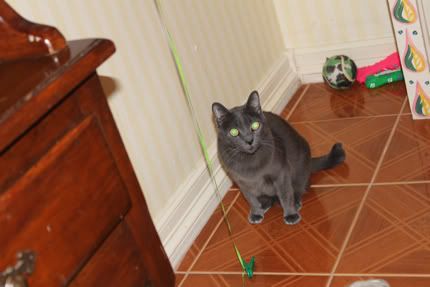 BUSTED! haha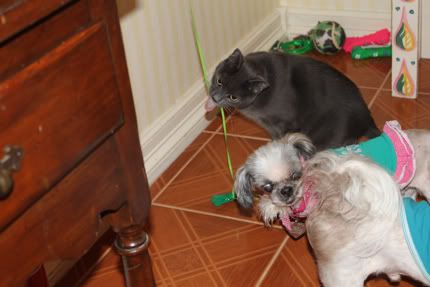 WTF? Haha
.
Crazies!
-the rest of the side salad
All in all a successful (albeit casual) family par-tay.
xo,
Amanda