March 17
Happy St. Patrick's Day!
The first thing I did when I woke up was pinch my dog, who was in a red & navy dress :-P. She started laughing at me. True story. She's the most expressive dog ever. Then, I changed her (and the other dogs) into green outfits. Phew. (I'm not crazy, I swear!)
I took a rest day today. From work of all forms (gym & office). I planned to work from home, but...didn't. Hey, there's always tomorrow. And *groan* I think I'm working Saturday AGAIN, so it's only fair to have SOME me time.
-mini (dense!!) protein pancakes filled with everything under the sun (old fashioned oats, half a banana, peanut butter, pumpkin, pinch of flax, pinch of wheat germ, chia seeds, egg whites, organic unsweetened vanilla almond milk, vanilla powder, & cinnamon) topped with a little coconut liberte yogurt, rice milk whipped "cream," cinnamon, & a drizzle of maple syrup
-strawberry shortcake coffee with vanilla stevia & vanilla coconut creamer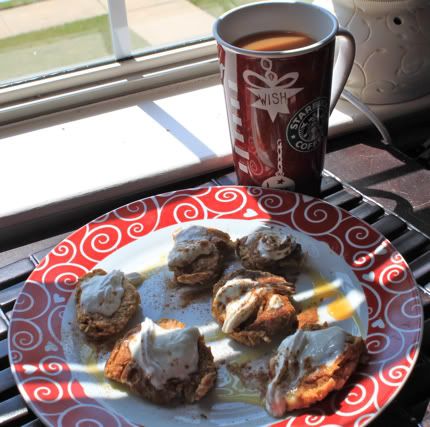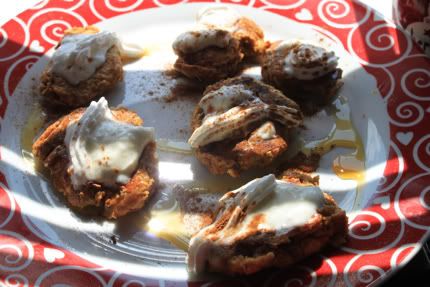 Topping fail. That yogurt is unbelievable amazing (and better be, cause 1 serving is 280 cals, so I ration it), but it tasted sour on the pancakes? Lame. They were still good, just not amaaaaaazing. I also liked the peanut buttery pancake taste, but I think I prefer peanut butter as a topping instead of filling.
-salad (organic mixed greens, organic cherry tomato, garlic gold nuggets, goat cheese, shaved parmesan, organic olive oil, organic balsamic)
-half of a whole foods spinach/feta/kalamata olive pizza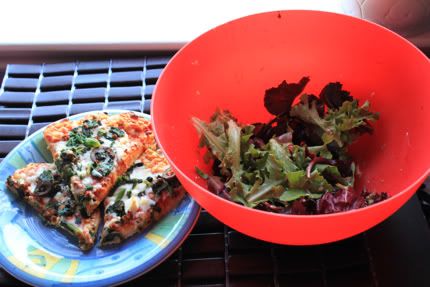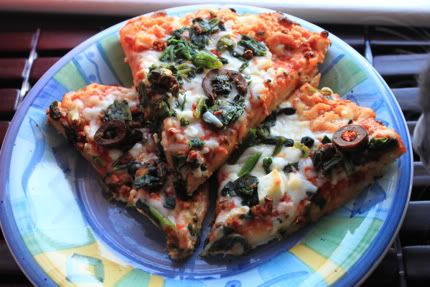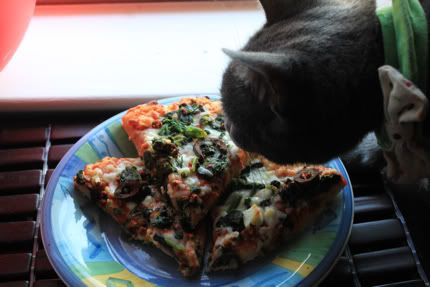 First time trying that pizza. Me liiike.
Took my sons: dog Buster & cat Henry to get vaccinated (once a month our local pet store has some vets come out for 5 hours and give discount vaccines). They were troopers! I'm one proud mama bear.
Workout:
-22 min (I think, now I forget lol) treadmill in vibrams (half jogging half walking)
-broiled grapefruit with a drizzle of honey & cinnamon
-ginger peach rooibos tea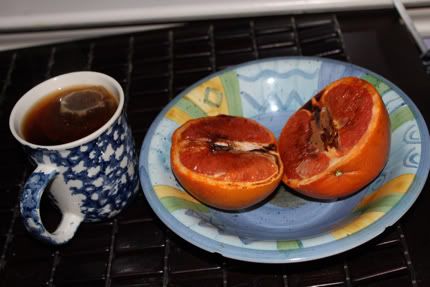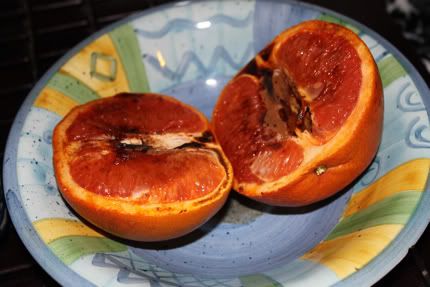 -lemon tea
============
March 18
-leftover protein pancakes with a drizzle of maple
-the last 1/3 of the liberte coconut yogurt with a diced pear
-pumpkin spice coffee with hazelnut coconut milk creamer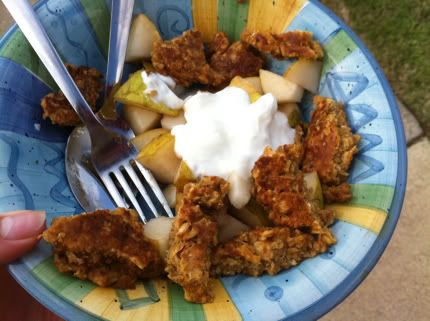 I thought I was still hungry after, but didn't have enough time to eat lunch until at least 3 pm, maybe later and I wasn't even thattt hungry.
-salad (organic mixed greens, goat cheese, organic olive oil, organic balsamic, garlic gold nuggets) topped with falafel dipped in lemon hummus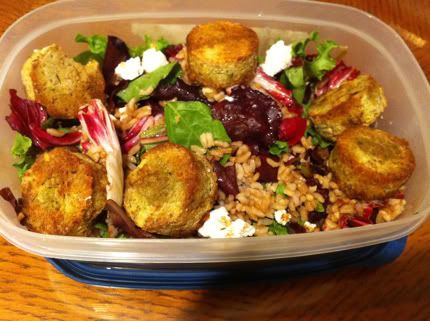 Went to see Limitless at the movie grill. What an ordeal. First, we got there and Limitless and Lincoln Lawyer claimed to be sold out, our two choices. My Dad asked if they had ANY seats left and they said yes, but front row. OK...then don't say sold out! We bought 2 tix for Limitless. There were WAY more seats than front row. We weren't anywhere near there, sheesh.
So, we place our dinner orders. I'd been dreaming all day about the black bean burger. BUT I was gonna toast my own brown rice toast (gluten/yeast free...) and smuggle it in. I tore apart my whole fridge & both freezers. The bread was GONE. Ugh. I didn't want a salad, so I was pretty much forced to eat meat or not eat. I really like their bbq chicken wrap, so I just went for it anyway (+a side of fruit).
Our food never came. After about, oh, 40 minutes I lost interest and decided it was a sign and I'd just make a (meat-free) dish when we got home. My dad, on the other hand, was starving. I'm surprised he didn't complain about it earlier. In fact, he didn't say a word until they dropped off our bill. Yes, they actually tried to charge us for food that never came!
The nerve!
At that point we told them it'd kinda be nice to get our food first and they were a little mortified. They brought out the food (slowly, though. Seriusly wouldn't you think by this point they'd put a rush on it?!) & they comped it. So that's good. Of course, mine was overcooked. Not burnt, so still edible. But come on! Get it together, peeps.
Oh, and the movie? GREAT. I really loved it. A lot.
-neopolitan ice cream with rice milk whipped cream & gluten free chocolate sprinkles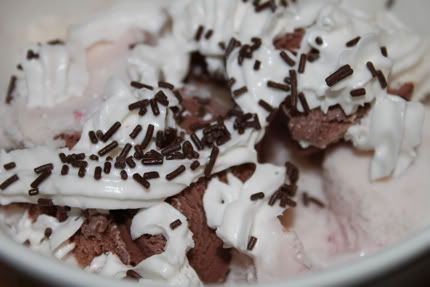 So good.
With a side of: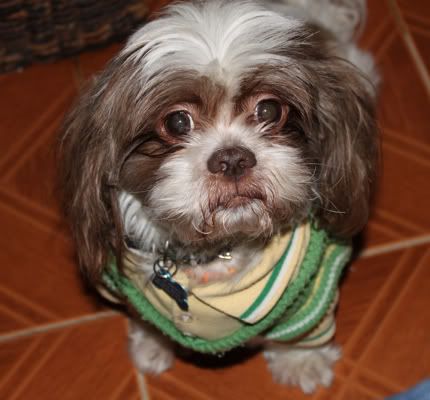 xo,
Amanda