March 15
-half of a cherry cashew pure bar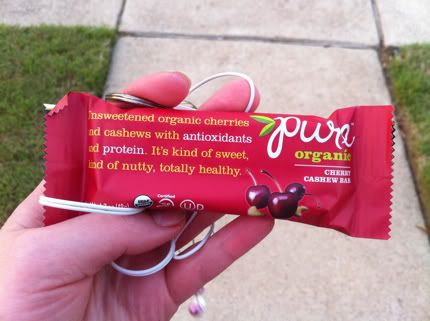 Just OK. Wouldn't buy again.
Workout:
-30 min on the horrible elliptical
-oatmeal with pumpkin, cashew butter, raisins, stevia, & a splash of organic unsweetened vanilla almond milk
-pumpkin spice coffee with a little vanilla coconut milk creamer & stevia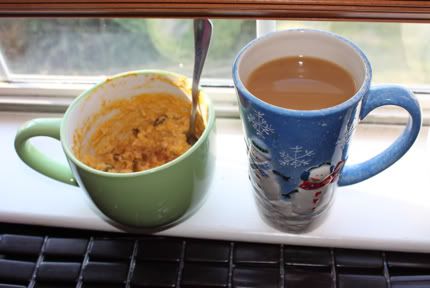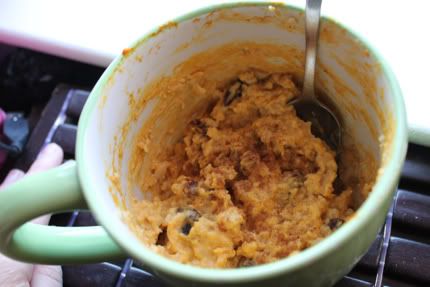 -organic veggie enchiladas
-iced tea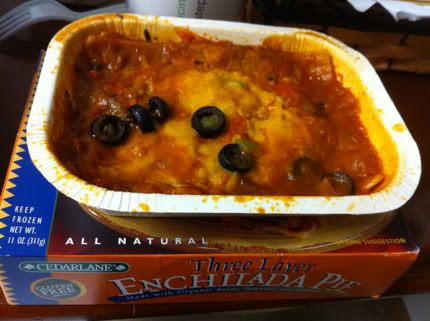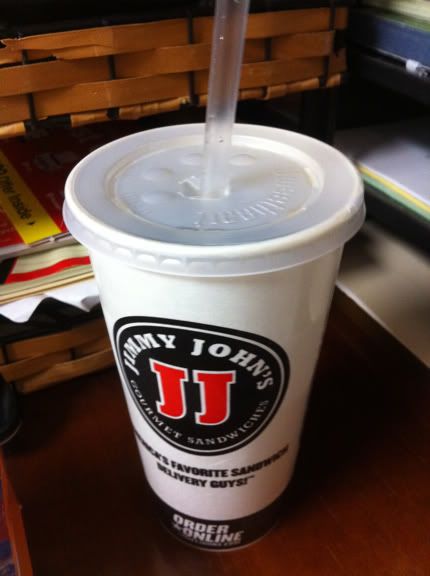 This was delish! Didn't even taste like a frozen dinner at all. Nom Nom. Doesn't look quite like the box photo tho, LOL.
The only lame-o thing is that the nutritional facts are for 2 servings. It's still reasonable (430 cals), but REALLY fools? Really? Who eats half of a frozen dinner? It's not like it was big. Weirdos. It was filling enough to be 400+ cals, but not big enough to try and pass off as 2 servings, come ON. Whatevskies.
I guess you guys don't know this because it was my first time saying anything on le blog, but my newest annoying idiosyncrasy is adding "skie(s)" to the end of practically every wordskie. :).
After working a lil over half a day I had to go to the chiro & Whole Foods. I only had about 5 things on my list, but ended up buying approx. half the store (minus 2 things from my list, one of which being bananas which were outrageously expensive). It happens. One exciting purchase? The new Larabar blueberry muffin flavor! Holla.
-half of a gingerade Kombucha
-1 Bob's vegan oatmeal cookie
Holy deliciousnessface. Good thing I'm not a binger 'cause I could prob eat the whole bag. I forgot how great these are, as I stopped buying them when I went gluten free for awhile. But they're baaaaack, baby. Technically they're my mom's, but sharing is caring, y'know.
Awkward Pictures Of the Day: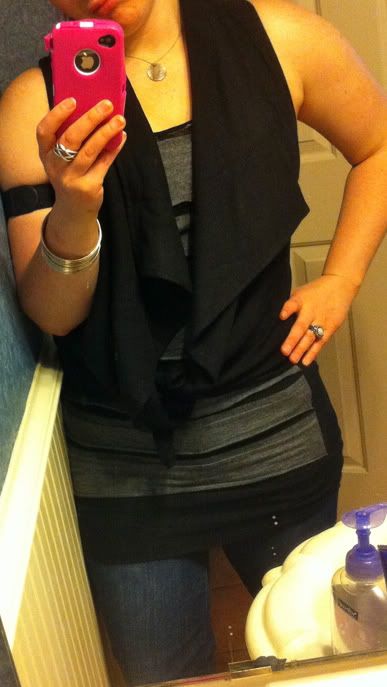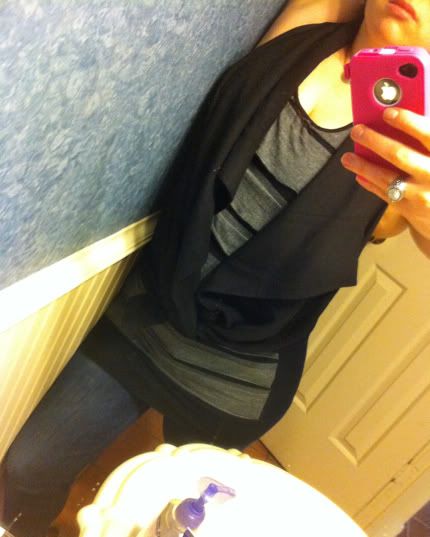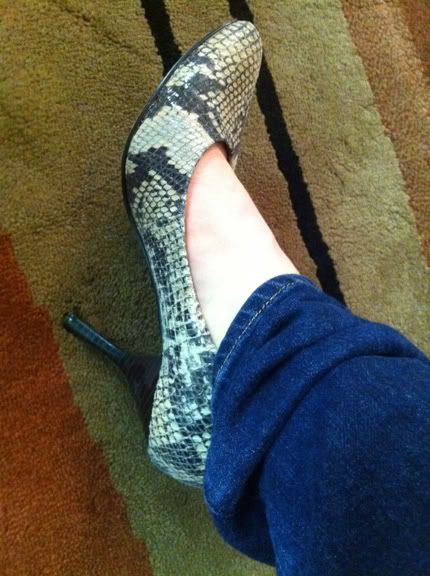 -brown rice fettuccine in a homemade spicy peanut sauce with asian stir fry veggies, shrimp, kale, & bean sprouts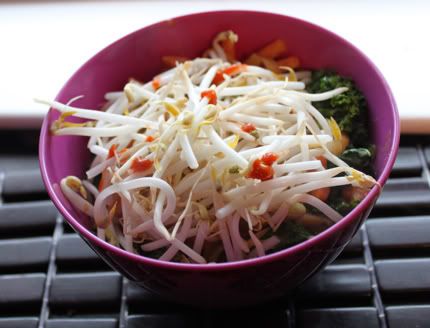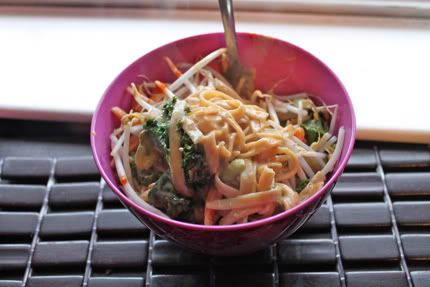 -homemade sugar free (stevia sweetened) peach cobbler with coconut liberte yogurt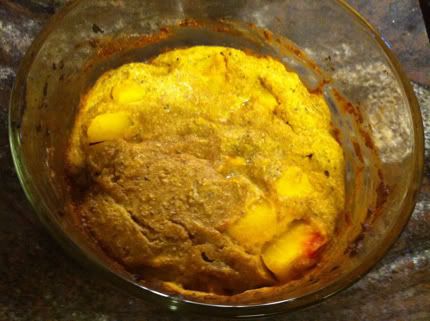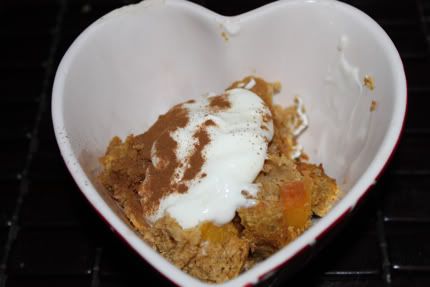 ===============
March 16
-overnite pumpkin yogurt oats with raisins
I slept in today (kinda) and had to have my breakfast in the car & my coffee at work. My quads were sore from Monday and it was still arms & legs day, so I skipped the gym in favor of a lil more sleep. Sucks b/c arms & legs are my FAVE! But I didn't just wanna do 3 arm exercises and go home and I was so sleep deprived.
-1.5 mugs of coffee with a tiny bit of caramel macchiato creamer & vanilla stevia
-cup of mixed soup from whole foods (half curry lentil & half white bean kale)
-side salad (organic mixed greens, goat cheese, organic olive oil, organic balsamic)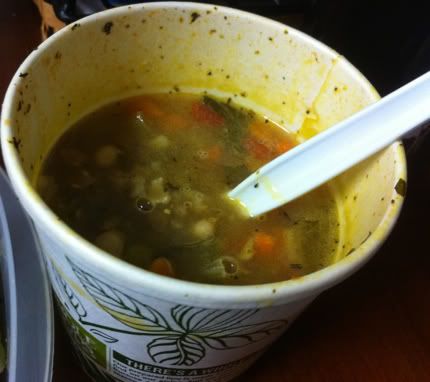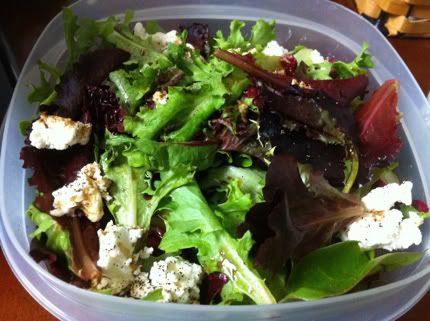 Hate to say it, but most of the brothy Whole Foods soups are really bland (except the chicken tortilla). I thought the curry might save this, but it was
very
faint. Could have used a hefty dose of hot sauce.
-2 raw macaroons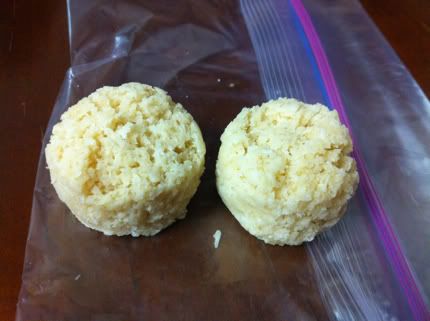 Another long work day. My massage therapist is also a friend who works part-time out of our office. She kept coming & going all day depending on her client load, and towards the end of the day kept saying "you're STILL here?" LOL.
I know
.
Needed a fast dinner. Which, luckily, I already had planned to make.
-gardein orange "chicken"
-brown rice with a lil tamari
-asian stir vegetables with a lil teriyaki
-guava Kombucha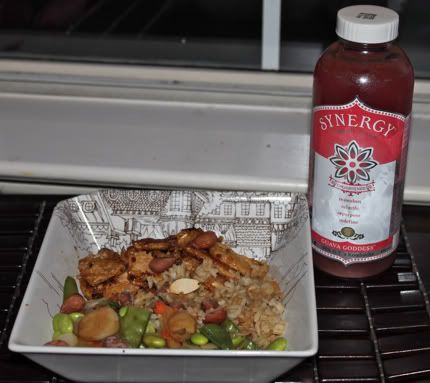 I'm still deciding if I like gardein or not. I don't think I do. It's more of a texture than taste thing, I think? IDK. I'm not opposed to it, but I think I'd rather just eat beans or some other more natural protein that's tastier to me than fake meat *shrug* I'll still buy it for my Dad tho. He LOVES it, possibly even more than meat.
I wouldn't buy that particular kind of vegetable pack again either (it's the asian stir fry mix from whole foods. It's not bad, just not my fave blend). Sorry for all the hatin' in this post, WF! I promise I really do *heart* you dearly.
At least I had my favorite Kombucha to wash it all down :).
-cadbury egg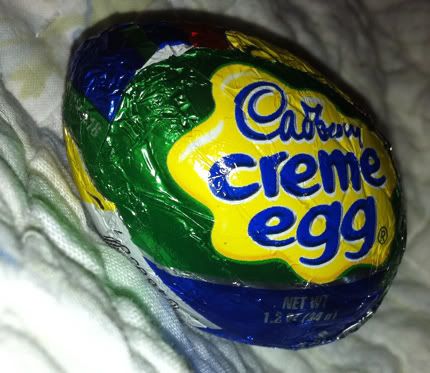 My Mom really wanted Cadbury mini eggs (and I wanted bananas...), so my Dad and I popped in Wally World on our way home. They hadn't put out the eggs yet, just crappy Easter candy, but we found a few of the cream eggs. I knew my Mom hated those, but my Dad said we'd get her a couple, just in case to show we tried (we also got her a dairy milk bar + caramel dairy milk, which *I* knew she loved). Of course, I was right. Duh. My theory is my Dad knew that too and just wanted to have extra cream eggs for me & him to take off her hands (which we did, further proving my hunch lol).
xo,
Amanda