February 24
No workout today. My Dad only slept 6 hours & had a FULL day yesterday and a FULLER day today and wanted to reserve a little energy. So I shut off my alarm and went back to sleep since I'm working from home today. :)
Made my Mom a heart shaped egg white & daiya cheese puff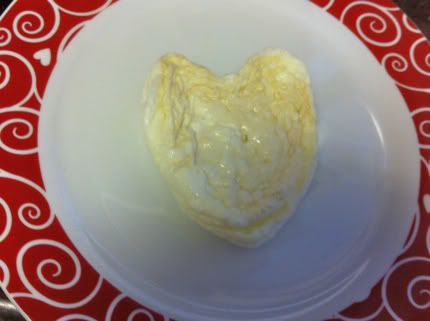 For myself?
-A little over 1.5 protein pancakes (made with 1/4 cup of oats, a couple pinches of coconut flour, half a banana, 1/2 cup of egg whites, a few vegan chocolate chips, & a big handful of blueberries) topped with pb & a drizzle of maple
-mug o' pumpkin spice coffee with stevia and a tinnny splash of organic unsweetened vanilla almond milk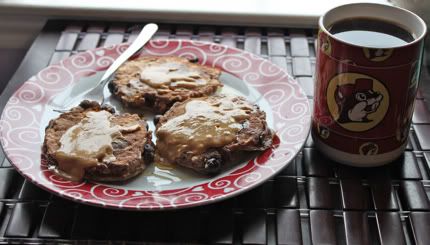 I love extra breakfast making time days!
I decided to work from home today (we still kiiinda needed to fill out or office's 1099 tax forms. We're only a
little
late. Ha). Our cleaning lady comes on Thursdays though, plus we have various appointments (chiro pour moi), so Barnes & Noble + Starbucks office it is!
-grande unsweetened iced green tea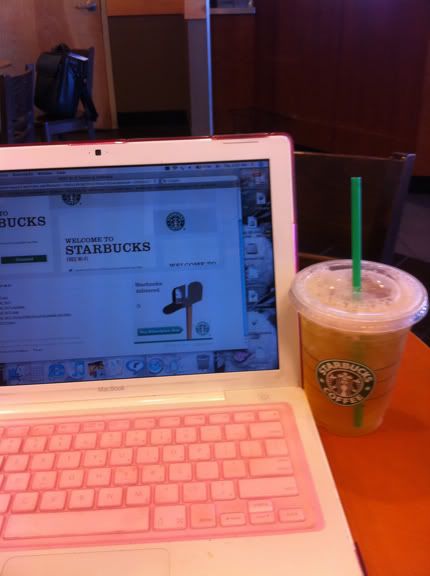 Too bad once I got to Starbucks the stack of paperwork my Mom gave me did not includ the actual 1099 forms (I had given her all of the paperwork in 1 complete stack, b/c she was going to fill them out, but apparantly it was too hard to keep them all together lol). Ohhh dear. This may be a BUSY weekend. Did I mention I have to work on Saturday this week too? For a couple hour training session anyway. Joy.
-a lil bit of whole foods indian hot bar (vegan tofu + vegetarian veggies)
-a sample of whole foods wheat berry & quinoa waldorf salad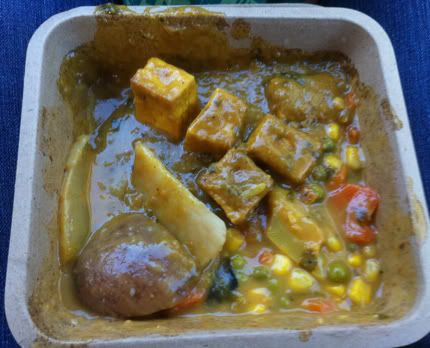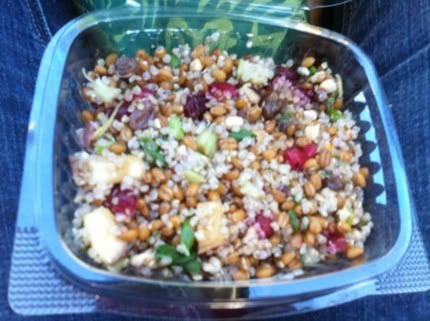 Love the new tiny whole foods hot bar boxes. I always go way overboard with the deep dish ones.
-a few chips, organic baby carrots, & dips (herdez hot salsa + frito black bean dip + frito southwestern black bean dip)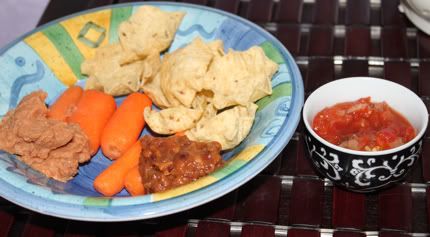 The southwestern dip was gross, fyi.
-vegan boca burger with kraft single, sliced tomato, organic mixed greens, avocado, mustard, banana peppers, dill pickle thins
-pop chips (bbq & sour cream)
-plain popcorn cooked in a teeny amount of coconut butter with a sprinkle of nooch & a few vegan chocolate chips
-a little vitamin water zero (our water cooler was out and my brother was asleep & my dad was at bowling, grrr!)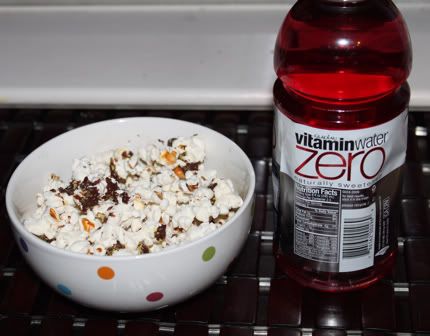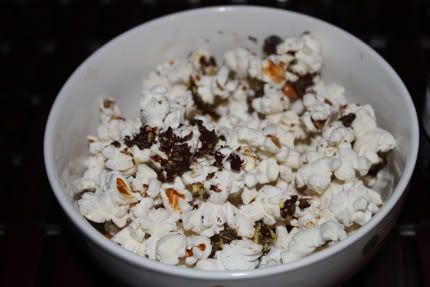 =================
February 25
-the last 1.25ish leftover protein pancakes
-pumpkin spice coffee with stevia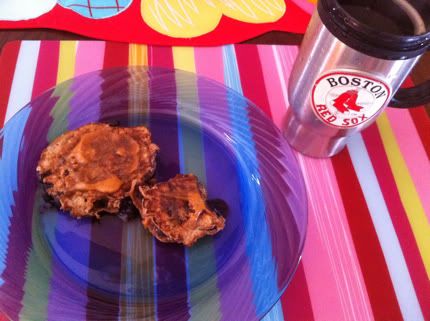 -leftover popcorn
-vitamin water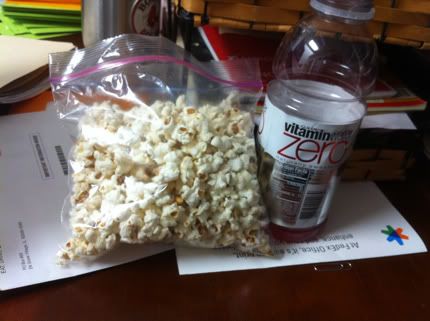 -spicy california roll (I asked for a spicy salmon, but whatever)
-some leftover sushi someone gave my brother at work which he gave to me (a couple veggie rolls + some kind of shrimpy sauce one?)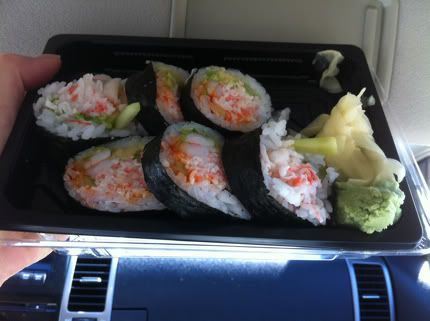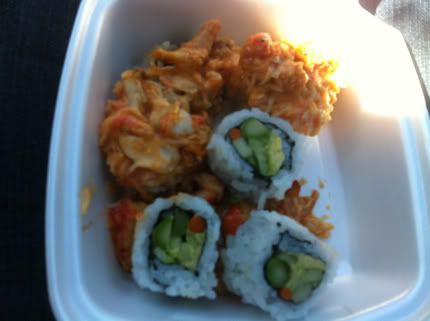 Shortly after...
-root beer
-part of a "trio" (onion rings, fries, & sweet potato fries...only had 1 large onion ring + a handful or so of each fry type)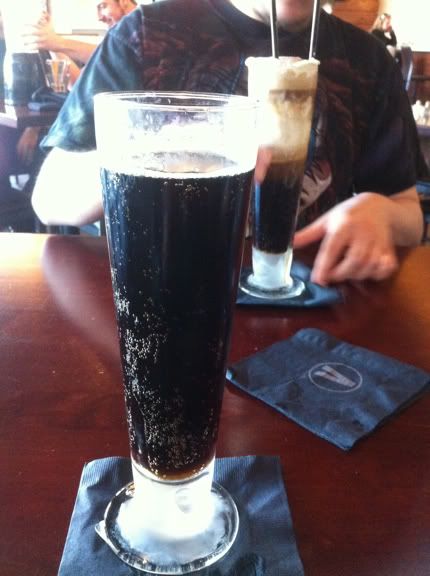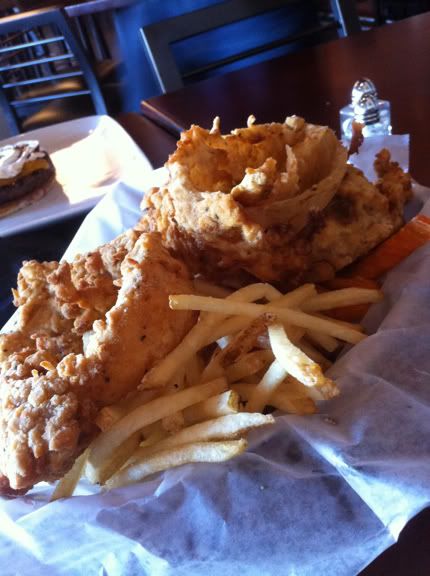 Went to a burger bar we've been meaning to try forever, but obvi I was full from the sushi. Apparently it was really good. The trio & root beer weren't bad. The cocktails are cheeeeap too, but I wasn't in the mood. Shocker, yes.
-veggie burger on brown rice toast (vegan boca patty, organic mixed greens, dill pickle slices, guacamole, kraft single, mustard)
-wheat berry & quinoa salad
-bbq pop chips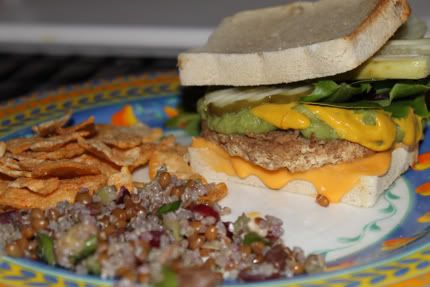 =================
February 26
I had a semi-emergency work meeting/training session this morning at 9:30 am. I don't even come in before 10 on actual work days. Oy. But it wasn't too bad. I feel pretty confident about our new procedure(s) thus far, so that aspect was worth it. We didn't learn what I thought we were there for, which is pretty important, but alas...it will come.
We had a coupon for a bagel bucket at Einstein's so my Dad and I decided to be nice & provide breakfast:
-good grain bagel with reduced fat blueberry cream cheese
-large vanilla hazelnut coffee with vanilla stevia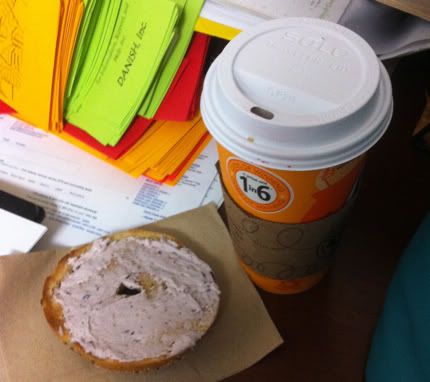 Best cream cheese ever.
-about 1/3 of an einstein's bistro salad
-sample cup of coffee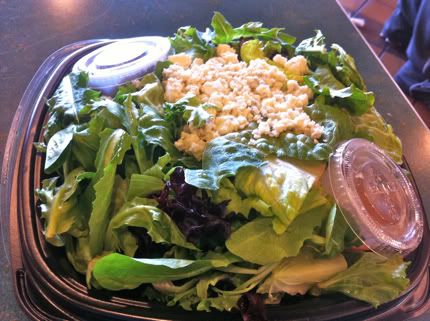 Er yeah, we kinda went back there for lunch too. What? Same location, too.
I wasn't that hungry, so I just picked at the salad. It was pretty good. Basic, but good.
Workout:
-about 2 hours of weight lifting
the last 2 of the chest & back (seated fly @ 25 lbs + seated row @ 55 lbs...50 first set, but was too light)
arms & legs (squat @ 100 lbs, tricep extension @ 45 lbs, leg extension @ 70 lbs, bicep curl @ 40 lbs, calf raise @ 45 lbs + whatever the machine weighs, overhead tricep extension @ 22.5 lbs, backward & forward wrist curls @ 30 lbs, leg curl @ 40 lbs, & hammer curls @ 15 lbs)
-samples at sam's
I hit the sample jackpot today. Usually when I'm hungry they have no samples, but today they had quite a few. Good ones too. Ohh yeah. And the Clif bar lady was quite generous & told us to try them all out (she had 3). Just bites, of course, but still. Nom. I hate stingy sample givers, LOL. And they gave churro & ice cream samples. UM yes, please.
-more of the salad
-the rest of the whole wheat berry/quinoa salad
Went to see my friend perform at a wine bar.
-3 glasses of pinot noir
-1.5 glasses of sparkling wine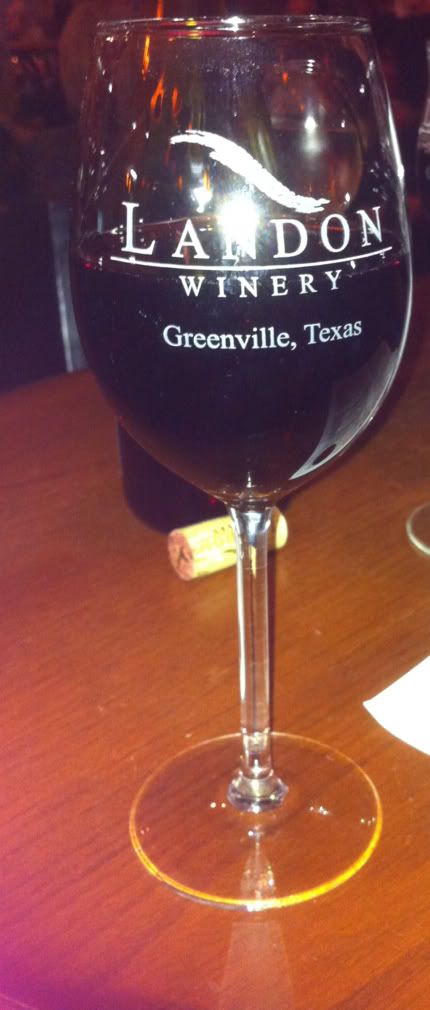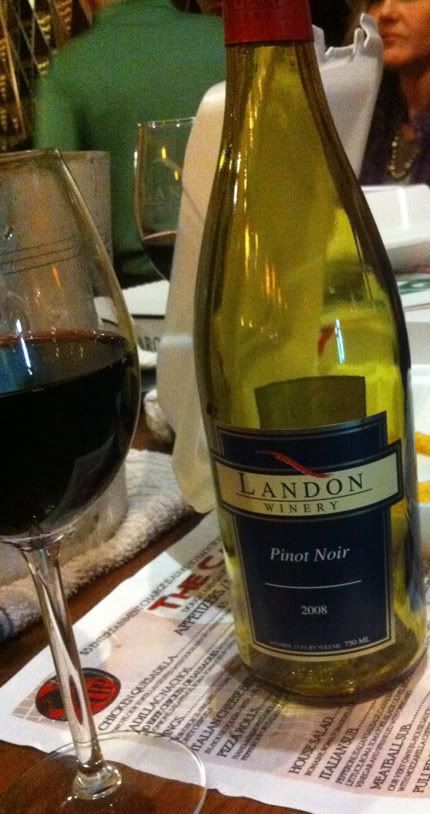 Should have stopped at the 3. My stomach hurt a little after.
Came home and shoved a chocolate chip bagel with lowfat blueberry cream cheese & part of a slice of meat lovers pizza in my face. GROSS. I HATE that pizza, but I was desperate for something quick. Because I guess waiting for the toaster was too long? LOL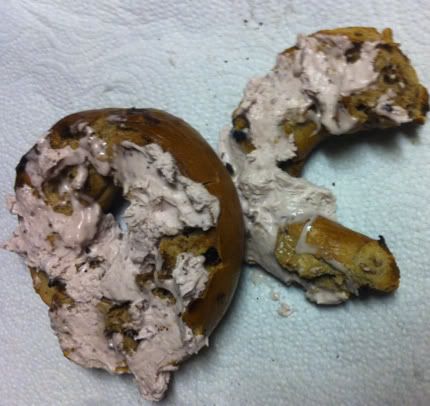 LOL that I actually took a picture after all that wine plus being
EXHAUSTED
. I pretty much fell into bed right after.
=================
February 27
-Denny's ultimate skillet sans sausage (basically 2 eggs over medium on top of potatoes, onions, tomatoes, mushrooms, and peppers...was supposed to have spinach but didn't?) with hot sauce & ketchup
-coffee with vanilla stevia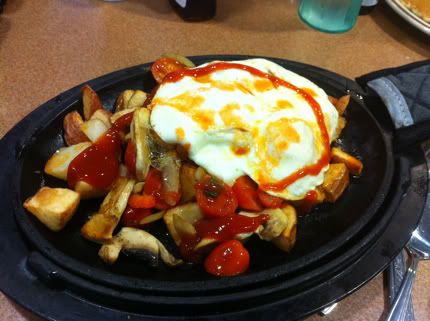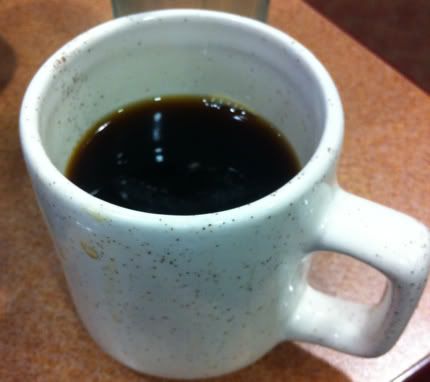 -strawberry banana protein smoothie
-half of a turkey sandwich on brown rice toast with organic mixed greens, mustard, garlic & herb laughing cow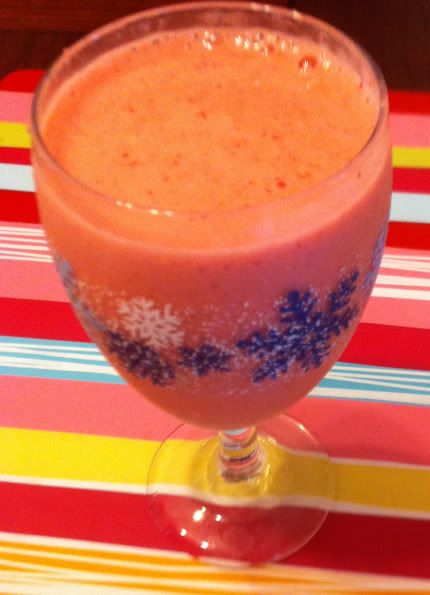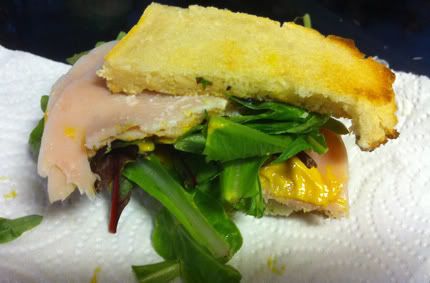 -a few chips with fresh salsa
-leftover brown rice pasta I made my dad with vegan butter (+ a tiny bit of real butter), lemon juice, & greek seasoning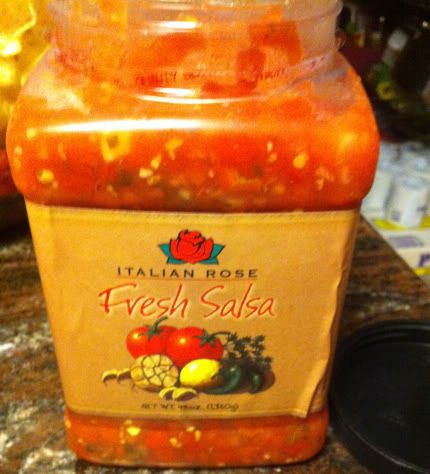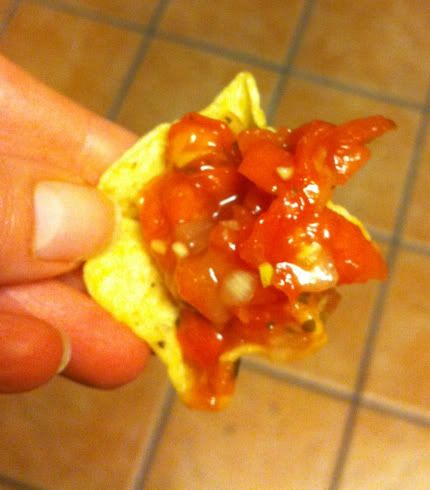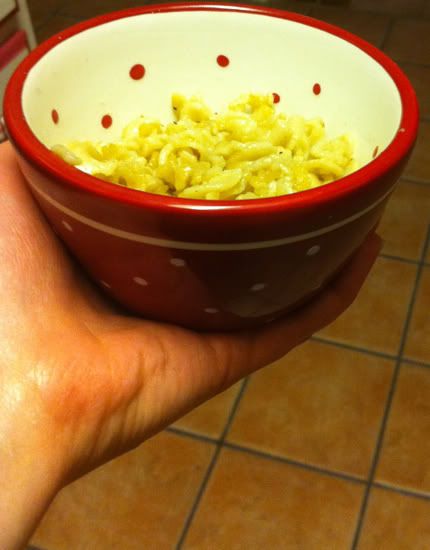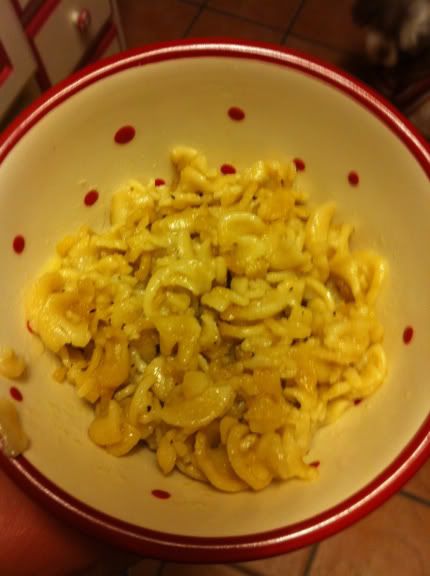 The salsa isn't as good as I dreamed up in my head, but it'll do.
-apple-banana sauce
Pretty much baby food, yes.
-freeze dried pineapple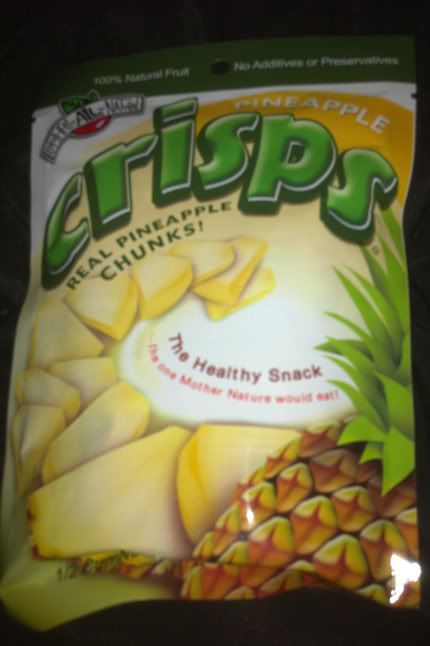 -a small piece of coconut butter fudge
-about 1/2 of a zevia ginger ale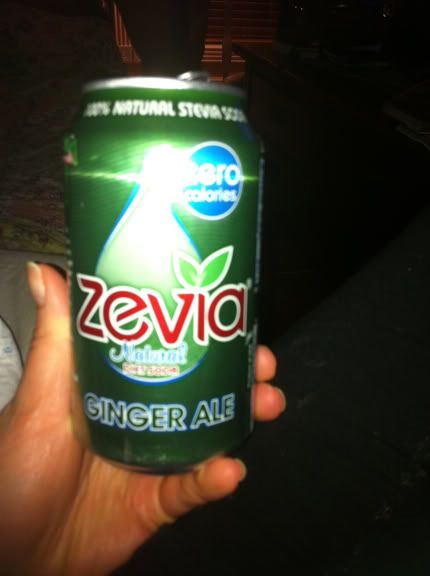 =================
February 28
-egg puff (yep full egg) + kraft single on 1 slice of brown rice toast with grey poupon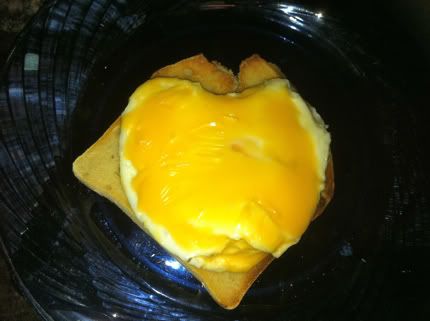 -indian buffet (ate all vegetarian except 2 bites of chicken tikka masala)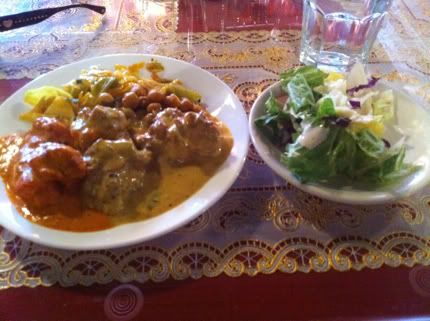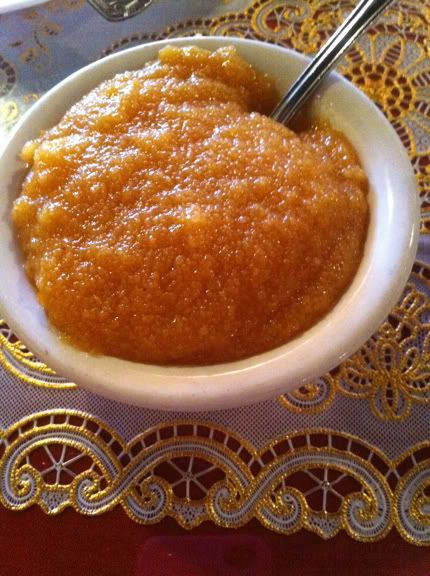 My Dad always thinks I'm gross for grabbing the after meal spices from the communal jar, but they're so tasty! And good for digestion.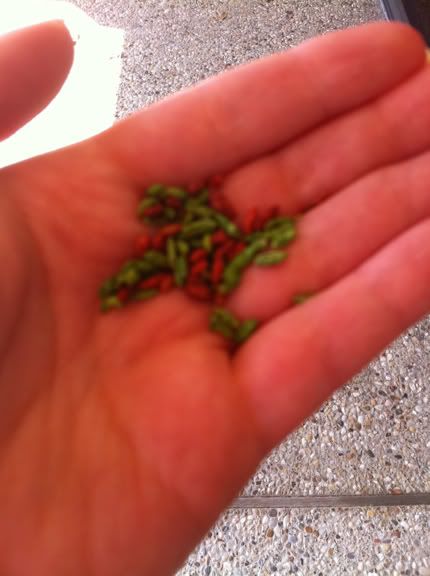 -mango Kombucha
-half of a cocoa mole larabar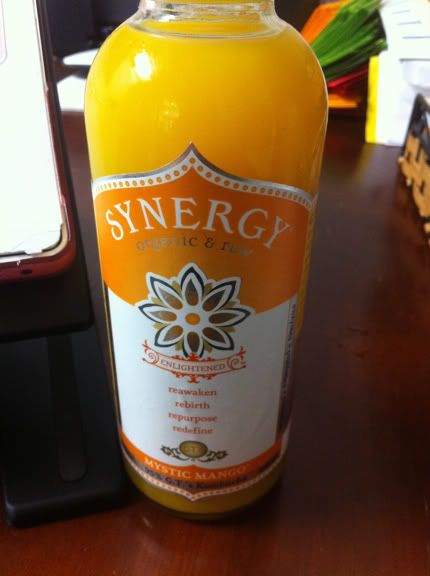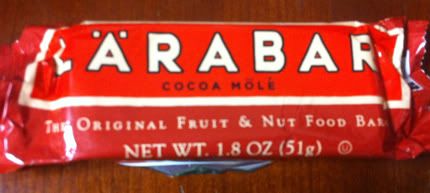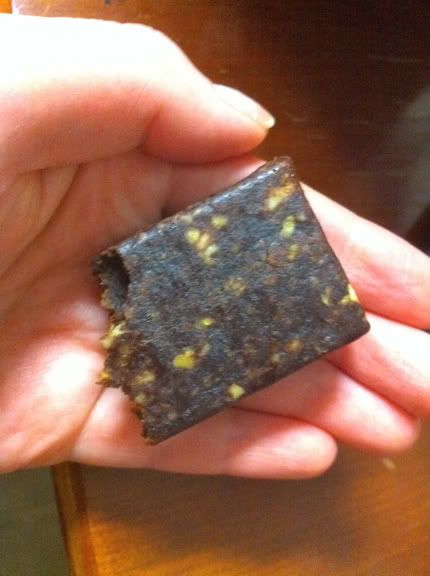 Worked 'til almost 7 pm, ahhhhh.
Was really tired, but went to see The King's Speech. Been trying to see it for awhile now. It was alright. Pretty good. I liked the set design.
At at the movies...
-southwest salad (lettuce, tomato, black beans, supppper spicy tortilla straws) and I changed the honey mustard it normally comes with for balsamic
-the other half of the larabar
-bag of freeze dried cinnamon apple crisps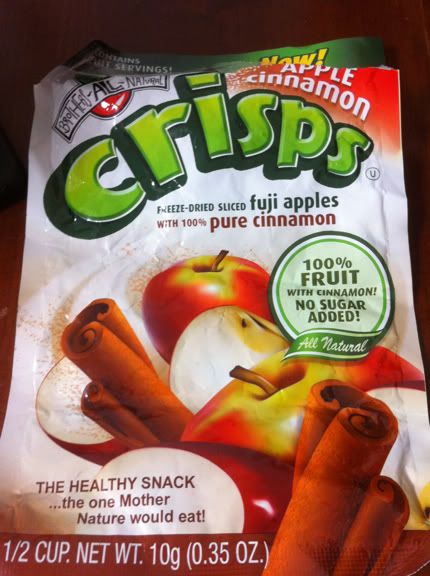 I forgot why I don't order that salad anymore. Until now. They don't state it, but it's coated in cilantro. I hate cilantro. It was so gross. And you guys know I like my hot stuff, but those tortilla straws were ridiculous. Ugh. And where were the beans and tomatoes? That's what I wanted the most. Sheesh! I ate most of it 'cause I was hungry, but I came prepared with back up to counteract the yuck.
-mixed bowl of cereal & granola in a little organic unsweetened almond milk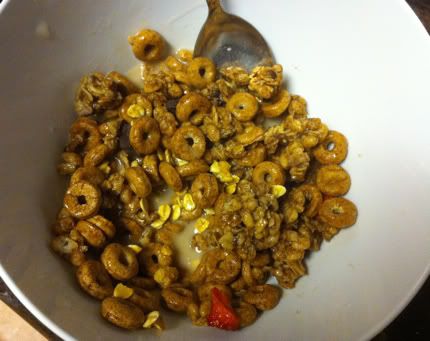 Workouts for the month...not
that
great. Silly snow days.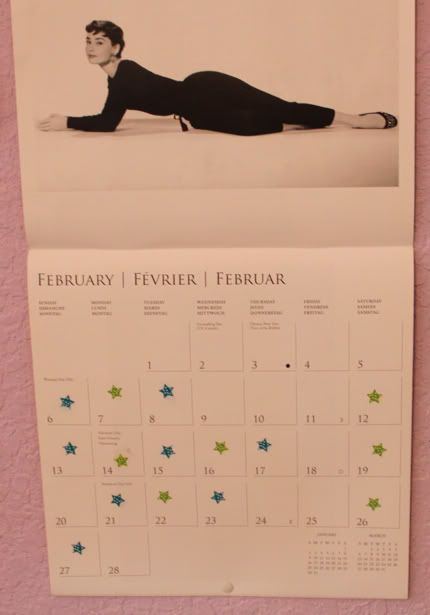 xo,
Amanda