Lost another follower. *sigh* Moving on!!
They're just missing out on this face: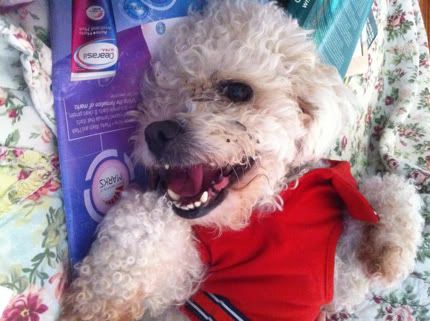 March 7
-organic dried apples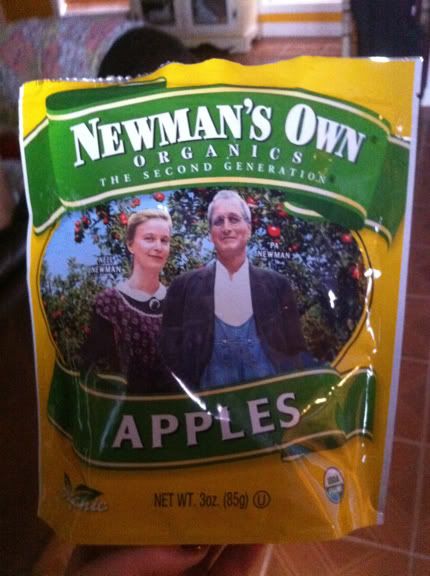 Workout:
-half set of shoulders & abs
(crunches @ 30 x 4, lat combo thang @ 5 lbs, seated shoulder shrugs @ 70 lbs, & flat leg ups....20, then 10, then 15)
Had a hard time getting up today = shorter workout. Better than nothing?
-the last of the blueberry pancakes with banana slices
-1 egg
-strawberries
-strawberry shortcake coffee with stevia & vanilla coconut milk creamer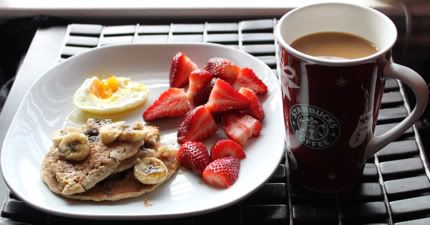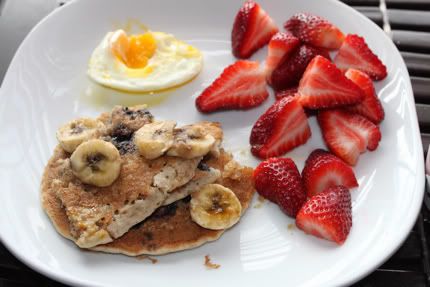 -almond wheat thins with raw red pepper macadamia nut dip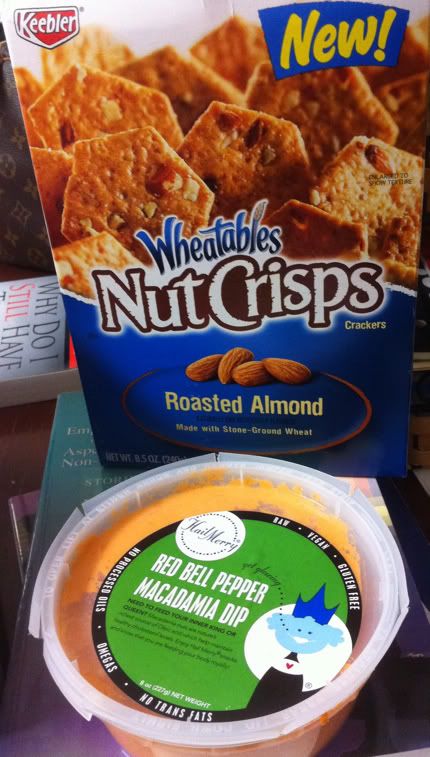 -Chipotle vegetarian bowl with no rice, black beans AND pinto beans, pico, guac, and lettuce
-large iced tea (about half way in I added some vanilla stevia)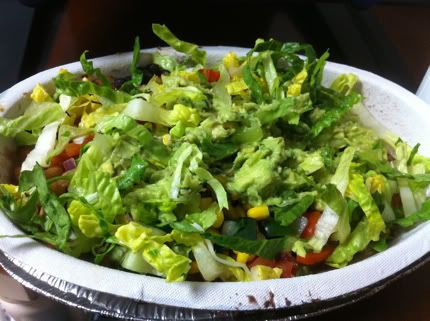 MMMM!!
The lady forgot my to-go cup and I almost panicked. Not really. I just went and asked for it. But that could have been a disaster. I needed caffeine sooooooo badly. I was EXHAUSTED at work. SUCH a Monday. I could not focus at all. :(
-chocolate chip brownie larabar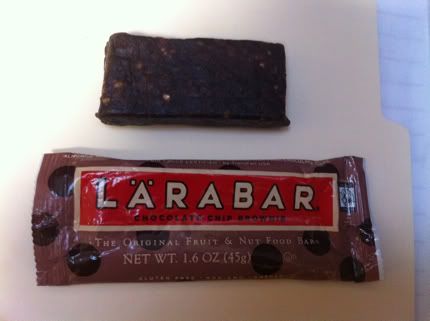 -Amy's california veggie burger on brown rice toast with guac, kraft single, organic mixed greens, banana peppers, mustard, and a few bbq pop chips
-small side salad with organic mixed greens topped with red cabbage, organic olive oil, organic balsamic, and black pepper
-sliced apple
+ I ate a million bbq pop chips while I was preparing my dinner. Like, probably nearing 2 servings. And a whole bag is only 3 servings. Oops.
Too many cals today. Need to plan my meals better and not just feast my face off whenever I get staaaahving and have no real plan.
==============
March 8
-half a banana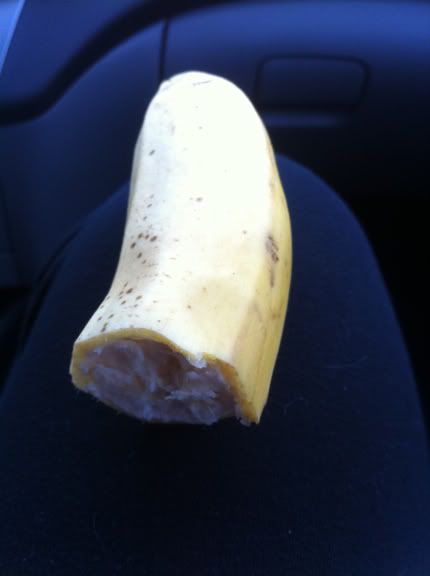 Workout:
-31 min cross ramp
Had to try really hard to force myself to get up and to the gym, but it was worth it. A little slow, but steady.
-1/2 cup slow cooked oats topped with a heaping tsp of peanut butter, a sprinkle of granola, and chocolate chips with a last minute addition of one heaping tsp of cashew butter
-smores coffee with vanilla coconut milk cream & stevia
I was excited for the oatmeal, but by the time I got to eat it it was coldish. And the granola made the texture funky. I thought it would be fun and crunchy, but it was just odd. Boo.
-another coffee at work (thanks, Ryli!)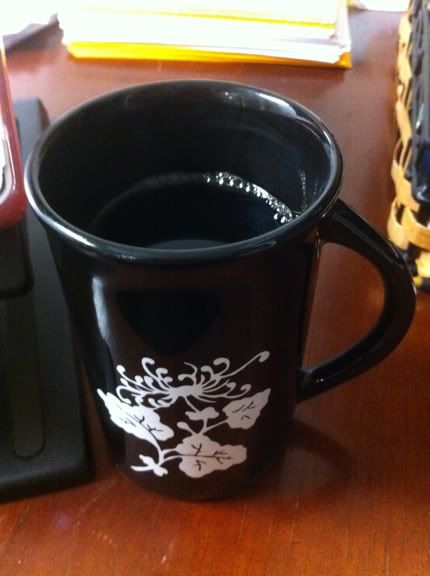 -slice of brown rice toast topped with raw red pepper macadamia nut dip
-salad (organic mixed greens, red cabbage, banana peppers, organic olive oil, organic balsamic)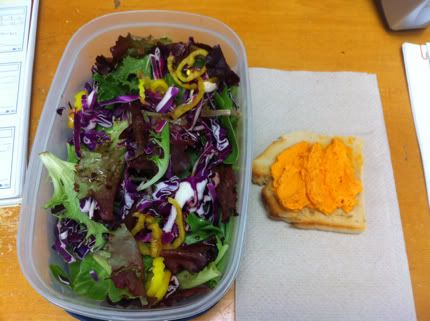 I brought the dip & bread for extra protein. Turns out the dip only has 1 gram of protein per serving. My bad. But not really. It was GOOD together!
Went to the chiro. I'm *almost* stabilized, so that's good! I can still feel the hip pain a little, but it's not so debilitating anymore.
-strawberry Kombucha
-2 sesame balls filled with red bean paste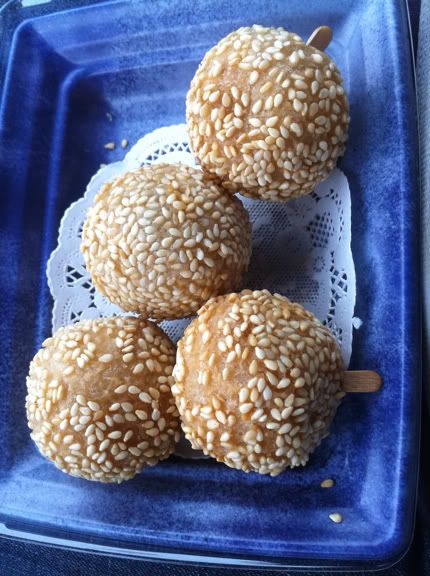 -2 meat-free tacos (2 corn tortillas, mexican-style fake meat crumbles, avocado, organic greens, salsa, a little shredded cheese)
-1 extra corn tortilla with a little melted cheese & salsa
-strawberry cupcake (mom bought it for me from a new bakery. sweet!)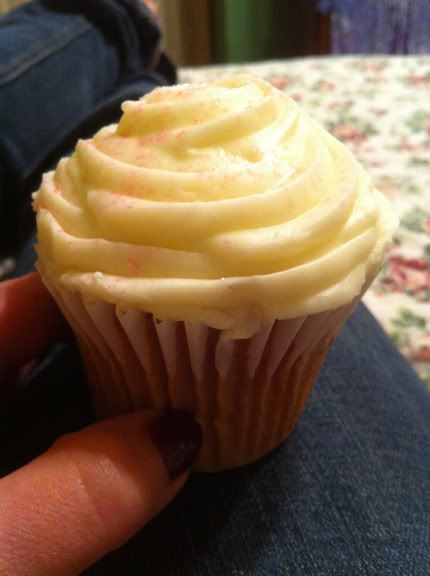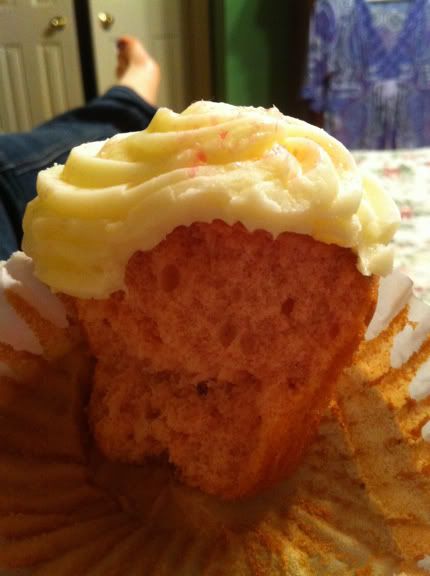 How do I always manage to end up with cupcakes on Biggest Loser nite? LOL.
==============
March 9
-half a banana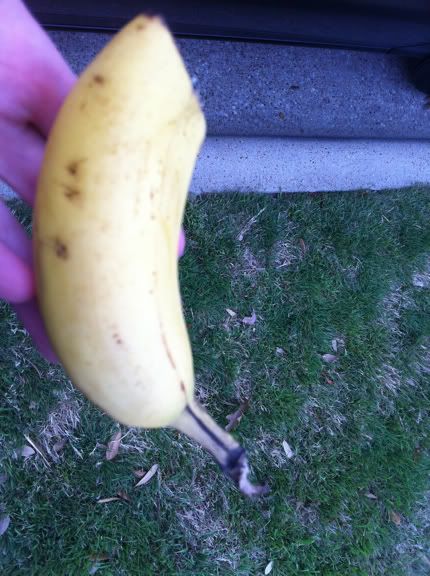 Workout:
-other half of the abs & shoulders
(seated shoulder press @ 20 lbs, side bends w/ 25 lb weights, shoulder press @ 30 lbs, ab machine @ 70 lbs)
-2 sweet potato pancakes with apple butter topped with cinnamon & a little maple syrup with an egg white puff in the center
-pumpkin spice coffee with vanilla coconut milk creamer
Unlike yesterday, this breakfast did not disappoint. I tried to stay away from the eggs, but they just weren't having it. They called to me from the fridge, swear it.
It held me over for much longer than expected too!
-grande iced soy latte
My Dad and I were even more behind schedule than usual this morning, so I just went to work with my Mom about an hour and a half late. She wanted a snack at Starbucks, so I got some more caffeine. Just attach the caffeine drip to my arm already!
-brown rice toast with raw red pepper macadamia dip
-salad (organic mixed greens, red cabbage, banana peppers, organic cherry tomatoes, goat cheese crumbles, organic olive oil, organic balsamic)
-a few strawberries
-last minute addition of a cup of onion soup (so good)
-half a cranberry kombucha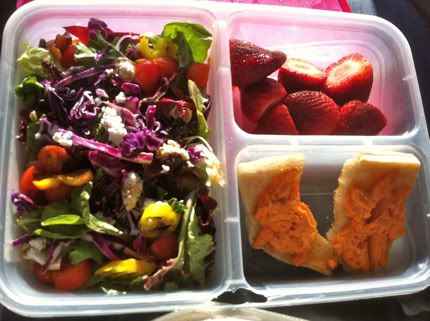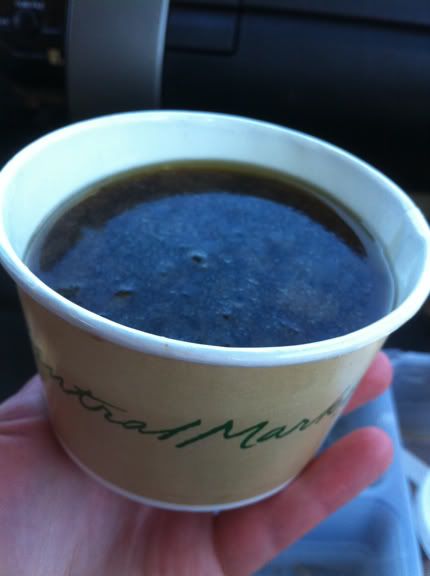 Goat cheese and tomatoes go sooo well with balsamic. Mmm.
Ate this in the car & worked on my laptop for an hour while my Mom was at an appt. Yep, I went to work late & left early. I don't know what's wrong with me, but I am either sick or sleep deprived. Probably both.
-gardein "beef" chunks in a teriyaki sauce with brown and wild rice with veggies
-the rest of the kombucha
Err and a handful of tortilla chips while this heated through.
-van's triple chocolate muffin crown with vanilla ice cream, cinnamon, & walden farms caramel sauce
These cost the same as vitatops, so I figured I'd give them a chance. Wrong choice. They're so bland. Sorry I cheated on you, vita. You still have my heart. Next time..
Even the accoutrements couldn't really save it. It wasn't BAD, just not desserty.
-pau d'arco tea with xylitol
==============
March 10
-half a banana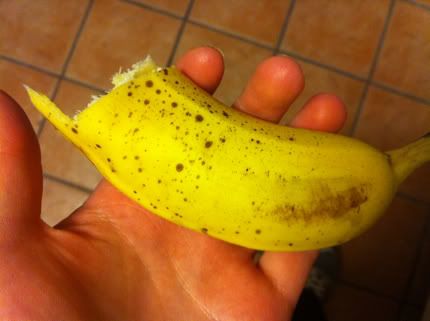 Workout:
-31 min elliptical
Ughhh how did I ever used to love the elliptical? It's so torturous now. But I got through it. :-P
-breakfast potatoes sauteed in organic olive oil with greek seasoning & pink salt
-fried egg
-the last of the smores coffee with stevia & slightly warmed and frothed coconut creamer
I think I'm an egg addict. I try, but I can't stay away. It's just the perfect morning protein. It wouldn't be so bad if I wasn't allergic to the whites. But alas.
-about half of another cup o' coffee @ the office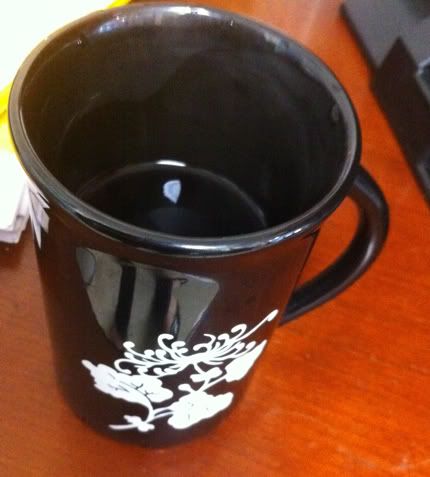 -3 shrimp tacos
-small side salad with avocado
-green rice
-iced tea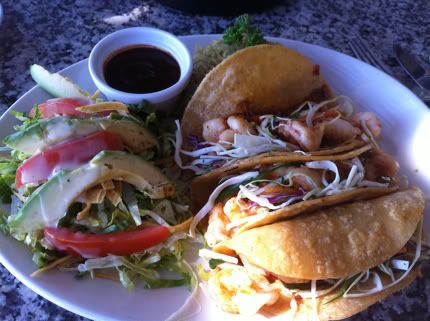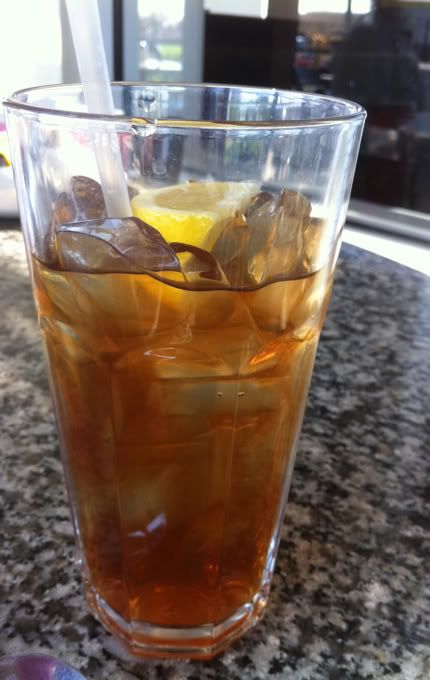 I can't believe I ate the whole thing. YIKES. I was huuuuuuungry!
-gingerade Kombucha
This is my first time trying that flavor. I've heard it's really good, but was always a little weary. Ginger products always freak me out a little, but this was good! Not a new fave or anything (sup to guava closely followed by strawbs), but could def make its way into the occasional rotation.
-cereal (organic chocolate o's mixed with love crunch granola in organic unsweetened vanilla almond milk)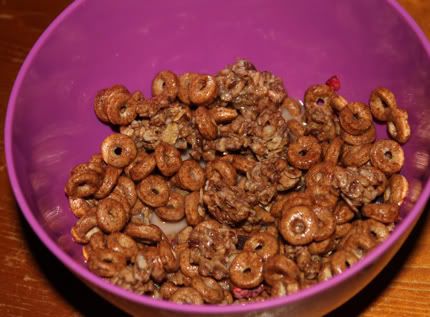 & then while we watched old episodes of Big Bang Theory via Netflix, my brother gave me a small slice of his whole foods bbq chicken pizza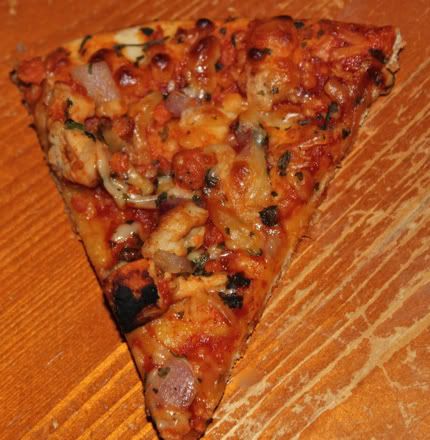 & I had the mini red velvet whoopie pie I bought yesterday, but my Mom left at work!!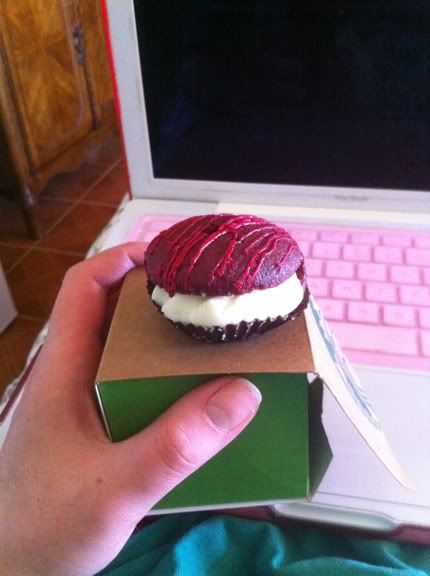 A lil dry, but the filling was good!
-pau d'arco tea with xylitol
Sorry I'm missing so many pics this post. I can't figure out what happened to them. Surely I didn't forget that many times?? WEIRD. Guess my camera(s) were hungry and and ate them. How rude! But you guys all have great imaginations, I just know it. ;)
xo,
Amanda