March 2
Slept in, got a pedicure, & went to work late, shh. Well, by went to work I really mean just got a massage and left. You'll see why soon enough.
-grande iced soy latte
-hummus flatbread with veggies (gave my Mom the chicken it comes with)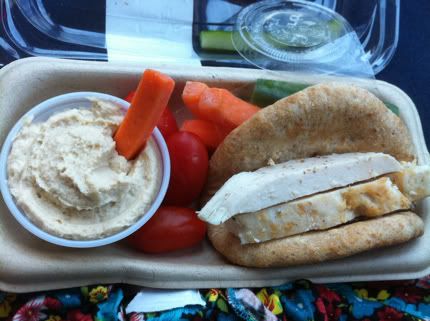 On Monday or so my friend Sam (who currently lives in Alaska. Yes, Alaska) said him and his roomate made last minute plans to come visit Dallas for a couple of days. I was planning to work as usual and spend the evenings with them, but ended up being able to (sort of) manage just taking off Wed and Thurs. I couldn't skip my massage though, as I've been in pretty bad pain. I did reschedule my chiro appt (stupidly, but whatever).
They picked me up at the office right after my massage and off to lunch we went! Luna De Noche, yum.
-a few chips with queso (not many, prob less than 5)
-2 spinach enchiladas
-a bite or two of rice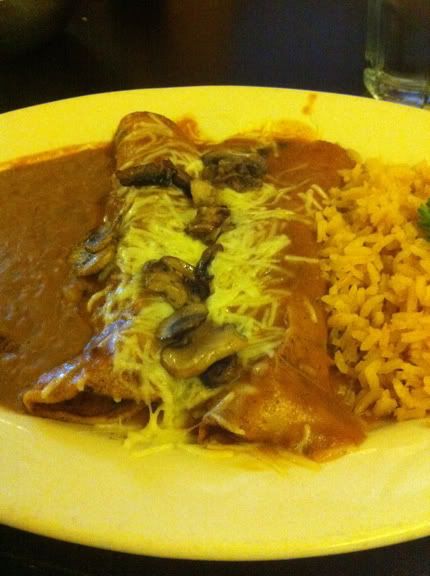 Went to Lush for them (who doesn't love Lush?! It was their second stop in 2 days. No judging from me!) & then to get (OVERPRICED!!! Damn you, Polished, usually I love you) manicures. Things always work out in weird ways, huh? I had asked for a manicure with my pedi that morning, but they were so slow I had to nix it. Shortly after Sam mentioned him & Nikki wanted to get manis. Woohoo. Too bad they cost triple what I usually pay. But hey, I'm over it. (
obviously not
....haha).
Finally, back to mi casa where we played a board game & munched on...
-cadbury cream eggs! YUM.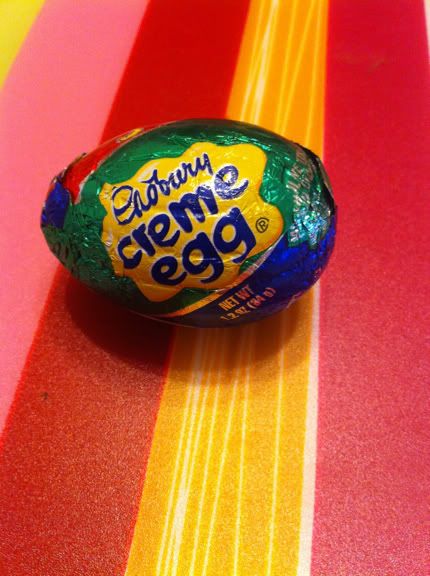 For dinner we all decided sushi sounded good and went to my fave spot, Blue Fish. Such a treat, as I LOVE it and rarely get to go....
-miso soup
-large sake (should have stuck with a small....)
-titan roll (tempura shrimp inside + raw tuna outside covered with a spicy sauce)
-firecracker roll (avocado + other raw yums inside + more tuna & spicy sauce outside)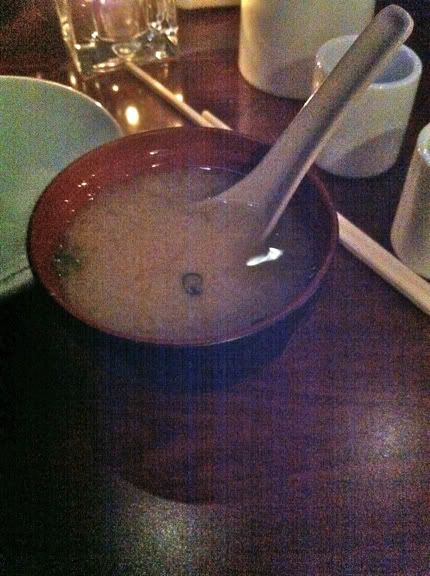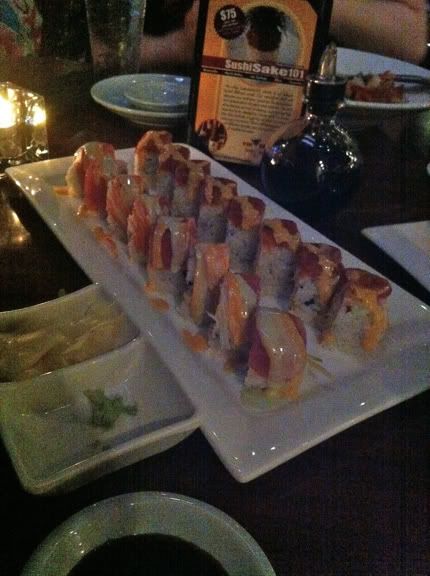 It was funny because we all got 2 rolls (and shared here and there), but each person got essentially 2 of the same rolls for themselves, plus or minus an ingredient or two. Nikki's were all eeled-up, Sam's were all of the cooked fish, mine was the spicy tuna...all were delish!
Re: the sake....you know how usually when you drink (alcohol), the more you drink the better it tastes? Or the less you care/notice? LOL. For me, with sake, I love it at first, but towards the end it tastes so blah. Weird!
After stuffing out faces, we then mosied on over to Main Event, a fun but overpriced bowling/billiards/laser tag/arcade/bar kinda place, intending to spend lots of dollas + lots of time. Well....we arcaded it up & then went to pay for a couple rounds of shuffleboard & hit up the bar...only to receive NO service. Despite them not really helping anyone else. It was extremely bizarre and RUDE. About 10 minutes into playing the waiting game we called it quits and huffed off, opting to hit up Plano Super Bowl instead.
A wise idea indeed (though their bar drinks were HORRIBLE...the vodka tasted like rubbing alcohol. Not good). We bowled a game and a half and then went back to the bar to close out our tab only to learn they had Karaoke going on! Random, but fun. Everyone who sang was pretty horrible until my brother took over the stage (completely sober, I might add) and rocked out. We were going to leave after his song, but made friends with some guys at the next table over, one of whom bought Nikki & I a shot of tequila, so we promised to cheer him on during his turn. In the midst of that, and a promise of $20, we convinced my brother to change his 2nd song selection (another metal hit) for Lady Gaga. First it was Justin Beiber, but he claims they didn't have any of his songs in the book. Suuure. He was still embarassed re: Gaga, but eventually got up & KILLED doing Bad Romance. Dance moves and everything. The whole place was cheering for him. So funny. So worth it.
We were over the bowling place by that point, but not quite ready to call it quits for the nite. Sam thought of Buffalo Wild Wings nearby, so we checked their hours on my phone. All of the local locations closed at 1 am, except for the location right by us, which promised 2. Being a little after midnite at this point, that was perfect! Or, it was supposed to be....
We got there around 12:20 & ironically karaoke was winding down there too. Darn! But really we just wanted to go to get our trivia on, which they always do via their tv screens. Um, too bad the waitress said it was last call and they were closing at 1. Ugh, not cool! I don't get it. We tried to order 2 beers each, but she informed us we were cut off at 1 b/c they're big and it was too late. Boo! But probably ended up being for the best anyway. We each ordered giant Blue Moon's (sans my brother, the only nondrinker) and then left.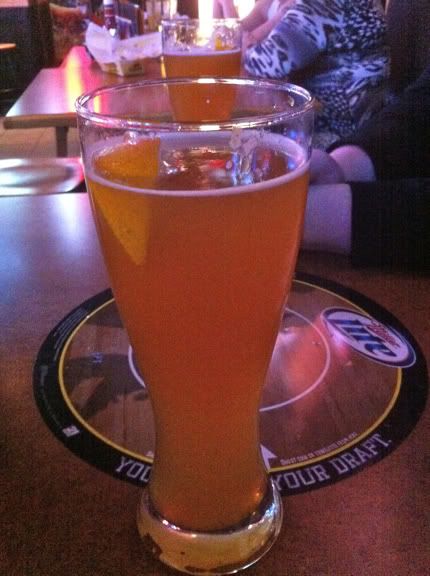 After that we went back to my house, but all of us (probably stupidly) decided to just pick up pj's and have a sleepover at Sam and Nikki's hotel. It would have been more comfortable for everyone had we just stayed, but nooo. Oh well. More time together!
Before settling down for the nite, we made a Jack in the Box pitstop. Horrible decision. Fast food and I = no bueno. And to top it off, I got a sourdough jack meal, which I didn't know comes with mayo. So gross. I kept waking up with a stomachache all morning.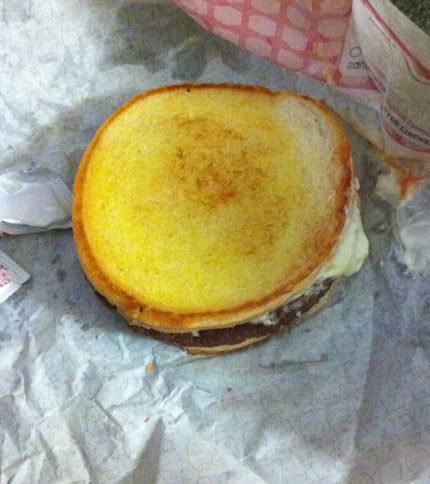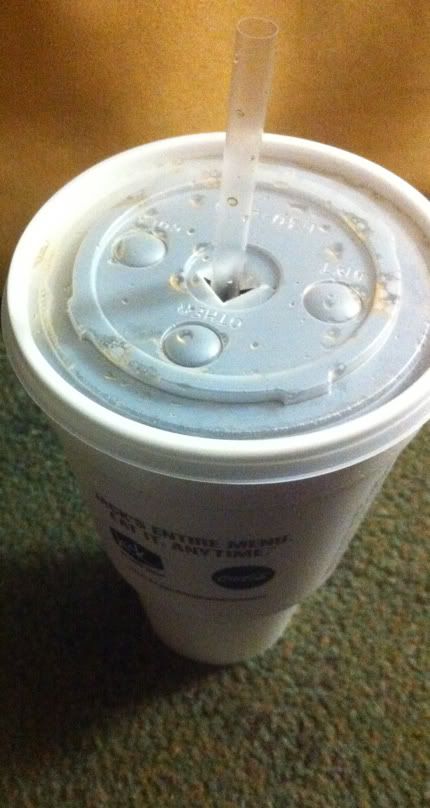 ==============
March 3
All of us were in and out of sleep all morning, watching various Nick Kids cartoons and rerun sitcoms before Sam finally drove Ryan and I home to shower & change for the day.
A couple hours after that, the 4 of us piled back into the rental & made our way to Downtown Dallas for Nikki to see. Not that there is much exciting to see, especially since we didn't stay long or explore much, but I digress. It was still enjoyable.
We were all STARVING, as it was nearly 3 pm and none of us had eaten that day. Yikes. We decided to hit up Grande Lux Cafe for appetizers and beignets, since we had plans for a decadent dinner. Meh. Usually I LOVE their food, but it wasn't great today. Well, some of it was. But overall, just meh. Bummer.
-1 slice of their (still spectacular) bread with butter
-warm goat cheese salad (what I was most excited for and it was disgusting. None of the flavors went together at ALL)
-mini mushroom & goat cheese pizza (now this was delicious, but I wish I had known it came with no tomato sauce. Oh well, still taaaasty)
-2 beignets w/ all the sauces (a lemon whiskey one..or something like that, raspberry, & chocolate)
-iced tea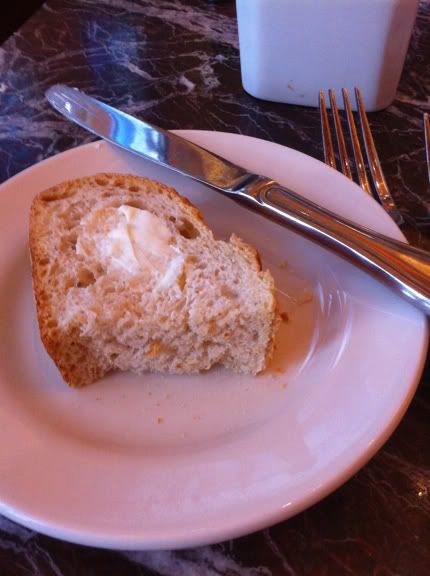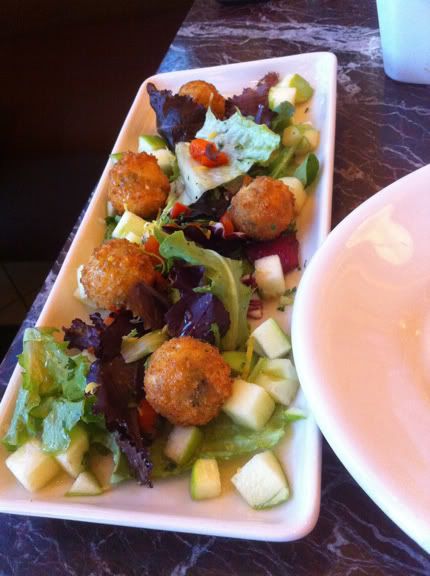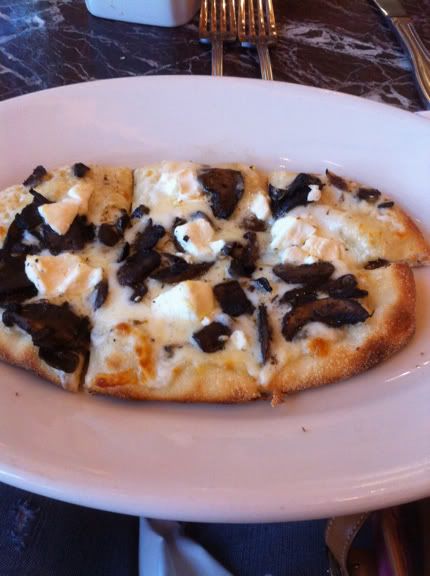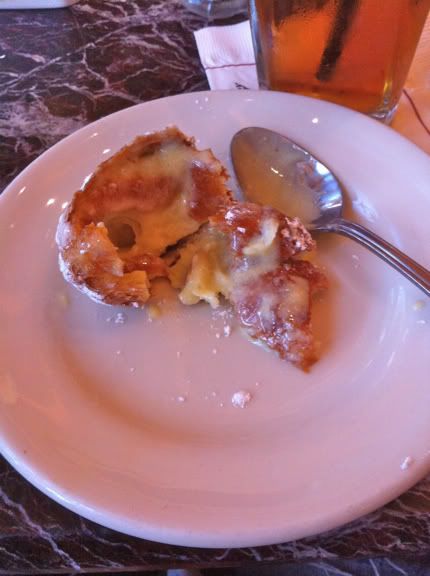 How does one mess up beignets?! These used to be AMAZING and huge and wow. But this time? Again, meh.
Despite not eating
tooooo
much (we all left some food behind), we were all STUFFED. I think our accumulation of food from the previous day reallllly caught up with us all at this point. In fact, for dinner we nipped our huge, fancy steak dinner plans in the bud at the last second in favor of Sam's favorite, Pei Wei!
-shrimp & tofu pad thai
-a couple crab wontons
-mandarin iced green tea with orange slices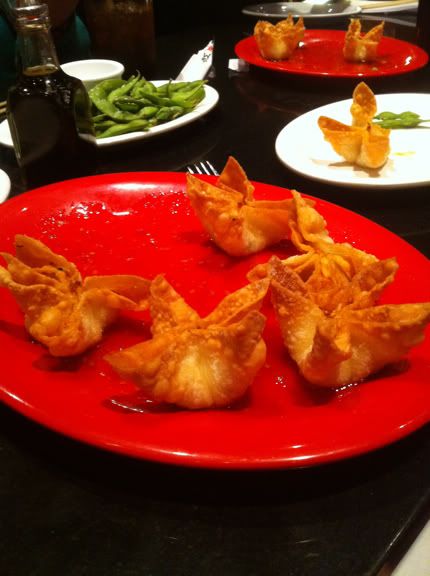 Pei Wei has the COOLEST soda machines ever with a touch screen, various flavors, and like 284844 options. It's the future, people!! Too bad I try not to drink sugar water. But if I did, this would be the place!
Sam and Nikki came home with us one final time to play another board game and then they had to be on their way back to get ready for their early (and I do mean EARLY) am flight. Boo!!
It was a quick trip, but a fun one.
I'm just sad we didn't get any pics together! HATE when that happens. Grr!
xo,
Amanda