February 17
Dad's B-day!! The big 6-8. Thankfully he doesn't look or act it.
Workout:
-20 min treadmill in my new vibrams!
I ran (well, jogged) for 10 min of those straight. Shuttup, that's REALLY good for me. Usually I do 1-1 (minute) intervals jogging-walking. 5 min jogging MAX. Love the vibrams!
-egg white puff with garlic & herb laughing cow wedge + hot & spicy veggie sausage
-smores coffee with english toffee stevia & a splash of organic unsweetened vanilla almond milk (just to try & cool it down some)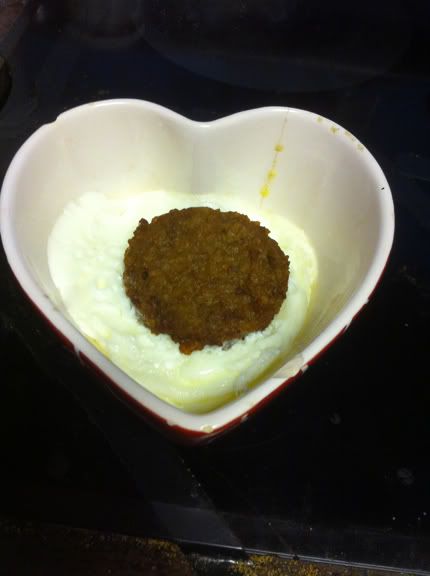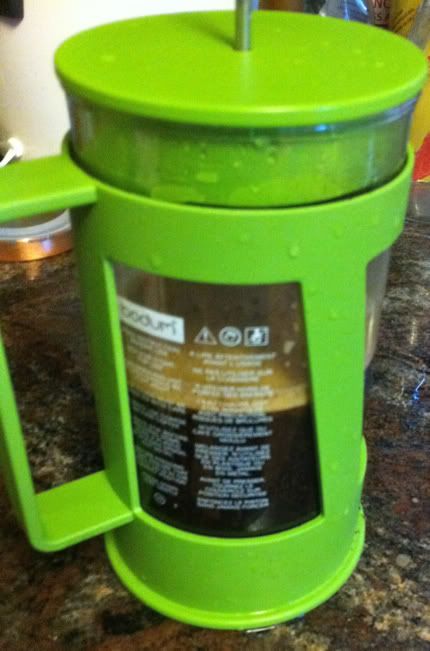 -a few bites of random cookies left around the office and/or brought for my dad's bday
-small soft pretzel stuffed with a little cheese & marinara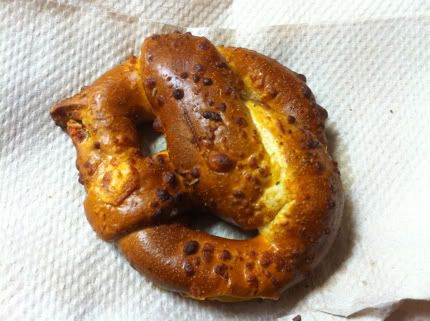 My Dad wanted his free Denny's "breakfast," but his first free time slot at work was 3 pm, so we went then. Even tho I only had the small-ish pretzel snack since breakfast, I still wasn't terribly hungry.
-half size apple and cranberry salad topped with grilled chicken & a little balsamic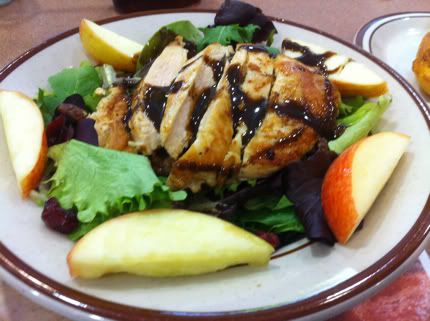 Surprisingly good & the perfect amount for my hunger level (or lack thereof).
My mom suggested burgers for my Dad for dinner, so that we had. I added the onion rings too 'cause he loves 'em.
-lean turkey cheeseburger with a billion fillings (a lil guac, lots of mustard, banana peppers, dill pickle, organic lettuce, tomato, red wine sauteed mushrooms, kraft single...) on a whole grain sandwich thin
-baked onion rings
-sour cream & onion pop chips
-1 bite of the sugar free german chocolate-ish cake I made (completely homemade icing about 95+% sugar free made mostly with coconut butter, box mix sugar free cake...my dad is slightly diabetic and requested it, especially after people brought him cookies all day!!)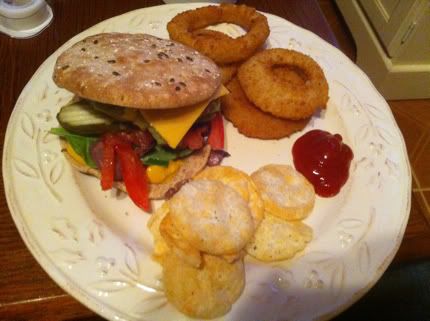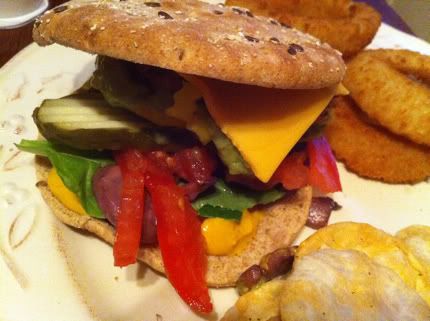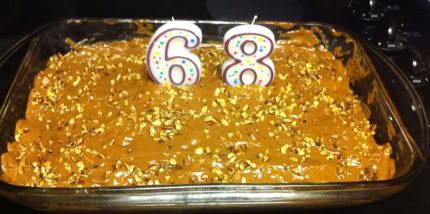 Reallllly good.
Later in the evening my brother and I watched some Big Bang Theory in my room with the pets...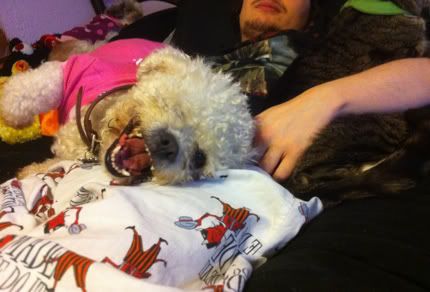 & decided to amp up the party with a little dessert.
-about half a slice of the cake
-about half a slice of cookie cake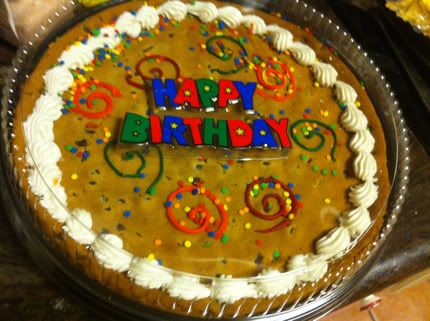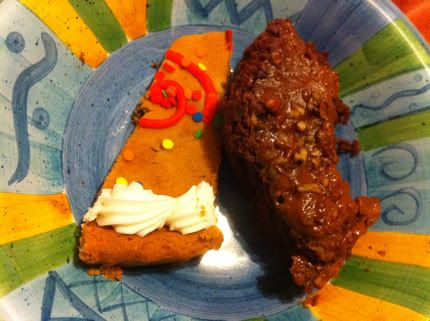 Be still my cookie loving heart.
Another one of our coworkers brought my Dad a cookie cake for his birthday. I don't know whether to hug her or punch her. I know it's her favorite dessert of all time and I see why. I'm sure I've had one in the past, but not that I remember. Oh my god, it's so good. The only thing that could make it better is if it was covered in icing all around, not just the edges. But damn the man, it is good.
(My brother & I opened up the cookie cake before my Dad had a chance to. Yes, we're rude).
==================
February 18
Woke up and could barely walk. My calves were SO sore & tight. Oh, vibrams. You felt so good, but
daaaaaaaaaamn
do they work the muscles. I REALLY didn't think I overdid it yesterday, but obvi I was wrong. Oh well. At least it means they work ;). I just had to hobble around, LOL.
-half of a chocolate peppermint luna bar (my dog stole the other half!!!! I got it back, but I wasn't going to eat it with his teeth marks, lol)
-venti nonfat iced latte
-chicken hummus veggie plate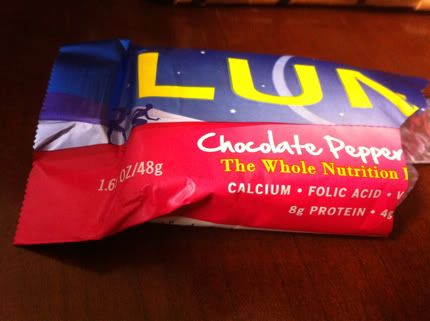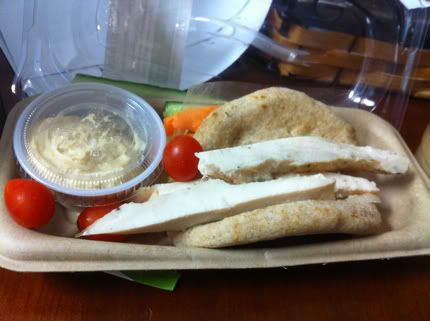 Expensive, but delightful. And it served, basically, as both my breakfast and lunch. Before I had the coffee I pretty much just stared into space at the office. Oops. It was kind of a stressful morning for me, as some racist etc. comments were made (long story) by someone at the office (not staff). Not cool. But I just ignored it and day dreamed about the coffee I hadn't had time to make that morning. Eventually that came to fruition when a co-worker and I snuck out to pick up Starbucks. Trust me, both of our production went up about 1,000% after that.
-whole wheat veggie bite size wrap things I got 50% off of at the store
-way too much cookie cake (so. good.)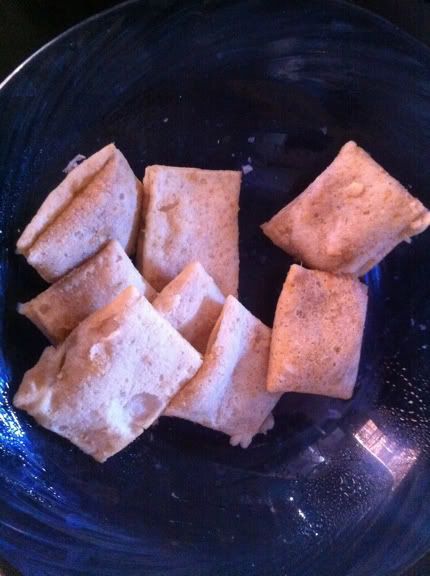 For his real birthday dinner my Dad requested we eat at the kitchen table at Buca Di Beppo. Fair enough! Didn't hurt that we had a free birthday appetizer coupon (+ their usual brownie ending).
-2 stuffed mushrooms
-spaghetti & half of a meatball in marinara sauce
-half of a proscuitto stuffed chicken breast with pesto underneath & marinara on top
-about 3 bites of brownie with ice cream
-glass of sparkling wine (a little too sweet & peachy, but not a bad appetizer or dessert drink. Luckily I had it as an app. Would have been a little odd with the entree)
-glass of cabernet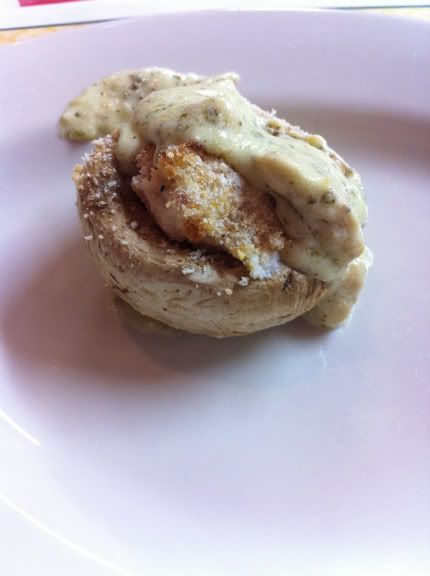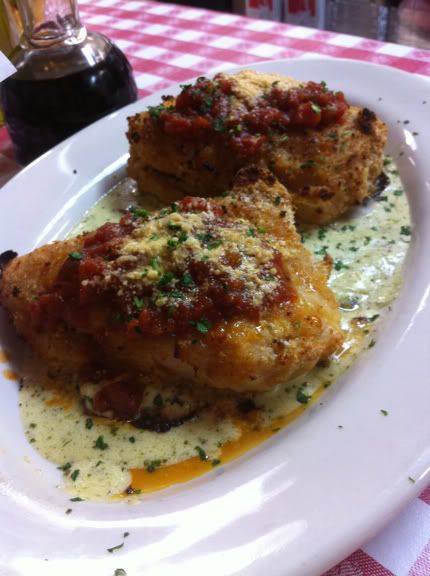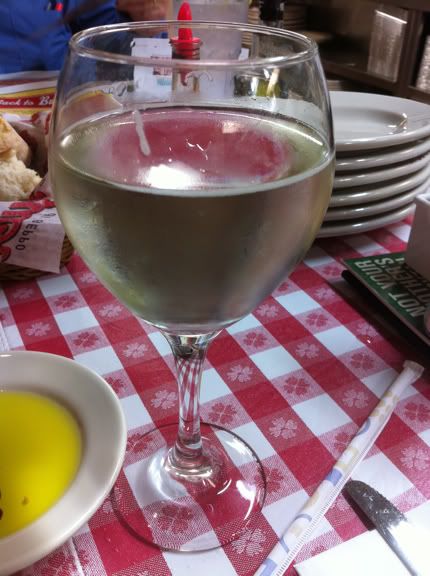 Amaze as always
. I love Buca. We let my Dad pick out everything since it's served family style & it was his big family bday dinner. I'd have picked slightly healthier options, but it's his day. They were all really good. Especially the mushrooms.
xo,
Amanda