I seriously had this post ready in a reasonable time (& obvi then kept adding to it...), but I never got around to actually posting it. Grr!
No wonder I lost a follower recently *sniff* :-P
February 5
First day getting out!! It was slushy, but no longer icy.
Finally putting on makeup=good
Having to wear shoes=bad
LOL. Normally I'm SUCH a shoe girl, but going without for almost 5 days made my feet feel WEIRD putting them back on.
I made my Dad and I some awesome looking steel cut oats for breakfast, but I think the bag was old b/c it looked like it had random specks of stuff in it. WTF? Down the drain it went. What a waste!
-cup of coffee with stevia
The mail man told my Dad it was nice out, so we decided to venture out for breakfast.
-1.5 german pancakes (basically crepes) lightly dusted with powdered sugar & lemon
-2 eggs over medium
-a scoop of my dad's cottage cheese
-coffee with stevia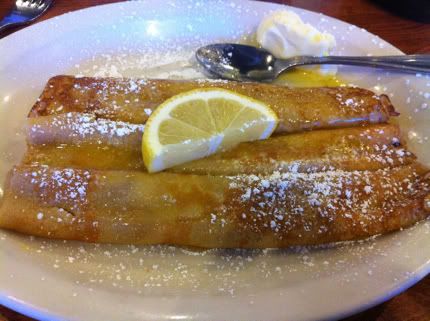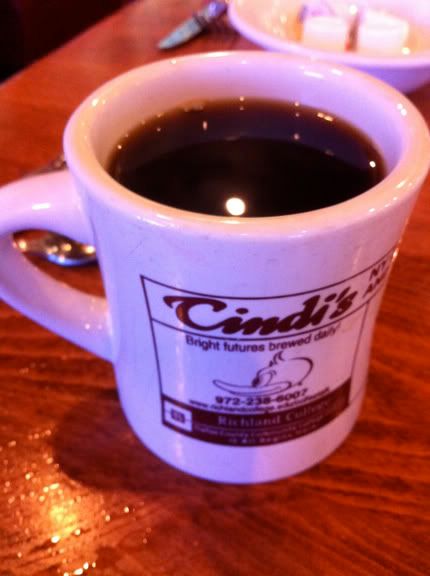 OMG the crepes tasted just like funnel cakes. UH-mazing.
We ran into Larry North there. I have no idea if he's only a Dallas "celebrity" or if he's well known, but he's a fitness guru-type in the area. This is the second time we've been sat beside him at 2 different breakfast places in the past, oh, 6 months or so. I'm pretty sure he's following us. Haha, suuure. Hope he didn't see my crepes! :-P
Went to the office. Yep, on Saturday. Intended to stay 2 hours, but ended up being there over 4. Ridic. But hey, money.
-half a peanut butter cookie
-half a chocolate cookie
Central Market was randomly giving away free cookies. I told my Dad we could share one (I'm kind of the health nazi of my family and always yell at my Dad in particular for making poor food choices lol, so he kinda asked my permission HAHA), so of course he came back with two diff ones *shakes head* They weren't even good I don't know why I ate them. Aside from making sure he didn't eat both, I guess. But that's not a good reason.
Didn't have dinner 'til 10 pm. YIKES.
-fish (salmon, maybe? It looked like salmon, but I'm not sure. It was some fish we got on sale awhile back and froze)
-salad (organic mixed greens, cut up sweet peppers, matchstick carrots, red cabbage, garlic gold nuggets, black pepper, garlic expressions vinaigrette)
-leftover spaghetti squash with pesto mixed with laughing cow
-1 warmed white corn tortilla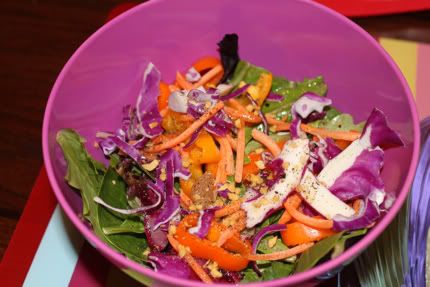 Really good dinner. The salad was the same as yesterday, aside from the peppers, but it tasted extra extra good today.
We wanted to work out today, but the gym closes at 8 on Saturdays. Clearly since we didn't have dinner until 10 we didn't get home by 8, let alone have time to get to the gym. Lame.
============
February 6
-corn tortilla with light vegan butter
-vega sport (about half)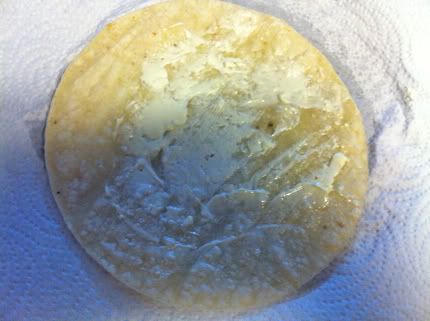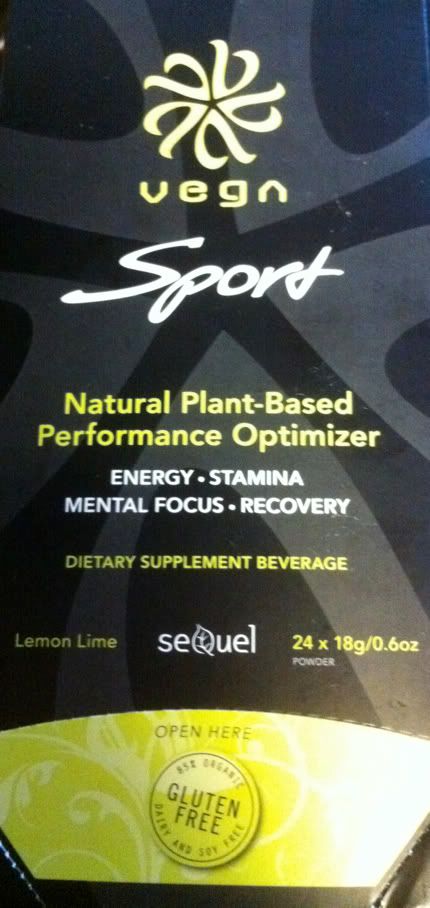 -1 ghirardelli caramel milk chocolate square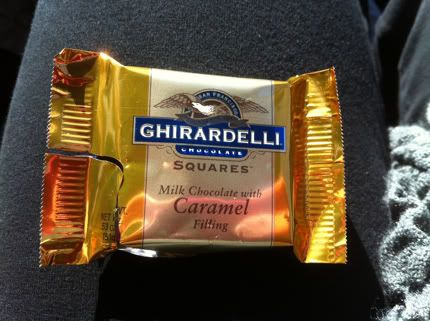 Thanks, sample lady @ Target!
But first, before grabbing my free chocolate, I RUSHED to the coffee section, my whole reason for Target Trip 2. THEY HAD THE STRAWBERRY SHORTCAKE DUNKIN D COFFEE---
PAAAAARTY.
LOL. I got 2 bags. We had gone to Target yesterday (a different one) and they were completely cleaned out, so I went into panic mode. Ha. I almost bought the coffee (inflated price...) online. Luckily the checkout system was down, so I took that as a (reluctant!) sign. Which obvi worked, because I gotttt it. I gotttt it. :-P. Yeah, I was pretty excited for something I'd never even tried. Stupid Marketing technique worked. Tell people something is limited edition and they come a running. Or, I do, at least.
Workout:
-abs & light weight shoulders
-about 3/4 of an egg white greek fritatta with hot sauce
-a few bites of breakfast potatoes covered in hot sauce
-half of an eng muffin with blackberry jam
-chocolate macadamia coffee with stevia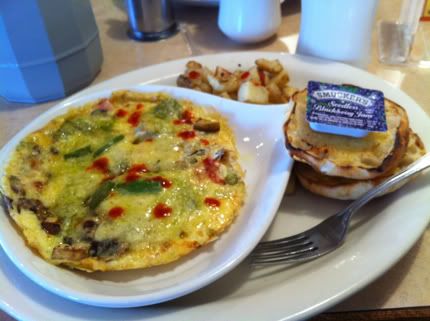 Went back to the Egg & I. Both my Dad and I preferred what we ordered last week, but this was still
goood
. And the coffee was great. In fact, if I hadn't already bought the dunkin d coffee 5 minutes prior, we may have come home with a bag of this blend.
B/w, they have a house hot sauce called the Egg & I-Yi-Yi. Cute, right? And delightful.
After I came home I was in Suuuuuuper Bowl mode. I didn't particularly care about the teams this year, but super bowl food must be had anyway! Plus we watched it, duh. (And rooted for the Packers, woot). Hmm, say super bowl out loud. Doesn't that sound weird? It doesn't even sound like a real word. Well, words. Phrase? Whatever. Oh, it's just me? LOL. I guess I've said it too many times.
Anyyyyyyway,
4 hours or so later and a feast was born. I made 3 pizzas, 3 kinds of "wings," chopped veggies, made brownies, cleaned, etc.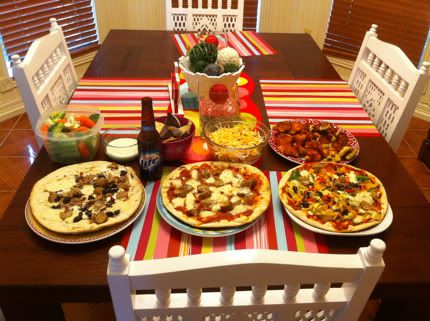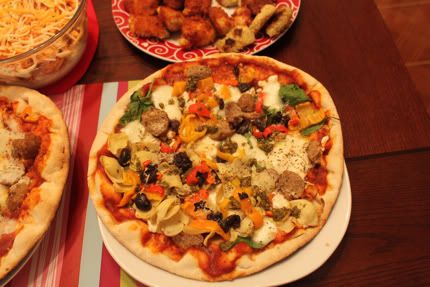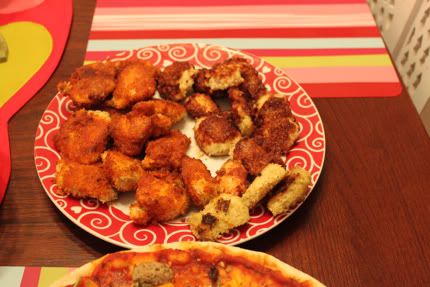 Remind me why I'm single again? I rule. Haha.
Here's my share of the feasting:
-2 slices of homemade veggie pizza with cut up turkey meatballs
-a few homemade baked boneless "wings" (a few hot buffalo, a few bbq)
-a scoop of buffalo chicken dip with a few tortilla chips + chopped veggies
-a little less than 2 light beers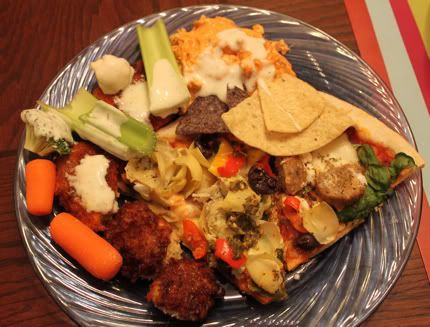 I was already feeling preeeeeetty gluttonous, so why not add to it with sugar, amiright?
-vanilla ice cream topped with gluten free brownie crumbs, a lil over a teaspoon of white choc pb + cinnamon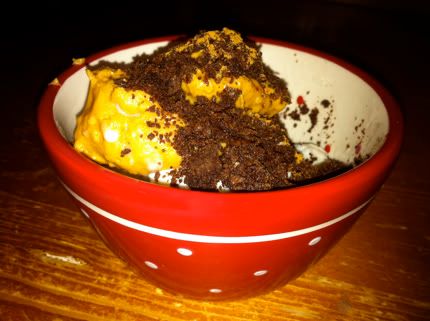 Ohhh yeah.
Also tried out some new nails. Yeah, I'm a little obsessed.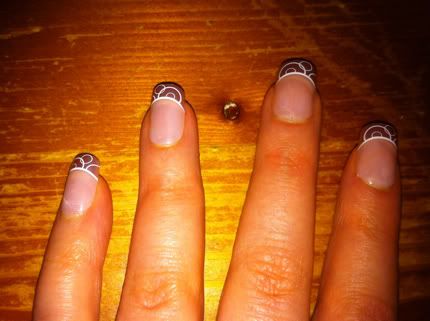 Me likey! These are the short length. Muuuch better. I still want to try out extra short, but these are totally do-able. Yay.
============
February 7
-corn tortilla with vegan light butter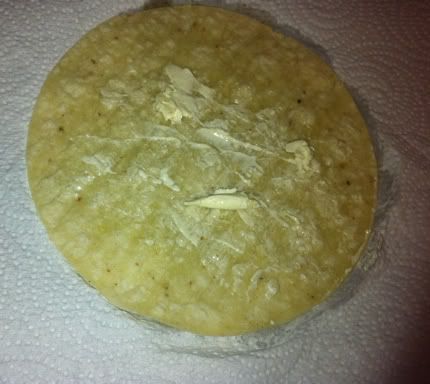 Workout:
-half light weight back & shoulders
-the rest of the egg white frittata & potatoes
-dunkin donuts strawberry shortcake coffee with stevia (!!!!)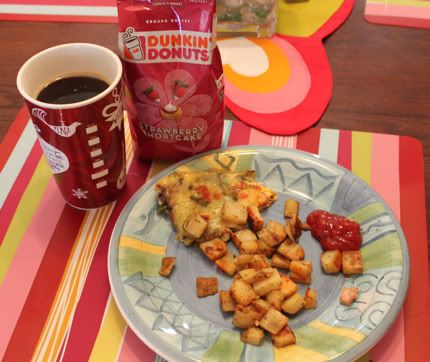 Is it weird I'm drinking Dunkin D's coffee out of a Starbucks mug? LOL
-side salad with leftover buffalo baked wings
-leftover buffalo dip with celery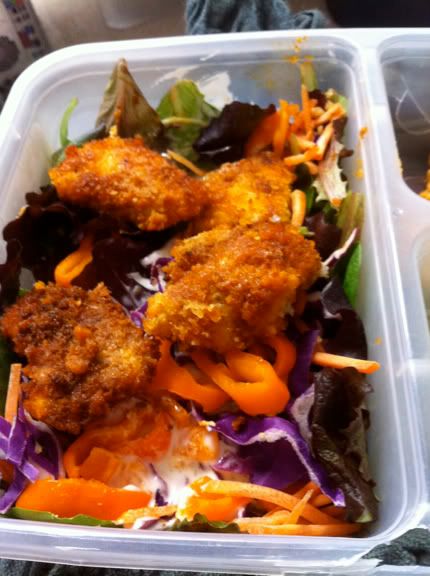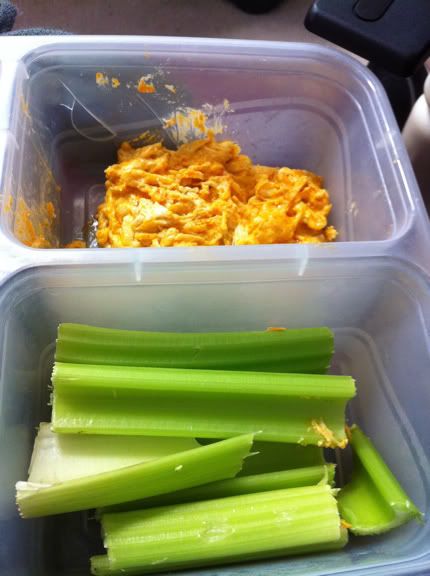 Took me all afternoon to eat that for some reason.
Worked all day, where is the snow again? Kidding. Ish. ;)
-2 extra lean turkey tacos on soft corn tortillas with salsa, a little avocado, greek yogurt, lettuce
-1 miller lite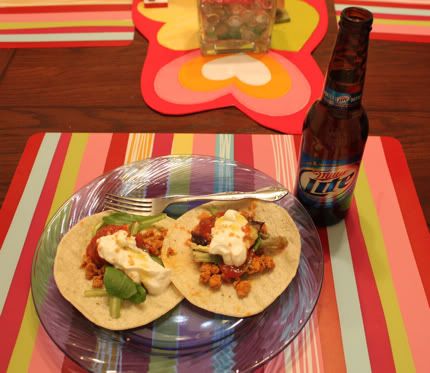 Yeah, I fail. I've been eating a lot of meat. Hush.
-vanilla ice cream with brownie, cinnamon, & white choc pb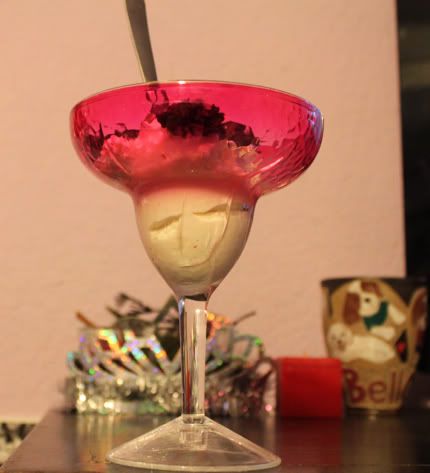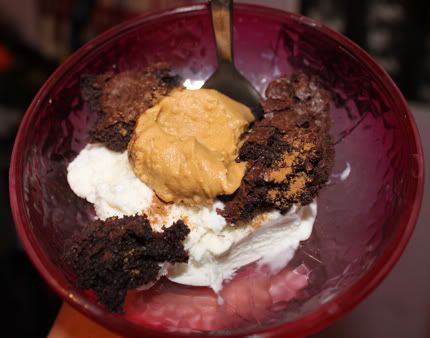 Normally I don't like brownies, but these are dangerous! They're just the plain ole Gluten Free Betty Crocker, if you're wondering. And the texture rocks.
Outfit Of the Day: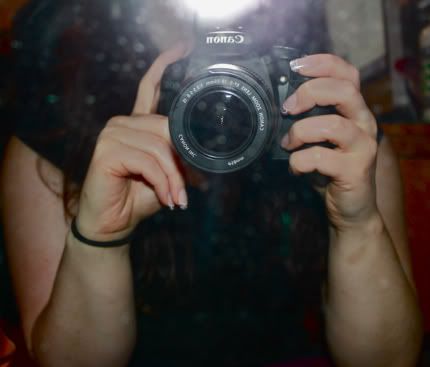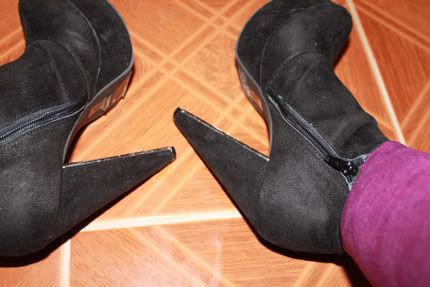 Yep, I still need a tripod :-x.
When I was snowed in last week I tried to move some of my work appropriate dresses & skirts to the front of my closet. This dress was borderline short, I know, but I thought with tights it was passable. I just want to try to look more presentable rather than grabbing jeans & whatever shirt makes me feel the least fat that day, lol.
& to sorta show off the sunglasses Miss Katie sent me from her giveaway!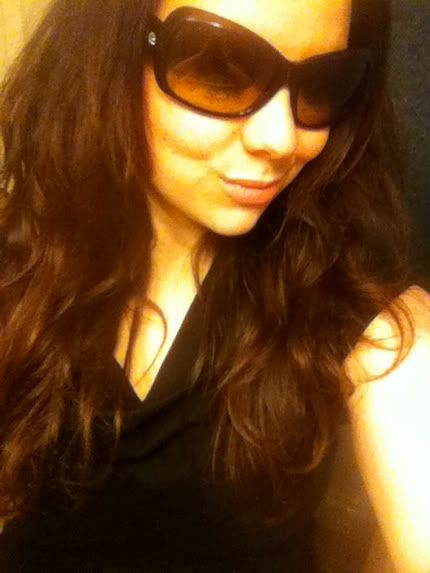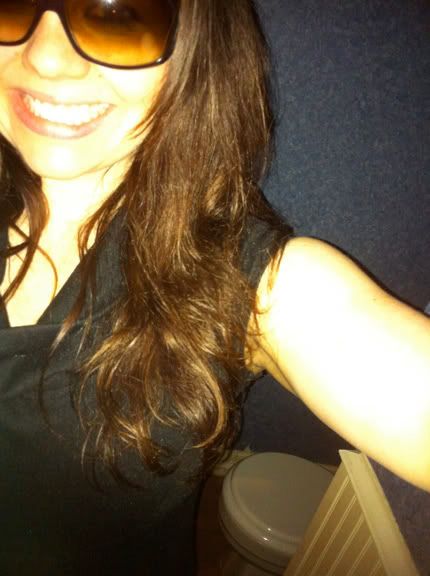 Will have to take better pics in natural light, but just wanted to show some gratitude with what I had! :)
============
February 8
-corn tortilla with light vegan butter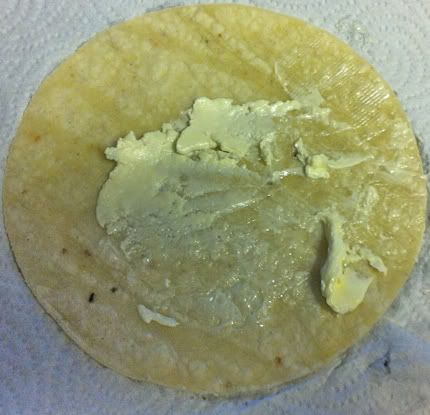 Best pre-workout snack ever.
Workout:
-32ish min cross ramp
-chobani lemon yogurt with sliced strawberries, blueberries, kamut puffs, granola, & vegan chocolate chips with the leftover lemon german pancake crepe on the side
-strawberry coffee (!!) with stevia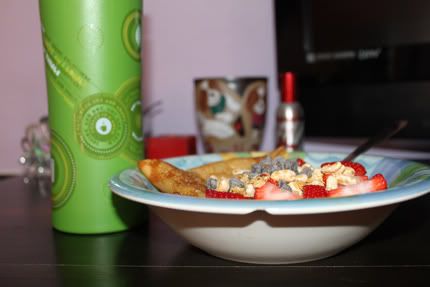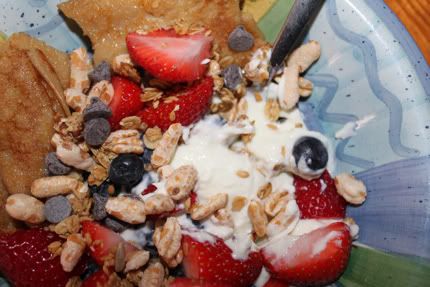 MMM.
Didn't have lunch 'til after 3:30 pm, oops. My stomach was grrrrrowling at that point!
-taco salad (organic romaine, organic baby carrots, purple cabbage, garlic gold nuggets, salsa, dollop of greek yogurt)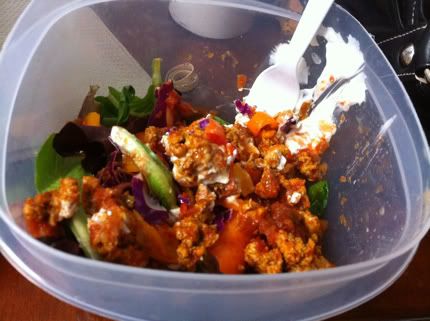 Had meant to have other leftovers for lunch but kinda dropped them face down on the kitchen floor this morning. My dog stole half (and therefore did not get her dog food for breakfast too. Big loss, I'm sure, lol). Good thing I had backup. And quick, tasty back up at that!
-small organic pear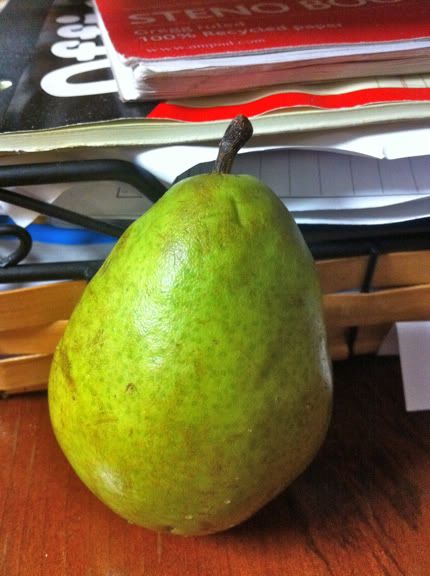 -vanilla rooibos tea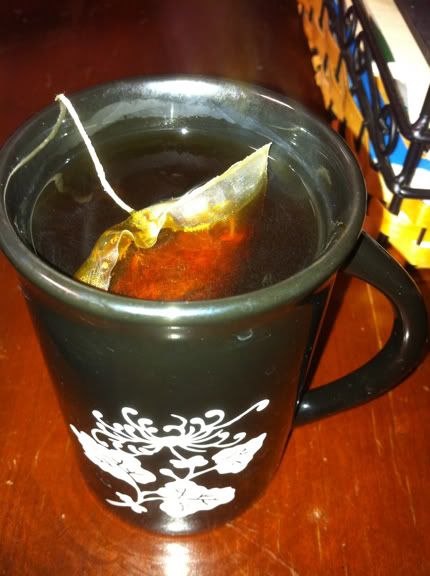 Worked a bit over 8.5 hours today, but was at work almost 10 hours (had an hour massage nearing the end...OK, so that part was pretty blissful). Crazytown. I'm tired.
Dinner at 9-ish. Whatever I could toss together, I did.
-leftover buffalo dip + a few chips & celery sticks
-random thrown together crepe (crepe topped with chopped mushroom, garlic & herb laughing cow wedge, goat crumbles, artichoke hearts, a tiny bit of nitrite-free turkey lunch meat, organic romaine, a drizzle of pesto, a drizzle of grey poupon)
-veggie sticks
-strawberry kombucha (which I have decided may be my fave flavor. I thought it was guava, but it's pretttty close now)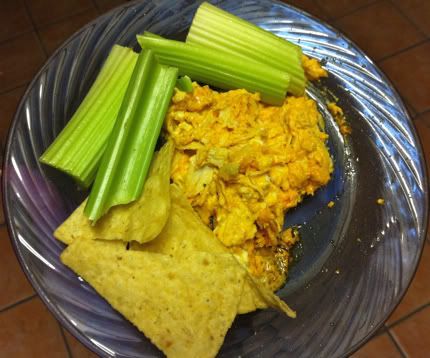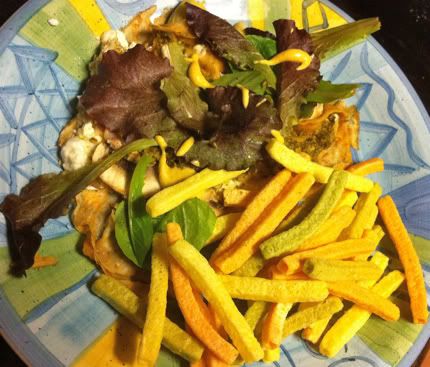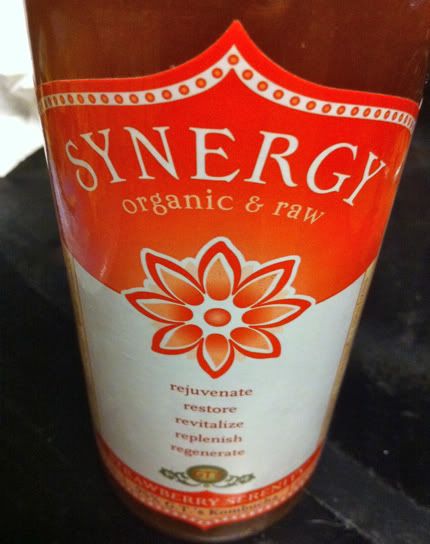 omg deliciousness. Must recreate that crepe asap.
-vanilla ice cream mixed with cocoa & cinnamon, topped with pb & vegan choc chippies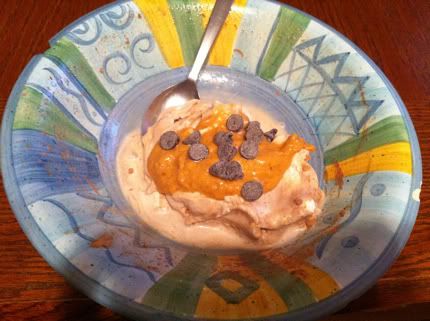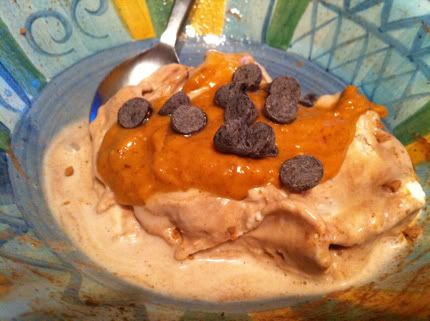 I love tasty eating days, especially when they're just randomly thrown together.
xo,
Amanda