December 31


Workout:
-35 min cross ramp
-egg whites with reduced fat whipped cream cheese (cream cheese sucked, thanks a lot einstein's!)
-small bowl of graham cracker cereal with unsweetened vanilla almond milk (basically like eating a bowl of cookies...and the stats show the same lol at least they're organic and low cal :-x)
-green tea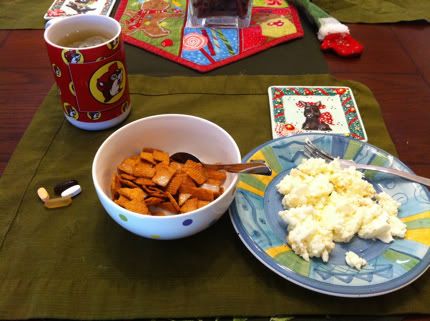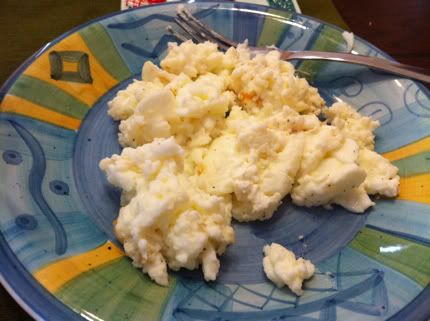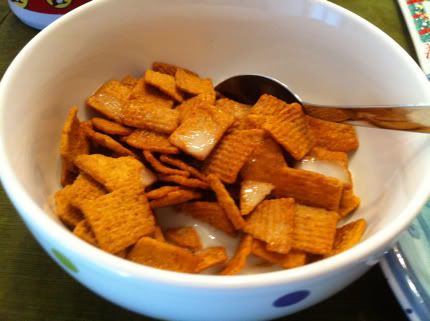 -leftover shrimp tacos (2) & rice
-sweet potato cheetahs with ketchup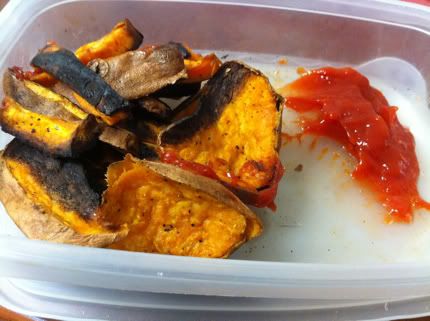 Went to work for a few hours & had a massage. Much much needed, as they always are, but I think I was so messed up it made me hurt even worse. Ugh!
Left the office a little early & ran a couple errands & braved 2 grocery stores. Who knew NYE was such a HUGE grocery shopping day? It was unbelievably ridiculous. I don't get it.
What I Wore to Work:
I liked this outfit (also had on jeans + ruffley stiletto boots), but it wasn't photographing well. Oh well, I tried.
-a few bites of sugar free frozen yogurt before I tossed it (too artificial tasting this time..boo to no chocolate banana today)
None of the flavors really appealed to me, but I asked for a sample of 2 (swirled) just to check. I didnt love them, but I felt rude not buying any after trying (I know, I'm too nice or something lol). At least it's only like $2.
At the second store I picked up some purdy flowers for my room. I got 2 diff bouqets & let my Mom choose her fave. Here's the one I ended up with (messing with my new camera, yay)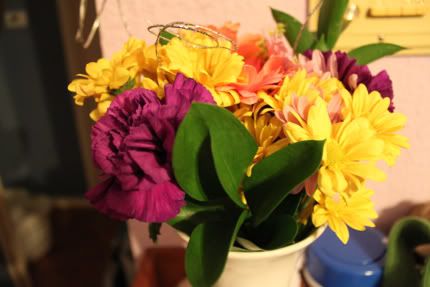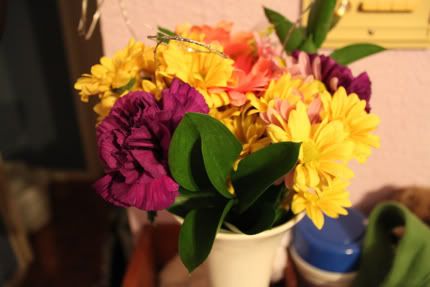 Preeetty. When I was looking at flowers the lady in the department was showing me these & said they'd be a good hostess gift. I wanted to be like, "I'm the hostess,
bitch
." Haha I keep it classy. I just smiled and nodded. Thank God I have a filter :).
-a sample of the ghiradelli dark chocolate toffee bar (goooood!)
At 6:45 pm or so I was the only one awake in my house, if that tells you how my nite went lol. My Dad & brother did wake up shortly after, and my Mom woke up long enough to eat dinner. And then fall back asleep. I'm telling ya, I was stuck with quite a pack of wet blankets, lol.
I had a couple potential new years offers, but after the main one fell through (silly airlines), I just decided to go for the low key evening at home. By choice. Mostly. I figured if I really wanted to go out I had a couple options of people to invite myself with lol (well I was invited actually, but hadn't confirmed with anyone and kinda didn't take it seriously, but anyway...), I realized it would just be crowded and loud and I'd spend the whole nite TRYING to have fun while really just wanting to get home & cozy anyway. So I figured I'd skip the trying & just do that.
I decided to cook build-your-own (or rather, tell me what toppings you want & I'll build it for you) pizzas for the fam. I also cracked open a bottle from my veuve cliquot mini stash. Meh. Call me crazy,but this was my second bottle of veuve and I don't love it. Still deciding if I even
like
it. Honestly, I love cheap champagne the most of any champagne I've tried. Which, for me, is weird. I'm a top shelf kind of girl usually, but with champagne I'm a cheap date, I guess.
-pizzzzzza (brick oven crust imported from italy with pizza sauce, tomato, artichoke hearts, roasted broccoli, sauteed spinach, roasted green peppers, kalamata olives, fresh local sliced mozzerella, goat cheese crumbles, garlic gold, pecorino romano cheese + the few pieces of hamburger that fell from my dad's side)
-salad (organic spinach, organic mixed greens, tomato, matchstick carrots, garlic gold, light ranch, black pepper)
-glass of veuve cliquot champagne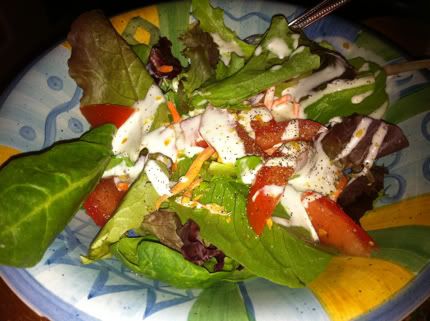 Pizza was sooo good! But after it cooked I realized I forgot the mushrooms. Fail. And I JUST realized the only thing that could have made it better was ricotta. Mmm, ricotta on pizza. But alas, it was still extremely, extremely epic. Definitely worthy as the last official meal of 2010, fo'. sho'.
-another glass o' champers
I watched Andy Cohen's Bravo NYE special which ended at 11:30 my time, then made my way downstairs to celebrate with my Dad.
Who was... again, passed out on the couch. Where I kept taking pics of him and told my brother about it. He then annoyingly told me I'm creepy for always taking pics when people don't realize it. Whatever. Isn't that half the point of camera phones? C'mon now. I also snuck into my parents room & took a sleeping photo of my mom all hooked up to her c-pap & snoozing away. Pre-midnite. LOSER! Just kidding, mom. Even the pets were asleep (with my Dad). And my brother was busy looking at pics of himself (or maybe uploading new ones?) on facebook every time I walked by. Haha he'd kill me if he knew I wrote that. But it's true :).
I kept myself occupied on the couch next to my sleeping dad with the really crappy Dallas New Years news broadcast & had myself a little more snack & drinkie...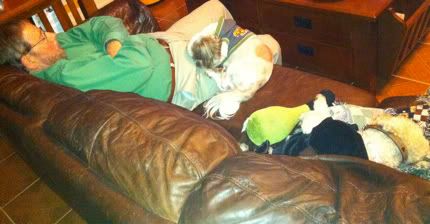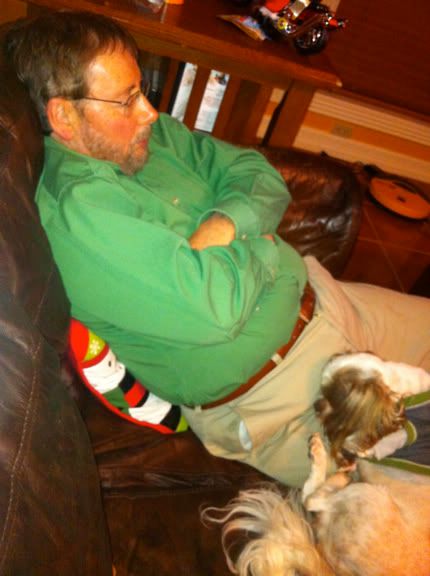 -a 3rd glass of champagne with clementine slices dropped in (ate the rest...)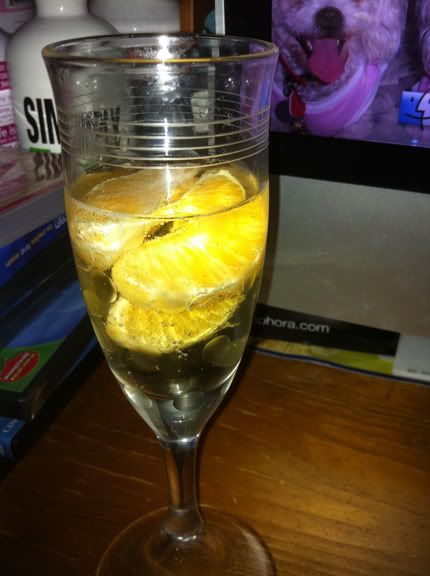 Keep in mind my champagne flutes are quite small. But still. It's New Years Eve after all!
-a few handfuls of trail mix from the xmas stocking
& finally, around 11:55 or so my Dad woke up. Lucky for him or he would have had noise makers scaring the sh...well, you know, out of him at midnite ;). He let me dress him up in a tiara (good sport) and we drank the last 2 glasses of champagne & tooted our noise makers together. Real party animals.
pretending to sleep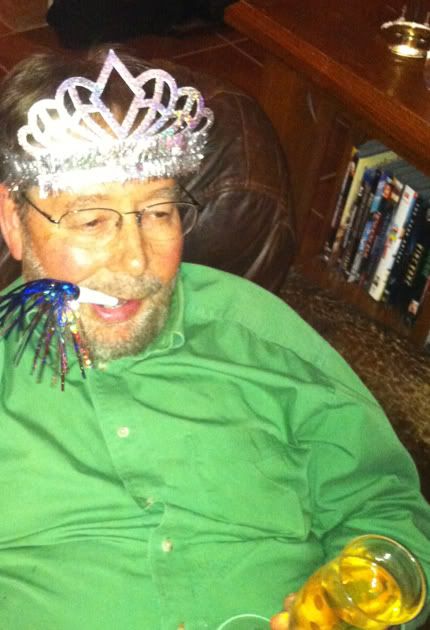 LOL he looks wasted even though his glass is full (and the only other alchy he had that nite was 1 other glass at dinner 4-5 hours before...). Silly Dad.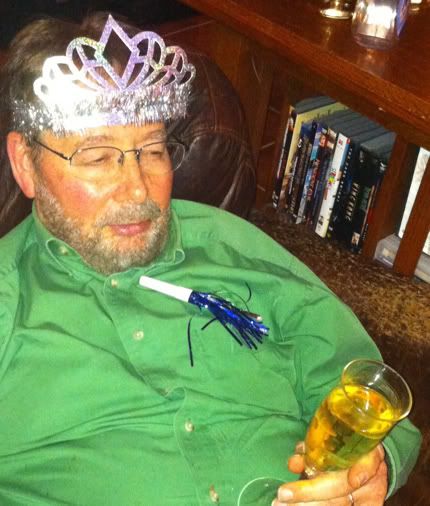 still going, lol.

I don't really know why he looks 400 lbs though (well not as bad since I cropped it). It's WEIRD. I was looking at him while I took pics and he looked his normal self, but I'd take a pic and BAM he doubled in size. Oh, iPhone 4. We couldn't stop laughing, but I hate when that happens and it wasn't even to me this time :-P.

We also ate 12 grapes each (well, my dad had a few more, I think), as I read people in Spain eat 12 grapes at midnite to signify each month of the next year & for every sweet grape you eat you'll have a sweet month, for every sour, a sour month. I think all of mine were sweet though one or two were borderline. I'm still undecided about July. But I'd still say it was more sweet than sour. So there. :-P
I got the best new years kiss of anyone I bet, too. Bella! Well, she let me kiss her head. I had to chase her around a little for a kiss back. That wasn't the deal! Beyotch! Just kidding. I think the noisemakers were what really scared her away LOL. My bad.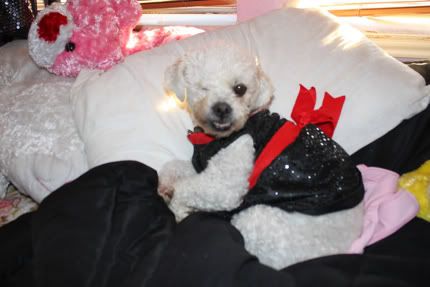 OK OK, that pic is from the other day. Here was her on the couch for smooch time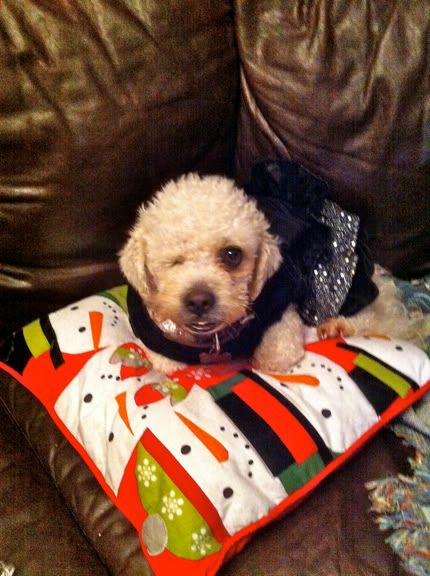 Oh-so pretty. And in her fancy fancy dress :). Ooh La La.
I really wanted one final slice of pizza to top the nite off (oink oink), but alas there was none, so I broke into the sugar-free brownie stash & had..
-half of a gluten free sugarless brownie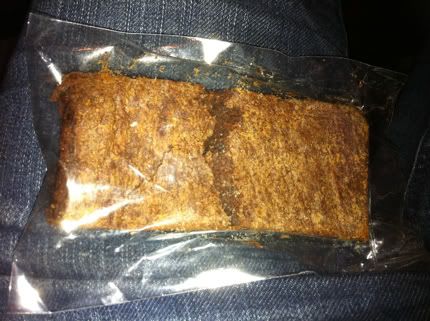 Not quite as good as usual, but still good texture. Have I mentioned I'm a HUGE texture person when it comes to food? Well, I am.
Body Bugg Stats:
Calories Burned:
2,584
Steps Taken:
12,737
Nice stats to end the year!
So, as you can see, my nite was nothing special. But that's about what I expected (minus all the sleeping people, lol). I'm just tired of putting nye on a pedastal. I set this year up to have no expectations, therefore no disappointments. The way it should be! It seems like a lot of people had low key nites this year. Wonder why. Everyone smartened up, I guess :).
xo,
Amanda