January 17
-christmas blend coffee via
-oat bran made with about 3/4 a scoop of vanilla protein powder topped with raw cashew butter & strawberry rhubarb preserves (plus like 2 drops of stevia)
Actually not that good. Bummer. Not bad, but..blandish. & I drank the coffee black and it wasn't nearly as good as when made into a misto. All edible/drinkable, but not quite the breakfast of my dreams.
-veggie sticks (since there are no pics to make it clear, I mean the chip-stick kind I'm obsessed with, not actual veggies)
Monday's are kind of weird for lunch. It's the day my Dad and I may or may not be able to go out for Indian. Lately, we have not been able to, today included. But we never know until riight before. I hate bringing a lunch if it's going to go to waste, so I just brought snacks today and ordered Jimmy John's delivery. From (basically) across the street. Don't judge. You CAN judge my Mom however, who made an appearance at the office today, and tipped the delivery guy $6. For a sandwich (OK and a few other things, but still. A sandwich lunch). That he drove across the street for. I mean, I'm all for good tips. Unless service is horrible I always give 20%. But there comes a point when you're just throwing out money.
-vegetarian sandwich on wheat (light on the cheese, no mayo, extra dijon mustard, add peppers)
-huge dill pickle
-part of a large unsweetened iced tea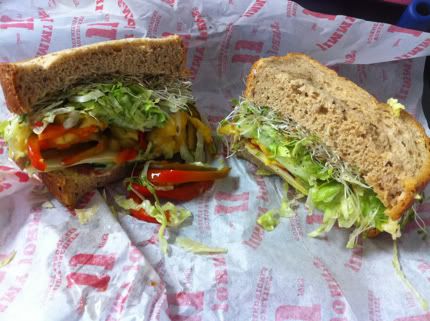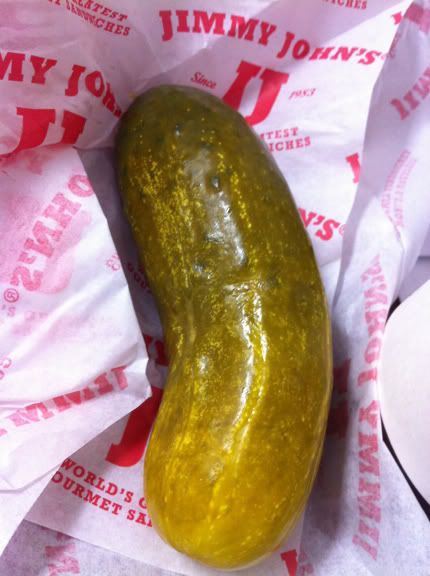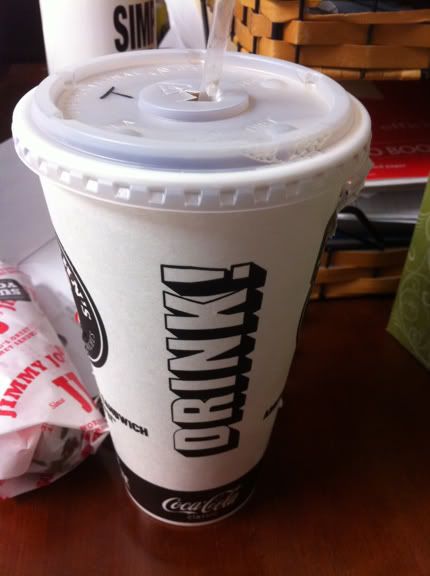 -apple slices
-half of a peanut butter & strawberry Kind bar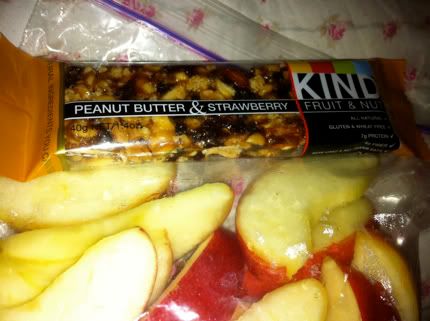 I didn't really get a peanut butter flavor, but it was OK. Not my fave Kind bar, but I liked it enough.
Bella decided she wanted to bust out a Halloween outfit she never got a chance to wear. Doesn't she look amazing?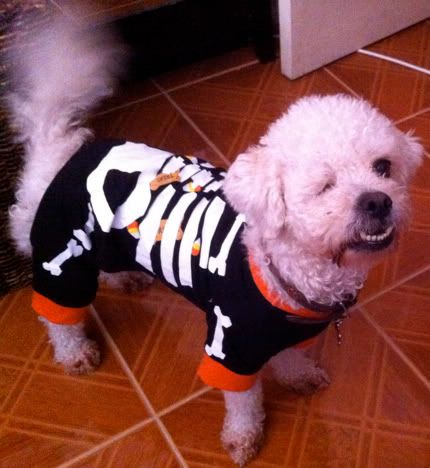 ;)
There was an event I could have attended tonite, but I was just too tired. Instead, I caught up on tv. I don't know what's going on with me barely watching tv lately. SO unlike me :-P.
I guess my random lunch of last week didn't leave a bad impression, as I semi-recreated it for dinner...
-4 boca "chicken" nuggets with ketchup & lemon hummus
-brown rice w/ teriyaki sauce
-2 cut up kiwis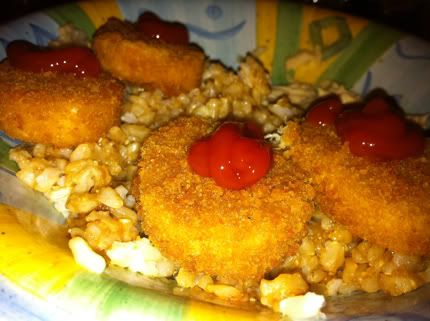 The kiwi's burned my mouth. Maybe I'm allergic. Eh, I'll eat them anyway. Along with bananas & pineapple that sometimes do the same. As long as my throat doesn't close up it's cool.
-4 lil health is wealth pizza munchees
Yeah, I went to Sam's Club yesterday & Whole Foods today and I still just pull random crap out of the freezer. Hey, why not? It has to be eaten too! :-P
xo,
Amanda