January 1
-slice of sourdough bread
Workout:
-5 min treadmill
-entire set of arms & legs
-4 min cross ramp (went to yet another gym branch of ours & this one had a diff kind of machine, so I wanted to test it out. Very nice!)
We didn't even have breakfast 'til after 2 pm. Good thing I had that bread. Probably should have had more food...I was so hungry the entire workout! You don't know how badly I wanted to reach through the gym tvs and eat the food on the commercials lol. Of course they had to show delicious looking salmon & salads! Mcdonalds or something junky I could look away from, but these were Amanda-foods! Such a tease!! Though, the nasty vats of chicken fat and grease they showed on one informercial selling some kind of cooking machine took away the appetite momentarily, lol. Yuck.
On the plus side, for some reason I felt like I got an exceptionally good workout in. After every set my muscles burned (in a good way). Love that. I could tell they were really working. And correctly too. Most of the time when I do weights days the wrong muscles seem to get sore. I don't know why! But today worked out juuust as it should. I do hope I'm not sore all week, lol. But if it means progress and results, I'll take it.
I had originally decided not to go the new year resolution route, but at the gym today a good one came today. This year I resolve to get physically stronger. I want all my hard work at the gym to pay off. I don't want to become muscle woman or anything lol, but I want to be able to increase my lifting power and to be able to see the results. I can do it.
Silly (or nice..) me. I got my dad (err I mean Santa got him) a $25 gift card to Denny's for his stocking. I hate Denny's, but he likes it a lot. He wanted to go today, so I begrudgingly went. Only because last week he said we'd still only be going to Sunday breakfast (*more on that in a second), but I guessed we'd now go Saturdays too. He swore we wouldn't be. Cut to this Saturday, only one week later, where HE'S the one suggesting it lol.
-2 eggs over medium
-2 egg whites
-2 sides of fruit
-1 bite of my dad's gingerbread french toast
-(weak) coffee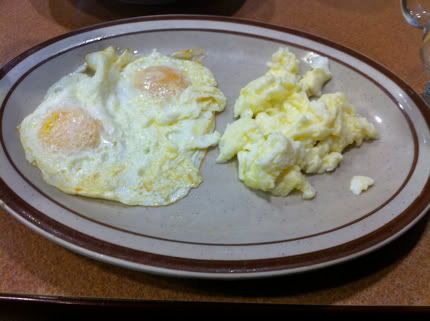 I did leave with a stomachache as usual, but at least I got healthy options in. Filling too, surprisingly.
*See, my Dad used to work Saturdays. Yep, my crazy workaholic dad worked 6 days a week. By choice. Many times in my childhood he'd rearrange his schedule so he could take off Saturdays, but it never worked out. In fact, most times he'd end up working more in total, including Saturdays. So I'm proud of him for FINALLY giving himself that break, even if he does plan to use some of the day to catch up on reports and paperwork. No more patients or groups, which will be good. Now we get to have extra long workout sessions, hopefully another day of breakfast out, & more time for errands. I'm sure some extra fun will work its way in there too :).
-ham
-kale braised in vegetable broth and I added pepper sauce at the end (+ more pepper sauce + green tabasco when I ate it)
-black eyed peas (with pepper & green hot sauce)
-annie's mac n cheese
-mom's cheesy baked zucchini
-organic red wine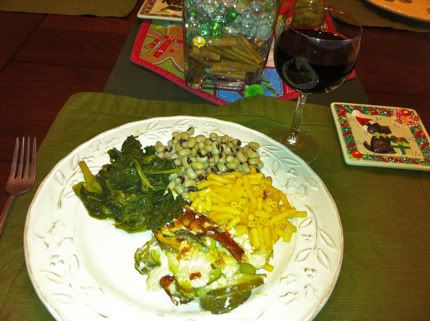 didn't eat all that ham, my eyes were bigger than my stomach!
Nice New Years lucky din-din :). I made it all but the zucch. Quick and tasty.
-slice of (steaming hot) pumpkin pie with a gluten free gingerbread cookie crust
-eggnog with a little rum and topped with cinnamon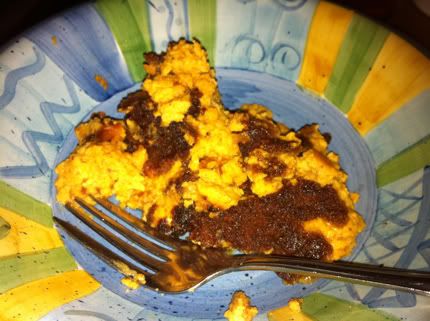 LOL fall apart much? Oops. Too hot to properly slice. Heh.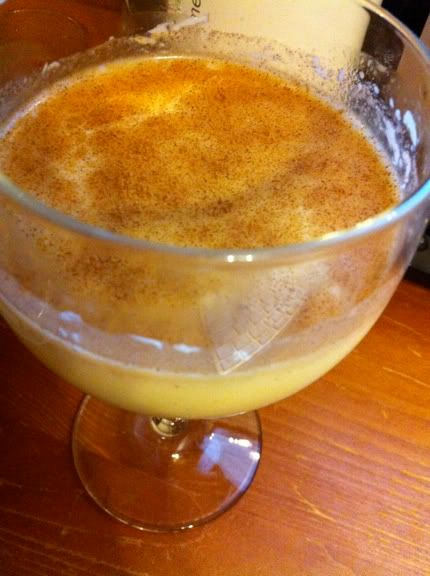 Body Bugg Stats:


Calories Burned:
2,200
Steps Taken:
5,790
======================
January 2
-slice of sourdough
-tiny piece of ham
Workout:
-42 min cross ramp
-stretching
-harvest eggs benedict with hollandaise on the side and I only used a tiny bit (basically poached eggs on top of an eng muffin with cream cheese + green peppers + spinach + prob other veggies I'm forgetting)
-side of fruit
-hazelnut coffee with eggnog (I brought in my own eggnog LOL)
-about 1/3 of a strawberry fields smoothie (strawberry, banana, and apple juice)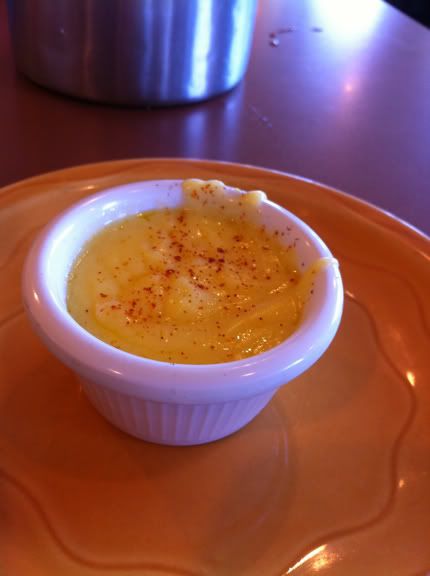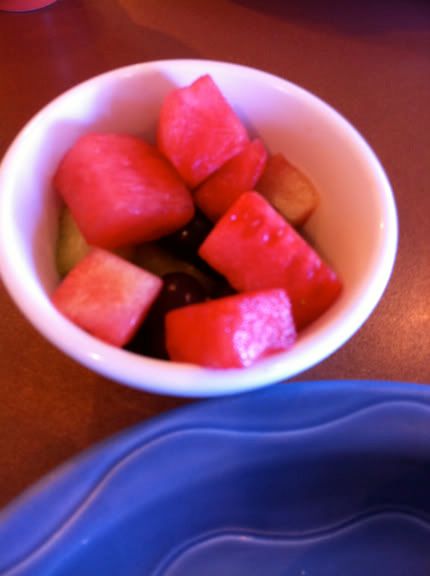 The cooks accidentally added the hollandaise on the dish. The manager (I presume?) came out and asked me if that was OK so they wouldn't have to remake it. I was very nice about it, but I tried to politely tell him that I really wanted it on the side. He asked if they could doctor it (i.e. scrape some off). Seems kind of weird they were so adamant about salvaging it instead of just fixing the mistake (to get it out quicker maybe), but I said that was fine. It came out exactly as I ordered it. They said they only had to replace the english muffin, where all of the sauce accumulated. Sweet. I guess it pays to be polite. It was so so good too. Yum.
Ran errands at the mall foreverrrr. Got thirsty. Finished up the smoothie (mostly..) when I got back in the car a couple hours later.
Ran more errands and was starving, so in the car I busted into a bag of apple slices I bought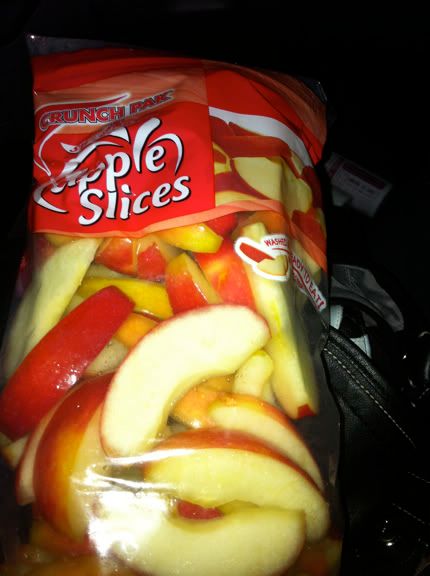 Had my Dad pick up dinner from a place called Zoe's Kitchen while I was in Borders. They were out of the grilled chicken breasts, so we kinda made do...
-grilled chicken kabobs
-mayo free potato salad
-greek salad
-a tiny bit of pita + hummus
Yum.
Shortly after....
-small slice of pumpkin pie
Last nite I was impatient and served it basically right out of the oven. Dumb, I know. It was good, but didn't taste like pumpkin pie since it didn't have time to get all..idk, pumpkin pie like? LOL. It was more like hot, sweetened, steaming pumpkin with a cookie crust. But tonite it was awwwwwesome.
Body Bugg Stats:


Calories Burned:
2,641
Steps Taken:
15,190
I am sooo tired.
xo,
Amanda