Dec 12
I'm a little slow and must have accidentally deleted my post for today, so thanks to pics....
Workout:
-33ish min elliptical
-stretching
-half of a HUGE egg white omelet with cheddar, spinach, & mushrooms
-small side of fruit
-coffee with peppermint stevia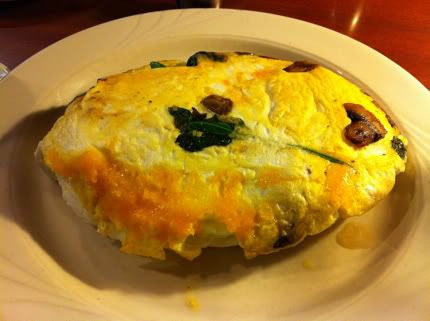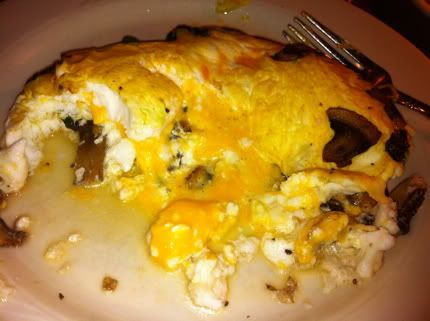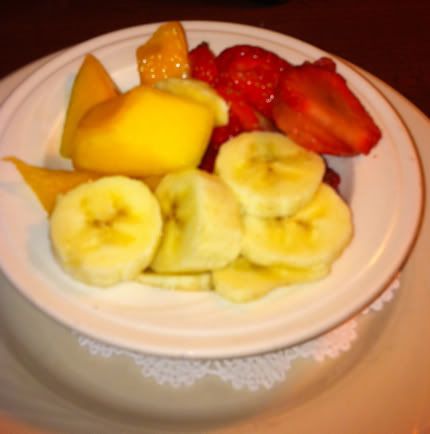 Went to Original Pancake House, but since I don't like regular (i.e. bready, floury, non-proteiny!) pancakes I subbed for fruit. Yum. I know, weird not to eat pancakes at a pancake house, but no one said you had to. :-P.
I think the omelet looked so ginormous because it was pumped full of air. It was pretty gross. It was almost foamy inside. Um. Ew. & I'm not sure why the top was tinged yellow if it was only made with the whites? The only saving grace was the ooey gooey cheddar. Usually I request no cheese (or feta/goat) in omelets, but I had a weird craving for the cheddar. Instinct, I guess! Needless to say I won't be ordering an omelet there next time.Usually I get swedish pancakes. Much more bueno. Or maybe I'll try oats. Or crepes if I'm feeling desserty? But anyway....
-champagne split
My Mom & I went to see Black Swan. I was sooo pumped for it, but err. Pretty psychotic and disturbing. Great acting, but I thought the storyline could have been less chaotic? Well, I know it needed to be chaotic, but it needed something. More beefed up somehow? More background? IDK. It was alright.
Went out for seafood after...
-skinny girl pomegranate mojito
-salmon salad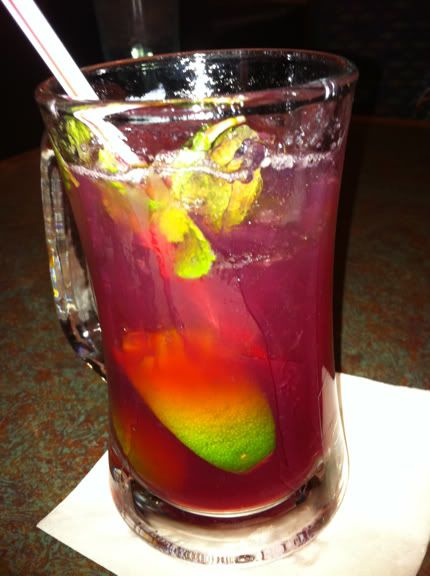 I need to resign to the fact that I USED to love mojitos and now I don't. I keep trying, but they're always way too sweet. Even though the only sweetener in this was the juice. *shrug*
The salad, on the other hand? Gloriiiiious. Must keep that in my memory bank for next time. The place I went, Half Shells, has a set menu, but also a daily specials menu that changes, well, duh, daily. The specials menu usually has maybe 5 or 6 extra options and they are all usually phenom. None of them sounded that amazing to me though (shocker!) and I could. not. decide. from the menu. But I'm GLAD salmon salad was what came out of my mouth when it came time to order because it was super good. And huuuge.
-hot choccie (almond milk, cocoa powder, stevia, 3 or 4 ghiradelli bittersweet chocolate chips topped with ricemellow cream)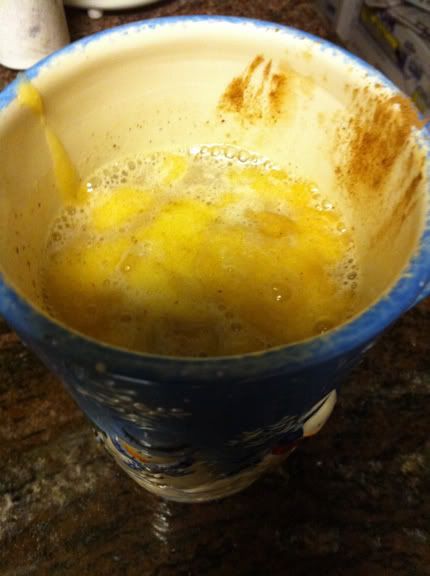 Made my bro & I hot chocs to sip on during the Dexter finale. This is the first year I watched Dexter and dammit, it went by too fast! I don't want to wait (approx) another year for the next season, ughhh!!! So. Good. Although the finale was kind of a let down. I want to know what's happening next, dammit! Cliffhangers suck, sure, but we have NOTHING to go on. C'mon...
-the rest of the omelet
Yeah, I was a bit of a mcfeaster I guess!
Body Bugg Stats:


Calories Burned:
2,267
Steps Taken:
6,056
======================
Dec 13


Workout:
-5 min treadmill
-chest & back
-4 min treadmill
- the last 1.5 leftover protein pancakes
-fried egg
-small salad (organic mixed greens, matchstick carrots, garlic gold nuggets, garlic expressions vinaigrette)
-mushroom ravioli with pomodoro sauce
-most of a bowl of combination soup (matzoh ball/chicken noodle/kreplach)
Went shopping after work for a dress for our office Christmas party. I bought 2. I think I'm taking one back. And am still on the search for another. The other one I bought is great, but I'm not sure it's "the one." We'll see, maybe. It's tough finding clothes that fit just right!
I also made an appt to have my makeup done at Sephora before the party. It's not a fancy affair or anything, I just felt like it :). I think I'm gonna ask for a navy smoky eye + fake lashes for fun. Maybe a nude lip? Or light pink? Maybe kinda shimmery all together? We'll see. Makeup's the best.
-blue corn chips & salsa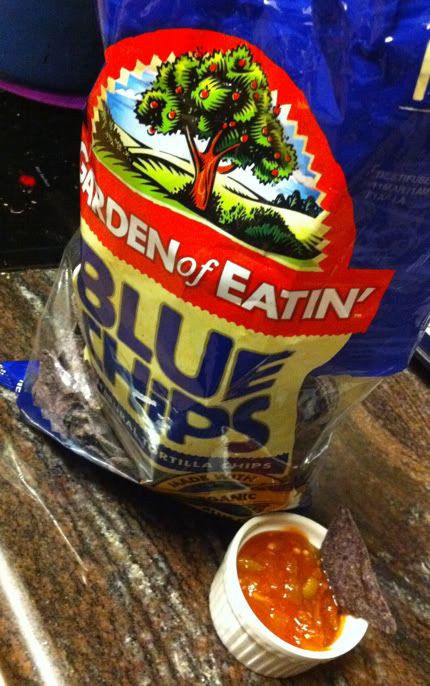 -homemade split pea soup with matchstick carrots, 2 diff kinds of hot sauce, sheep milk parmesan cheese, & black pepper
-half of a sugar free whole wheat bun with light vegan butter
-bite of the vosges'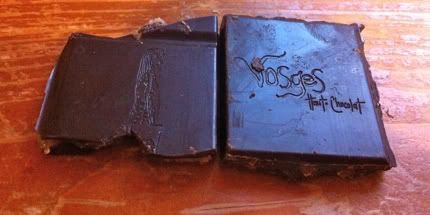 -1 small gluten free brownie "cupcake"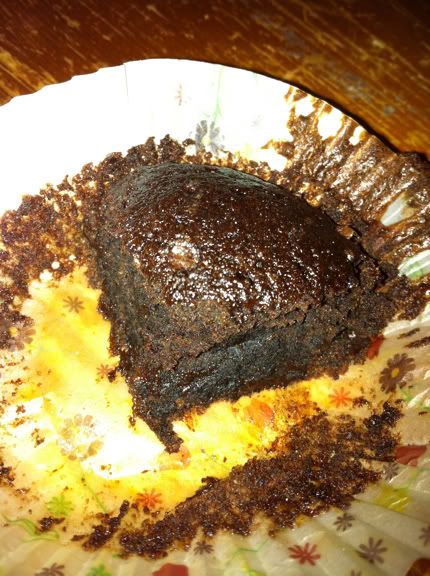 Body Bugg Stats:
Calories Burned:
2,460
Steps Taken:
11,393
xo,
Amanda