December 20
Still didn't feel amazing, but much better. Silly alchyhol.
-starbucks ham, egg, & cheese sandwich
-tall soy gingerbread misto
My Dad was ready for our usual Monday Indian buffet feast, but I had only eaten my breakfast 2 or so hours prior, so we tried something a little different (that I saved for a little later)
-jimmy johns turkey sandwich with avocado & mustard instead of mayo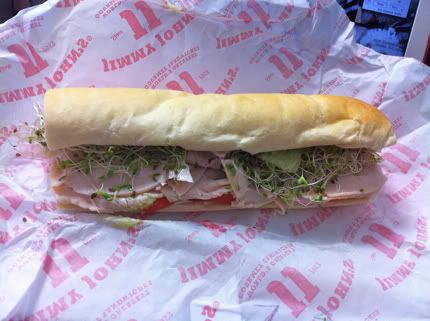 It was OK. But they had already made the whole thing before I could even say wheat outloud. They are FAST, man!
I would have preferred the Indian, but couldashouldawoulda.
-small coke
See? I normally hate soda, but once I have one I start to crave them. BAH!
My Mom was showing off her new, fave shirt (during our second grocery trip of the day). She's so pretty.
Don't mind the chemical shit in the cart, it's for my brother.
-sourdough bread
-a little goat brie
Mmmm.
-small portion of chicken & dumplings with lots of black pepper & a little hot sauce
-a few sips of recharge (and kept it down today, woohoo)
Not as good or as plentiful as my mom's, but it was OK.
While making dinner, I also made a cake for my coworker and her boyfriend (he LOVES my cakes for some reason even though I think they're mediocre lol, but still love to hear that!! I made chocolate cake with cherry filling & chocolate cream cheese frosting). My Mom also broke a dish while I was barefoot in the kitchen. Then my Dad came home and broke TWO bottles of beer. Then, when I was nestled up in my room my brother broke a bowl. What's up with that?!
Took a body bugg break, but I missed it. I kept looking down at the watch to see my steps and was disappointed to find it wasn't there. It may have its annoying moments & I still don't understand why it has to be on my left arm & can't be alternated, but alas...it seems it's more annoying to NOT wear it than to wear it. Noted.
Two of the dogs also got groomed today. Here's Genie back from the groomers!! (still need to get a shot of Buster)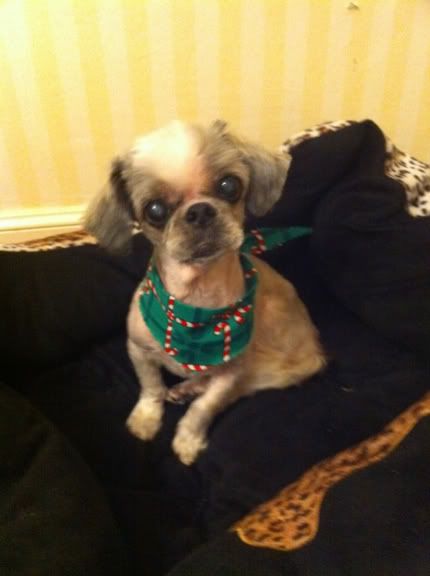 *hearts*
But I have to admit, our dogs are clothes horses. Pretttty weird to see them naked, LOL.
===================
December 21


Workout:
-36 min cross ramp
-stretching
-egg white puff on 1 slice of sourdough lightly toasted & cut in half with half a kraft single, a tiny dab of vegenaise, a lot of grey poupon
-christmas blend coffee mixed with a little frothed/foamed unsweetened vanilla almond milk
-half of a jimmy john's turkey & roast beef on whole wheat with lettuce, tomato, & dijon mustard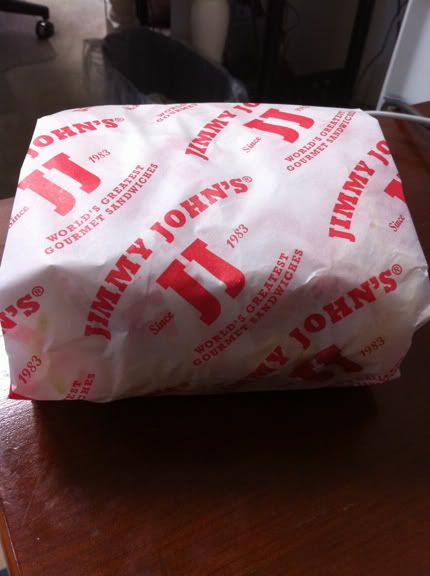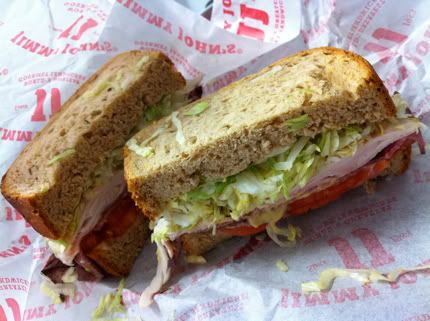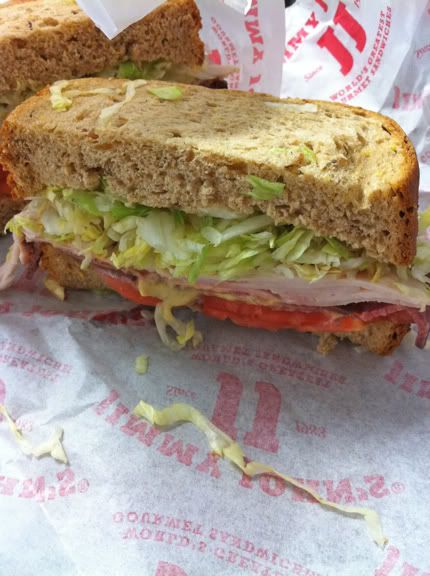 Super yummy, but hurt my tongue and stomach :(. The wheat bread>>>>white sub roll
-candy cane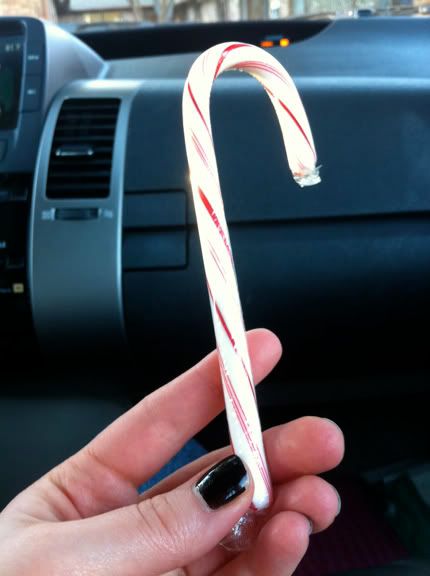 -2 spring rolls (bland, not good)
-a handful of these healthy-ish chips that taste just like doritoes
-way too much whole foods hot bar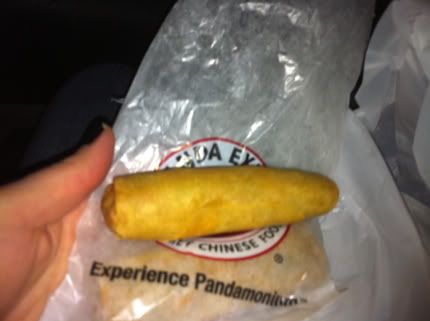 carby & fatty madness
UGH I feel sick. Why did I eat so fast? I knew I shouldn't have been able to eat that much. I've just felt crappy all day! Stupid food.
I know walking helps aid digestion, particularly after a (stupidly) large meal, so...
Workout 2:
-20 min walk on treadmill
I also took a probiotic. Helped, but still feel uncomfy.
Body Bugg Stats:


Calories Burned:
2,800 (!)
Steps Taken:
14,523
xo,
Amanda