November 7
-pumpkin pie poptart
-mystic mango kombucha
I needed a snack pre-gym-age. I started with a tiny bowl of total cereal with almond milk. Whiiich...promptly went down the disposal. I don't know if it was the cereal or the milk or just the combo, but...SICK. Sugary chemicals it is! At least that's the last poptart. And it was good.
Workout:
-25 minutes elliptical
-chest & back weights
-stretching
Man I am WEAK. Must be the combo of being sick & not having worked out in awhile (minus once on the treadmill + a 2.5 mile hike in Atlanta), but I could NOT lift hardly any weight. It was pretty pathetic. The cardio made me feel crappier, but by the time we finished the entire workout I was glad I went. Feels good to be back, weak and pathetic or not.
Good thing I ate that poptart, because I didn't get my real "breakfast" until 4 pm. Yikes!! Gaining an hour of sleep somehow didn't matter. Where did time fly today?!
-good grains bagel with a small amount of cream cheese, sliced tomato, capers, & lox
-coffee with english toffee stevia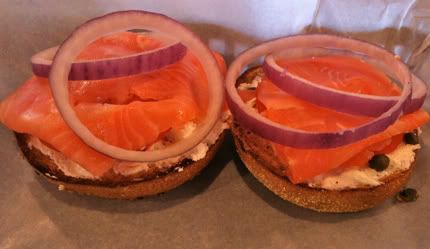 gave my Dad the onions
Yummy. I need to go to Einstein's more. Way more.
I felt kind of rude, though. They close at 4 pm. We got there about 15 'til. By the time we ordered maybe 10 'til? Well, we ordered coffee. I specifically ordered it for the hazelnut flavor (well, vanilla hazelnut today...). That was the only one that was out. My Dad reluctantly asked if there was anyway they could make more, or if that was too much trouble since they were about to close. The nice lady agreed to brew us half a pot. So worth it! We had about half a cup of the Autumn Blend while the hazelnut brewed. It was OK, but the hazelnut was...well. hazelnut. Which means the best. Duh. Thanks, lady! We felt bad they didn't seem to have a tip jar, because they deserved one. They also told us we could stay and finish our food 'til about 4:15. I think we left more like 4:05 maybe 4:10, but still. Very nice. Although I'm sure we seemed annoying anyway lol. Oops.
Didn't have dinner 'til 9:30 pm. My schedule is WACK.
-2 slices of brown rice toast with tomato sauce, daiya cheese, oregano, and basil
-leftover linguine puttenesca
-immune tea
-the rest of the mango kombucha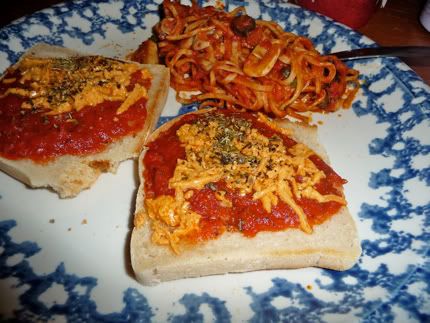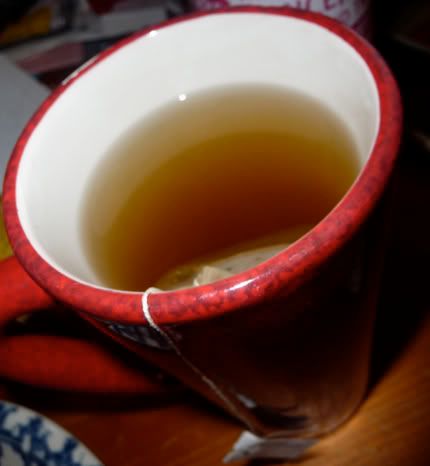 Body Bugg Stats:


Calories Burned:
2,271
Steps Taken:
9,437
Well. I haven't changed the time on my body bugg watch yet, but I'm sure it'd be approx. the same either way. At least I'm
almost
at my target goals again. Or maybe even am if the watch was on the right time. After all, it's not even REALLY midnite yet, so those steps/cals should count. Since the hour that counted instead was just me sleeping. Yep. That's my story.
Now if only I could stop coughing and sneezing and blowing my nose. Bahh...
xo,
Amanda