November 25
-slice of leftover pizza
-2/3 of a pom energy bar (yuck!! stick to juice, guys)
Workout:
-25 min cross ramp
-25ish min arms & legs
-3 min treadmill
I can't believe the gym was open. My Dad suggested we try to go & see and I said I bet there was like an 87.9% (lol) chance it was closed. Wrong! =-o.
Last nite my Dad decorated a little...
(ok, well I added a few of those touches)
& I set the table & did a little more decorating of my own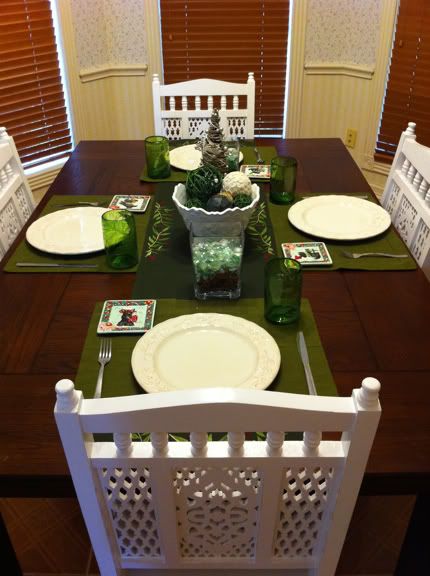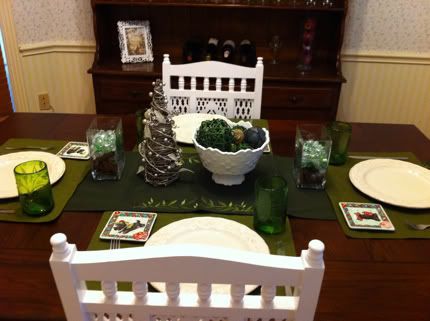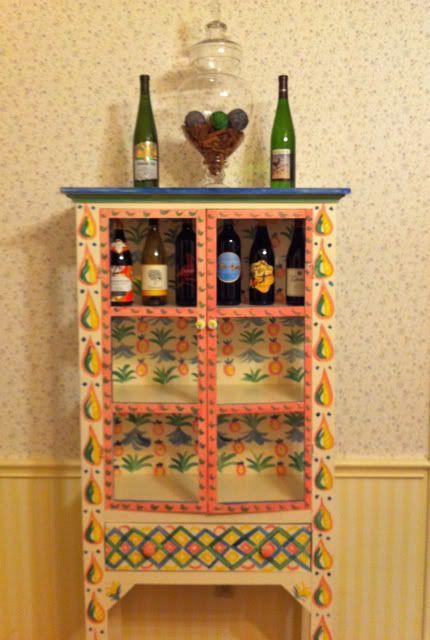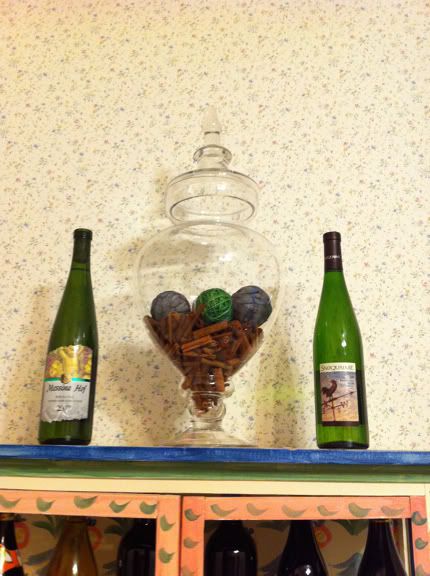 & my Mom added the final touch...
Team work!
*pride* I thought it looked sooooooo good.
Then it was cookin' time! But first...
-coffee with a little lowfat organic egg nog (gooood!)
-deviled eggs
-a few bites of spinach artichoke dip
-a bite or two of queso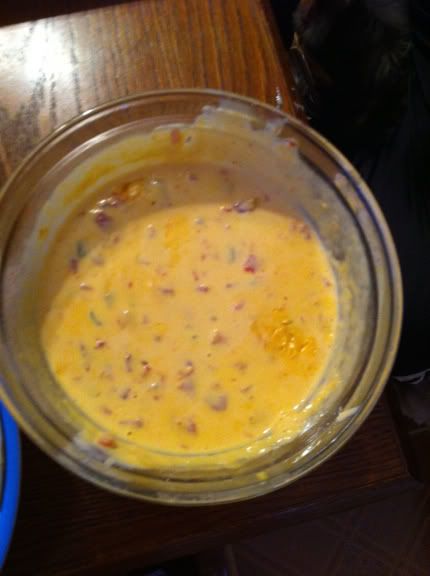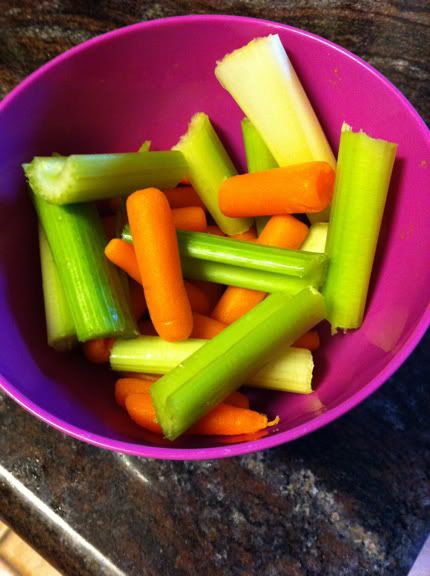 A few bites of each of the following:
-turkey & homemade gravy
-cranberry-mandarin orange sauce
-green bean casserole with caramelized onions
-sour cream & cream cheese mashed potatoes
-mashed sweet potatoes topped with caramelized bananas
-gluten free triple cheese mac & cheese
-cornbread stuffing with celery & chopped apple
-a hawaiian sweet roll
-pinot noir
-one bite of homemade pumpkin pie with a gingerbread pumpkin spice crust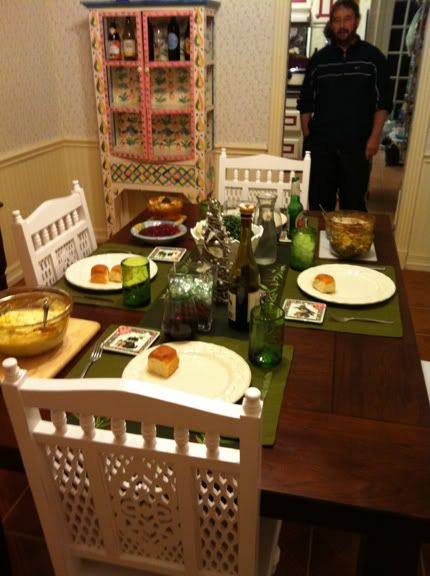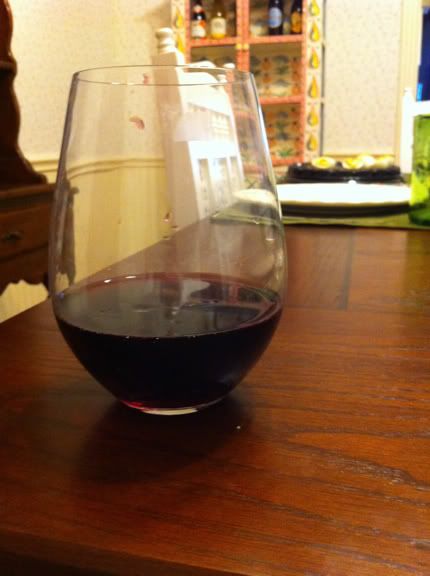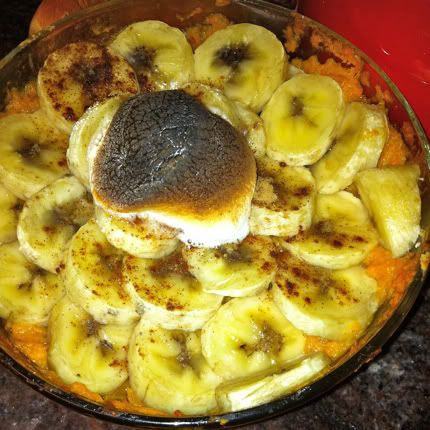 I made everything except the turkey (thanks, Dad!) and the rolls.
I know, looks like an INSANE amount, but it all fit on one plate & I wasn't overly stuffed. Shocker!
I wasn't even going to make stuffing since my brother & I don't really like it, but after multiple requests from my parents I caved. I know, I'm so nice. Surprisingly, it was one of my fave parts. And the turkey was crazy moist. His best yet. All in all a super successful meal! My aunt ended up coming over too as a last minute surprise.
Somebody did try to join the dinner table uninvited.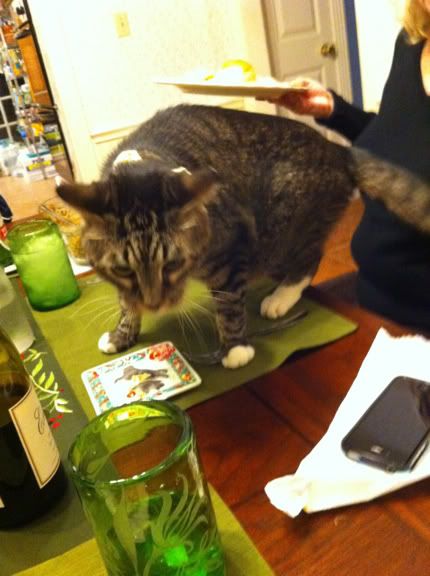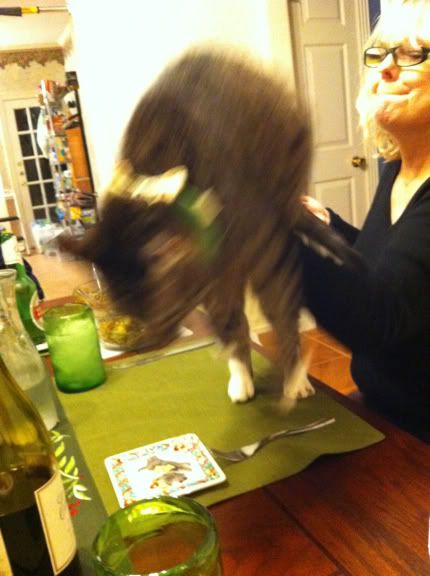 Went with my mom & aunt to see
Love and Other Drugs
. I liked it a lot, but expected more. Oh well, still worth seeing. Anne Hathaway is impossibly pretty.
-champagne (one of those mini bottles a la Korbel)
Hey, I couldn't go to the movie grill & not have at least
something
! But no way was I ordering food lol. I wonder how many people actually ate there that day. Hmmm.
Came home & my Mom accidentally SHATTERED my brand new iphone. OMG. (She was cleaning up the counter while I made her a plate of leftovers like she requested, and it slid out of the case & came crashing down on the tile). I was pretty much devastated the rest of the evening. :(
-slice of the pumpkin pie
Not my best (imo), but it's still pumpkin, so who can hate it? At least everyone else really liked it.
Body Bugg Stats:


Calories Burned
: 2,725
Steps Taken:
11,693
That's what I'm talking about. Yeaaah working out.
Happy belated Thanksgiving!
xo,
Amanda