Sorry guys, I'm a bad food blogger. I'm still too embarrassed in most places to bust my camera out in restaurants (except for when I'm on vacation, celebrating something, or if we're taking pics of people too). Usually the iPhone ones turn out well enough in good lighting, but dark restaurants are too tough to properly maneuver. Maybe one day I won't care...especially since I'm asking for a DSLR for Christmas. But, alas the cellies will probably prevail...
November 6
-leftover Seasons 52 (2 artichoke stuffed shrimp, veg, my mom's potatoes)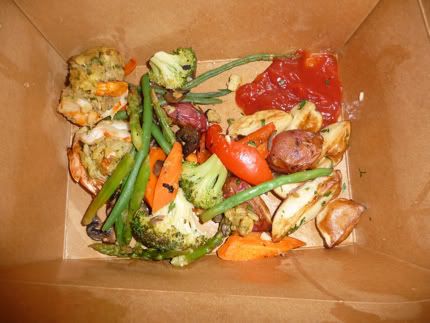 Look who I found taking mid-afternoon naps: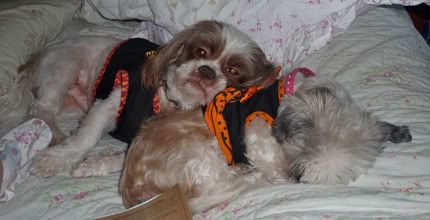 LOVE when pets snuggle up together! So cute.
-slice of toasted brown rice bread with tomato sauce, oregano, basil, & daiya cheddar "cheese" (mmmmmm, love...tho the daiya doesn't melt quite as nicely as it claims)
-part of an orange zevia (from a variety 6 pack I won in a giveaway!!)
-about half a mug of organic green tea with one squeeze of local honey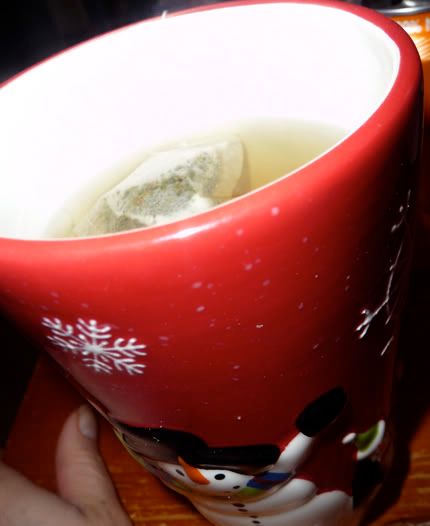 I forgot how much I missed this bread! So dense and chewy and NOM. Doesn't hurt that it's gluten AND yeast free. Perfection. Wish the calories were slightly less (100/slice, but the slices are fairly small), but it's still worth it.
Tried to go to Seasons 52 again, but couldn't get a reservation online & upon having my Dad call to bug them, they said they were basically booked solid. They did mention that we could chance just showing up, but would prob have to wait 1-2 hours with no guarantees. Bah Humbug!
Instead...
-piece of melon with proscuitto (amaaaaaaaaaaaaazing)
-1/3 of a caesar side salad (pretty fab)
-linguine puttenesca (eh, texture was kinda too...doughy? sauce just so-so)
-a few bites of my dad's lasagna, a bite of my mom's artichoke chicken
-"pink bread" (toasted bread with a little sun-dried tomato sauce and mozzarella, but the toppings weren't nearly as plentiful as I anticipated)
-pita-like bread with herbed olive oil
-glass of chianti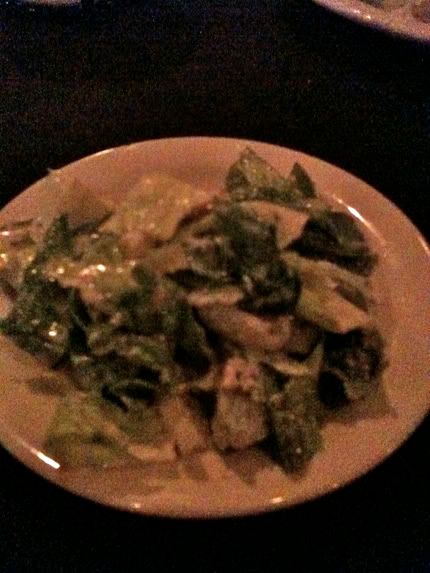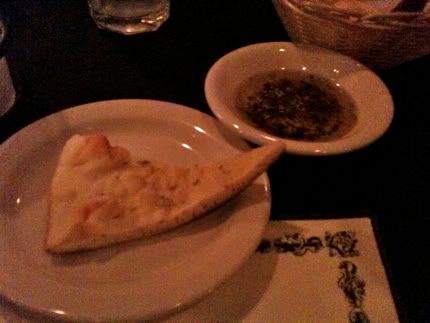 I know, I know. It's almost not worth the bother of posting pics THIS terrible. But alas...
What's with me eating light during the day and eating hugeass dinners? Not gonna fly for long.
When Seasons 52 didn't pan out, I was just going to have pho to-go and have a sick nite in, but my parents still wanted to go out to eat, so I tagged along. We decided to try Momo's again, a (semi) local italian place. We had a coupon from our Entertainment book for $10 off any bill of $50+. Not great, but still something. We'd tried it once before a few years ago and none of us remember liking it very much, but decided to give it another chance. None of us loved our entrees, but the melon appetizer was phenom. I'll have to recreate that at home soon for sure. Oddly, my Dad was the one who wanted a salad. Usually my Mom & I are the salad orderers (though my Mom takes like 2 bites and is always done), so he figured he could mooch off ours. Instead we all shared his. Take that :-P. Of course, he did order the most fattening salad. Typical. The only reason I ordered the "pink bread," was because I read a review that they're known for it. Meh. It was OK. Good enough to eat, but no better than most restaurants free bread, and this was $4.50. Lame. It would be an OK price if they put wayyyy more sauce (and maybe doubled the amount they gave us or at least made the pieces bigger....), but otherwise it wasn't impressive. *shrug*
-2 mini twix bars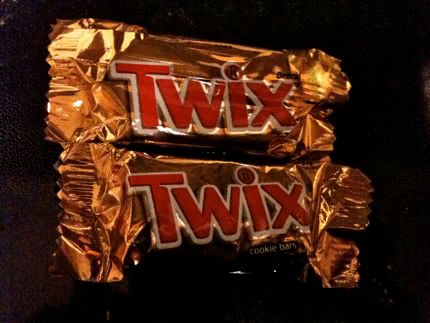 Body Bugg Stats:
Calories Burned:
1,896
Steps Taken:
3,780
SUCK.
xo,
Amanda