October 8
-3 pumpkin protein pancakes with a cheesecake sauce (whipped cream cheese mixed with maple pumpkin butter)
-water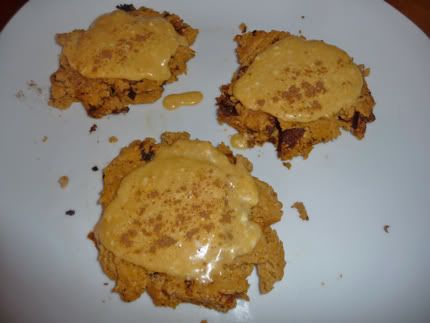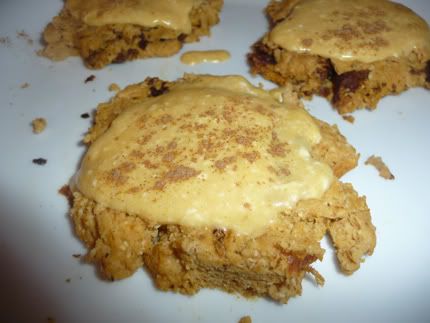 The pancakes were NOT easy to cook. I couldn't really get them to flip, so they made a huge mess, but I managed to squish them together into cakes in the end and they were pretty darn tasty. Though next time I'd use a different flour (I used coconut, which was good, but too coconuty, I was going for pure pumpkin. Silly me). The topping was AMAZING. Just like cheesecake. And took no time at all to whip up. I'll tweak the pancake recipe a bit, but the topping? Not a chance. It's perfection.
-LOTS of different bites at the fair (3 bites of the fried beer, 1 lemonade, 1 miller lite, a few bites of a turkey leg with bbq sauce, most of a fried frito pie, shared a root beer with my dad that was half cane sugar-made and half sugar free, and a pineapple dole whip)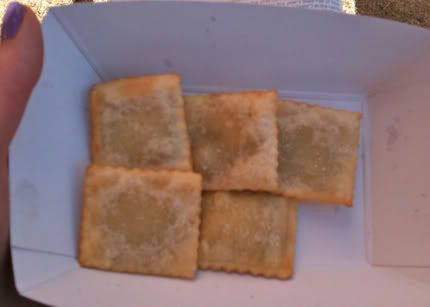 fried beer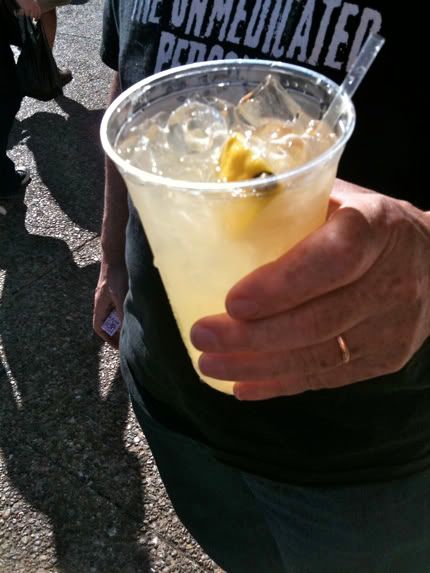 lemonade
turkey leg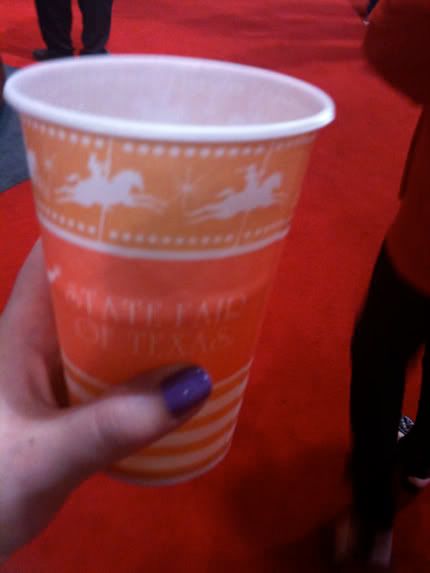 beeeeer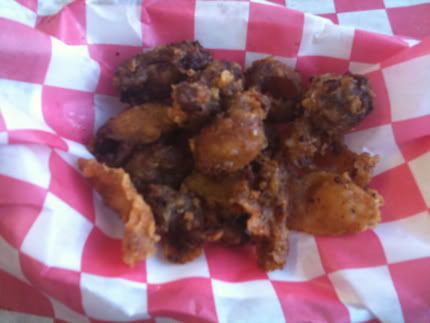 fried frito pie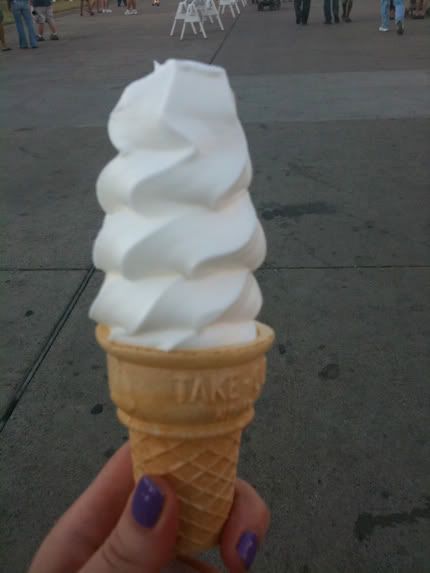 pineapple dole whip
Oh wait, just me. :-P. I just hate that my forehead looks so giant here. I feel like a conehead. Creeptastic.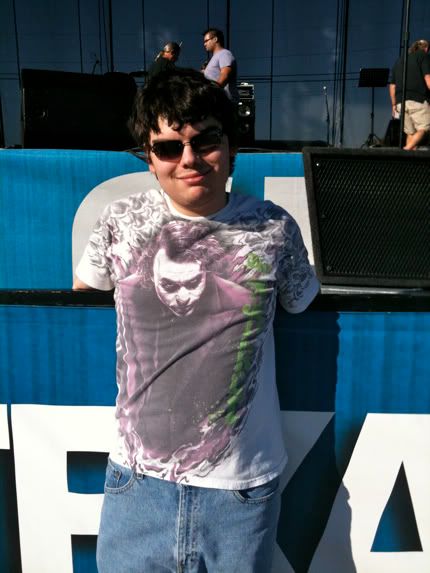 My brother. Excuse the porn-stache.
Besides the beverages (which were awesome,
mmm homemade lemonade
), none of it was very good. Well, the turkey leg tasted pretty good, but was so hard to eat (especially since I don't eat the skin at all) that I gave up and just let my Dad have at it. I really don't understand how the fried frito pie won best tasting?? The meat & cheese bites were
ok-ish
, but the fried chips were disgusting. Um, aren't fritos fried already?? Come on. And the photos showed that they came with sour cream and salsa, which would have made them better. Guess what? They came plain. LAME. The fried beer came in salted soft pretzel pockets. The pretzel part was pretty good, but the salt and beer was a weird combo. IDK. Just not too impressed. At the last second as we were walking out I noticed the pineapple dole whip. Stupid me. Tasted like crap. But it was $3, so I still ate it. Normally I wouldn't care and throw it away anyway, but I didn't. My bad. I guess because I was STILL hungry (WHAT? It's crazy how fresh, clean, whole foods can fill you up for next to no cals, but you can eat literally thousands of chemical-based calories and still be a bottomless pit. so. gross).
The only thing I didn't get to try that I was curious about was the fried smores poptart (and the fried snickers I ALWAYS get and possibly the fried cookie dough that was pretty good last year), but I'm not too torn up about it. It probably would have been better than any of the savory stuff tho. I'm just not a fried food girl, never have been. But even my Dad, who would literally eat out of the garbage and be happy, said it all sucked. So maybe it's not just moi. I heard the fried margarita sucked too, but never saw that either. What don't they fry these days? Kinda curious about the fried latte too, but again, I doubt I missed any real treats...
Did any of you locals (or hey, even out-of-towners) make it to the State Fair of Texas? Try anything good? Bad? Lemme know.
But the main reason for the State Fair outing? RYLI!
Yep, our receptionist/good friend who I go see perform occasionally was asked to sing on the Main Stage with her new band!! Awesome! She had about 50 minutes and her and her band did GREAT! Go Ryli! She gets better every time. And I know her drummer Daniel (and his wife-if you're reading this, hi Pearl!) and he's great too. They all were.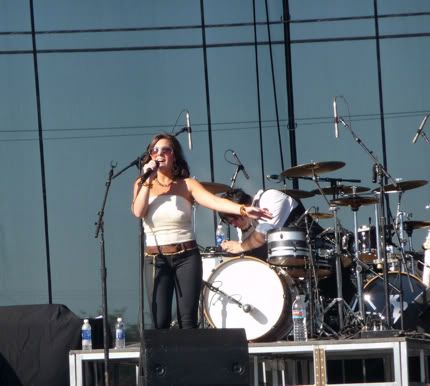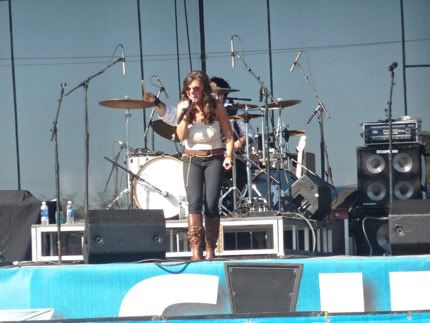 It was one of those mornings where you just want to stay home in your jammies (I kind of hate that word...) and relax all day, but you
have
to be somewhere. OK, we didn't HAVE to go, but we promised Ryli, plus we
really
wanted to go support her. And we were all so glad we did.
-some of my brother's cotton candy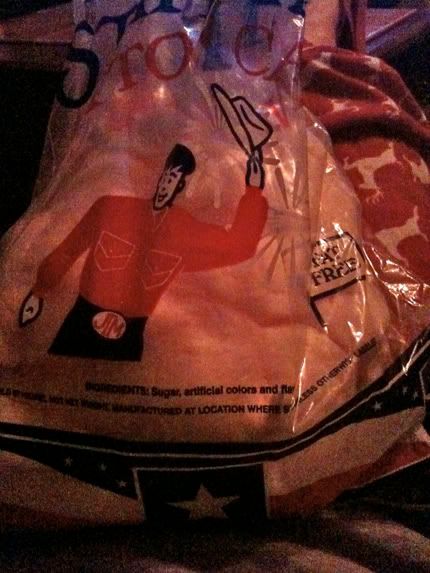 That was good too. But how can you mess up sugary cotton goodness? C'mon now.
Body Bugg Stats:


Calories Burned:
2,278
Steps Taken:
10,114
Kinda surprised it wasn't more steps, but at least I met the 10,000 goal. And we didn't stay at the fair too long, so I guess it makes sense. *sigh*
My feet really hurt, but I still wanted to stay longer. My family is lame. Not really, but they ALL just wanted to go home. My Dad was nice enough to walk around with me a little longer, while the other lame-o's literally sat on a bench and texted. But I didn't want to drag him around too long since he wasn't that into it (he said he could go either way), so we didn't do that much. Besides spend more money on more crappy food lol. But I guess that's kinda what you do at the fair, huh?
Sup, Big Tex?
But Ryli and band were the highlight and Ryli and band were the real reason we went, so it worked out :).
The other band of the nite?
LOL. We only stayed for 1.5 songs. But my Dad (who saw the real Elvis perform way back in the day ;)), said that vocally this guy sounded the closest to Elvis that he's ever heard. So that's pretty cool. But I still prefer Ryli myself :).
xo,
Amanda