October 23
Didn't eat til 2:30 pm, oops. Partially because I kept getting distracted, partially because I was a little scared my stomach would get messed up again. But it felt OK, so I just went for it.
-1 small sweet potato waffle topped with soy-free vegan butter & strawberry rhubarb jam
-1 small sweet potato waffle topped with whipped cream cheese & pumpkin butter
-bowl of cereal with almond milk (mixed 3 diff cereals)
-organic green tea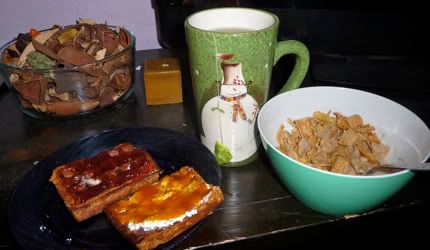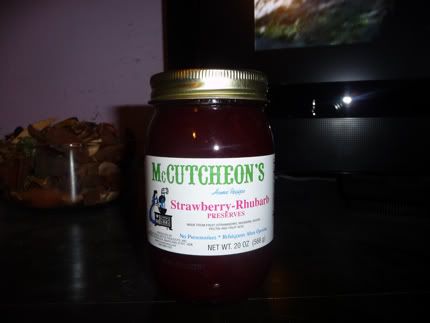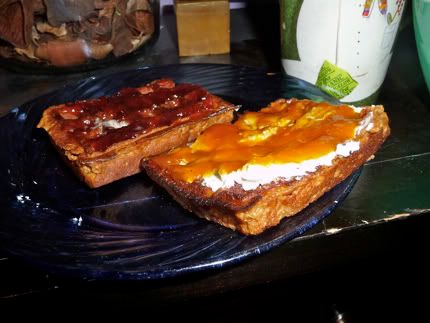 The waffles were soooo good. I LOVE LOVED the pumpkin one, tasted just like pumpkin cheesecake. Me and my pumpkin, right? With that said, I think I liked the strawberry rhubarb one even more! Gasp.
-junior kettle corn
-vitamin water zero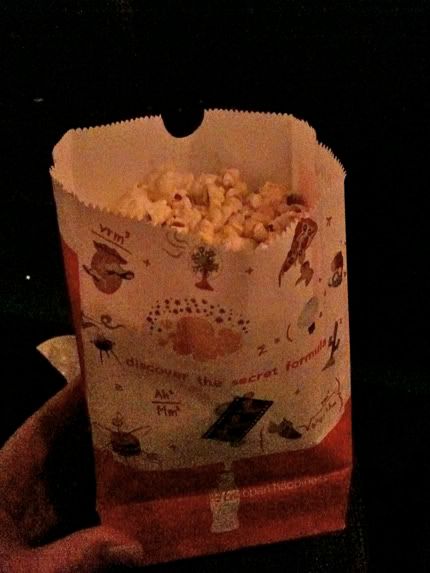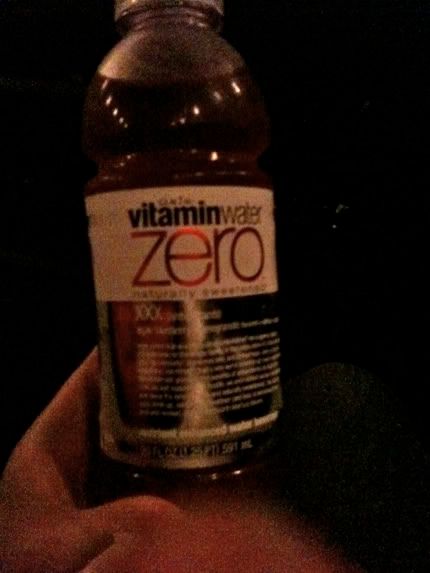 My Mom & I set off to go to the movie grill, but we got there a little late, so we turned around & went to a Cinemark theatre instead. Ugh, I HATE Cinemark. And their food choices. BUT. Along with regualr popcorn (not my thing), they had kettle corn. KETTLE CORN! Hell to the yeah.
I ate the whole thing before the movie even started.
BTW, we saw Life As We Know It. Too cute!
I was feelin' some soup post-movie, but we couldn't really think of any place that would have any at that hour & I try not to do the canned stuff. Just not very tasty. I then decided my mom's famous chicken & d's sounded equally delightful and asked her if she'd mind making them. Kinda "joking" (ok maybe not joking, but just half-heartedly throwing it out there, but not really meaning for her to agree to it). To my surprise and glee she agreed! Love.
-about
2
servings of my mom's amazing chicken & dumplings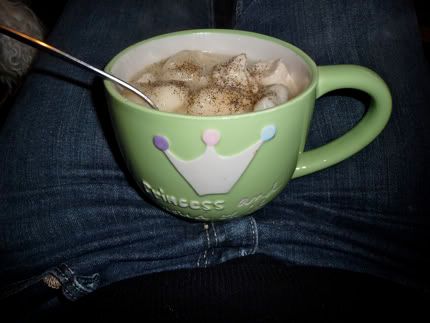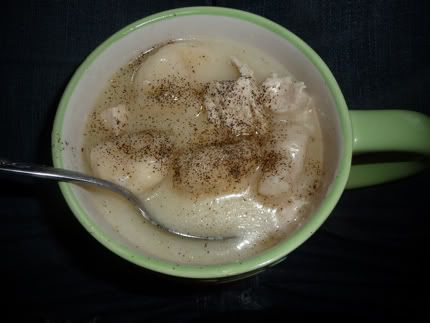 The black pepper was my addition, my Mom wouldn't touch the stuff.
Soooo good. My stomach hurt slightly after, but not reallly. And that could have been due to the fact that I ate an overflowing bowl, lol.
P.S. why do I always eat during Dexter? I should know better by now. While watching & eating, I imagined half of this bowl filled with drops of blood LOL ughhhh. Gross.
Body Bugg Stats:
Calories Burned:
1,877
Steps Taken:
3,661
Not good. Not good at all. Laaaaazy Saturday. I did have a headache most of the day :(. Starting from when I woke up. So I did take an unexpected nap in there. It happens.
============================
October 24
-eggs santa fe with egg whites only and no jalapeno sausage (egg whites with cheddar sprinkled on top and then topped with avocado with sides of salsa, sour cream, & tortillas, but I only took 1 bite of 1 tortilla)
-a small portion of breakfast potatoes con ketchup
-1/4 of a bagel con cream cheese
-coffee with chocolate stevia
-water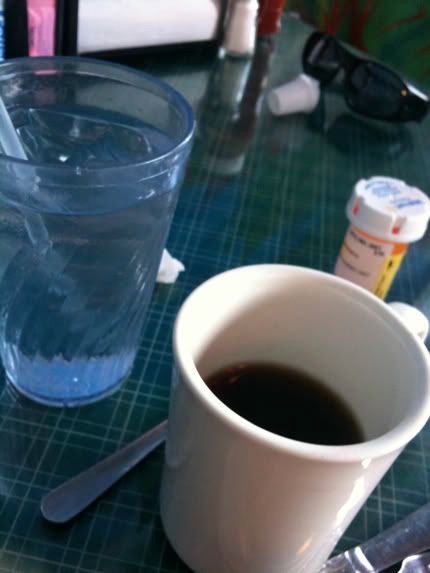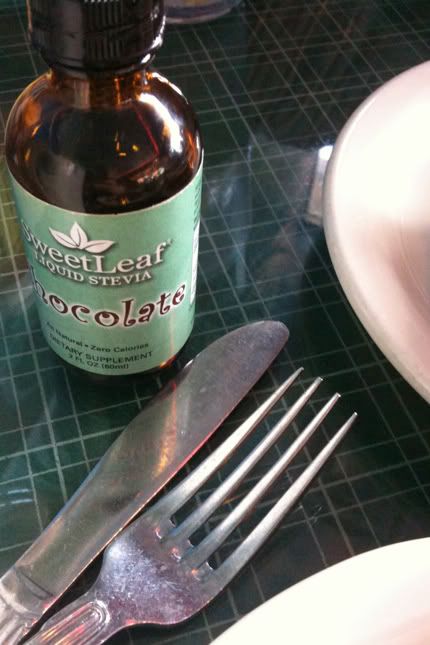 Cue aching belly :(. Make it stttttoooop. Pretty sure the bagel was the stomachache culprit in this case (gluten? yeast?), but I'm sure the eggs and coffee weren't helpful either. Bah.
I felt a lil dehydrate-y, so I had a serving of grape recharge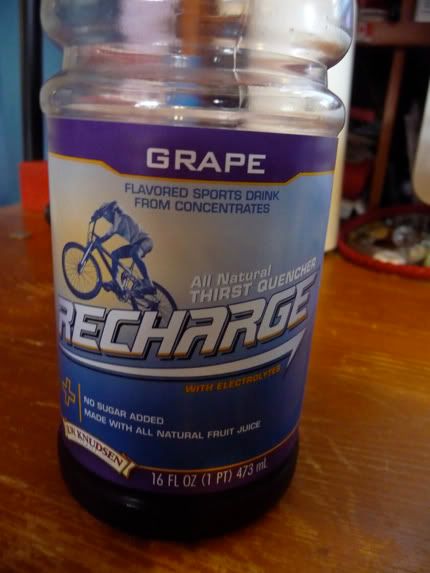 -house salad (greens, tomato, TOO much ranch, with 2 parmesan crackers)
-fruit cup
-water
-a few of my mom's fries dipped in ranch + a few of my mom's nachos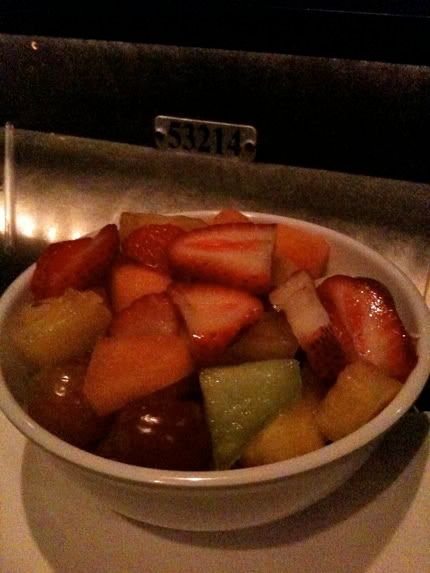 I hate when places give you ridiculous amounts of salad dressing. I usually refrain and this time I did on the salad, but I kept dipping everything else in it too. Ahhhhh.
Finally made it to the movie grill, this time to see Hereafter. My Mom LOVED it. I thought it was pretty good. A little slow, but good acting & good story lines. Although it was very long, I did kind of want to know more, though. So that's always a good sign.
LOL Pic of the Day: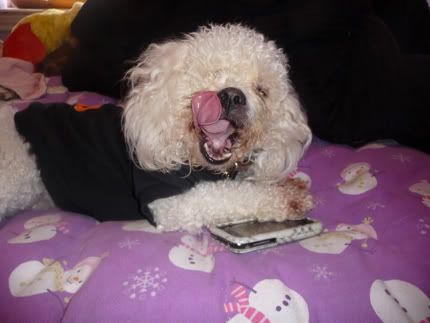 I swear when I took this she was smiling, but by the time the flash hit....who knows what happened? haha. I have so many tongue pics of this lil girl I can't even count.
Too bad you can't read her hoodie, it's her Halloween one ;).
I sure wish the weekend wasn't over, it was WAY too short. Boo.
Body Bugg Stats:
Calories Burned:
2,341
Steps Taken:
9,196
xo,
Amanda