October 9


Workout:
-5 min treadmill
-shoulders & abs
Good thing it was weights day, my hamstrings are so tired! Must be all the walking in heels this week. OK, OK, so that would be every week. But this week was longer distances, maybe? Or for longer time periods. Hmm.
-tall soy 1 pump pumpkin spice latte (free! with the purchase of the new coffee via packs, that is. I went for caramel. Tried the cinnamon sample...not so good. Hope the caramel is better)
I wasn't very hungry after the gym today. That almost never happens. I decided the milk in the latte was good enough to hold me over until I felt hungry.
3 hours later...(I got hungry around 2 hours later, but was engrossed in my tv-watching. The blog isn't the only thing I'm embarrassingly behind on!)
-sugar free bun with faux chicken patty, hooters hot sauce, laughing cow blue cheese wedge, pickle slices
-celery with light ranch
A little too spicy. I guess I'm a little too heavy handed with the hot sauce. I thought I wasn't using enough!
I passed out for a little bit. I'm always so tired :(. This sucks.
My Mom ordered us food. I told her I'd make my own entree, but I ordered a side, salad, and dessert.
-2 oz quinoa pasta shells with mushroom marinara (not loving the texture of this pasta or the fact that it's made with half corn-flour. I'm switching back to brown rice pasta)
-side salad w/ house dressing
-baked artichoke hearts (about 1/2 an appetizer portion)
-glass of cab (pretty good bottle, but only tastes so-so at best)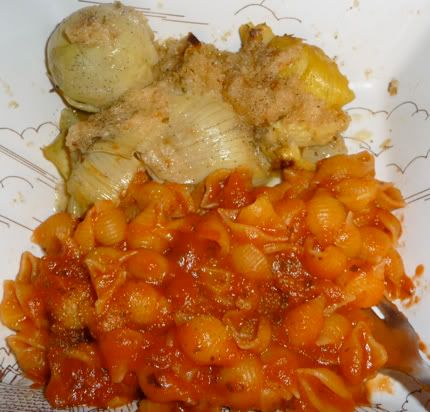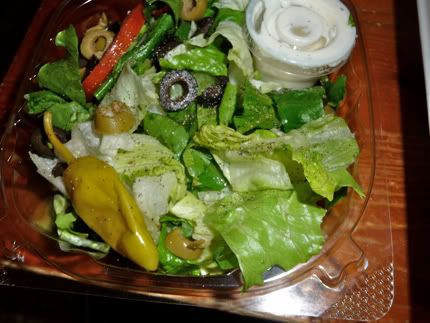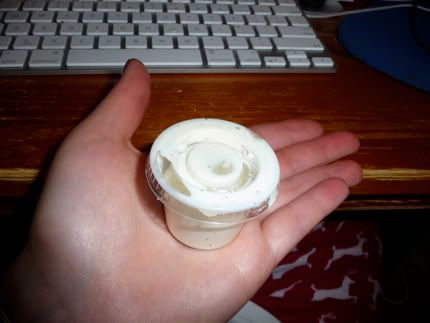 Isn't that small? Most restaurants give those HUGE, unnecessary containers, but this didn't even dress it all. Oh well. Good enough.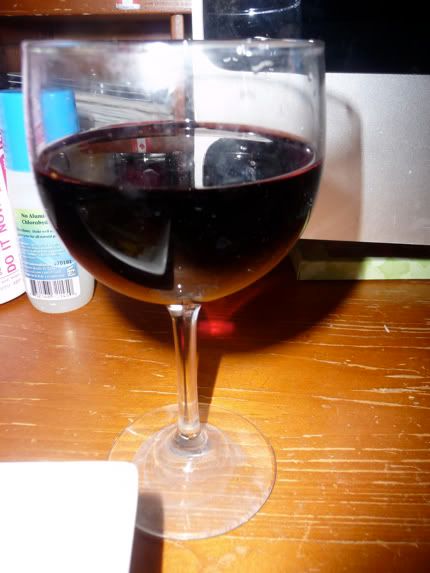 LOL I really need to work on actually caring where I take my pics. Not the most gorgeous background :). Usually I'm too hungry! And just take it asap wherever, but I'll try.
-a few bites of a (not so good) tiramisu
Which I then traded in for...
a warmed vitamuffin iced with chocolate almond butter + naturally more pb
-water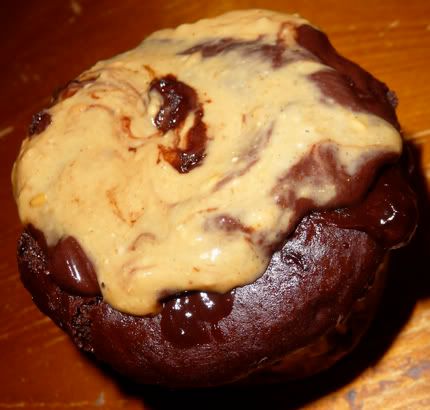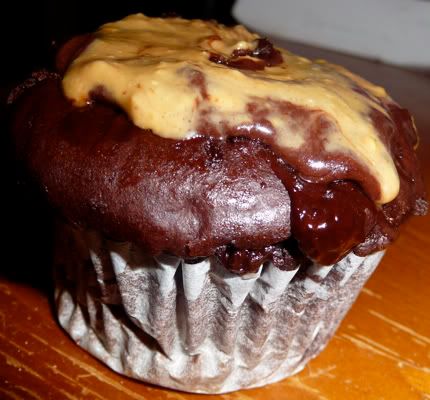 Much
tastier.
Body Bugg Stats:
Calories Burned:
1,968 (ouch)
Steps Taken:
5,263
Ahhh, FINALLY a lazy day. I need more of these! Big time.
======================================
October 10
I was really sore and exhausted when I woke up, so I reluctantly decided to take a conscious rest day and not go to the gym. I generally end up taking 2-3 days off a week because my schedule doesn't allow those days, but it kinda sucks to have to actually listen to my body and rest when I have the time and drive to get 'er done :-P. Oh well. It happens.
Didn't stop me from running around all day.
-a little over half an order of the healthy seasonal fresh fruit crepes w/ strawberry yogurt & a sprinkle of granola
-coffee with a little chocolate stevia
-water with lemon
As you can see, the yogurt was unnaturally pink (aka chemicals, I'm sure), but otherwise it was good. Last time I ordered these was when I was doing the dairy-free thing, so I ordered them sans yogurt. I think I'd do that again.
-greek yogurt mess with maple cereal, a tsp and a half of chocolate hazelnut butter, & a drizzle of raw agave nectar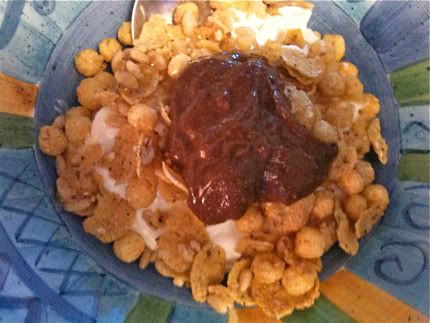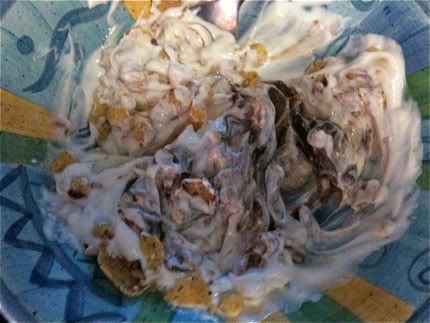 Now that's what you call yogurt, nom nom.
Weird coincidence too. So that cereal (Nature's Path Maple Sunrise) has been on my grocery list for, oh, maybe a year? Not quiiiite, but seriously. A long time. I could NEVER find it, so I kinda gave up. Today, for the first time in forEVER, I used my grocery app on my phone. And that cereal was still on it, unchecked. I left it there. Imagine my surprise when, today at Sprouts they had it! Fate, I tell ya. It's nothing terribly special, but it's pretty good. I'm not upset. (Unlike the other maple cereal I've accidentally bought twice by mistake that always tastes stale even though it's not).
-a handful of caramelized chickpeas
-side salad (organic spring mix, cherry tomatoes, garlic gold, organic italian dressing)
-spaghetti squash with mushroom marinara, pesto, a wedge of sundried tomato & basil laughing cow, 5 pieces of shrimp
-roasted broccoli
-the last baked artichoke heart or two
-cabernet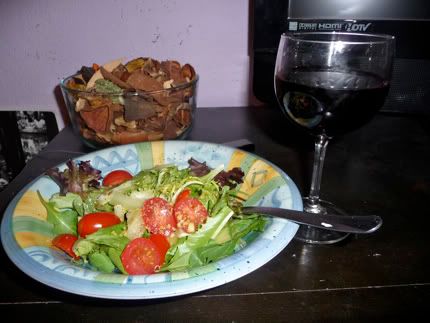 So. Freaking. Good. Last time I made spaghetti squash I thought it was just ok, but this combo was deeeeelightful. I still don't love that "bite" you get from the squash, but it's still good enough to eat.
-2 hawaiian chocolate shortbread cookies
Body Bugg Stats:
Calories Burned:
2,414
Steps Taken:
9,363
xo,
Amanda