October 26
-roasted fingerling potatoes
-a few bites of a yogurt mess (greek yogurt, pumpkin, stevia, maple sunrise cereal)
-crappy cup of smores & chocolate stevia french press (not strong enough or something & didn't quite fill the mug to the top)
-kombucha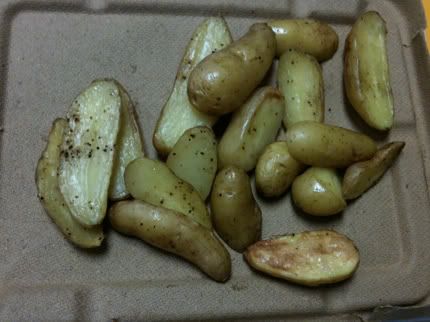 good, but I longed for ketchup. Note to self: bring ketchup, mustard, and salad dressing to work. STAT.
How 'bout that lighting? LOL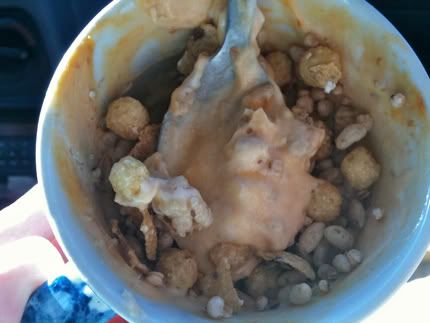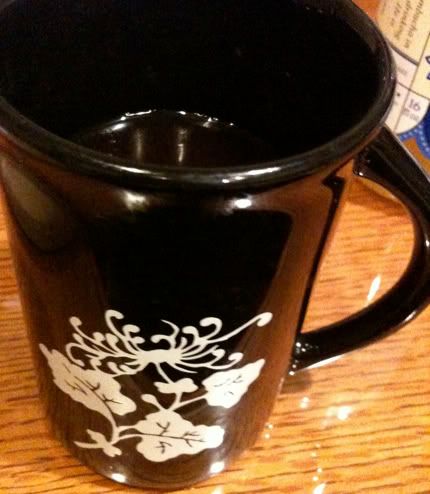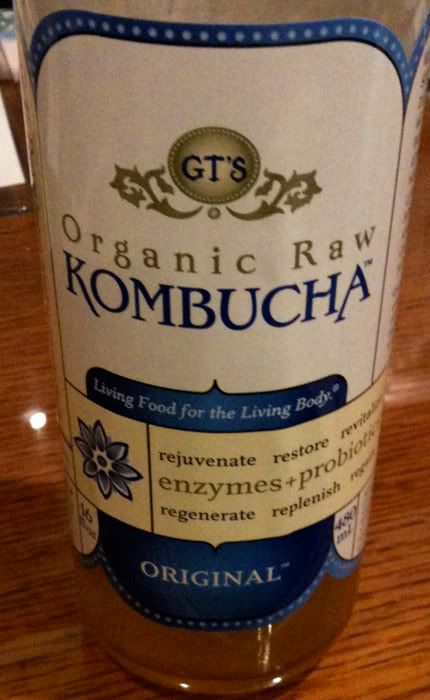 Work for a few hours....
Kendyll for a few hours....
:).
More kisses! I think I got at least 6 today, a new record. LOL.
returning a lil luvin'
She let me (well, more like made me lol) carry her around a lot too. She almost never likes me to carry her, I'm more of her couch, car, & floor play buddy. So that was cute. Surprisingly she didn't feel too heavy today, usually I want to cry after like...30 seconds. LOL. Weakling= me.
She was a bit of a hyper lady, but when isn't she? Well, this pic here proves how she wouldn't stay still.....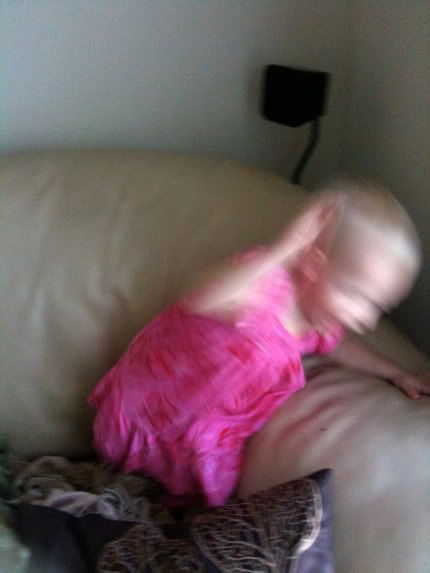 LOL
OK, OK, maybe a few times...
more kisses
riding her dog like a pony, LOL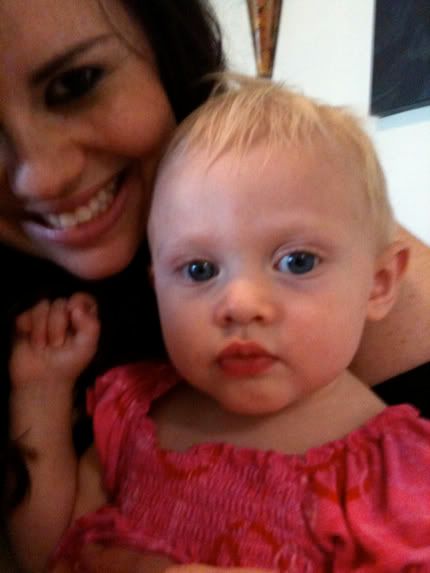 strike a pose!
Last Pic I could manage before I passed out on the couch for like 15 minutes...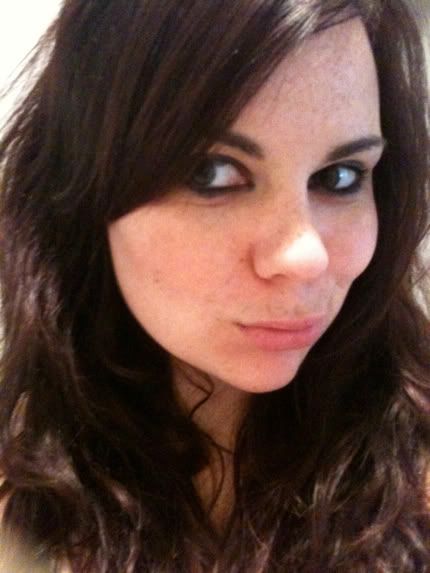 Don't worry, Kendyll was asleep too. I didn't abandon the lil lady! Actually, she slept for almost 2 hours! She's never slept past 1 hour before! Lots of new records today.
Oh, right. You're here for my food. My bad. Here we go:
-the rest of the yogurt mess topped with another handful of cereal (honey nut cheerios this time)
-small side salad (organic mixed greens, organic baby carrots, a lil goat feta crumbles, a lil light ranch)
-water
-hot foods hot bar leftover from yesterday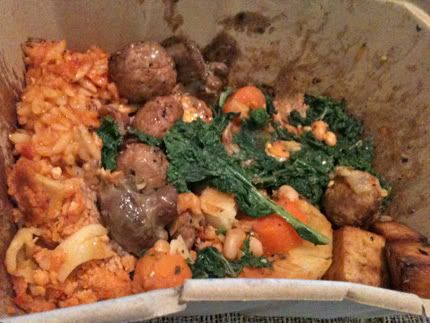 My Mom & brother got Dairy Queen. I thought about a vanilla cone, but dug into my purse instead for....
-dried fruit energy bar (REALLY good)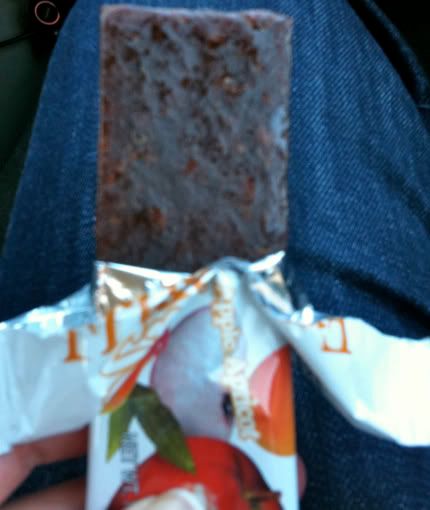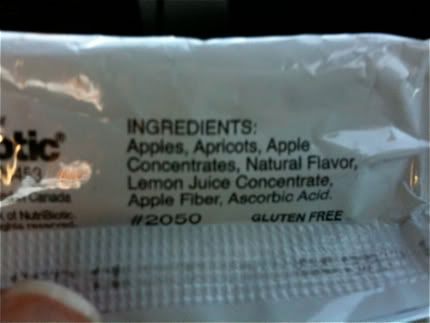 not bad, not bad at all
My Mom picked a couple of these up for me at her pharmacy/health foodie place thinking I'd like them. She was right! I never would have bought them for myself, so I'm glad she took the initiative. Thanks, Mom!
-black bean burger with only half a bun, lettuce, tomato, & mustard
-side of fruit
-1 shiner bock
Mi Padre y I went to the movie grill (burger & beer nite!) to see Jackass 3D. LOL it's become our tradition to see all the Jackass movies. They're very scholarly, y'know.
Riiight!
But hey, not a bad way to waste a couple hours. Though I did find myself screaming "Nooooo" a few times and trying not to hide my eyes. LOL gross boys....
-the last of the vegan carrot cake slice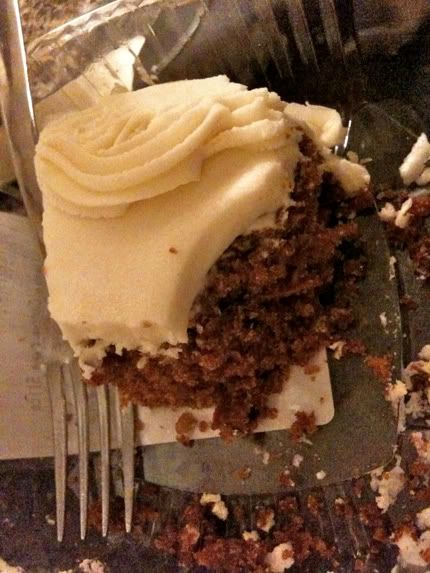 Guess my appetite is back lol. :-x
Body Bugg Stats:
Calories Burned:
2,290
Steps Taken:
6,596
xo,
Amanda