October 20
-overnite pumpkin oats (pumpkin, greek yogurt, oats, almond milk, banana, cinnamon, pumpkin pie spice) topped with pumpkin granola, cacao nibs, and a few chocolate chips
-iced hazelnut coffee with almond milk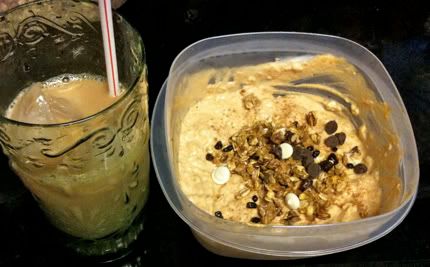 Not as good as the first time, but the texture is still bueno.
Went to the office for the first time since last Thursday. Got a (much, much, MUCH needed) massage & a few hours of work done. It was surprisingly all in order and not too bad! Granted, my Dad is the biggest mess maker and he's the one not there, so I guess I shouldn't have been too surprised, lol. (He stayed home again. Crazy! Mr. Workaholic himself must really be tired).
-turkey wrap with pesto, sundried tomato and basil laughing cow wedge, organic mixed greens, & sliced tomato on brown rice tortilla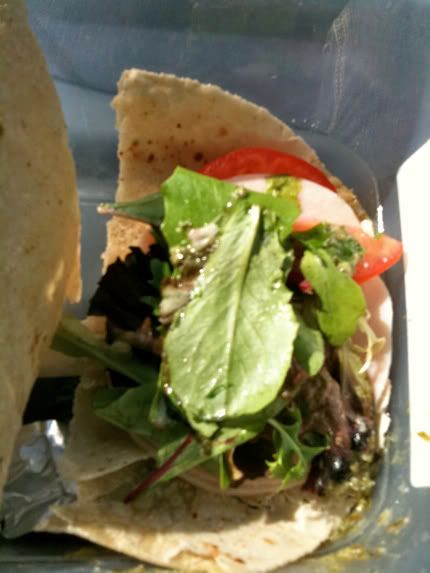 Not very pretty or easy to eat, but tasty nonetheless! But it's kinda cheating, b/c come on...how can anything taste bad covered in pesto? Mmmm.
-half of a GT original Kombucha (!!!!!!!!!!!!!!!!! it's baaaaaaack. Didn't see the Synergy yet, but this one was good!)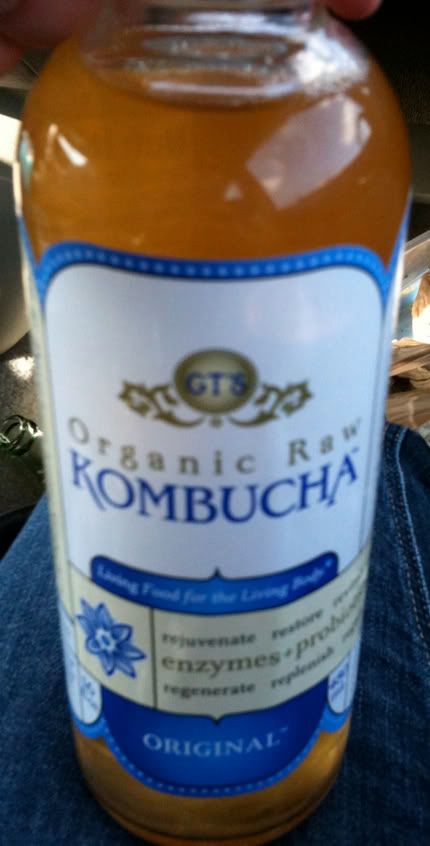 -about half a mug of aveda tea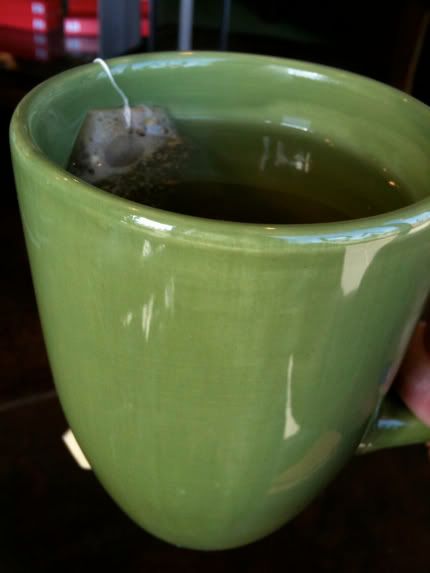 Got my hurrs cut. Well, barely trimmed really. But at least it's healthier. I want even looonger hair. I just wish it was as thick as it was when I was younger and used to actually ask them to thin it out for me. WHAT was I thinking? :-P
Forgot they had wine. Damn! ;) But love me some of their tea!
Anyway, here's some photographic evidence lol....
With flash...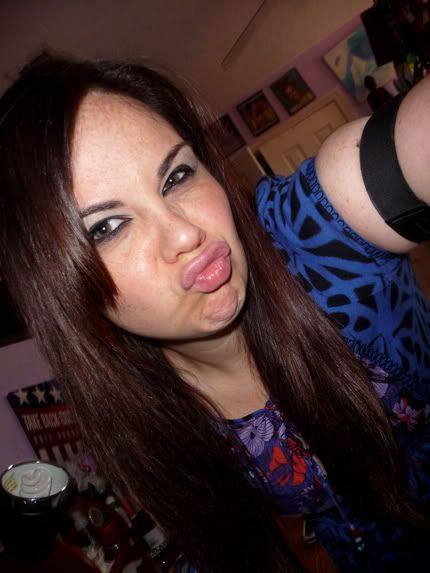 Yeah, I don't know....
Without flash (iphone...):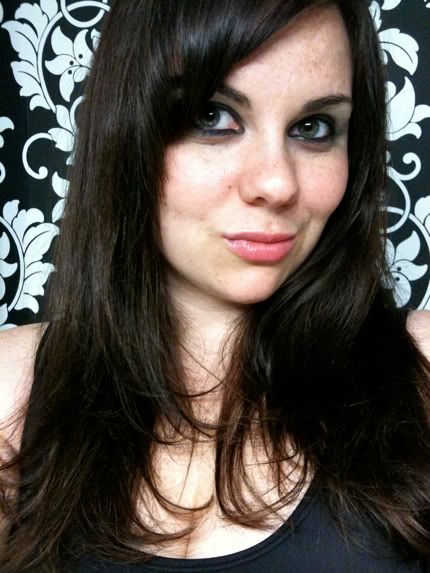 Yeah, it looks the same. I know. But that's a good thing. Hair cuts freak me the eff out.
-side salad (organic mixed greens, goat cheese, apple slices, garlic expressions vinaigrette)
-turkey sandwich (with blue cheese laughing cow wedge, grey poupon, organic mixed greens, tomato slices, and a tiny bit of guacamole on whole grain bread)
-sweet potato chips
-a few organic strawberries
-glass of sauvignon blanc
I already ate the entire pack of turkey in 24 hours. Granted I had it for 3 meals and it was only 4 servings (my Dad may have had some too, not sure). I just love turkey sandwiches SO much, what can I say? Neeeeeed more.
-1 bite of a cadbury crunchie bar
-2 (big) bites of cotton candy
-pumpkin pie poptart
-chai redbush tea with a splash of almond milk, a couple drops of liquid stevia, & a sprinkle of cinnamon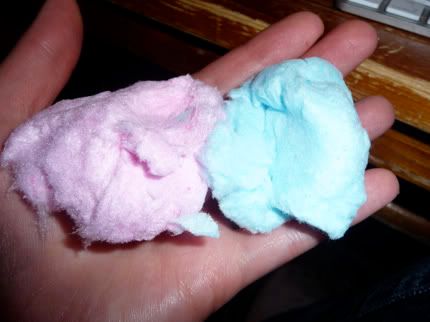 I got my brother candy, but told him he had to give me a bite of each. He wasn't pleased. LOL. Ingrate! Just kidding.
Finally started to settle in for the nite & my Dad asked me to go back on the clock and do a report for him. Ughhhh. I did it, but I just want to watch tv!!!! My Mom keeps threatening to drop him off at a nursing home, but just for a week 'til he's recovered. Mean! Haha.
-orange
-a few veggie straws
I guess all my oranges are camera shy. Silly things.
Body Bugg Stats:


Calories Burned:
2,275
Steps Taken:
7,046
xo,
Amanda