September 10
-half of a cran bran vitatop (shoved in face in car on way to work)
-cinnamon blueberry oatmeal with about 1 scoop of chocolate whey protein powder (made at work)
Tasted brownie-in-a-bowl-ish. So basically...better than I expected. Usually I'm not about oatmeal with no nut butter, but this worked in a pinch!
Ryli went out of town for the weekend (for her birthday!), so I/my fam offered to watch her puppy, Clide, for her.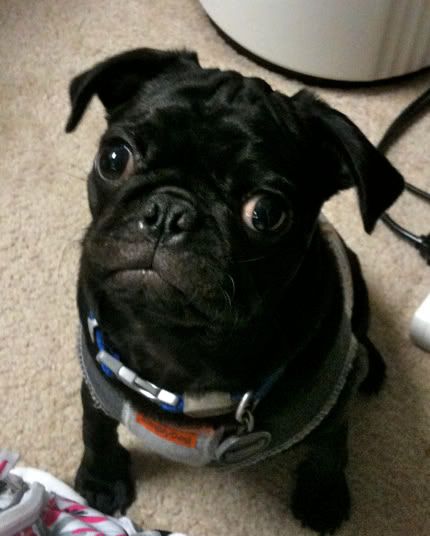 -venti soy half-sweet pumpin spice misto
-the leftover 3/4 salmon pinwheel
-brown rice
-half a small container of caramel oikos yogurt w/ kamut puffs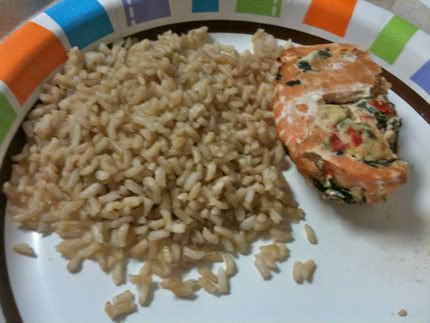 I also made a salad, but I put the olive oil/vinegar on the nite before and it was all grossss by lunch. The yogurt wasn't great either.
Clide getting pumped to get to our house...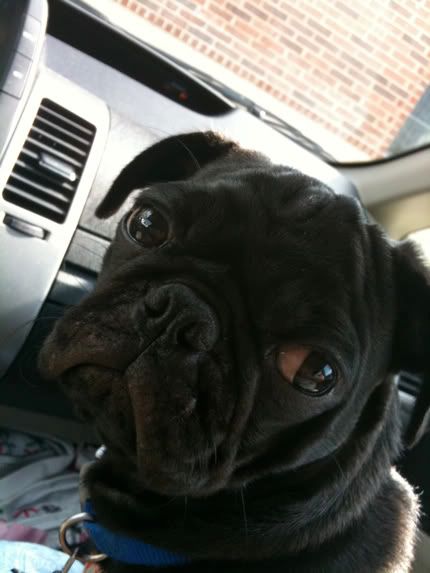 Then he got a little nervous to meet the others and needed a little nap to decompress:
LOL.
After everyone made their acquaintance (which went...OK. Except with the cats. Clide no likey the cats), we figured out how to leave everyone.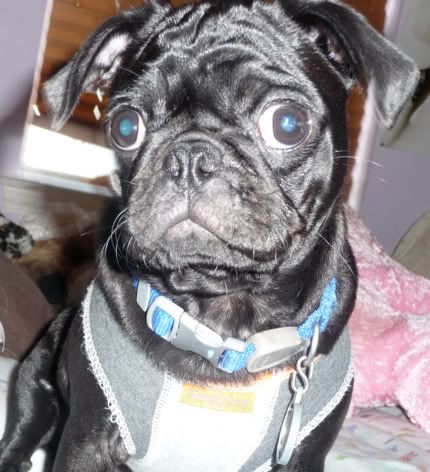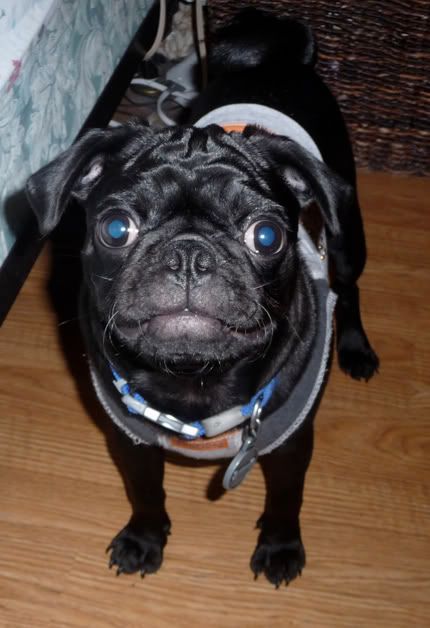 Took my cousin & her friend out for her birthday...Houston's!
-3 spoonfuls of spinach dip with a little sour cream & a few chips
-champagne (got a bottle split 3 ways)
-one mojito (was my mom's, but she wasn't able to drink it. It was realllly good)
-crab cake "salad" (um, if one tiny pile of frisée = salad???? It was one crab cake, maybe 4 bites of grapefruit, a few avocado chunks, and a lettuce leaf, basically. All very tasty, but I'd have prefered more greens!)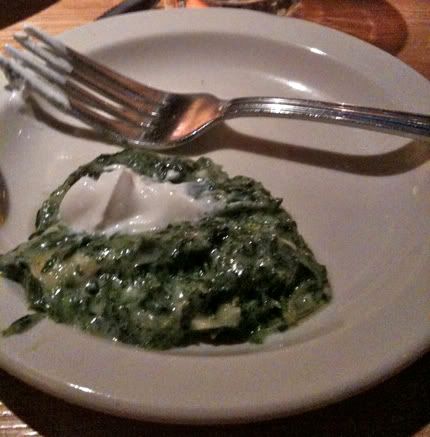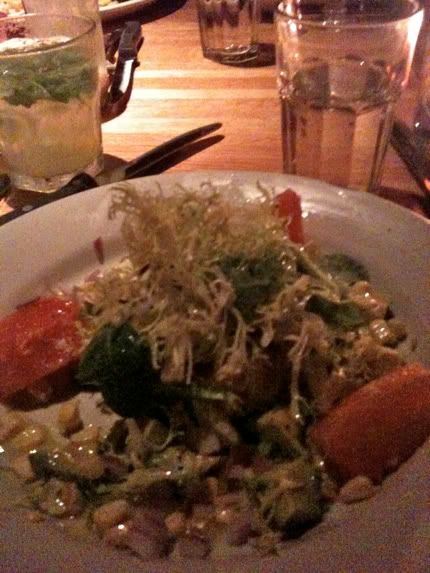 Kendyll was exhausted and had a hard nite, so our dinner was cut short. It was cool though, because my cousin told our waiter that her Dad is the chef at the other Houston's & her uncle actually owns all of the Houston's (both of which are true, just fyi lol), so the waiter felt bad she had a hard nite and the manager comped half the bill! But still, not quite the nice dinner out my cousin was hoping for, unfortch.
My Mom was really upset, so we decided to go to a late movie. We saw Going the Distance at the movie grill. It was pretty pointless, but still cute. Drew & Justin are cute. Yep, we're on a first name basis.
-one more glass of champagne
-about 1/2 of a HUGE actual salad (tons of romaine, chopped egg, bleu cheese, tomato, sweet onion, olives, balsamic)
Outfit of the Nite: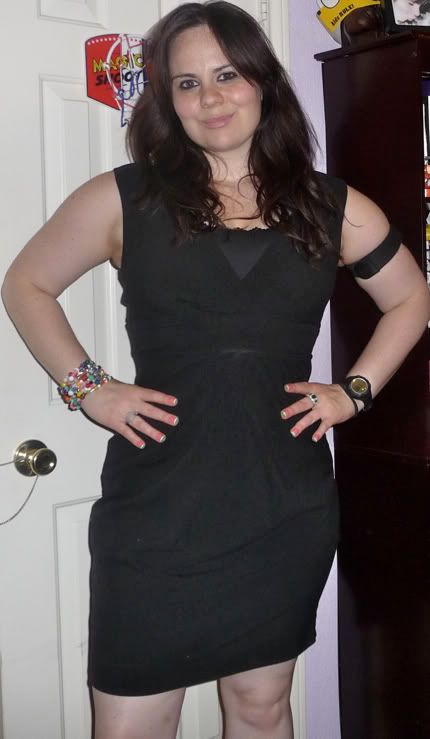 + my black Loubies *hearts*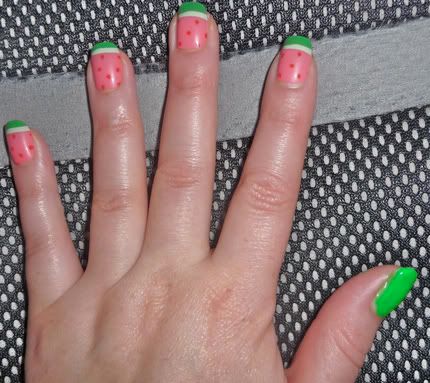 Yeah, I'm 5 years old. LOL I saw these Smackers (yes, the lip balm brand) press on nails and thought they'd be fun for a dinner out or something. And they were....'til one got stuck in my hair. Classy! Of course, since they're made for Smackers they're meant for kids. They all fit....except there wasn't one big enough for my thumbs, so..yeah. Ha.
Body Bugg Stats:


Calories Burned:
2,572
Steps Taken:
10,165
September 11
(*sigh* always a sad/hard/somber/reflective day)
Happy Birthday, Ryli!!
(and my cousins' grandma)

Workout:
-4 min treadmill
-shoulders & abs
-4 min treadmill
Plus I walked all the dogs one by one, including our weekend house guest, Clide!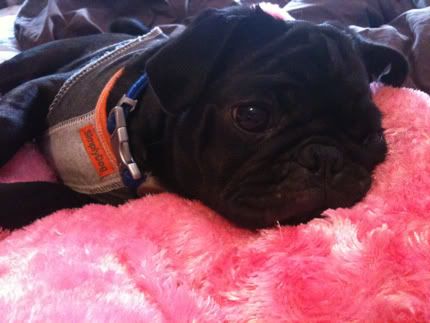 taking a lil rester after
-super small cherry bomb protein shake (um I made this EXTRA EXTRA DELICIOUS, too bad so small!)
-egg white puff topped with sauteed spinach, basil, & a little goat cheese
-half of an ezekiel english muffin with soy-free earth balance & a litttle bit of crofters original
-water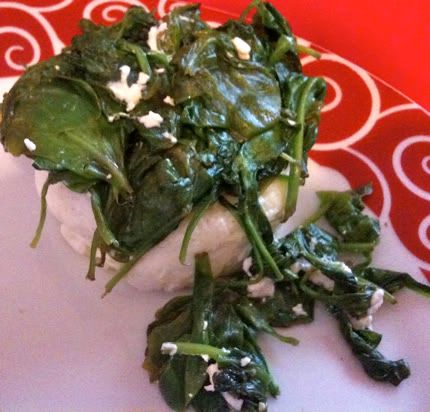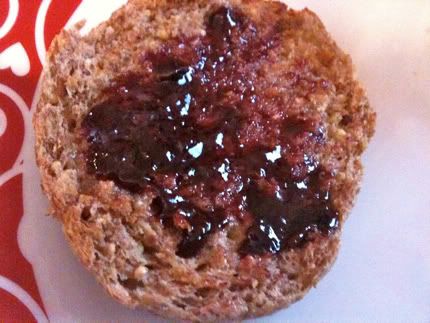 -veggie straws
-water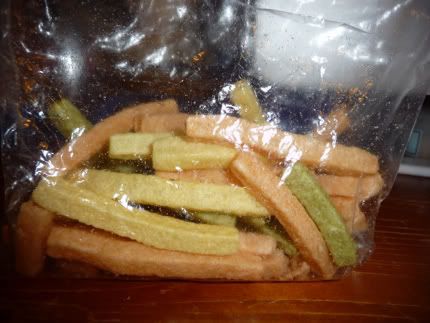 -big bowl of roasted eggplant, organic baby carrots, broccoli, and cauliflower (with a drizzle of organic olive oil + a sprinkle of pink salt & garlic salt, and a lot of greek seasoning and black pepper)
-organic green tea with peppermint stevia
-water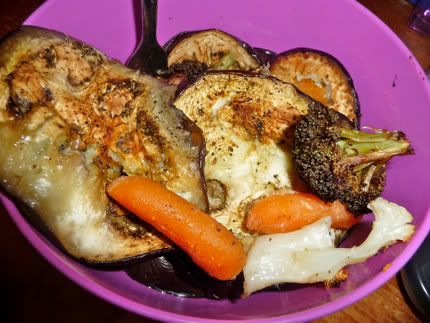 LOL @ the Donny & Marie mug I got my Mom in Vegas
-88 calorie pack (lol random) of organic gummy bears
-water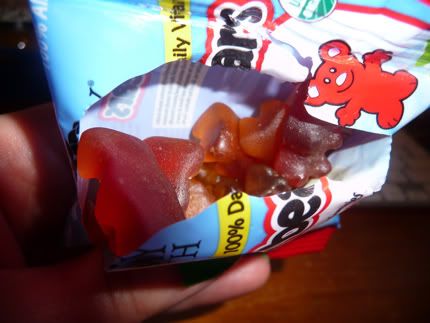 I tried to hold off 'til dinner, but about an hour and a half beforehand I caved...
-organic cottage cheese with cinnamon, pumpkin pie spice, and stevia
-2 cut up mini pluots
-water
I only put in 2 drops of (liquid) stevia, but it was a little too sweet/bitter. Next time I'll try one. Or the powder.
-1 bowl @ genghis grill (stir fried calamari, grilled fish, shrimpies, tofu, cabbage, carrots, mushrooms, a piece or two of broccoli, curry salt, red curry peanut sauce, about a tsp if that of crushed peanuts, & udon noodles)
-water with lemon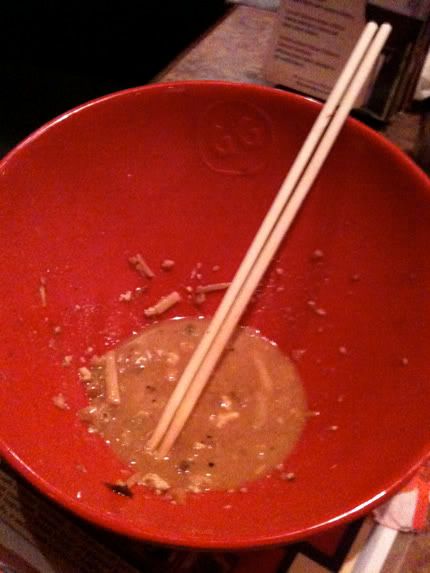 Soooo good. It's a build your own stir fry place and then after you put all the ingredients in your bowl you tell the chef what starch you want and they cook it up for ya. Love. You can either get 1 bowl or unlimited. I probably could have easily eaten 2, but stopped at the one. This time.
-piece of frozen homemade granola bar from awhile ago...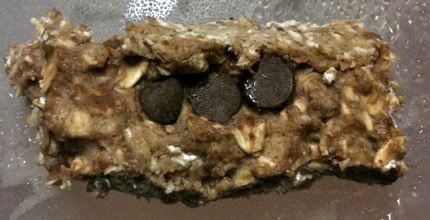 -honeydew Kombucha
I'm so mad at myself! I've been drinking all the new Kombucha's, while still hoarding my beloved Synergy's. Yeah, just noticed now they're both expired. Whyyyyyyy??? Come back Synergy! The substitutes are still great, don't get me wrong. Some flavors even better in their own way. But more variety never hurt anyone ;).
The honeydew flavor was new to me. It's REALLY sweet, but very tasty.
Body Bugg Stats:


Calories Burned:
2,316
Steps Taken:
9,336
September 12
Workout:
-37 min cross ramp
-10-15ish min stretching
-banana
-water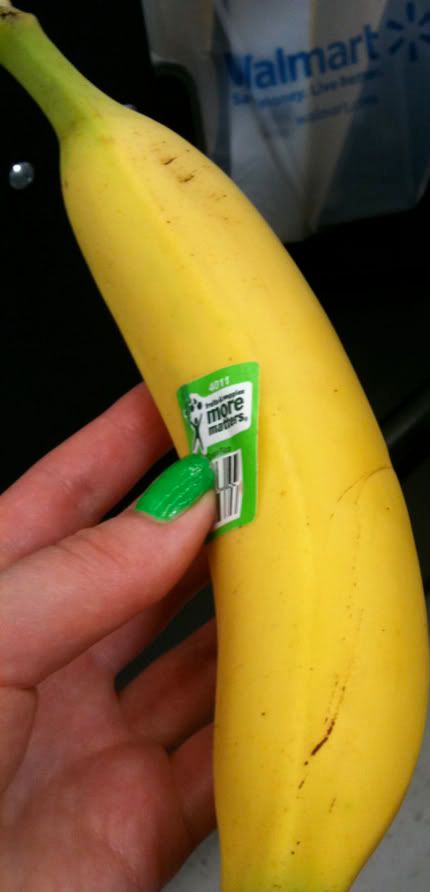 yep, as soon as it was paid for I dug right on in...while still in the store. Sometimes hunger can't wait!!
-one bite of each piece of (sweet) bread
-half of an order of egg white breakfast enchildas with queso, salsa, and a touch of sour cream
-a few spoonfuls of black beans with a touch of sour cream
-a few breakfast potatoes w/ ketchup
-lots of coffee with chocolate + peppermint stevia in the first mug
-water with lemon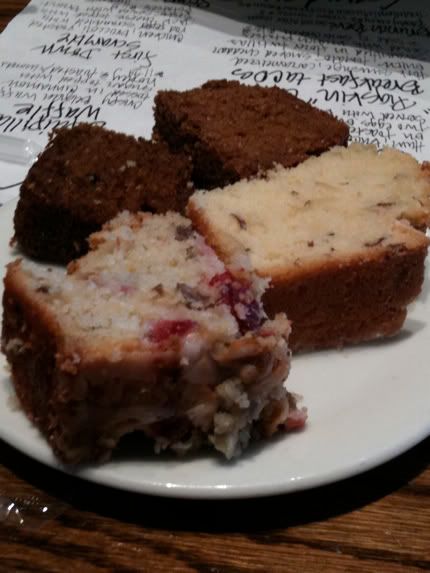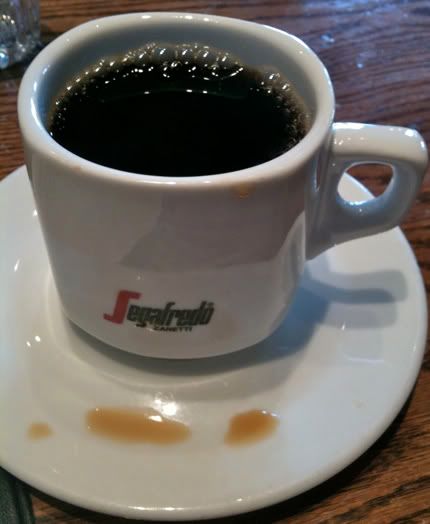 Twins!!
LOL.
-honeydew kombucha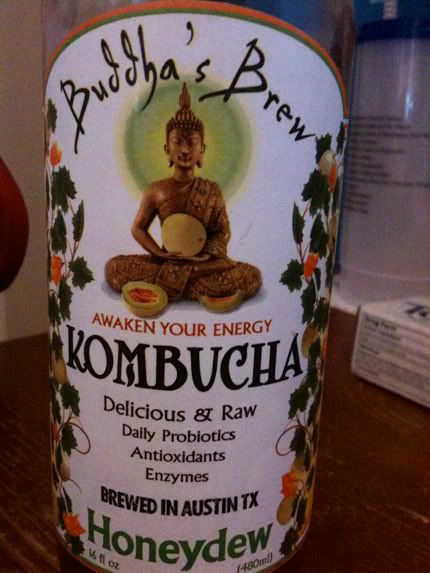 -3 big bites of my granola bars
+ 2 smaller pieces
I didn't think I'd be eating dinner for awhile. Little did I know I'd be eating fairly soon after. Even so, I thought I'd still be hungry, but no, not really. Oops.
We were gonna try this Mediterranean place, but they were closed. I was
super
disappointed. Instead we tried an old fave from when I was little that we used to go to all the time. It's more of a home style cooking type comfort-y food place. But first, we dropped Clide off at the office, so Ryli could pick him up straight from the airport 'cause she misssssssssed her baby, and we dropped my brother off at his friend's apartment to hang out.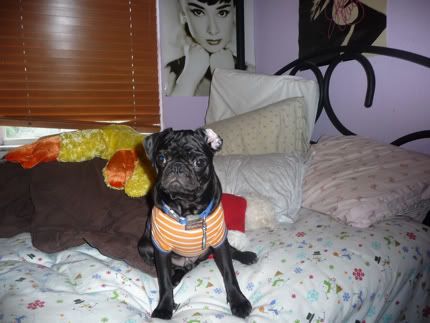 Bye Bye, bud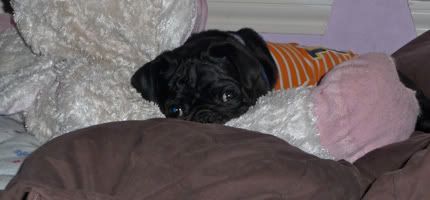 -side salad w/ ranch
-veggie plate (applesauce, sweet potato casserole, green beans, & southern greens w/ lots of pepper sauce)
-a bite of cornbread + a bite of whole wheat roll
-water with lemon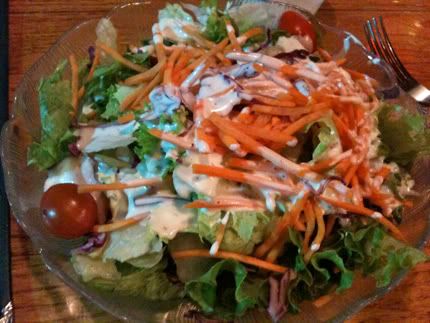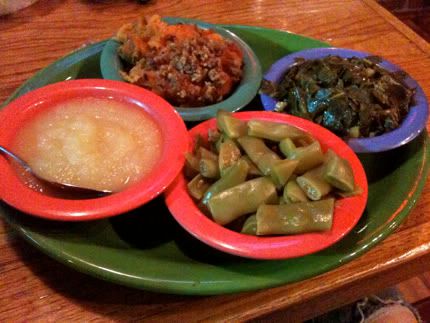 It was all SO. GOOD. Especially the sweet potato casserole. But I took most home (I ate all the applesauce lol and a little over half the salad, but kinda picked at the rest). I was hoping the applesauce would be homemade, but it tasted jarred. Lame. I would have picked something else, but oh well. Now I know. Usually I get their cobbler, and they had one of my fave flavors (blackberry), but I passed. *gasp* I think I confused it with another place and thought I didn't like it anymore, but I'll have to double check next time to be sure.
-a scoop of mint chocolate cookie Arctic Zero "ice cream" (basically a frozen protein shake with an ice cream texture....the entire pint is less than 150 cals) with a warmed vitatop
Still can't believe this stuff is basically good for you. & they keep coming out with more & more awesome flavors.
Body Bugg Stats:


Calories Burned:
2,507
Steps Taken:
11,247
xo,
Amanda