September 8
HAPPY BIRTHDAY TO MY COUSIN, NICOLE!


Workout:
-3.5 min treadmill
-arms & legs
-3.5 min treadmill
Had to hurry, got a late start.
-ezekiel eng muffin with strawberry goat cheese & an egg white puff
-a few sips of an iced coffee via (once I got a better Starbucks offer, it went to the wayside! Sorry via, you're good, but you're not fresh 'bux good :))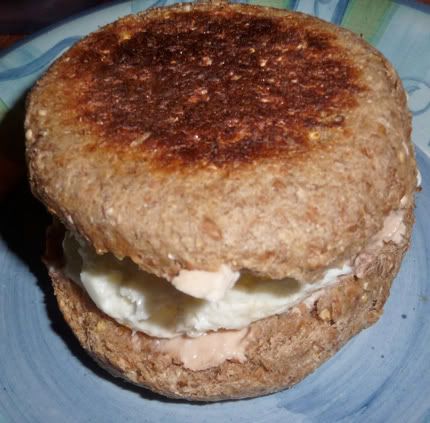 -grande soy 2 pump pumpkin spice misto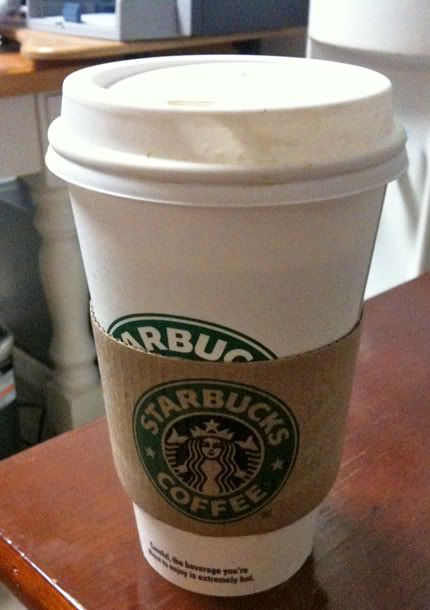 -side salad (organic spinach, cherry tomatoes, crumbled goat cheese, garlic gold nuggets, cottage cheese mixed with salsa)
-santa fe rice
-water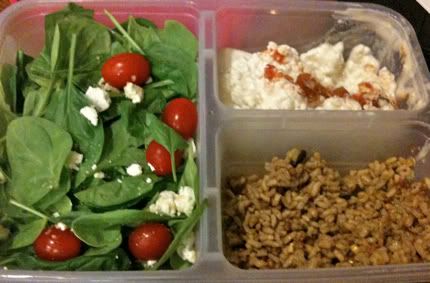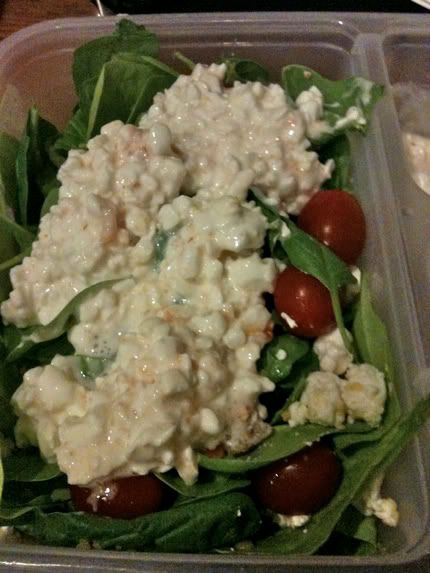 -a few bites of a pumpkin cream cheese muffin
I wasn't really hungry, but kept my Mom company when she wanted Mexican food (don't worry, I got some to-go!)
-corn tortilla with salsa
-mambo taxi (small frozen margarita with sangria poured in)
-water
-handful of tortilla chips
-1 spinach enchilada
-spanish rice
-water
-organic green tea with peppermint stevia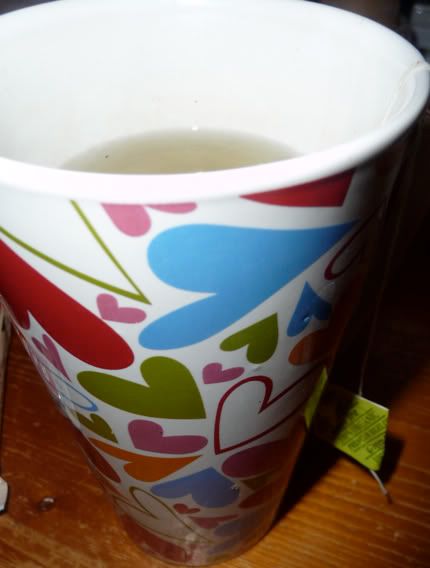 -half of a chocolate chip cookie dough larabar
Not as good as I was hoping. Good, but not amaaaaazing.
Fell asleep off & on for a few min at a time during Big Brother. Geesh, I can't seem to stay awake these days!
-the leftover enchilada and rice
-2 mini pluots
-grapefruit sparkling water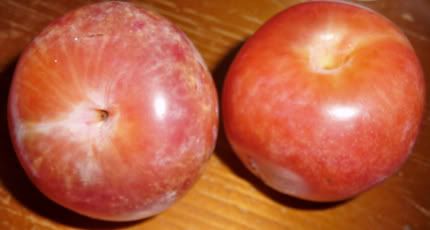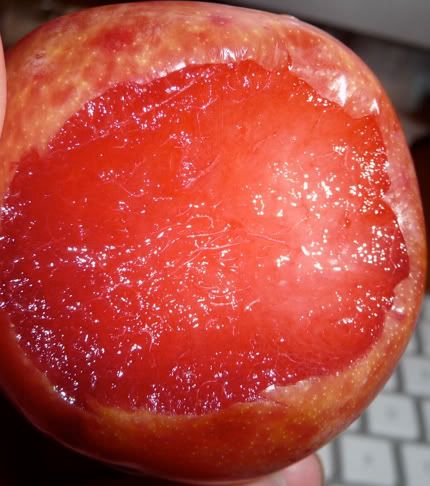 Eat, Eat, Eat. Geeeeeeeeez.
I know I ALWAYS make excuses, but I think this was due to my EXTREME EXCESS of sugar and fast food yesterday.
Body Bugg Stats:


Calories Burned:
2,319
Steps Taken:
9,867
September 9


Workout:
-36 min treadmill
-10ish min stretching
-ezekiel english muffin, egg white puff, maple veggie sausage, maple syrup drizzle
-water
NOM.
I ALMOST ate a leftover donut, or at least half. I needed caffeine or a sugar rush BAD, but knew it was only a short term fix, so I let myself have one tiny bite and that's IT. Crisis averted.
Worked for a few hours, then had my massage. Ahhhhhh. Actually, today's was pretty painful + I almost fell asleep about 5 times I was soo tired, but it was MUCH needed.
Didn't have lunch 'til about 2:30...
-which wich sub on wheat (black bean patty, pesto, marinara, caramelized onions, lettuce, tomato, mozzerella, bell peppers, mushrooms, pepperoncinis, black pepper)
Pretty good, but I couldn't really taste the pesto, marinara, or cheese, so that was a little disappointing. I'd leave off the cheese next time for sure (like I usually do). No sense in extra cals you can't taste!
FINALLY got my coffee around 4:30 after having Starbucks runs postponed twice. I almost collapsed by that point. Literally. There were a few times I thought I'd have to go off the office clock for at least an hour or two and sneak in the (luckily, unused) group room to take a nap.
-grande soy pumpkin spice misto
-half a serving of veggie straws (mid-way through I realized I wasn't really hungry and stopped)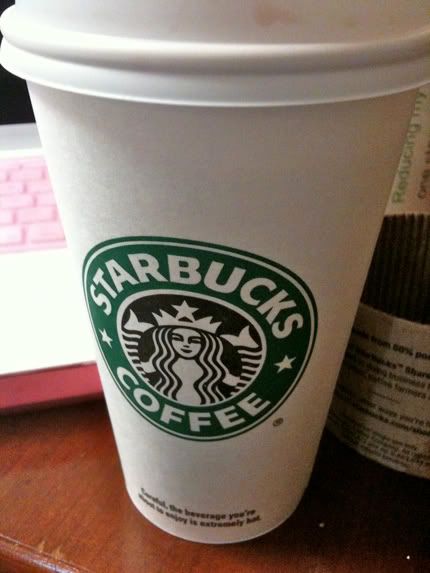 I didn't specify lower pumps of PS because I still wanted somewhat of a sugar rush, sue me :-P. At least it wasn't the donut (though prob not much better...). Of course, when you really NEED coffee, it doesn't come without hassle. They asked for my (drive-thru) order THREE times. I clearly ordered a grande soy pumpkin spice misto. My Dad even spelled misto for them LOL. Yeah. We pull up and they are like "so you have the tall one pump mocha latte." Um, no. No, I do not. Finally they found my misto order. Sort of. They handed me a tall. What? Normally I'd prob let it slide, but I had already downsized from the Venti I REALLY wanted (but decide was unncessary, since it was now getting later in the afternoon). The lady seemed pretty annoyed I still wanted the grande at this point because they were busy, but hey, it really wasn't my fault. They even repeated back the order at the drive thru, so come on. You KNOW when we pulled away they probably talked about what a bitch I was, but whatever. They got their revenge anyway, because, whether they meant it or not, the coffee tasted burnt. Now, to me their coffee ALWAYS tastes burnt (which is why I almost never order plain coffee there), however usually I don't notice in a misto. This time I noticed. It was still drinkable (albeit bitter) and did contain the pumpkin spice (my Dad and I figured they'd leave it off, either on purpose or accident), so hey. I got my caffeine.
Aaaaand, that was a long, pointless story. :-P
As soon as I got home from work I started to preheat the oven to make a Kashi pizza, but mid-way through the heating process I realized I wasn't hungry enough to eat yet, so I shut it off. Well, my Dad called me shortly after and told me he had to leave in an hour to make his new bowling league, so I offered to make him the pizza & salad. THEN, as soon as I was about to put it in, I noticed the salmon pinwheels I bought yesterday that had a sell-by date of today, so....
-salmon/feta/red pepper pinwheel
-brown rice
-sauteed spinach
-water
+ he also got a salad, but not moi.
One of my fave dinners. Yay.
-maple pecan nada moo coconut milk ice cream with a heated and crumbled vitamuffin on top + a sprinkle of pumpkin pie spice
Every time I take a bite of BOTH of these things I die from happiness a little more. I knew I loved them, obvi, but I always forget JUST how much.
My only possible complaint is that once I put the vitamuffin on top of the ice cream it's no longer very warm. But otherwise. Oh-Em-Gee.
Body Bugg Stats:
Calories Burned:
2,343
Steps Taken:
10,060