September 19
We were told the hotel brunch buffet was phenom, so we decided to check it out. It was supposed to be at the Riverside Cafe...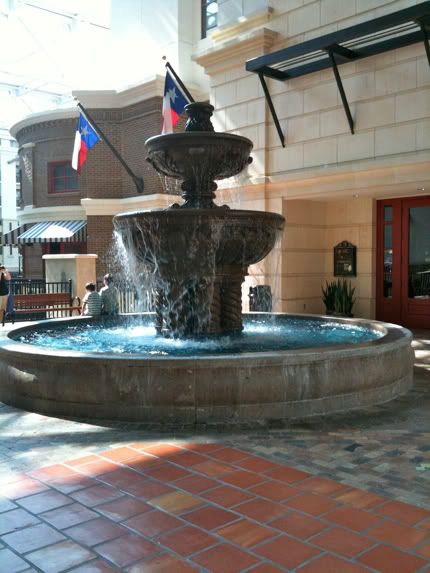 But we got there and it was closed. Ugh. There was a sign saying brunch would temporarily be in the Ama Lur Southwestern Restaurant. Fine.
So we got there around 11:27. Brunch was supposed to start at 11:30. The restaurant was basically empty, but we saw people waiting. I thought "huh, I guess they take this 11:30 thing pretty seriously." Except they didn't end up seating anyone 'til 11:45. Timing, people. Come on. I didn't even see them set up the buffet 'til 11:30. For as well-known (and expensive) as this hotel is, you'd think they'd be more on their game. But I digress.
-Brunch Buffet (obvi didn't clean every plate + I took the cookies home, shh, and gave them to my brother, besides a bite or two)
-maybe 4 cups of coffee? 3?
-water
-2 mimosas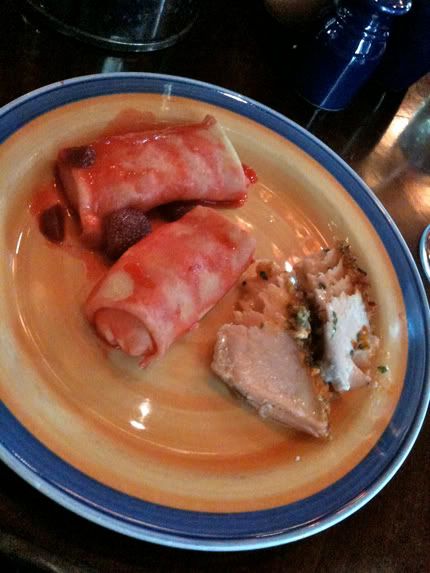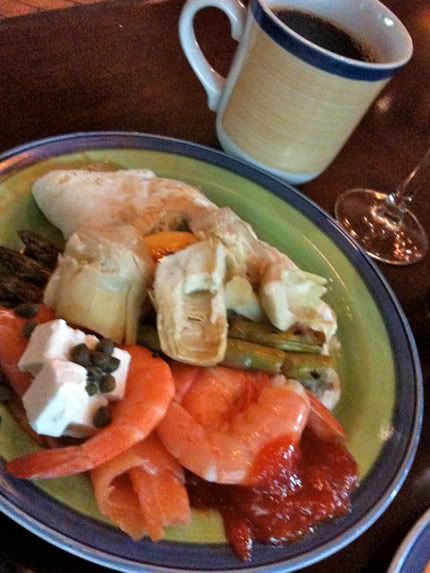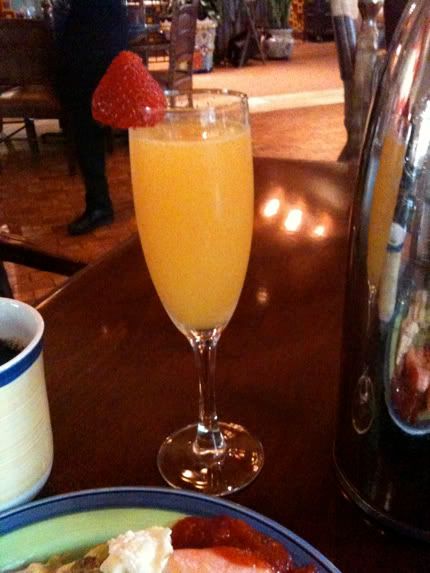 I asked for a bellini to go with my dessert plate, but the waitress was kind of rude about it. She said you only get 1 cocktail per buffet (I guess she gave me two because my Mom didn't have one). Otherwise they're $7. I mean that's fine, but she never said anything before. I'm not a mind reader! Whatever. She was nice otherwise, but sheesh. For $30 they don't have to be so stingy lol. Not that I need 3 cocktails before 1 pm. But hey, it was mostly oj anyway. So there.
And again, for the $30 price tag they could have peeled the shrimp for us. :-P
Aaaaand...who gives lox and all the fillings with no bagels? Or at least an english muffin? All they set out were dinner rolls. Huh?
/end complaining.
Random Hotel Pics: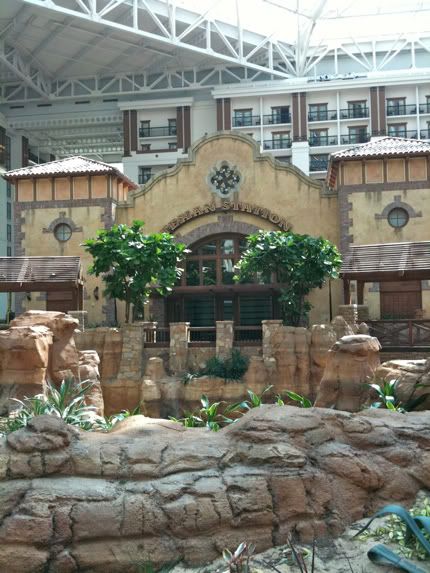 where my cousin works/where we ate
yesterday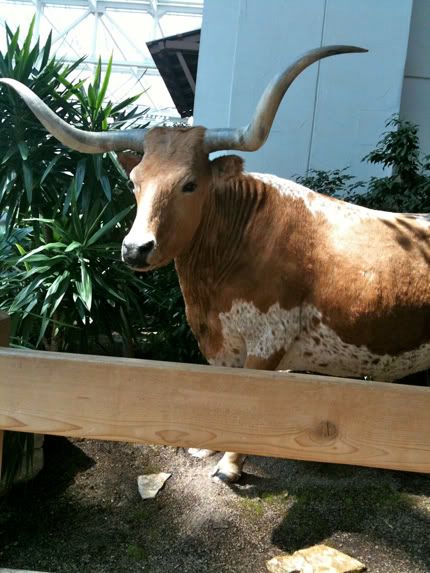 his name is Hank, LOL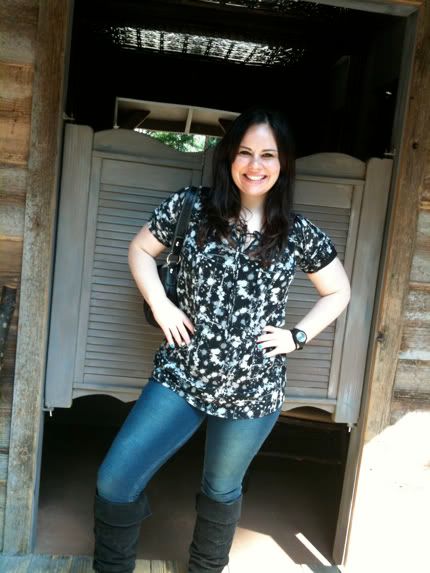 kinda rockin' the fat face look :-x
How stoked am I for boot season?! Today was a little weather inappropriate still, but lurrrrve me a good boot.
cute, but I guess they didn't get the memo that Easter ended awhile ago? Heh.
FINALLY got to Best Buy to buy Jillian Michael's newest weights workout DVD + I picked up a couple others while I was there. Yay.
The bathroom in Best Buy was so randomly fancy lol.
Rocks in the sink. What?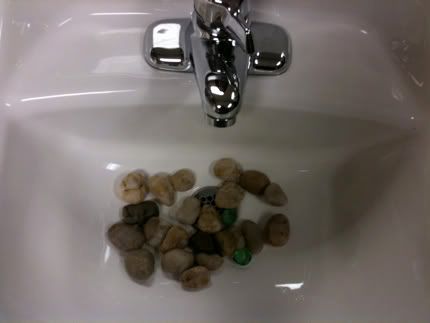 Random Decor...
Thennn, I went home to my BABIES!
Reunited and it feels so goooood...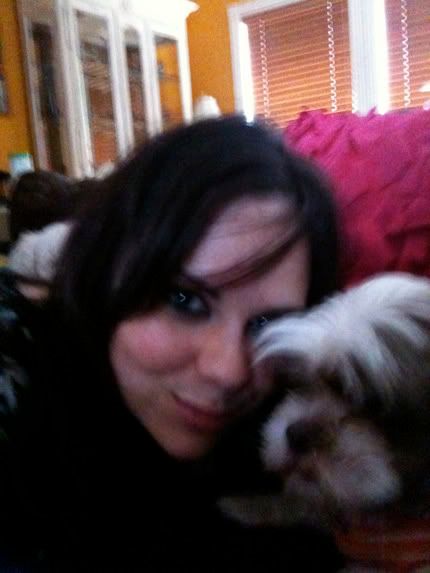 I'm kiiiind of the antithesis of photogenic these days, but I couldn't help but share my dog luvin'
*MUAH!*
I know it hadn't even been 24 full hours, but c'mon. Look at those little faces. I missed them SO much.
After kissing their faces up big time I ran a few errands with my Dad.
-honeydew Kombucha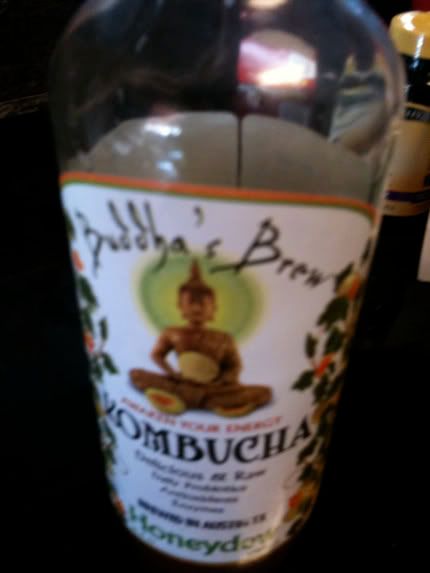 Om, nom, nom. Thanks, Sprouts.
-faux chicken sandwich on sourdough with mushroom marinara, pesto, & goat cheese with a tiny bit of papa john's (terrible for you) garlic sauce on top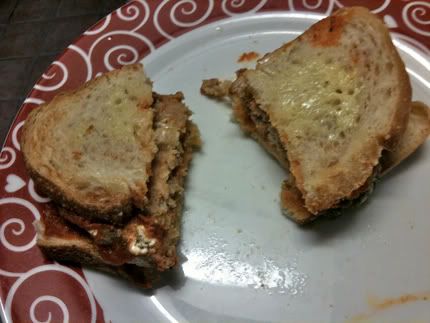 Workout:
-Julianne Hough Just Dance DVD.
PHEW, tough stuff. I burned over 300 calories in 45 minutes. Very nice. I almost quit and switched workout DVDs after the warm up and first dance, but ended up completing all 3 + the cool down. Oh yeah. I totally have 2 left feet, but even if I do all the steps wrong I still am moving. :-P LOL that I pick one of the DVDs I already owned. But I hadn't used it yet, so it's still new. I just have been wanting to try the Jillian one especially ever since it came out. I checked about 5 stores multiple times before finding it.
gross! I haven't been that red in awhile
-some slightly stale gluten free white cheddar rice crackers
-organic guacamole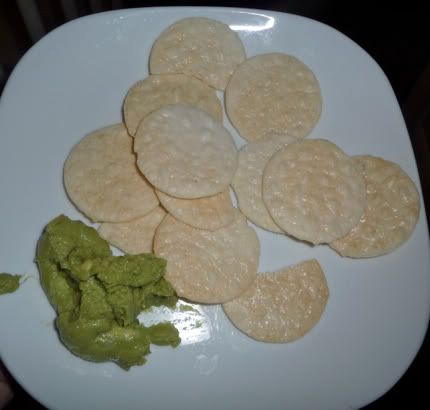 -a little sugar-free (used stevia) healthy peach cobbler
-peach sorbet
-water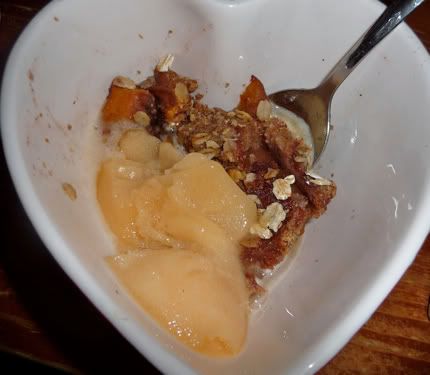 Really wanted this with vanilla ice cream, but we didn't have any.
This was only pretty good, not great, but it's made with 100% healthy ingredients, so I'd make it again. I think it'd be even better with the vanilla ice cream. I don't think I can buy the sorbet anymore though, 30 grams of sugar per serving. Yikes!
I can't believe the weekend is already over. Bummer.
Body Bugg Stats:

Calories Burned:
2,570

Steps Taken:
11,887

xo,
Amanda